t
arte Cosmetics is undoubtedly one of the most popular brands across the globe thanks to its super cute packaging and cruelty-free approach. Recently expanding its presence in the Middle East (via an opening in Saudi Arabia's Sephora store earlier this year), the brand is now well and truly part of the region's beauty landscape.
In town to celebrate its Middle Eastern presence, Tarte Cosmetics' international brand representative, Nancy Bassuday, jet-setted from Canada to speak to Buro. Middle East about her journey with Tarte Cosmetics, Middle Eastern women and the whole concept of green beauty…
Welcome to Dubai! Tell us a little bit about your journey with Tarte Cosmetics…
Thank you! So my background with Tarte started three years ago. Before that, I was with Sephora actually. When I started with Tarte, I was their first Account Executive in Canada and then I became in charge of the region. It's such a cool experience and I love travelling so for me to see this is just awesome.
And you're travelling to Saudi Arabia soon to celebrate Tarte's launch there too…
Yes! I heard it was such an exciting opening and I heard that [our Saudi Arabian clients] love the brand. I think it's very amazing that they love natural makeup and although they use a lot for that Arabic eye look, they do end up liking natural makeup. I think people, in a different generation, are going back to basics and they're just working on their complexion. I find it really interesting that women are investing in their everyday looks.
It's that less is more look…
Yes. I think the push is definitely there for skincare as well and I think what we're starting to see is more of a conversation so it's really nice that Tarte infuses that.
Why is it so important for the brand to focus on the skincare just as much as makeup?
In Tarte makeup, we use skin invigorating ingredients so I really like to speak to that. There is the Instagram look and that heavy look, but you still can get beautiful artistry with good ingredients and I think that Tarte does that extremely well. Our products have natural pigments and even our liners have castor oil. If you're going to use it every day, you're going to want to give back to your skin right?
Definitely.
It's very rare to find a brand that speaks to you and I'm actually very happy at Tarte and everything in the line is just good for the skin. Even for myself, I have really sensitive skin sometimes, and I'm really happy with the results. What's amazing with Tarte is they literally make everything for my daily needs. From skincare to makeup and we even have deodorant! How convenient is that? If you really get into it and you live that lifestyle, Tarte offers something for everyone.
Talk us through the packaging of the products. It's so cute!
The packaging goes back to our brand founder. Maureen Kelly is super down to earth and she really just wanted to create really good-for-you ingredient makeup, the first one being the Cheek Stain. You just rub a little on your finger and it lasts all day. You don't need to touch up or anything.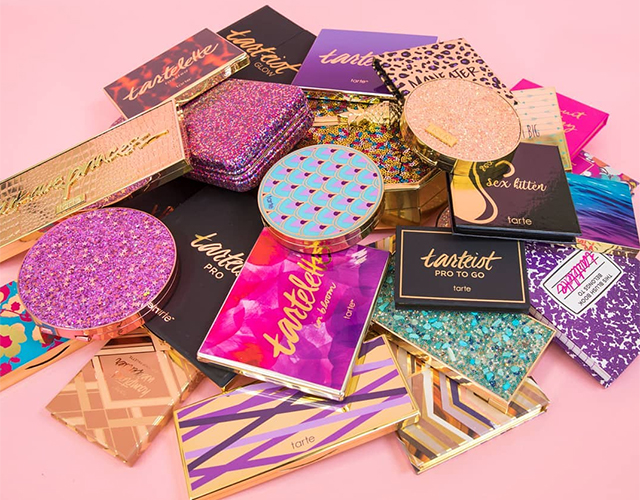 Which would be a really good product to use here in the Middle East…
For sure. I think our whole assortment here is on point. I love that they have our Mineral Airbrush Foundation and I feel like people misunderstand it but if you really play with that pigment and you see how minerals really melt into your skin, you'll realise it's just one of those powders that as you wear it, you look better.
What are some of the next collections launching this year?
Our holiday collection. We might have those products coming but everybody has been asking for our Pineapple Of My Eye palette which has an assortment of colours, and it is pretty unique from year to year. It's really fun because it has this kind of beautiful and tropical, cool and warm shade range. On the other side, you get like a quadrant of a highlighter, a bronzer and two blushes you can play with and then you still get your mini lipsticks. It has everything you need and it's fun that it's a pineapple. We need to make it versatile.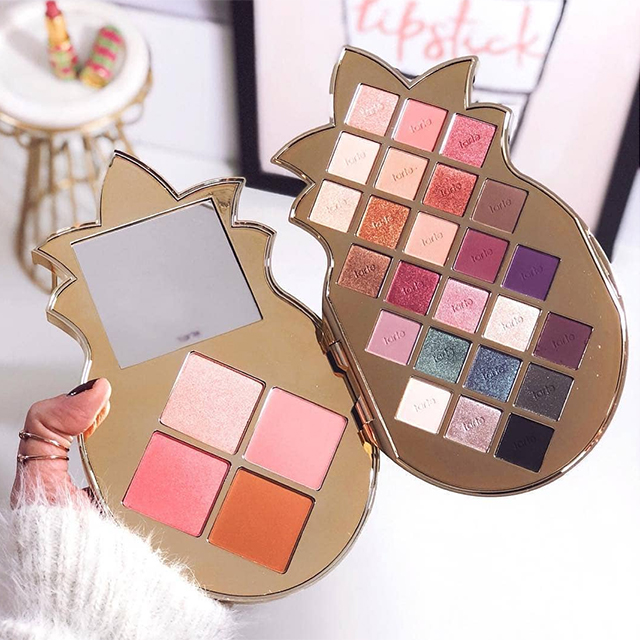 What's your favourite product from the brand?
I would say the Maracuja Oil. We're using natural seeds and it's also that really light texture. I've used it on oily, dry and super sensitive skin before. It's anti-inflammatory and anyone who has a skin rash or a burn, they can absolutely use it. It is very absorbent and people who hate oil, love this one (laughs). It's phenomenal! It's a magical elixir and there so many ways to use it.
Tarte Cosmetics' is available at Sephora Middle East.
Now, take a look at the brand's new collection launch, which will give you a touch of flower power.