Last week, the Grand Palais in Paris hosted Virginie Viard's latest showcase for Chanel and what a spectacle it was — not purely because it was a physical show, but because the Hollywood-inspired collection served up some serious show-stopping looks that were très chic.
Whilst the backdrop featured giant CHANEL letters, reminiscent of the Hollywood sign in Los Angeles, Viard's youthful and vibrant collection (dedicated to her favourite cinema icons) were contrasted by monochrome beauty looks that, surprisingly, we're into for Spring/Summer '21.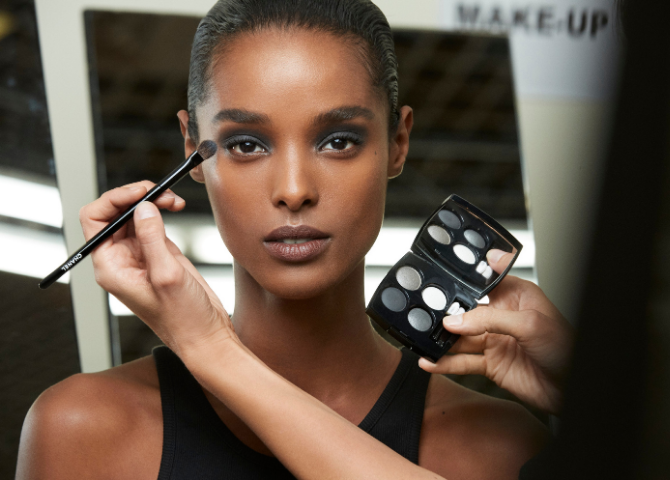 Backstage, Lucia Pica worked her makeup magic and created an all over glamourous matte makeup look that was both masculine and feminine with a hint of glamour.
"I really wanted the girls makeup to look very blurry, matte and pristine," explains the brand's Global Creative Makeup and Colour Designer. "I particularly enjoyed using the compact foundation Ultra Le Teint, because it's a creamy, powdery foundation but it feels very light, like a veil. It gave me the effect I was aiming for."
If you're into the goth-inspired beauty look (with Halloween right around the corner, there's your inspiration), learn how to create Chanel's runway look from the beauty maestro herself.
"All the finishes are matte, like on the eyes, lips and skin," Pica exclusively shares with us.
FACE
"On the face, I used a concealer Le Correcteur de Chanel where needed and a powder compact foundation Ultra Le Teint as I really wanted the girl's makeup finish to look very blurry, matte and pristine."
EYES
"On the eyes, I used two colours from Les 4 Ombres mixed together, a grey from Blurry Grey's palette and a black eyeshadow from Modern Glamour, to create a smoky effect all over the lids with a matte finish. I brushed up and defined brows with a pencil, Stylo Sourcils Waterproof and an eyebrow gel Le Gel Sourcils. I finished with a black mascara Le Volume Révolution de Chanel Noir, on the top lashes only."
LIPS
"Then, I used a nude lip pencil Le Crayon Lèvres Nude Brun and Rouge Allure Velvet Extrême Modern, a matte peachy brown lipstick on the top. And that's the look!"
It's safe to say that the black smoky eye is back for Spring, and it can look chic.
Now, discover Victoria Beckham Beauty's new Posh lipsticks.