Tell us a little about the inspirations and constructions of the fragrance?
It all comes from a childhood memory, the tasting of a little delight in an artisanal confectionery shop in Corsica: a candied mandarin. When you taste it you go through multiple stages which I tried to translate in an olfactory language: First you bite in the crystallised caramel shell, slightly sour and with a hint of burnt flavor, before you can reach the fruit itself, its zesty skin and its pulpy flesh, mellow and soft. Finally the juice of the mandarin comes in an acidulous burst.
It was also a beautiful way to treat with Mandarin, an unexpected way, different from the traditional vision perfumery has let us see of that citrus until now.
What's your vision of L'artisan Parfumeur?
I see it as a modern, olfactive, cabinet of curiosities. When I think of L'Artisan Parfumeur, I think about how it enhances the art of perfumery through the eye of the perfumer and the nose of the consumer. Somehow the brand always finds a way to connect perfume lovers, in an accessible way, with the landscapes collection for example, that speaks to everybody's imagination – but always respecting a certain idea of tradition, craftsmanship and know-how.
For this perfume, was your nose your only work tool?
I also used my memory, and my imagination, which were key in re-creating that very peculiar moment and sensation I had, converting it from taste to smell.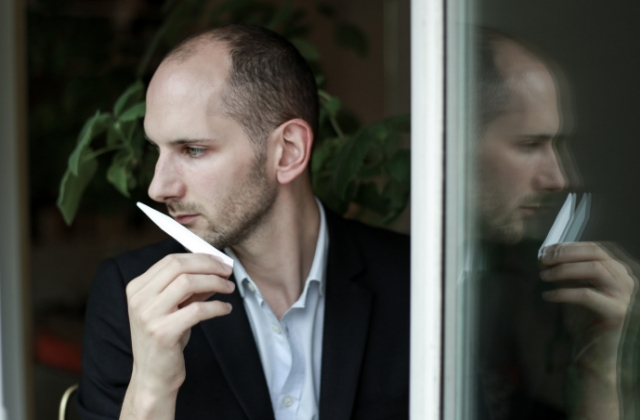 Do you classify scents as good or bad?
Yes, of course I do, although I do recognise all the interest in "bad" scents and always learn how to use it in my fragrances, as well as magnifying the "good" scents' asperities. All good and bad scents have a great potential in perfumery.
What makes this perfume so unique?
What first comes to mind is the fact that it is the result of a personal memory, which makes it immediately unique by essence. Yet what makes it truly different is the way Mandarin is treated, distorted from the very traditional image it renders in perfumery — one does not expect to smell it like this. This makes both a super luminous oriental fragrance, and hyper gourmand cologne.
Your ultimate ingredient for this perfume?
The Mandarin qualities I used to build the fragrance are crucial, and it took time for me to finally put that memory in a bottle because I did not have the tool I needed. Usual Mandarin oil has a very disturbing, wet, old-ish facet I do not like. This is absent in our new exclusive Mandarin oils and extracts qualities. These new extracts give long lastingness, pulp and flesh to the citrus' scent.
Furthermore, regarding the signature of the fragrance, I would say that the hint of Immortelle brings something very special to the olfactive picture; it transcribes the slightly burnt hue of the caramel, which is essential to the fragrance's addiction and identity.
How many Ingredients did you actually put into the formula for this perfume?
16 raw materials to be precise!
Why and how does a fragrance appeal to you?
What attracts me in a fragrance is the way it interacts with the person wearing it — the alchemy it creates, the "sillage" it leaves behind, like an invisible trail.
What attracts me in a fragrance is the way it interacts with the person wearing it — the alchemy it creates, the "sillage" it leaves behind, like an invisible trail.
What particularly touches you about this creation?
In the first place the fact that I managed to transcribe this memory in a scent, finally, after many years, waiting to find the required and ideal raw materials. Also the fact that it is both my and Givaudan's first L'Artisan Parfumeur creation — this fills me with great pride.
What is your typical day like when you're creating a perfume?
Well it is intense!
I follow up with on-going projects; I evaluate my trials, create variations around them, and then evaluate them again… It is about intensity, research, inspiration, answering requests and demands, finding new ways, new will, new ideas…
Above all, it is a non-stop job; it does not start nor end when in or out the office. My day starts under the shower, where a lot of crazy ideas and inspirations come to my mind, and in my sleep, and in the street… Ideas do not wait a certain time to knock on one mind's door.
This perfume has a scent of luxury and winter – how did you come to this conclusion?
Absolutely. Luxury, because of the amazing qualities of raw materials in the fragrance, exceptional Tonka Bean extract in overdose, which is very rare to find in such a quantity — it gives all its beauty, all its facets to the scent, along with the exclusive qualities of Mandarin.
For the winter part, there is lot to say. First candied mandarin immediately refers to Christmas time. Also the fragrance is very versatile, many are sensible to the hesperidic side of the perfume, and make it theirs for its freshness and light, while others, like me, are sensitive to its warmth, the Tonka and Immortelle associated to precious woods making it enveloping, cocoon-like, which takes you straight to winter.
Finally, I love this dichotomy of winter in Corsica. Corsica is not just sun, beaches and sea, there also is a winter season there, and I was very interested in transcribing what one does not often look at.