Last night, Cristiano Ronaldo was officially unveiled as the newest team player to join Saudi Arabia's Al Nassr football team and as you'd imagine, thousands of fans gathered from all over the Kingdom to cheer on CR7. Undoubtedly one of the greatest football players of all time, the Portuguese icon's new signing marks a significant amount of pride for the region.
He made his official debut on Tuesday as he arrived at the Al Nassr's Mrsool Park stadium in Riyadh and shortly after appeared at a press conference alongside Musalli Al Muammar, Al Nassr President, and Rudi Garcia, his first team coach. Addressing the media for the first time, Ronaldo commented on his new journey and shared that he aims to inspire the future generation of Saudi Arabian players.
"In Europe, my work is done. I had many opportunities in Europe, many clubs, in Brazil, in Australia, US, and even Portugal, there are many clubs who tried to sign me, but I gave my word to this club. Not only to develop the football but other parts of the country."
He then continued to say: "For me, it's a good challenge. I know what I want, I know what I don't want. For me, it's a good chance to help with my knowledge and experience to grow many important points. I want to give a different vision of the country, of the football, of the perspective of everybody. This is why I'm here and why I took this opportunity. I'm a unique player. It's good to come here, I broke all the records there (in Europe) and I want to break a few records here."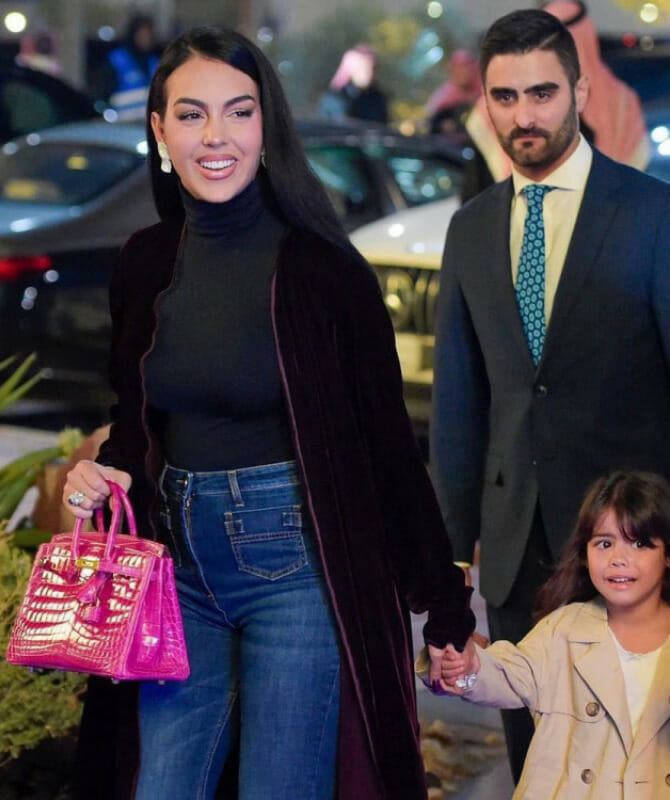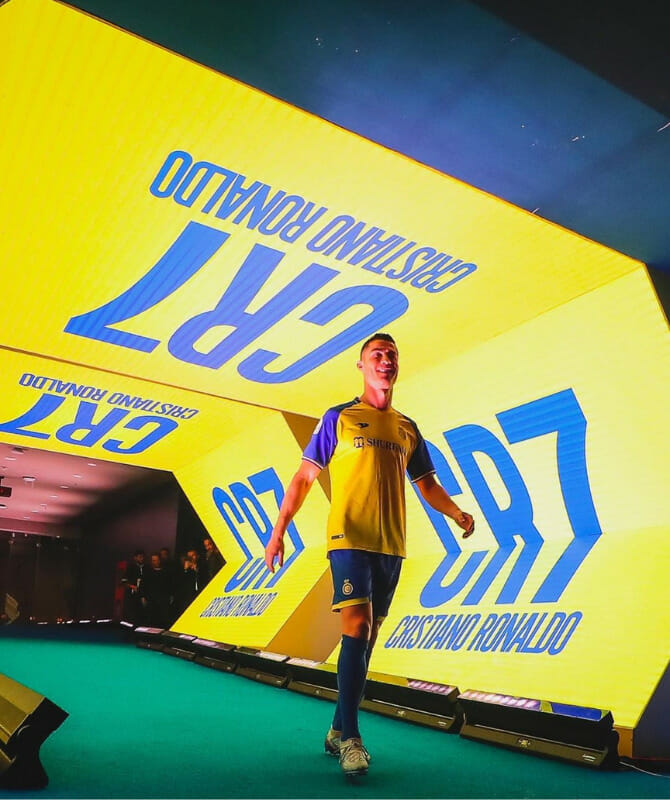 And of course, Ronaldo's long-term partner Georgina Rodriguez was spotted in Riyadh for support. The Argentine-Spanish model and reality TV star stepped out for the highly-anticipated event – and in regional designs, no less. Rodriguez was spotted in a black MaxMara turtleneck, Elisabetta Franchi denim, and topped it off by paying homage to the region with a velvet maroon abaya by Doha-based brand Dollab Line.
ALSO READ: QATAR HAS SOLIDIFIED THEIR NAME IN HISTORY.