We're officially less than a month away from the FIFA World Cup in Qatar and as the countdown lessens, our excitement levels are rising. And as the official timekeeper of the games, Hublot is here to ensure that we're there for every minute of it.
For the 4th consecutive edition, Hublot has continuously kept fans entertained and informed all the way throughout previous tournaments – from the countdown to the final whistle – and for this year's FIFA World Cup, it'll be no different.
Taking place from November 20 to December 18, Hublot will be at the heart of all of the World Cup action by staying connected with a Gen3 Hublot watch. The highest performing and exciting Big Bang e to date, the new timepiece (limited to 1,000 pieces) is a captivating blend of fine watchmaking techniques and high-end electronics. Complete with an exquisitely engineered 44mm case in micro-blasted polished black ceramic and black titanium, the timepiece carries the iconic codes of the Big Bang.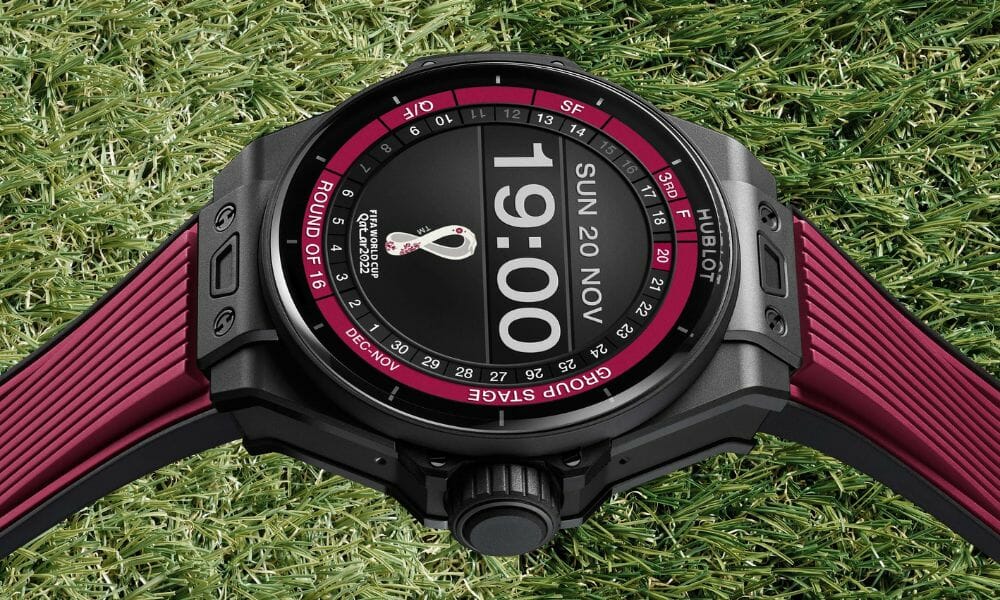 Hublot's Big Bang e timepiece is here to capture some of the most anticipated moments of the tournament, even before the game officially starts. With 15 minutes to go before each match, the watch will deliver team line-ups and player profiles, so the wearer can feast on the details from the comfort of their wrist.
Housing a Qualcomm Snapdragon processor and Google's Wear OS operating system as well as an accelerometer, a gyroscope, a microphone a speaker, GPS and a heart-rate monitor, the watch also has an exclusive feature that will help fans capture the most memorable and most important moments in football.
Presented on a black and burgundy lined rubber strap, the timepiece is a reflection of the flag colours of Qatar, and customers are able to secure straps in the colours of each of the 32 participating countries.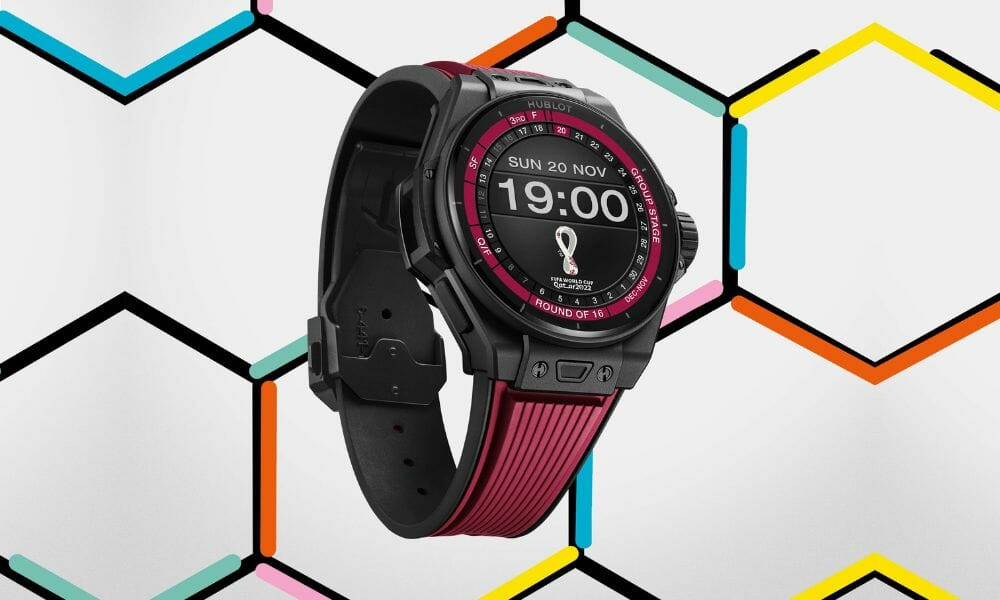 "Today, Hublot is the first name in football timekeeping. For this year's tournament, we wanted to do something that expresses our belief in a free, diverse and unified world in a new and memorable way," says Hublot CEO, Ricardo Guadalupe.
"Football is the world's game and has a unique power to carry a message of hope to every corner of the Earth, connecting us and showcasing everything that brings us together. Passion, fairness, family. We're so proud to be working with Mira Mikati and our Hublot Ambassadors and Friends of the Brand to tell this story. We're also thrilled to be the Official Timekeeper of the FIFA World CupTM for a fourth time, going back to the South Africa tournament of 2010. We are so excited for this year's festival of football to begin and wish every participating team the very best of luck. Hublot Loves Football!"
ALSO READ: HUBLOT KICKS OFF "HUBLOT LOVES FOOTBALL" CAMPAIGN.