Growing up, I collected the most gorgeous, precious rocks and found a deep connection to their healing powers, which led me to discover my passion for creating beautiful pieces that highlight the charm of the natural world. This new form of creative expression has translated into my jewelry brand's iconic look and feel. So, how do you unlock the key to your signature jewelry staple? Let's delve into some key factors that will help you embark on this thrilling journey of self-discovery.
All it takes is that first step – reflect on your style and personality. Are you drawn to understated pieces, or do you prefer statement-making designs? Look at your wardrobe and the type of clothing that you gravitate towards. Are you more into classic and timeless looks, or do you embrace the latest fashion trends? Answering these questions will make you see the bigger picture, ultimately guiding you in choosing a piece that complements your aesthetic. I find joy in carefully curating the perfect adornments for my daily wear. Crystals, with their healing properties, hold a special place in my heart, and I love to layer up, enveloping myself in their empowering energy.
When styling, be playful with it and never limit yourself. Layer up in power pieces, symbols and gemstones that imbue you with feelings of love, positive energy, sensuality and more. I love to style my diamond layers from light to heavy, so they graduate in size and in the amount of diamonds. The top layer should be the lightest piece, and the last layer should be the heaviest. Start with a simple essential, like our spaced out half shaker, and let the last layer carry some weight. Our new teardrop center crystal necklaces have become personal favorites of mine. In between, space out the adornments that make you feel confident, playful or empowered – a gemstone or a motif you feel especially connected to.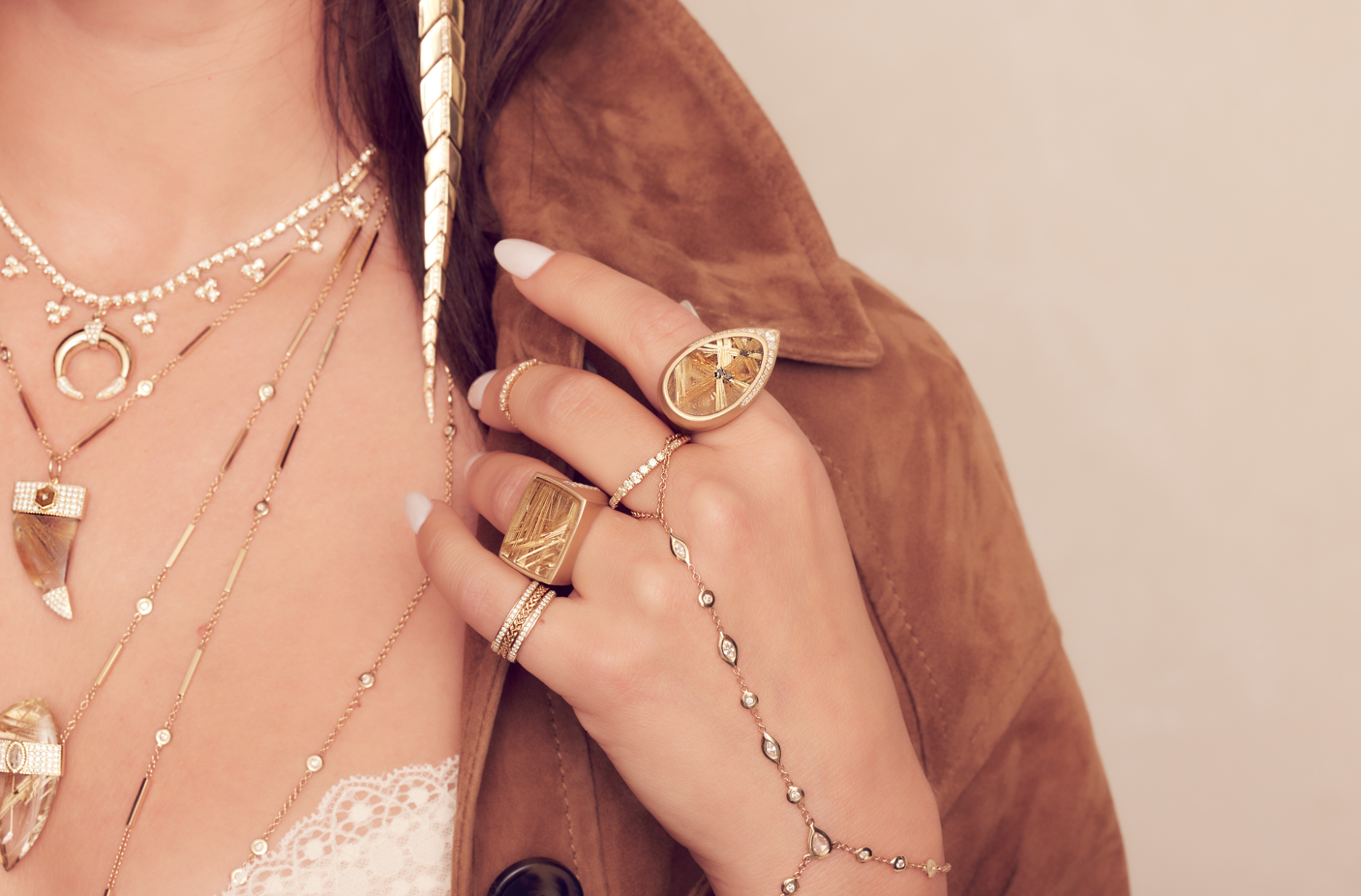 Try on different pieces! Visit jewelry stores and boutiques, and speak to those who inspire you. Take this opportunity to experience each piece, and pay close attention to how it makes you feel and complements your features. You want to feel a deep connection with your signature piece, so trust your intuition and allow yourself to be captivated.
In unlocking your signature jewelry staple, remember that each piece should reflect your essence, imbuing every day with a touch of elegance and a dash of magic. One thing I have learned is that you have to embrace evolution. Don't limit yourself to just one piece forever. Undoubtedly your style will evolve, and tastes will change. This is a journey of reflection and discovery of your authentic self. Embrace this journey with an open heart, and your jewelry will become an extension of your soul, a radiant testament to your individuality.
ALSO READ: BARBIECORE, MERMAIDCORE & PASTELS: SUMMER 2023'S JEWELRY COLOUR TRENDS.