In an era dictated by social media, where every other scroll leads us to a freshly-minted "trend," distinguishing a fleeting fad from what is truly en vogue can become an arduous endeavor. After all, you wouldn't want to invest in a fad that fizzles out in mere weeks only to let the season's most coveted trend slip through the net.
Tired of navigating the sartorial labyrinth?
As always, we've done the homework. Having carefully gathered evidence, not only from the runways but also from celebrity closets, digital conversations, and data-backed insights from the likes of Tagwalk and WGSN, we have pieced the puzzle together.
This season, the poised world of business-chic clothing shared the runways with risqué lingerie-inspired 'fits, while accessories manifested in swollen proportions. Voluminous silhouettes crafted in the form of peplums, flared dresses, and supersized sleeves took up space on the runways, while whimsical prints whisked the front row to a surreal world. Where striking hues and lustrous metallics clamored for attention, plush basics left the most indelible mark.
From clothing to accessories, discover the hottest Fall/Winter 2023 trends below:
Back to Basics.
While buzzwords like "Quiet Luxury" and "Stealth Wealth" have driven us to exhaustion, luxe basics always have been and always will be here serving as the very foundations of just about any wardrobe. While pared-back, everyday clothes crafted from the finest fabrics don't exactly cut it as a trend, these unsung heroes finally received the recognition they deserve on the Fall/Winter 2023 runways of powerhouses like Gucci, Loewe, Bottega Veneta, Ferragamo, Prada, and Fendi, among many others.
Coming in hot with an eye-popping price tag and a promise to stick by you forever, plush essentiels are the best way of future-proofing your wardrobe. Think about them as wardrobe investments, the cost of which wears down with the more you use them. It's not even "Girl Math," it's real math.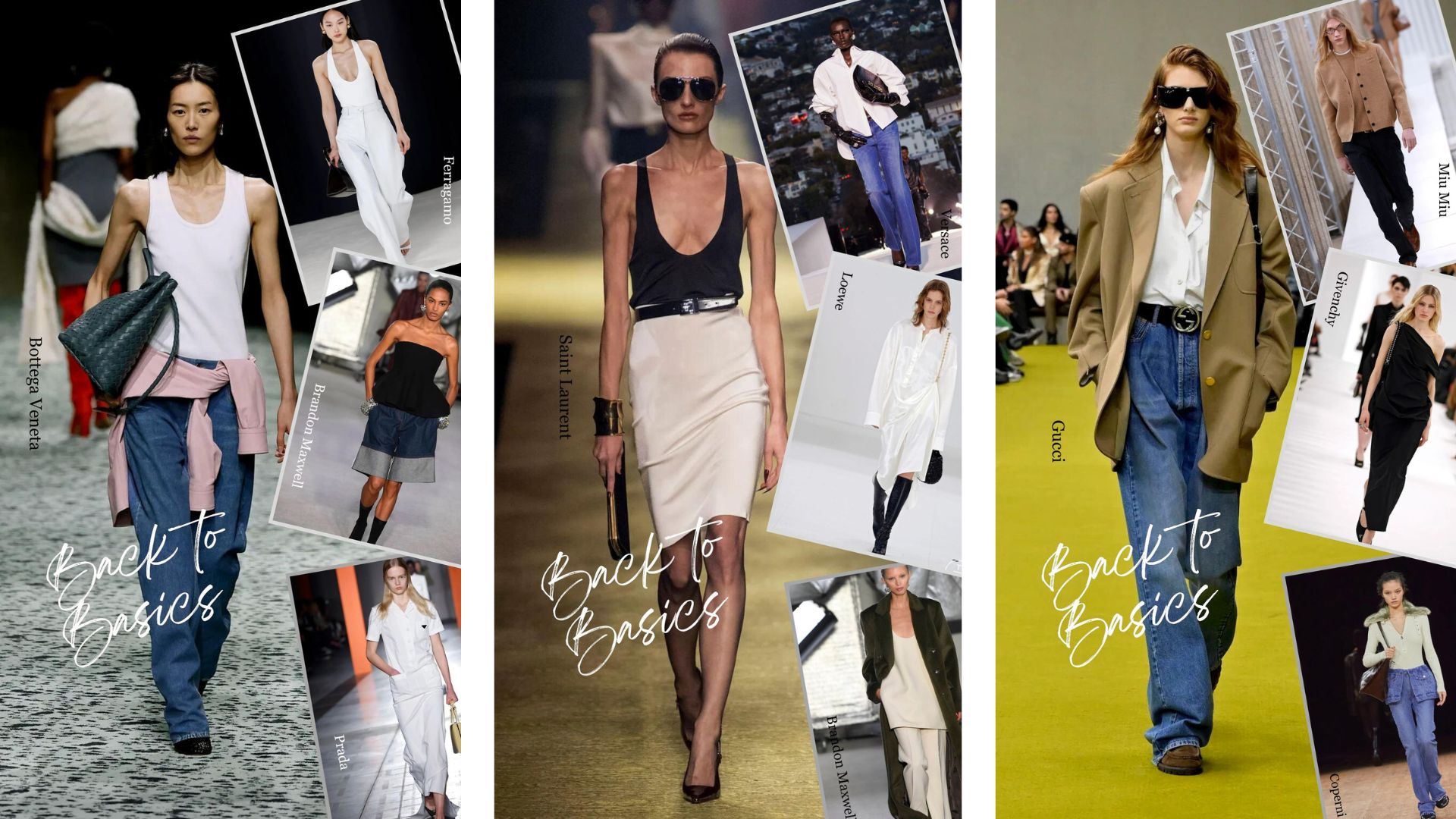 Belted.
Remember the wide, low-waist belts from the Noughties that did practically, err…nothing? Well, they are back. While you might have stowed away all memories and pictorial proof of ever wearing the trend, its resurgence on the runways and our social feeds is–like it or not– proof of it cementing itself as one of the biggest trends of the coming season. As for the key players making the noughties style one of the most significant Fall/Winter 2023 trends? Think: Michael Kors, Blumarine, Versace, and Roberto Cavalli.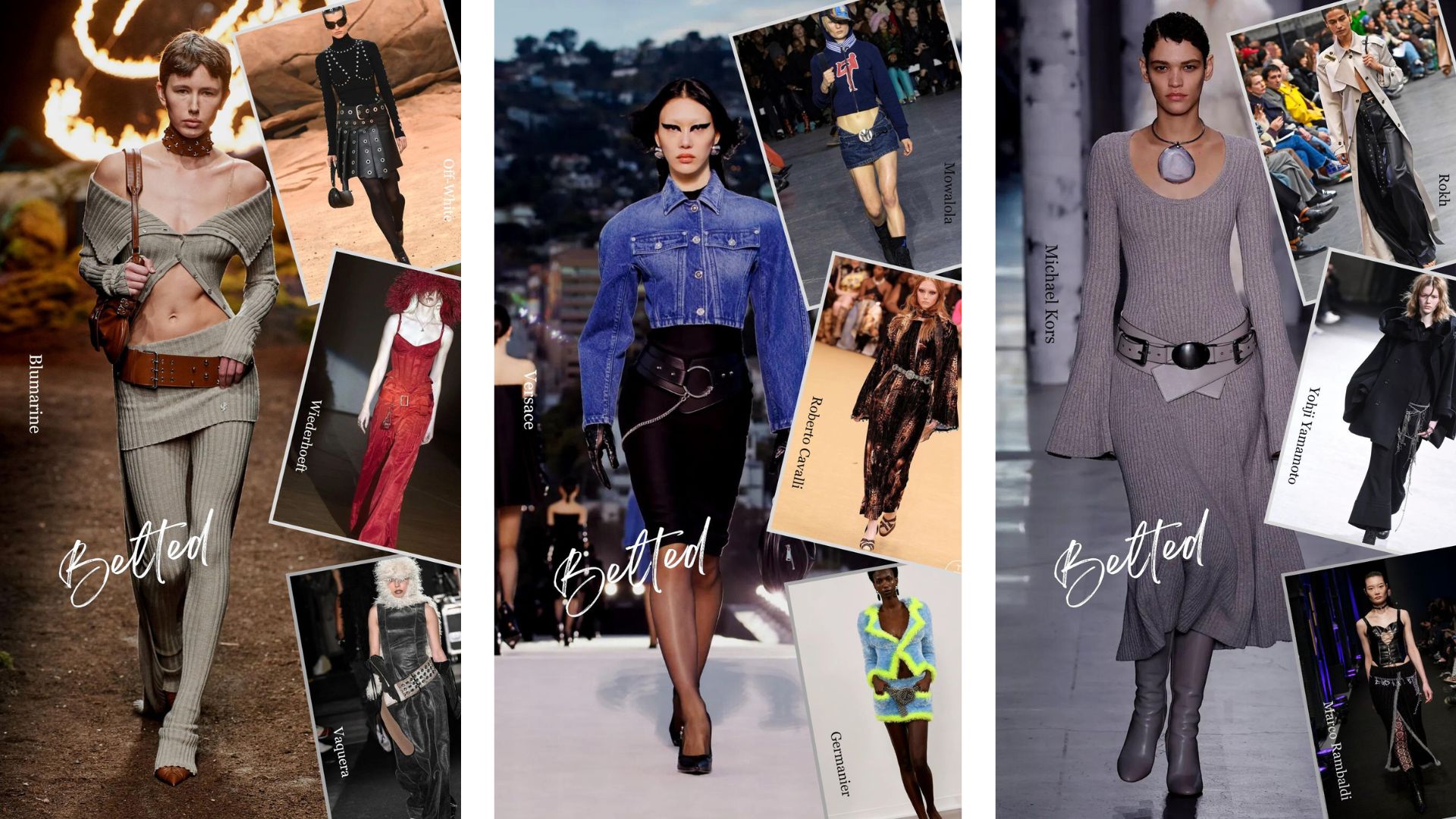 Dropped Waists.
Dropped waist dresses with a flared bottom have been bubbling up on our virtual feeds, making their way into the wardrobes of the most stylish celebrities, including Kendall and Kylie Jenner. While the fashion crowd, as always, was quick to adopt the flattering silhouette, it'll be propelled into the mainstream come fall. Dropped waist flared dresses were spotted on the Fall/Winter 2023 runways at Givenchy, Chloé, Versace, Alaïa, and Bottega Veneta, cementing its position as one of the season's most covetable items.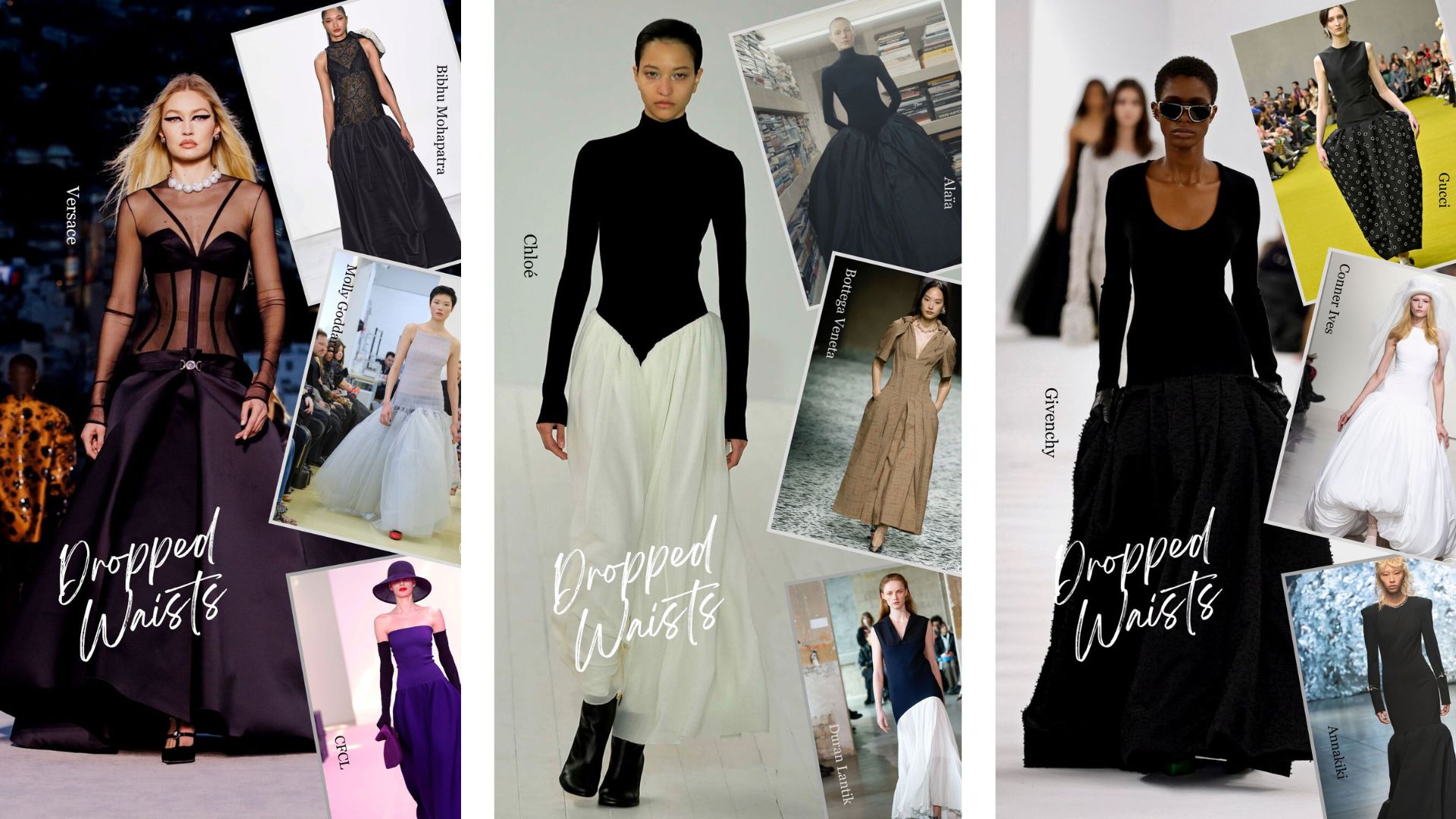 Dramatic earrings.
"Go big or go home" is the running motto of the season when it comes to accessories. This rings especially true for earrings. Dramatically-sized danglers and studs attached to models' earlobes screamed for attention on the Fall/Winter 2023 runways across fashion capitals. While super long earrings made an unforgettable appearance at Gucci, Vivienne Westwood, and Giambattista Valli, it's the oversized studs that adorned ears at Courreges, Schiaparelli, and Balmain, among others, that will reign supreme this season.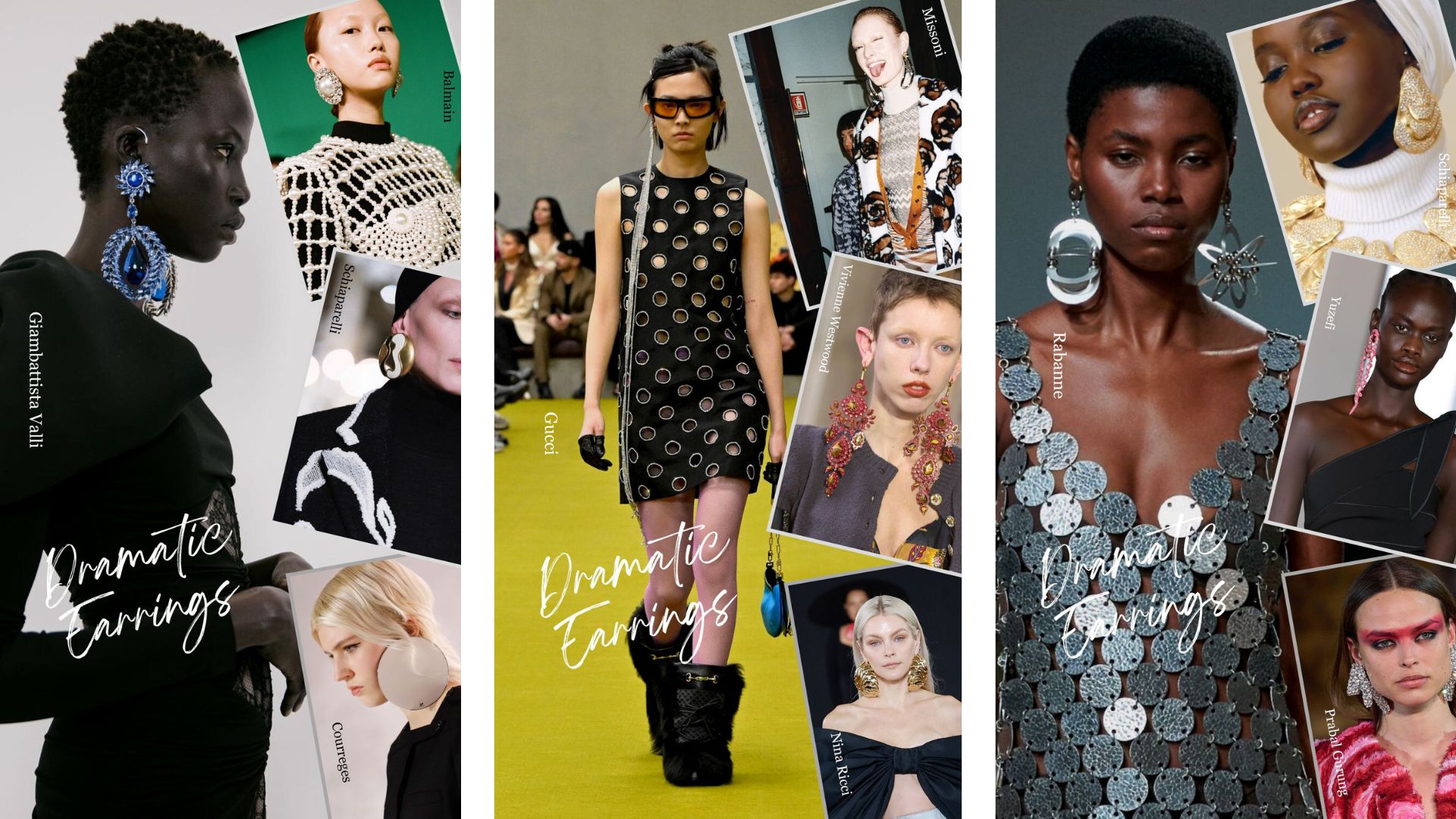 Inside out.
The season's most scandalous trend characterized by audacious sheers, delicate lingerie-esque lace inserts, slinky slip dresses, bejeweled knickers, and pantless outfits challenges the norms of conventional dressing. With intimates now on full display, the risqué trend dares you to bare it all like never before. With luxury maison like Miu Miu, Jacquemus, Fendi, Prabal Gurung, Etro, and Roberto Cavalli championing the bold trend, seductive underwear-centric looks will undoubtedly be one of the key Fall/Winter 2023 trends.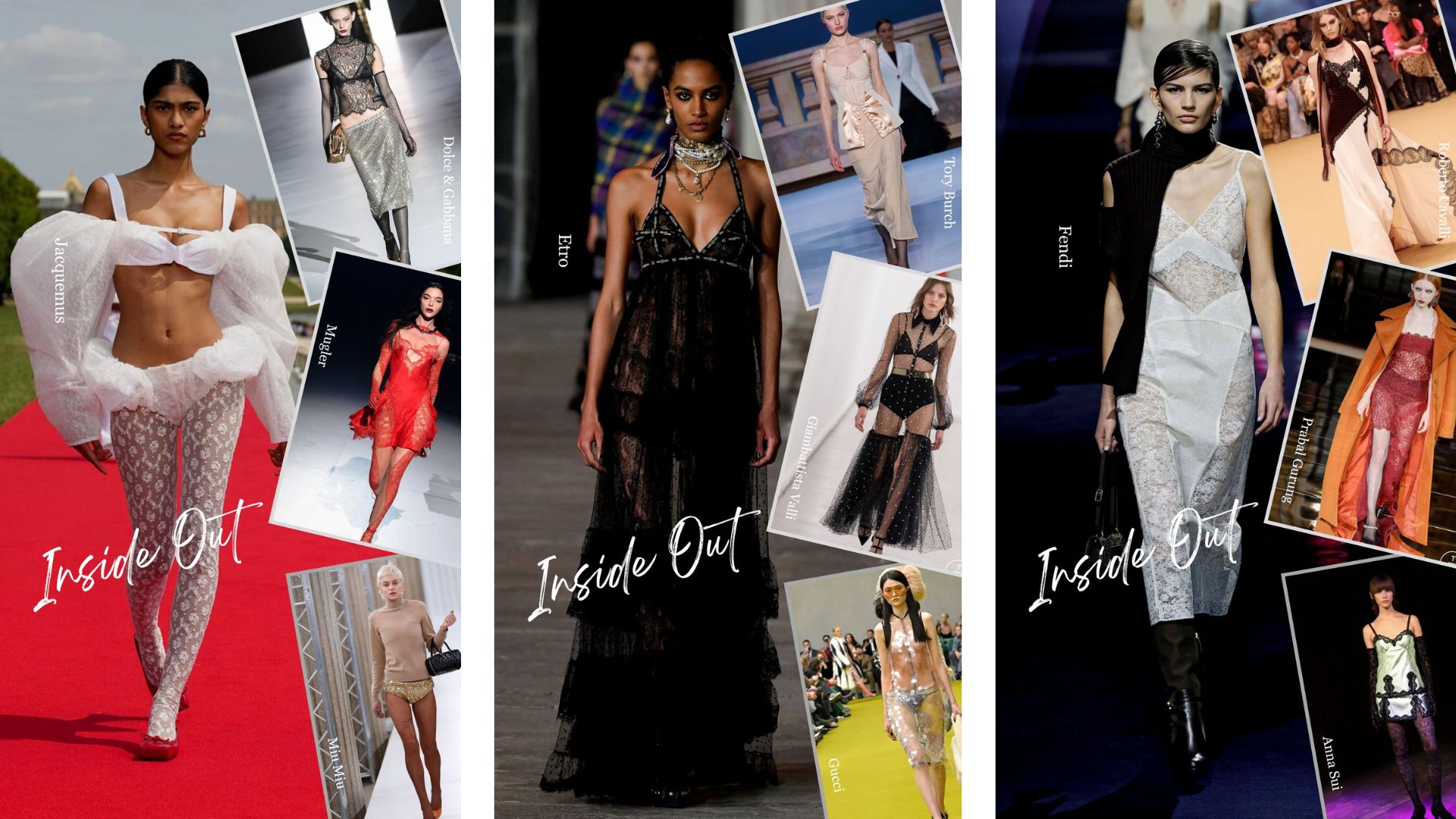 Statement sleeves.
This season, designers–both established and emerging–waved goodbye to basic sleeves, affixing their designs with statement-making arms instead. While billowing, puffed, and padded sleeves took centerstage at Ferragamo, Schiaparelli, and Jacquemus, sculpted and scalloped sleeves highlighted the Fall/Winter 2023 collections at Annakiki and A.W.A.K.E. Mode, while dramatic, floor-grazing sleeves demanded eyeballs at Rodarte, Balenciaga, and Christian Siriano.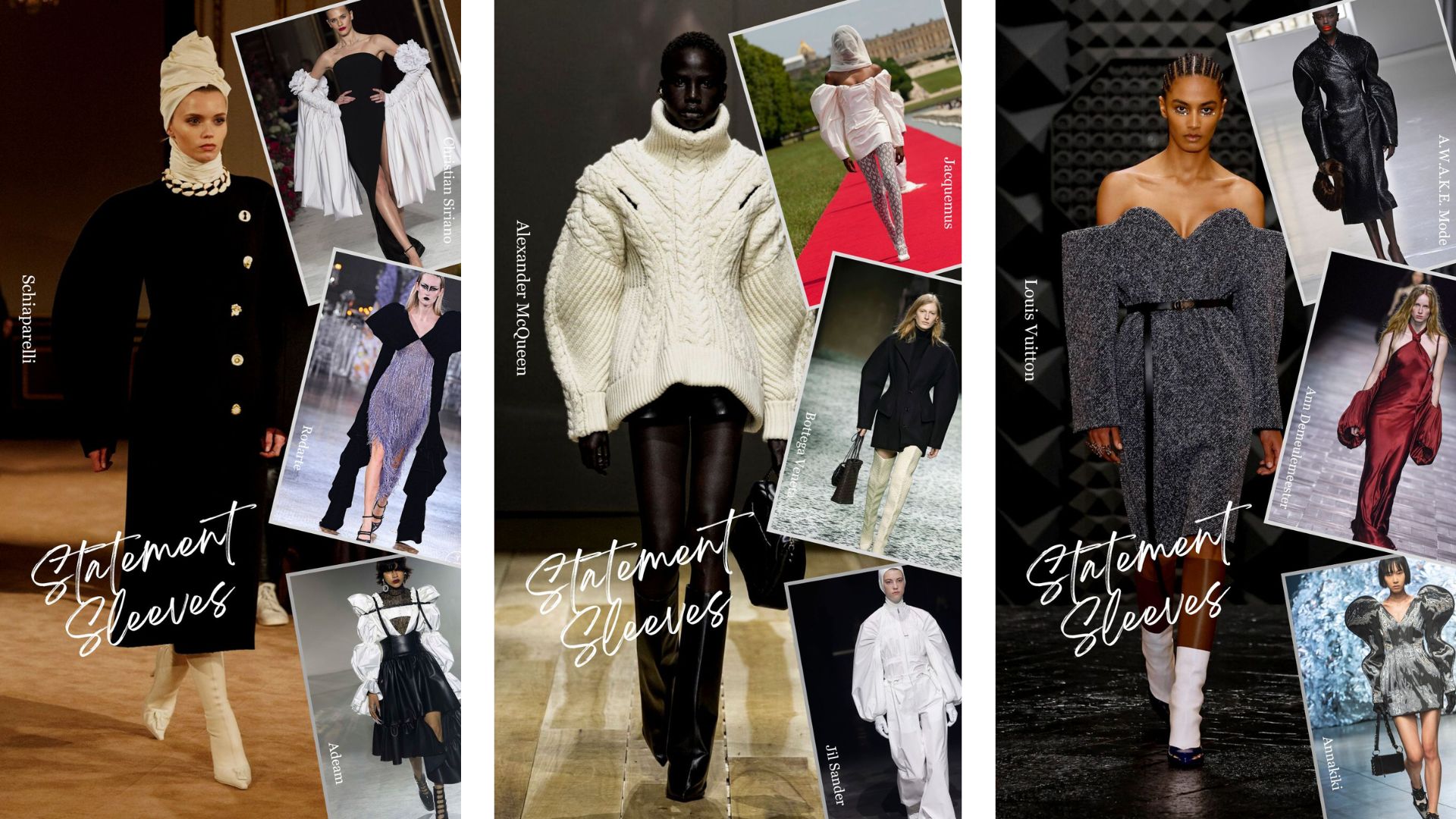 Business class.
Brace yourselves; the corporate girlies are taking over. Even with remote and hybrid working modules still prevalent, this season, the cool girls are finally shedding their work-from-home-sweats as they take powerful strides into their 'Business Girl Era.' As we return to our desks post-summer, it's time to give your 9-to-5 style an overhaul, with sharp suiting making a glorious comeback for Fall/Winter 2023. At Saint Laurent, this translated into crisp tailoring, sophisticated skirt suits, and blazers boasting exaggerated shoulders. At the same time, Alexander Mcqueen, Gucci, Louis Vuitton, Bottega Veneta, and Stella McCartney showcased an array of polished, fit-for-the-boardroom blazers, refined trousers, and elegant shirts and vests accessorized with ties.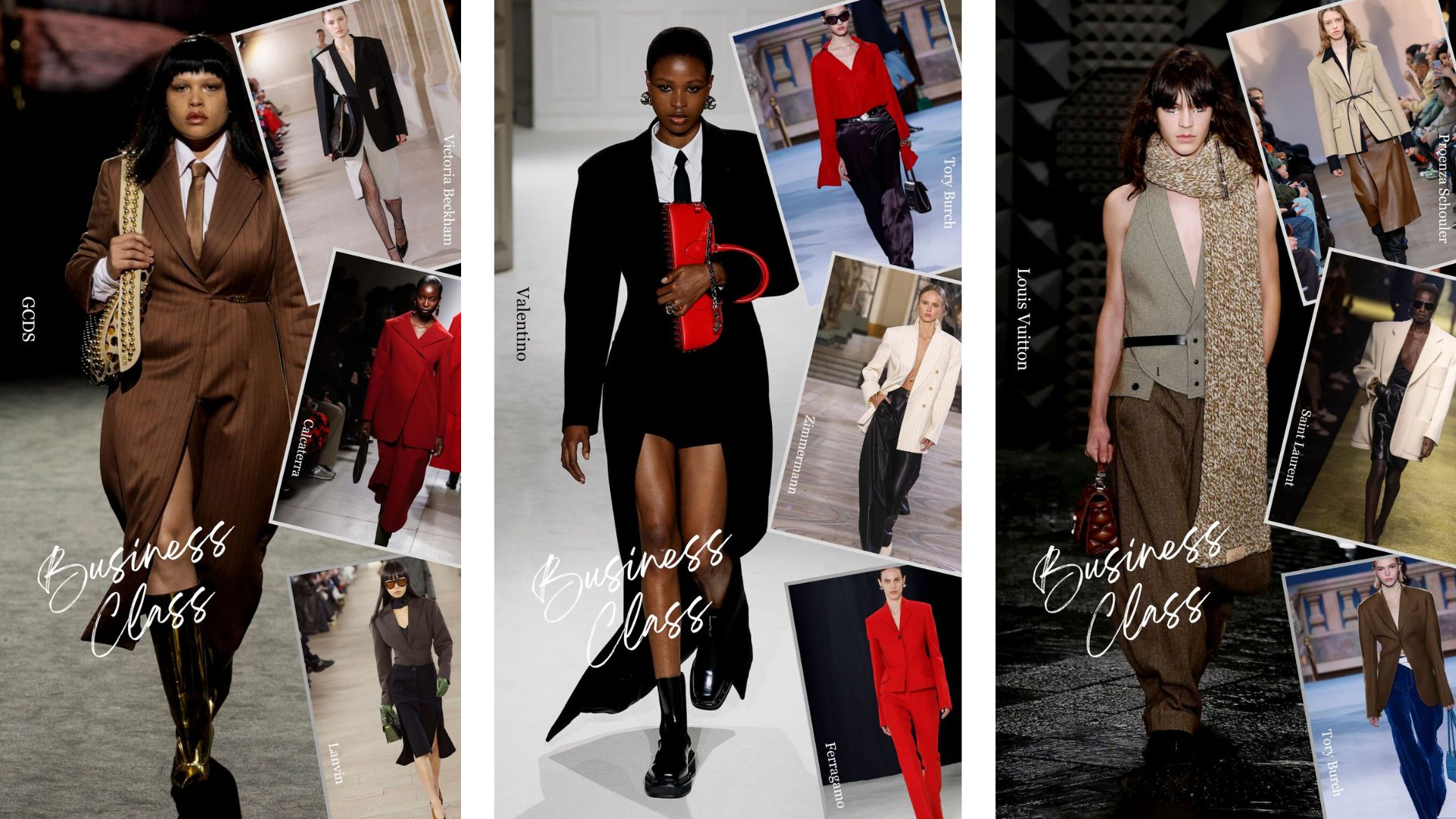 Red alert.
Designers and celebrities (looking at you, Hailey Bieber) alike have got the memo: red–a burning scarlett hue thereof–is the color of the season. Designers across fashion capitals sent down a slew of spectacular head-to-toe red looks down the Fall/Winter 2023 runways, crowning the shade as the most covetable for the coming season. From sculptural gowns at Alexander McQueen and Bottega Veneta, exquisite knits dyed in red at Ferragamo and The Row, to vibrant red boots at Hermès and Blumarine, the warm hue will dominate the cooler months ahead.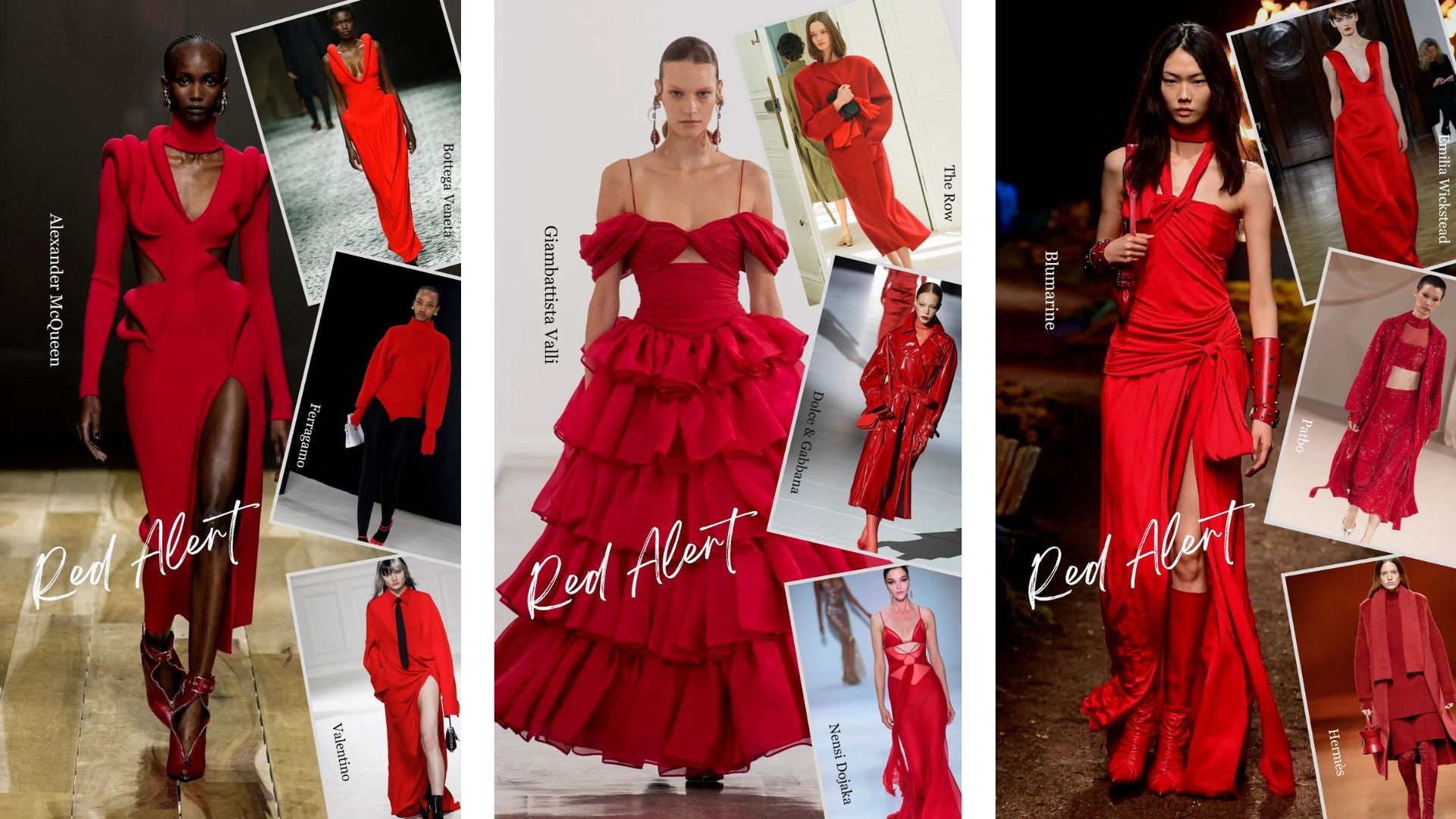 Disco ball.
While sequin-clad grocery runs and lavish parties à la the Roaring Twenties might not find their place in the post-pandemic 2020s, scintillating metallics continue to rule the runways. While sequins and bejeweled 'fits made their shimmering presence felt at Rabanne, Valentino, and Gucci, this season's dazzling trend focuses on a molten metallic aesthetic brought to life using draped liquid lamé. Design houses like Rick Owens, Diesel, Dries Van Noten, and JW Anderson, among others, have embraced this captivating trend, casting a luminous glow over the fashion landscape.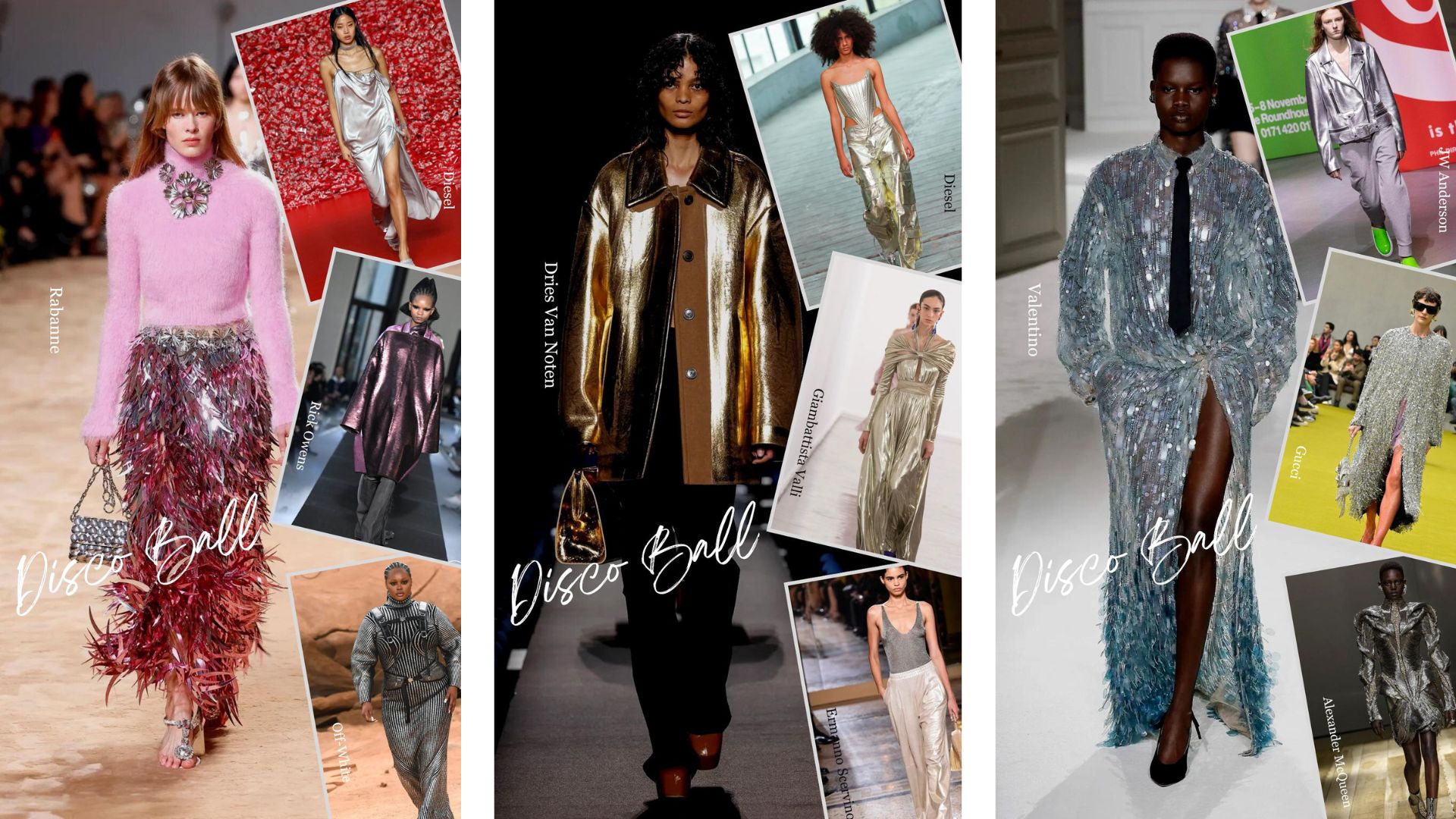 Big bag club.
We understand the appeal of mini bags – they're undeniably adorable. However, they can also be equally impractical. After a few seasons of obsessing over minuscule bags, the fashion gods are finally blessing us with capacious handbags that will fit everything – and then some more. This season, models were spotted lugging around enormous handbags on the Fall/Winter 2023 runways. From gargantuan tote bags at Loewe, Bally, and Jil Sander, mammoth bucket bags at Rabanne, XXL intrecciato bags at Bottega Veneta, to models strutting down the runway with huge clutches tucked under their arms at Simone Rocha and Victoria Beckham, the coming season will yield a fresh crop of oversized arm candy.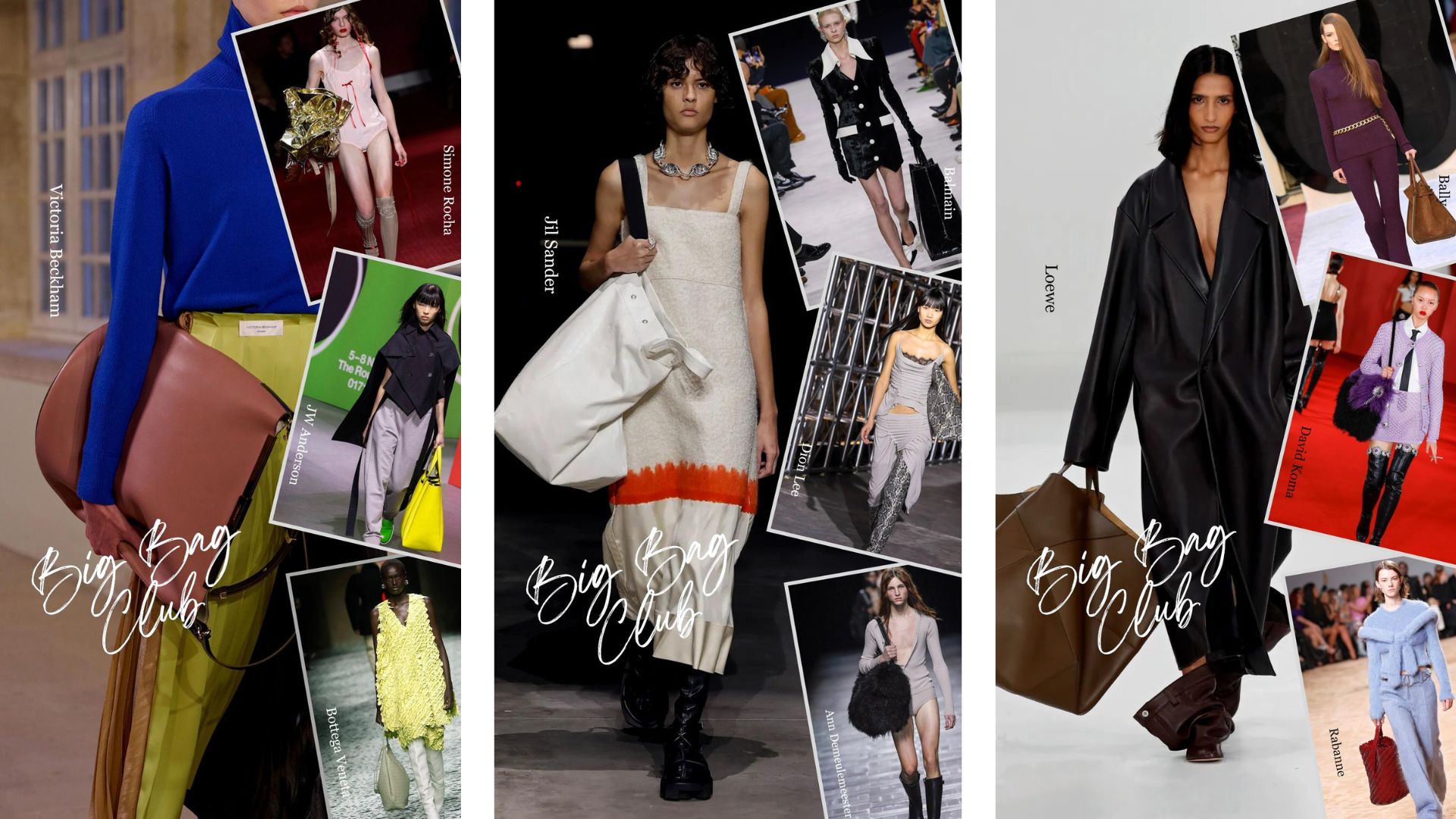 Draped to perfection.
Delicate pleats, draped to perfection and crafted into skirts, dresses, tops, and even blazers, were a massive hit on the runway this season. Instantly elevating an outfit with a touch of texture and femininity, complex drapes will dominate occasion wear this season.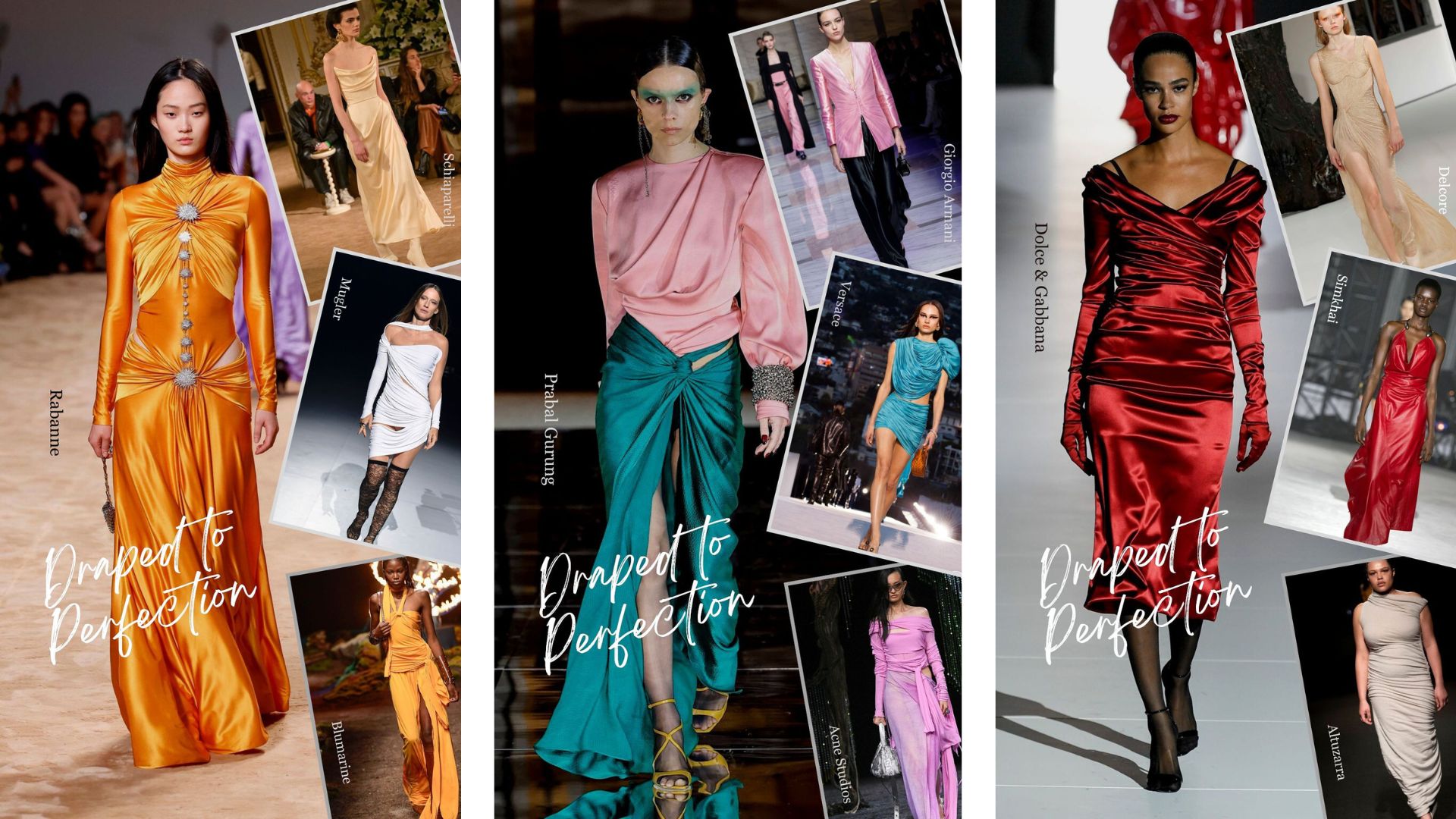 peplum.
If there is one trend that will define the zeitgeist this season, it is peplums. Albeit in humble numbers, peplums have returned to the runways and made a lasting impression at Tory Burch, Brandon Maxwell, Tove, and Christopher Kane, among others. That's not all; the trend is swiftly being adopted into the chicest closets on the fashion circuit, making it even harder to ignore. Trust us on this: peplum tops–strapless ones in particular–paired with the already trending maxi skirts, cargo pants, and even tailored trousers will evolve into the defining silhouette of the season.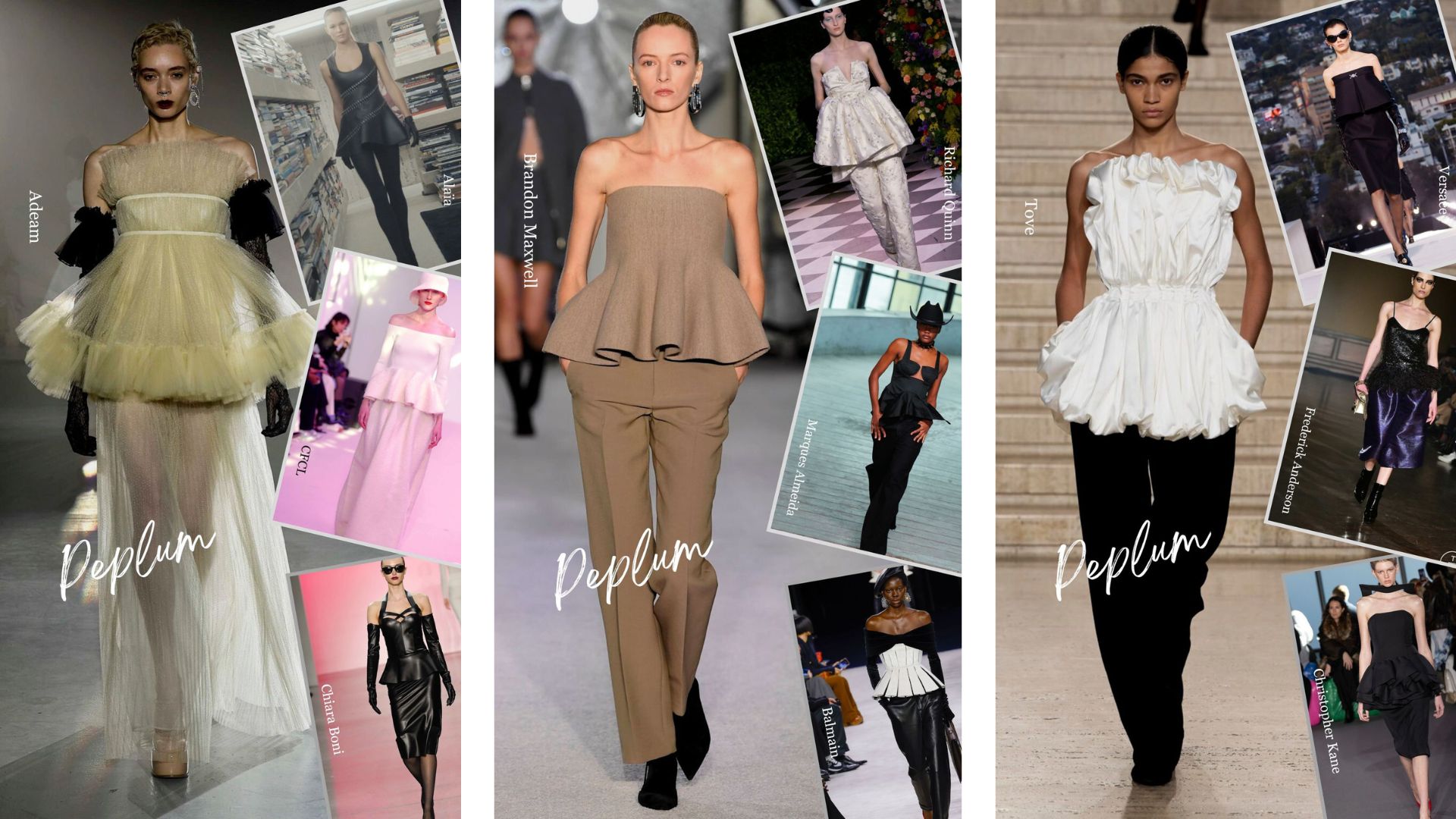 Whimsical prints.
The creative realms of fashion and art often collide, and the surrealist prints dominating the Fall/Winter 2023 runways are yet another example of the same. From botanical motifs at Alexander Mcqueen, Prabal Gurung, and Alberta Ferretti to optical illusions at Loewe and JW Anderson, whimsical prints designed to evoke a sense of fantasy will secure a prominent place on the trend charts for Fall/Winter 2023.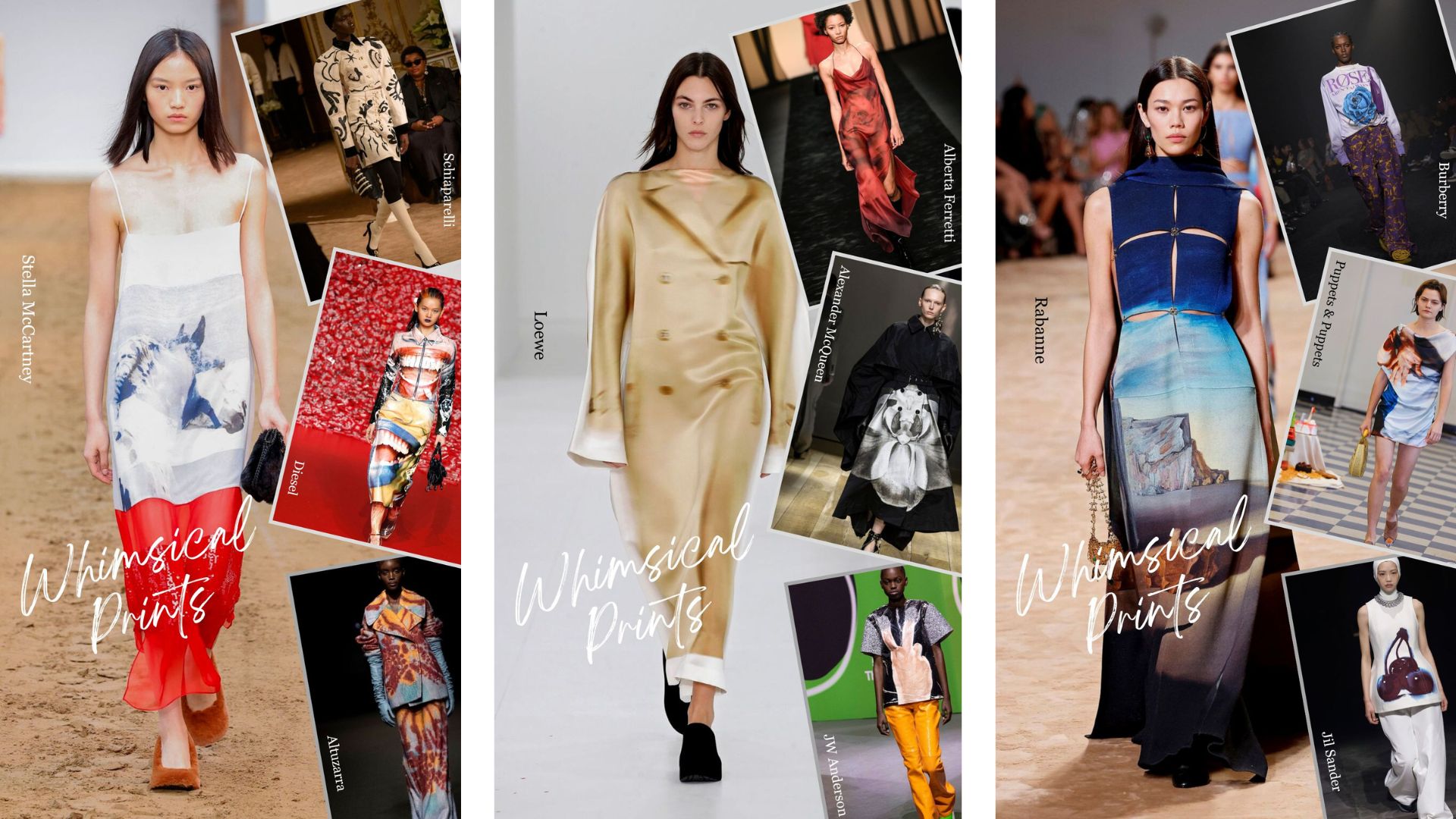 Touchy-Feely.
Tactile materials like chunky cable knits, smooth feathers, and fuzzy textiles have maintained their position on the Fall/Winter runways year after year. This year, however, tactile popcorn fabrics came as a welcome addition to the textured runway fixtures. The puckered fabric–that owes its popularity to the late 90s and early aughts–are set to return to our closets this winter, courtesy of Bottega Veneta and Issey Miyake, among others.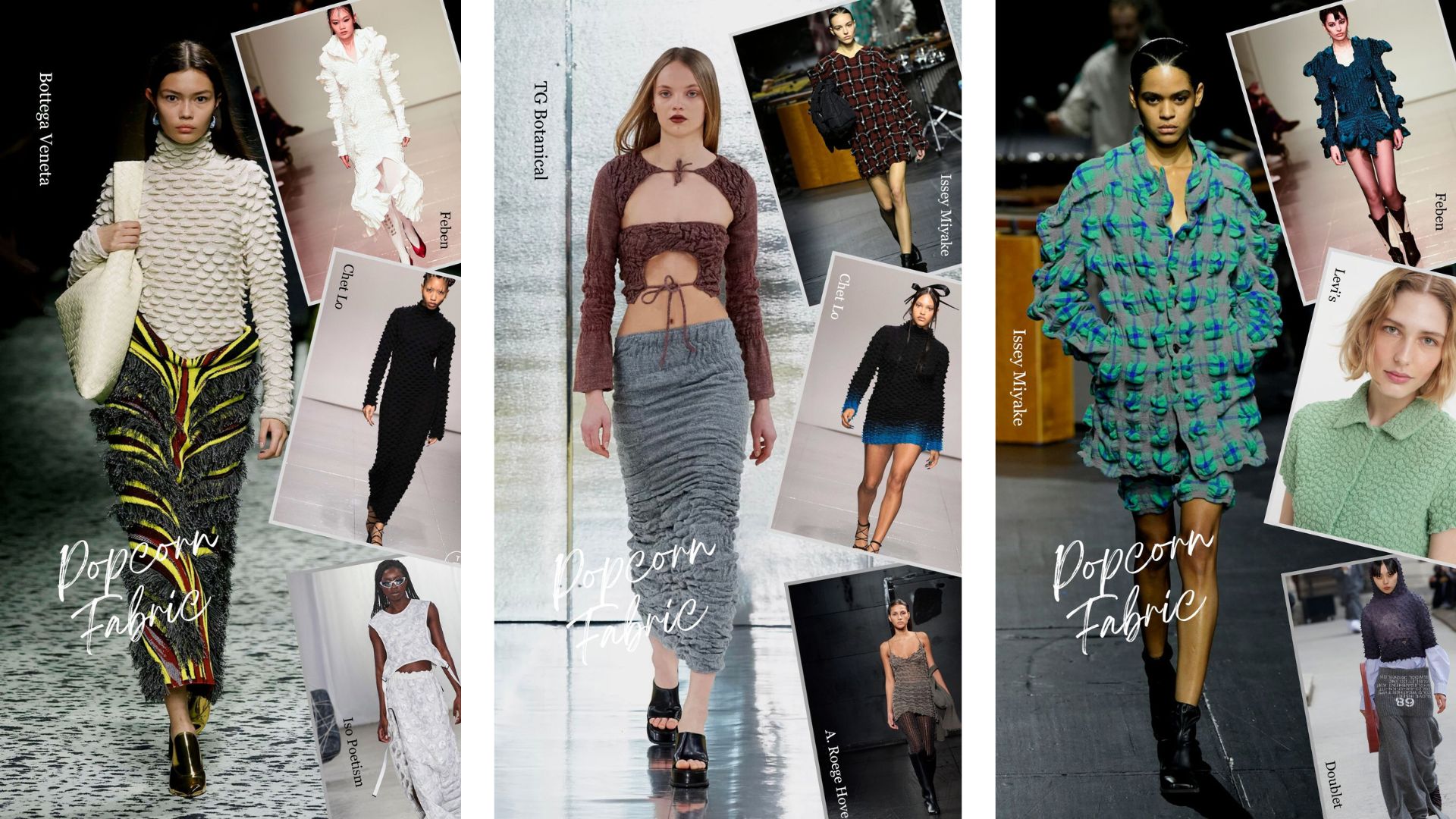 Tied up.
The resurgence of the business-chic aesthetic on the Fall/Winter 2023 runways brings a fitting accessory in tow: ties. Often paired with a crisp shirt–white or otherwise–ties popped up repeatedly at the likes of Valentino, Alexander Mcqueen, and quite surprisingly, even at Dior.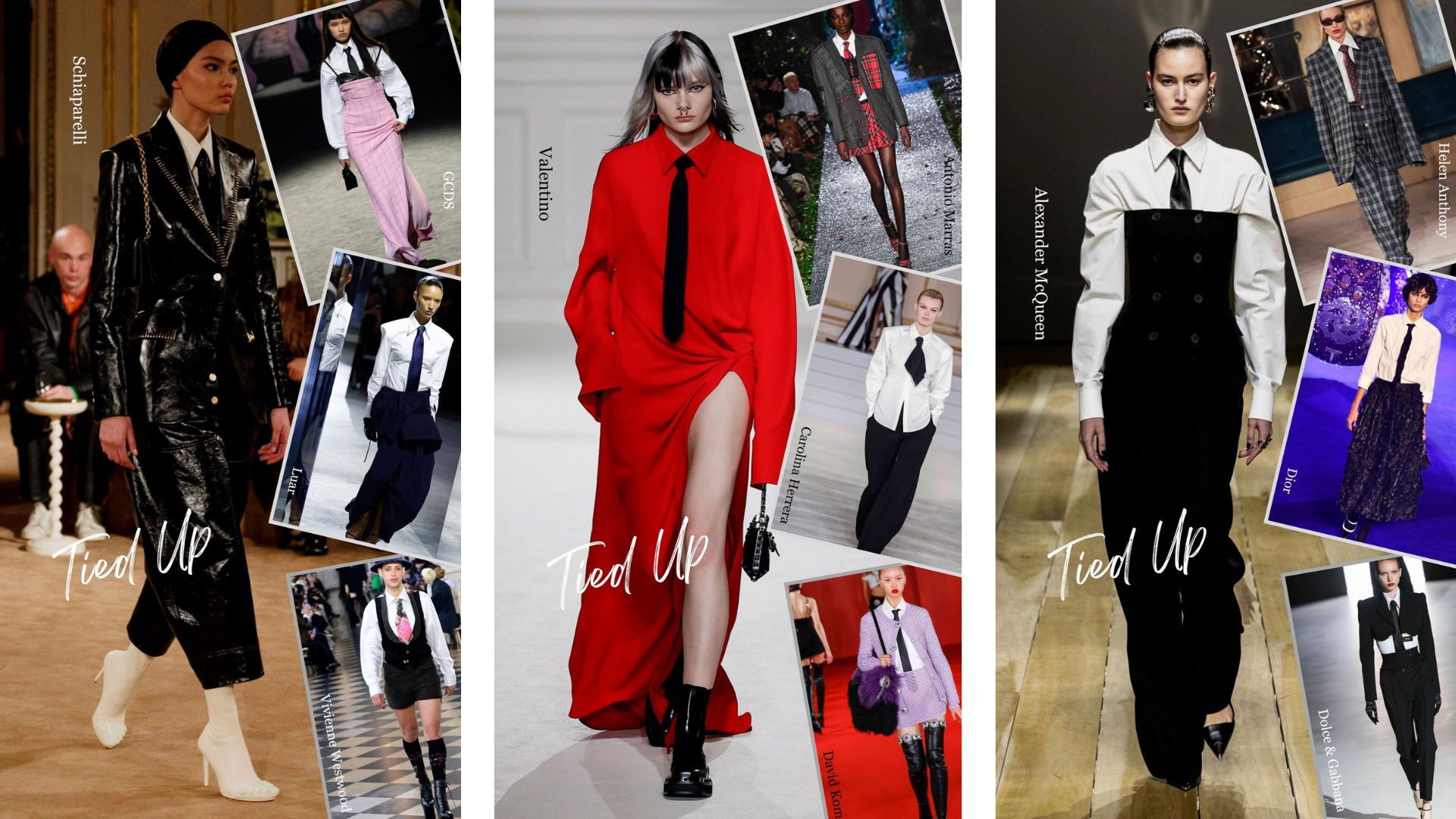 ALSO READ: CARTIER PROUDLY MAINTAINS ITS POSITION AS THE PRIMARY SPONSOR OF THE VENICE INTERNATIONAL FILM FESTIVAL FOR THE THIRD CONSECUTIVE YEAR.