The local fashion scene is just burgeoning with up-and-coming designers, in just few days, we saw them emerging from strength to strength, emerging in talent, emerging in quality, emerging in creativity, power, ideas, individualism and originality. Whether red is the new black or stripes are in or not, there is a certain appetite for newness, multiple stories of imagination, a push for the boundaries, a challenge for taste. Still asking if fashion can be rebellious? Today more than ever, Dubai proves it can and because we, at BURO love rebels, we've rounded up 10 of our favourite Arab rebels from Dubai Fashion Week.
Not a fashion show but a social gathering at Bazaza.
Hussein Bazaza chose to present 10 looks from his FW23/24 collection in a social gathering, no stage, but definitely LIGHTS. Inspired by the elements of nature, the pieces symbolize mother earth from water streams, blooming florals and the fiery sun. The fabrics were entirely handmade and included silk taffeta, wool, raffia and sparkling sequins.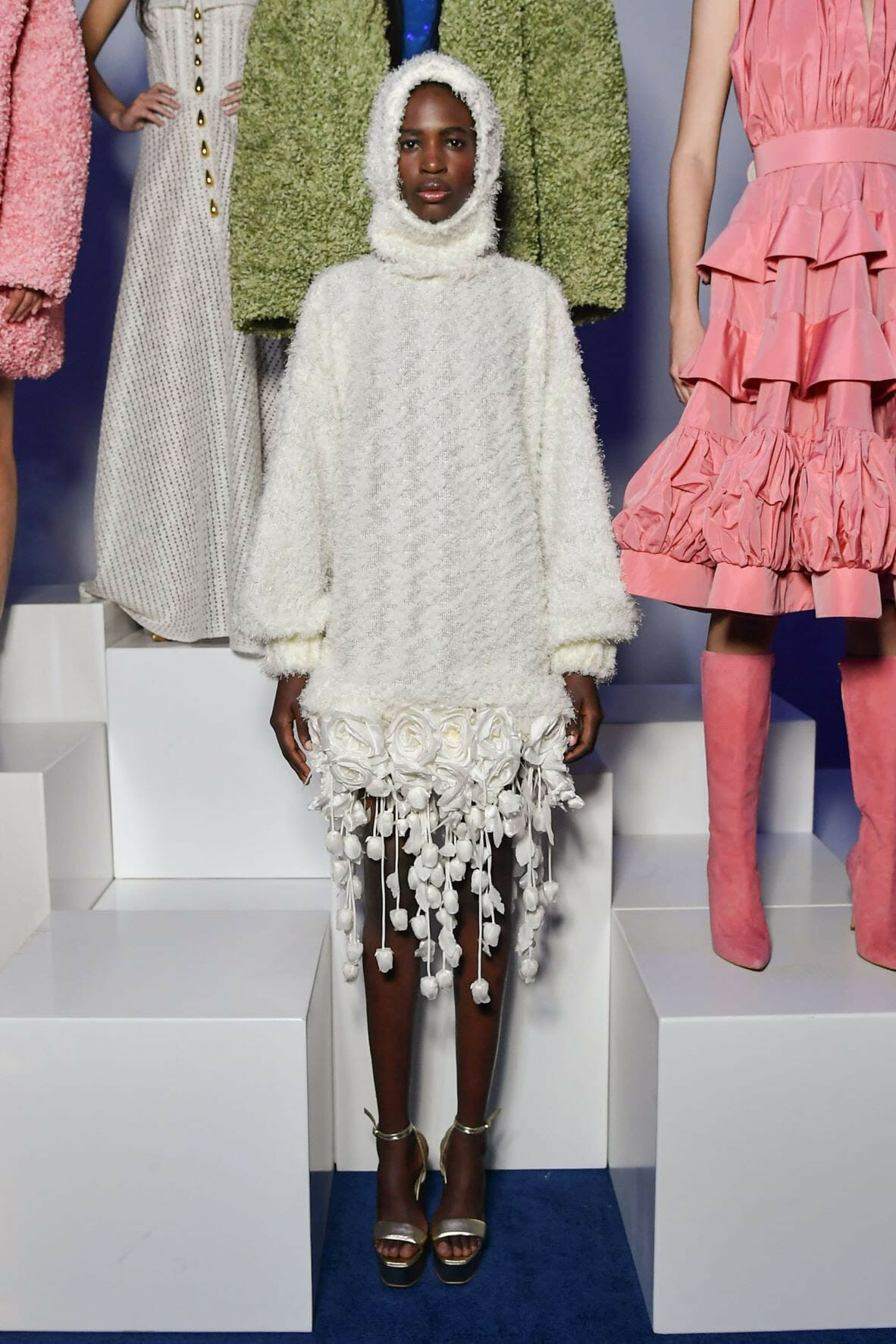 BLSSD asks you: 'is authenticity what you are or what you chose to disregard?'
The name of the collection says it all; 'NOT' is shaped around the thought-provoking question: WHAT ARE YOU 'NOT'? It features unexpected combinations of fabrics such as vegan leather, denim, taffeta and mesh to express the brand's luxe credentials. Moreover, we saw BLSSD's experimental approach by introducing a unique stenciled fringe technique that is kinetic and versatile, featuring a range of silhouettes and textile pairing.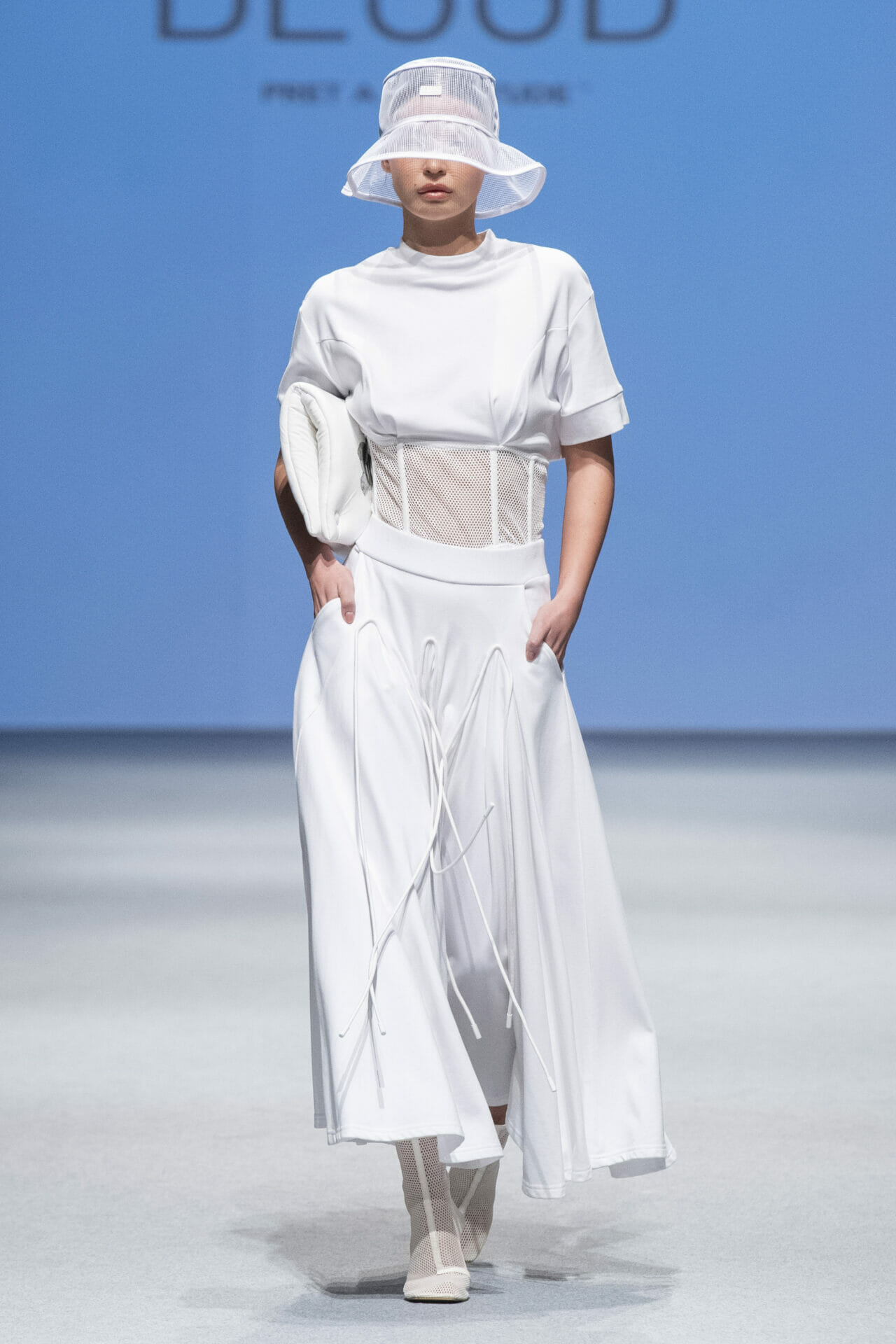 At MOK, coats are inside out.
A collection that reflects the duality of belonging and void, 'Elsewhere' features jute-top stitched pockets and patchwork, cubic jackets to conjure nostalgia and the process of recollecting memories. It digs deeper into the collection's perception of escapism and bareness. A man figure walks down the catwalk with versatile structures of a thobe, textile infusion of kimonos, oversized veils and harem pants.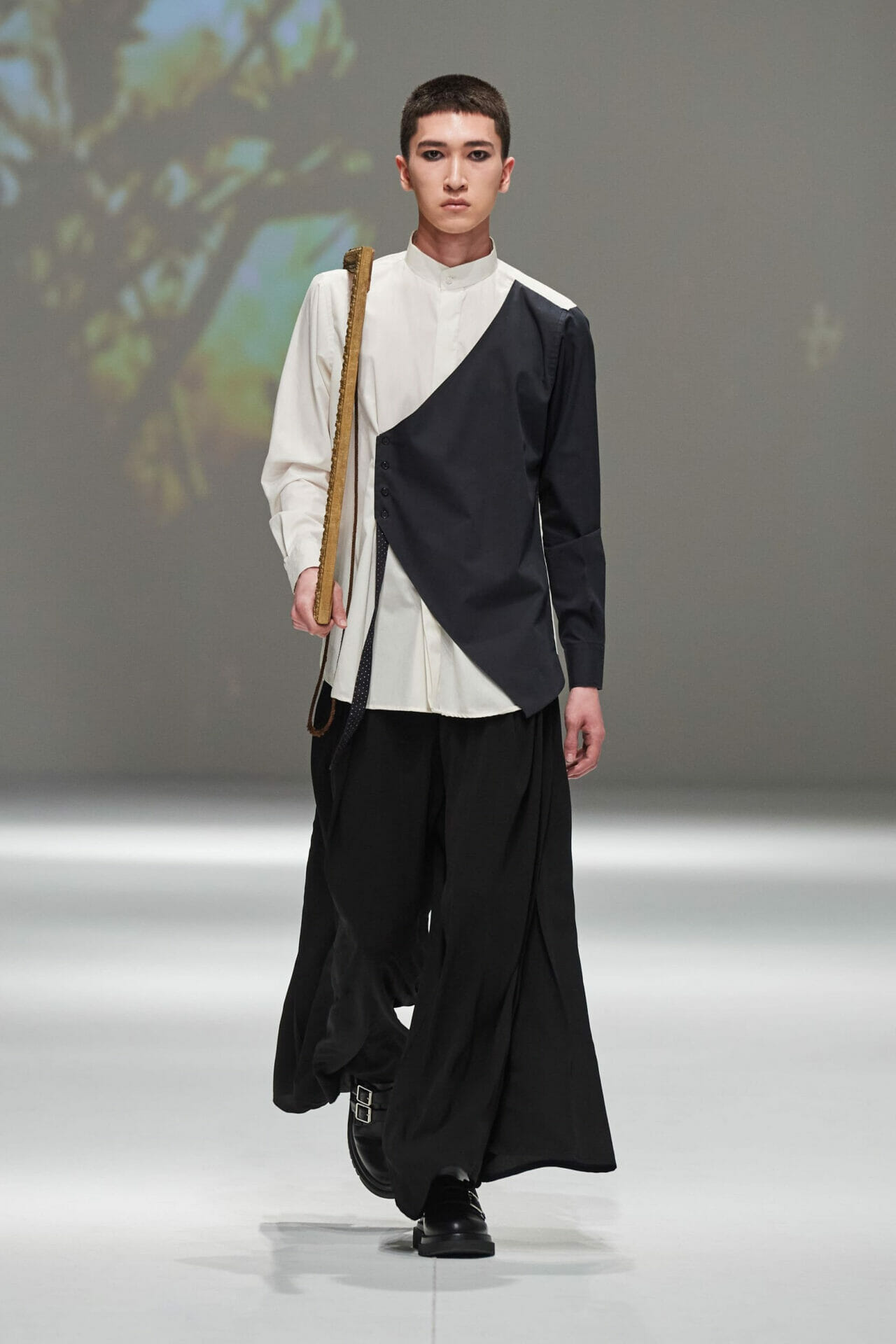 Anomalous collaborates with the #1 selling toy in the world.
Dubai-based label, Anomalous finally unveiled the long-waited collaboration with Hot Wheels; the # 1 selling toy in the world with over 8 billion Vehicules sold. The iconic capsule collection showcased off-venue around hundreds of guests from the broad fashion industry. Bomber jackets with patchworks, reimagined formal wear, experimental and colourful racing inspired garments mixed with signature Anomalous patterns gave us the best of both worlds.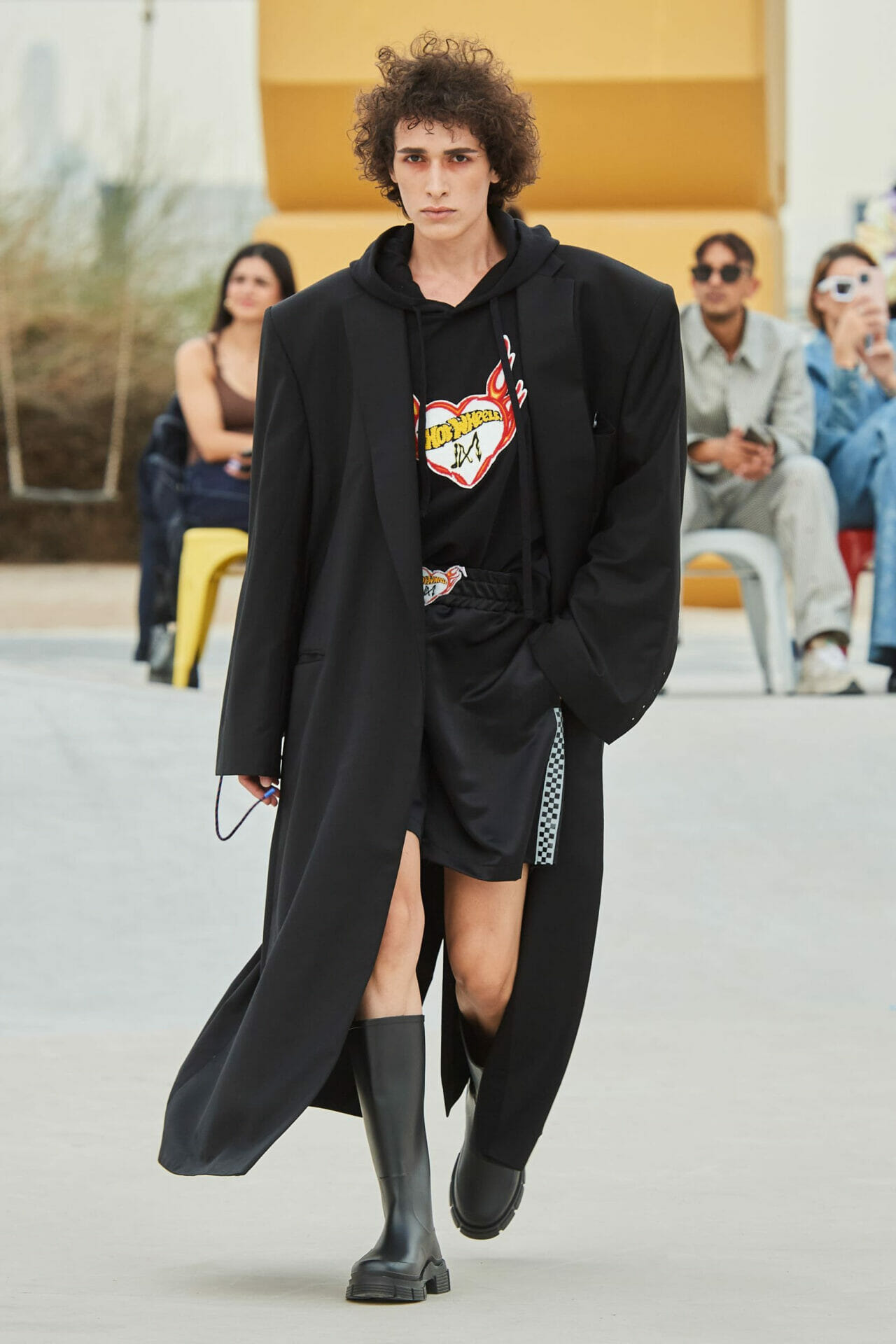 Maison Du Mec's collection reflects the designer's non-conformist approach to fashion.
A pinch of minimalism with modern art, Maison Du Mec's collection takes everyday essentials and elevates them into sophisticated, yet simple pieces. The faultlessly tailored jackets, flowy fabrics, and futuristic designs break boundaries on the runway, and the use of accents such as pink and green, along with hues of silver, grey, and black, uplift the collection, while the leather designs exude rebellion and edginess, perfectly reflecting the brand's signature style.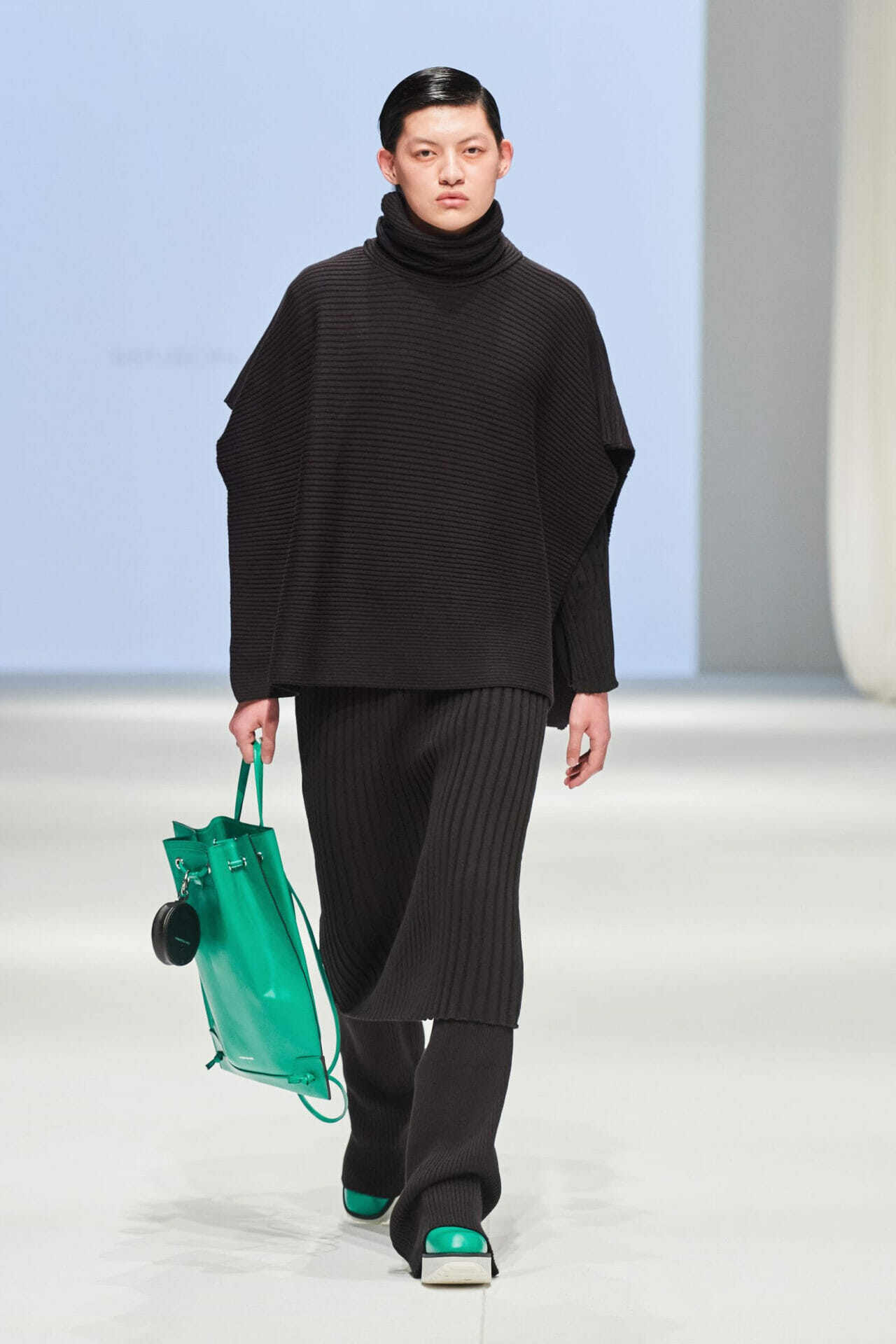 Weinsanto exhibits the surrealism of his proportions.
The French designer Victor Weinsanto has become one of the DFW members part of the designers' committee. His collection exhibited the surrealism of his proportions in every design. Mega cape, massive halo hat, deconstructed trench coats, bugle beads, chains, plastic shards, and metal blotches communicated a sense of fantasy in all the pieces created. The designer also gave us aged denim parkas, blotchy abstract print stretch cocktails, and sassy corsets made of velour.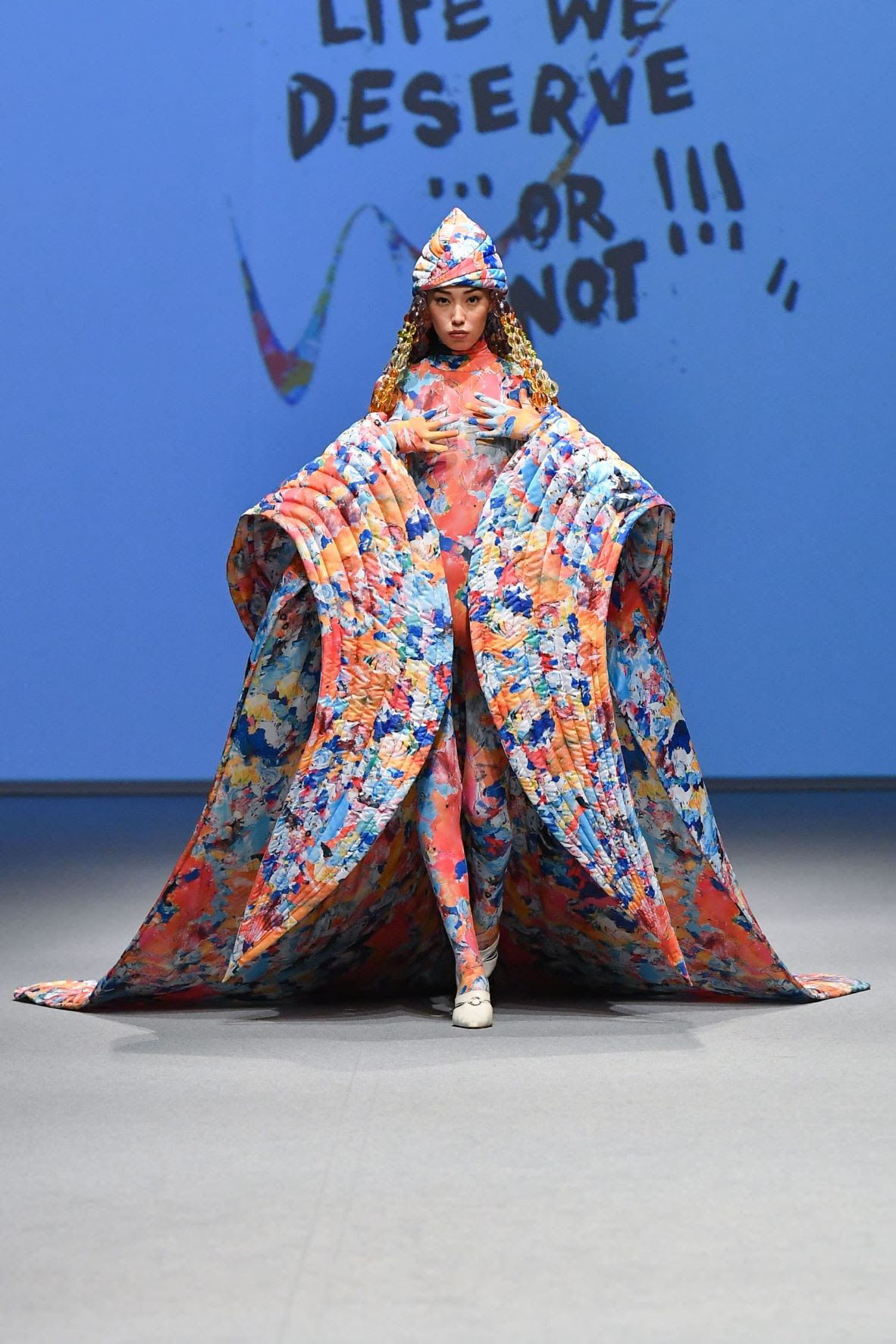 Lateforwork reimagines formal wear with disproportional cuts.
Formal wear is reimagined with disproportional cuts and intrusion of colour pop with a thick, velvety fabric that takes the attire out of the office, oversized tailoring, textures, and movements, along with various silhouettes, felt alive on the runway and enabled Lateforwork women to walk freely in the dead stock fabrics to promote sustainability. The designer gave us revisited striped shirts, shoulder-padded jackets, and articles with a flowy feel.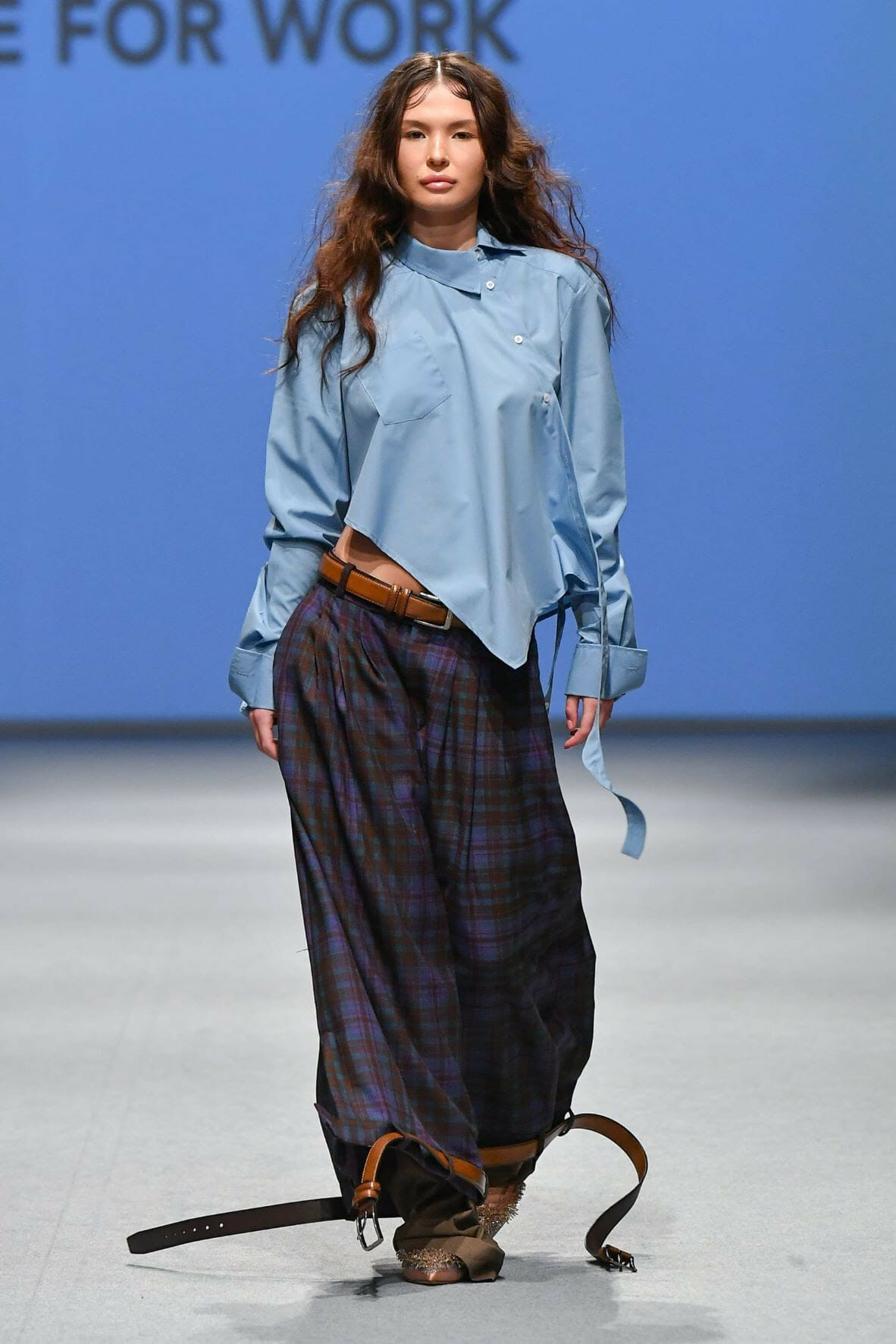 Exaggerated structures and playful shapes at LILO.
The artistic piping at LILO was, as always, an integral part of the brand's original vision, used to form exaggerated structures and playful shapes, as well as establish large and elaborate braids during the design process, never without luminous colours that brighten the runway and underlines the metallic futuristic yet playful and feminine combination.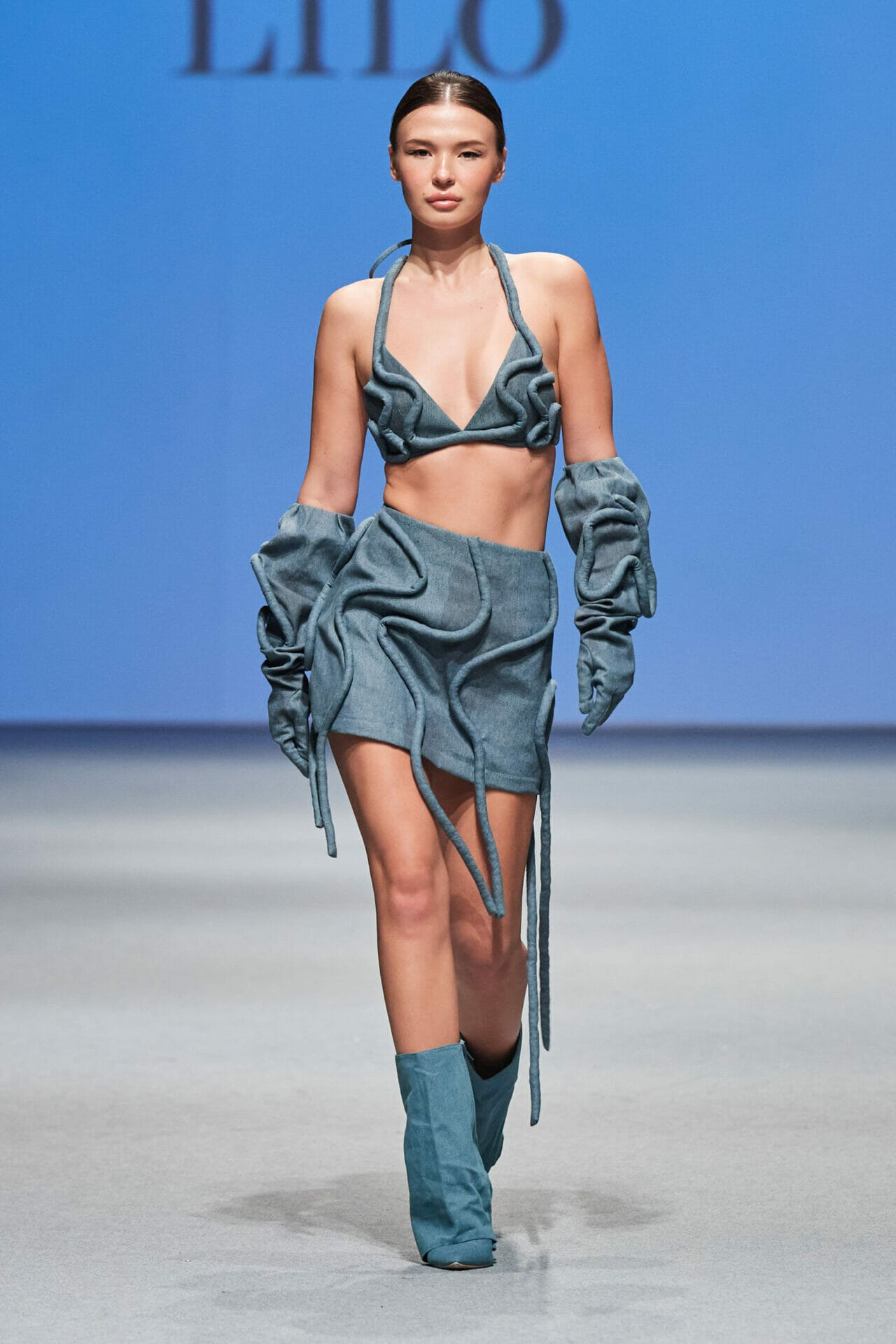 Slimi Studio uses only three dominant colours.
The designer managed to provide us with a range of variety and multiple personas on the runway. Oversized puffer jackets and pants with exaggerated hanging pockets, along with cut out shimmery black dresses, redefined boldness, and simplicity. Bringing polarizing conflicting energies together yet creating synergy in every aspect that was carefully tailored with great attention to detail.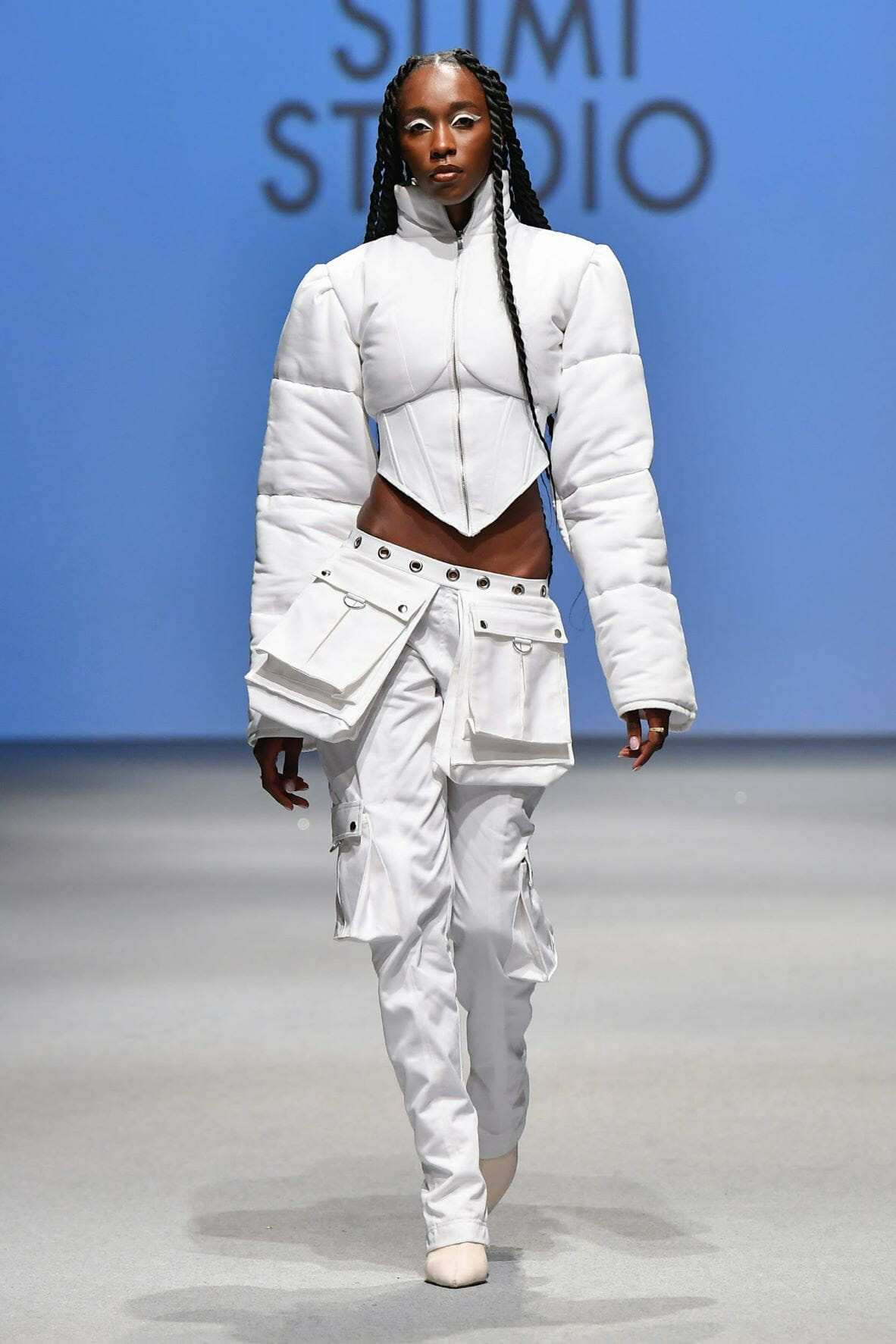 Distorted proportions at The House Of Victor.
House of Victor's collection displayed an array of vibrant colors from blue, red, violet, and yellow that blended with the shades of black and grey. With oversized jackets, puffy coats, and distorted proportions along the sleek textiles and fabrics that exaggerated the designs, House of Victor gave us pieces that reflect his trajectory of reimagining daring articles of clothes.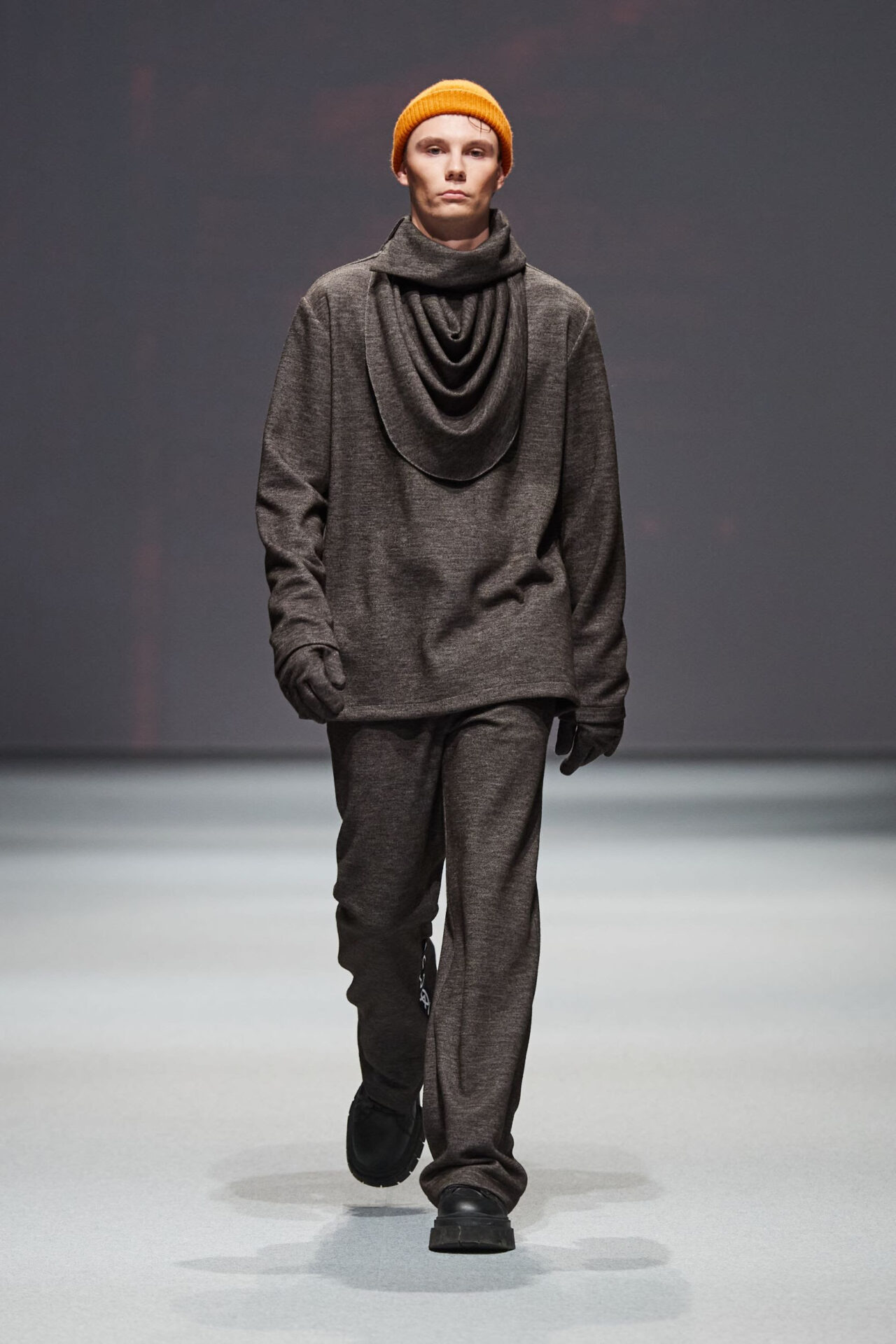 ALSO READ: EMERGING FASHION TO CHART THE INFLUENCE OF POLITICS AND SOCIAL CHANGE.