At Parmigiani Fleurier, watches are not merely time tellers but a stunning accessories designed to elevate your look. In their continuous quest for aesthetic perfection, Parmigiani Fleurier is introducing two new models to its new 'Tonda PF' collection. Both presented with a 36 mm case; while one of the new 'Tonda PF' watches features a two-tone rose gold and steel body, the other flaunts a rose gold exterior with a ruby dial and a stunning alligator strap.
The dual-toned timepiece being the first of its kind for the brand, the groundbreaking addition posed a stylistic challenge of embracing a contemporary two-tone aesthetic while preserving the collection's inherent subtlety and sophistication. The solution was ingenious. The watchmakers decided to employ the precious metal to accentuate the features of the watch. The finely knurled bezel of the 'Tonda PF,' crafted in 18k rose gold, adds an exquisite touch to the watch's profile. The supple integrated bracelet incorporates rose gold links that gracefully emphasize the watch's shape.
In a captivating contrast, the golden vertical links flanking the horizontal central link sport a satin-finished surface. These golden links gracefully taper in size as they converge at the folding clasp, much like radiant ribbons streaming from the knurled bezel. Together, they accentuate the bracelet's silhouette, creating a visual masterpiece that's a testament to Parmigiani Fleurier's mastery of artistry.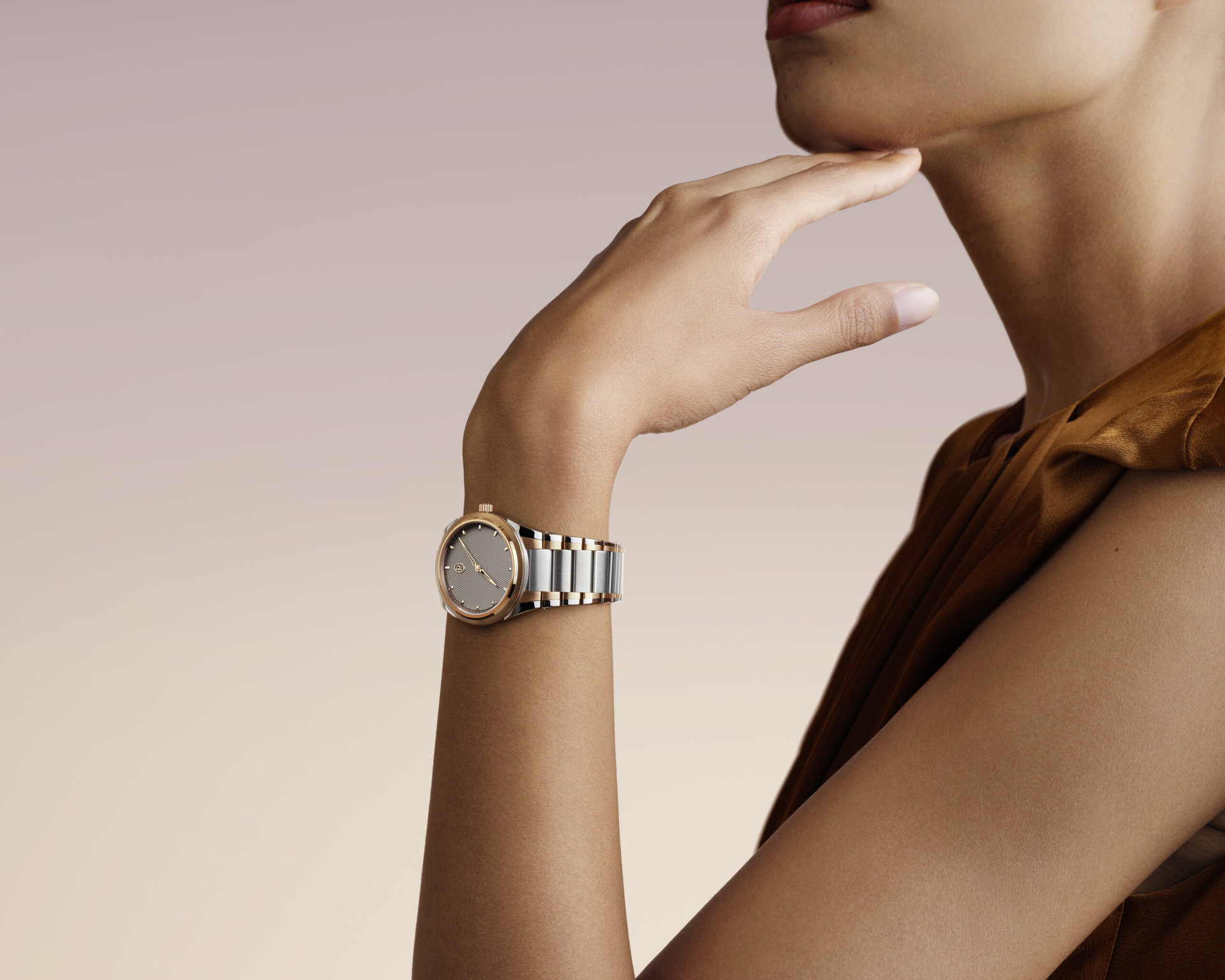 The 'Tonda PF' collection features a rose gold case and a deep ruby dial. This skillfully crafted horological wonder earned the coveted Women's Watch Prize at the 2022 Grand Prix d'Horlogerie de Genève. This sleek and minimalist timepiece has now been reimagined with a rich ruby alligator strap.
The new 'Tonda PF' Automatic 36mm models echo the aesthetics and technical prowess of the larger 40mm 'Tonda PF' Micro-Rotor, offering a more compact case size. Unlike the larger model, they do away with the date window. What remains is a vision of purity and precision, with the exquisite 'Grain d'Orge' hand-guilloché decoration on the dial and baguette-cut diamond hour markers that subtly yet brilliantly capture attention.
These two new timepieces reaffirm the versatile nature of the 'Tonda PF' collection. They are the ideal companions, transitioning seamlessly from day to night, from business meetings to leisurely evenings. These models, both powerful and understated, perfectly encapsulate Parmigiani Fleurier's approach to Haute Horlogerie. They are more than watches; they are timeless pieces of art.
ALSO READ: HOW DID THE HUMBLE WATERMELON BECOME THE SYMBOL OF PALESTINIAN RESISTANCE?