It's my pleasure to present to you a dear old family friend, Mona Khashoggi. Our families have known each other for many years and I can't help but marvel over the picture of my grandfather and her father, Dr. Mohamed Khashoggi, sitting with Umm Kulthum having dinner in Paris as they were all great friends. I would have loved to have been part of that golden era and to have known the legend that is Umm Kulthum.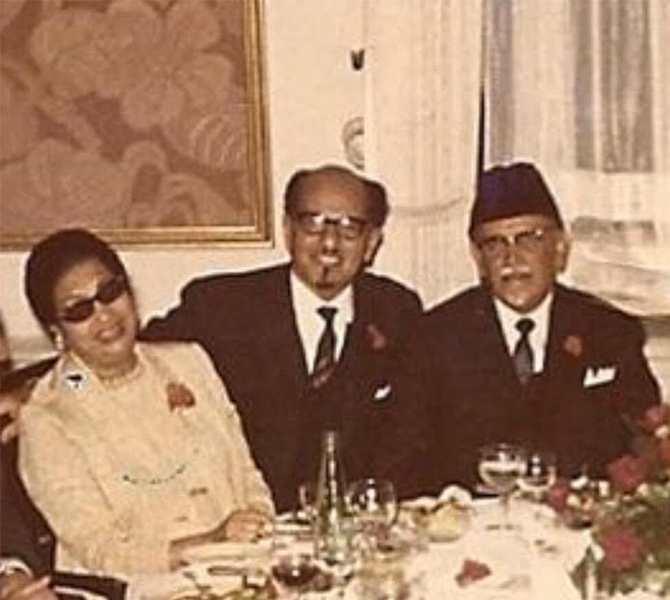 One of the greatest Arab icons that have ever lived and who's legacy will continue for many more years to come is also an inspiration to the younger generation, too.
She was an Egyptian singer, songwriter, film actress and philanthropist, active from 1920s–1970s. She was given the honorific title Kawkab al-Sharq, meaning "Star of the East". In 1944, King Farouk I of Egypt decorated her with the highest level of orders (nishan el kamal), a decoration reserved exclusively to members of the royal family and politicians.
Her songs deal mostly with the universal themes of love, longing and loss. They are nothing short of epic in scale, with durations measured in hours rather than minutes. A typical Umm Kulthum concert consisted of the performance of two or three songs over a period of three to four hours, depending on her mood and if she is engaged with her audience.
Umm is the only artist who can hypnotise and move her audience with her music and raw emotions. No one is like her. These performances are, in some ways, reminiscent of the structure of Western opera, consisting of long vocal passages linked by shorter orchestral interludes. She is the Maria Callas of the Middle East — even Maria commended her voice.
Umm Kulthum's musical directions in the 1940s and early 1950s, as well as her mature performing style led this period to becoming popularly known as "the golden age" of Umm Kulthum.
Mona Khashoggi is in the last stages of producing and in rehearsals of this fantastic rendition of that golden era of Umm Kulthum — a celebration of the great composers, musicians, poets of our time.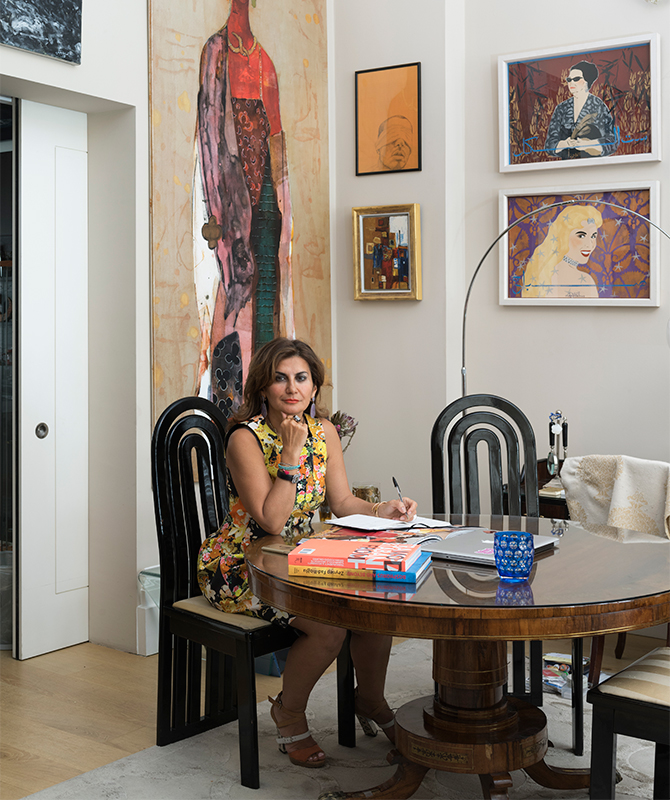 Tell us Mona, how did all of this come about? What compelled you to take on such a project?
I always had the passion to promote Arab culture, history and art. I have a foundation of traditional costumes and curate exhibitions in museums of the costumes with our ethnic music. I try to help and promote Middle Eastern artists and now, I decided to take it further and celebrate 'Classical Arabic' music and instruments such as qanun and oud. I was in Venice Biennale and met a famous American theatre director who directs plays in different languages so I said "why not". Why don't we do a play like Mamma Mia in Arabic? So I embarked on this challenging project.
Will this production be showcased in other parts of Europe and different continents?
Yes, I hope it will tour the world! Paris, where she sang in d'olympia theatre in '67; Athens, La scala in Milan, Berlin, Vienna, Venice, Dusseldorf where the idea was born, America, Australia, Canada and the Middle East.
What is the main message behind this play?
We want to rekindle the audience's love for this legend and show the world how her legacy continues to inspire generation after generation, and of course, have a great time enjoying the amazing music of Umm Kulthum and the golden era of composers. It is a tribute and a celebration of our heritage of the arts. A night to remember. This is the first musical in English to speak of an Arab legend in the West End. It will be a premiere with Sanaa Nabil, the great grand-niece of Umm Kulthum who will be a guest performer. She is 16 years old and has a powerful voice. Lubana Al Quntar, who is an opera singer, will also sing.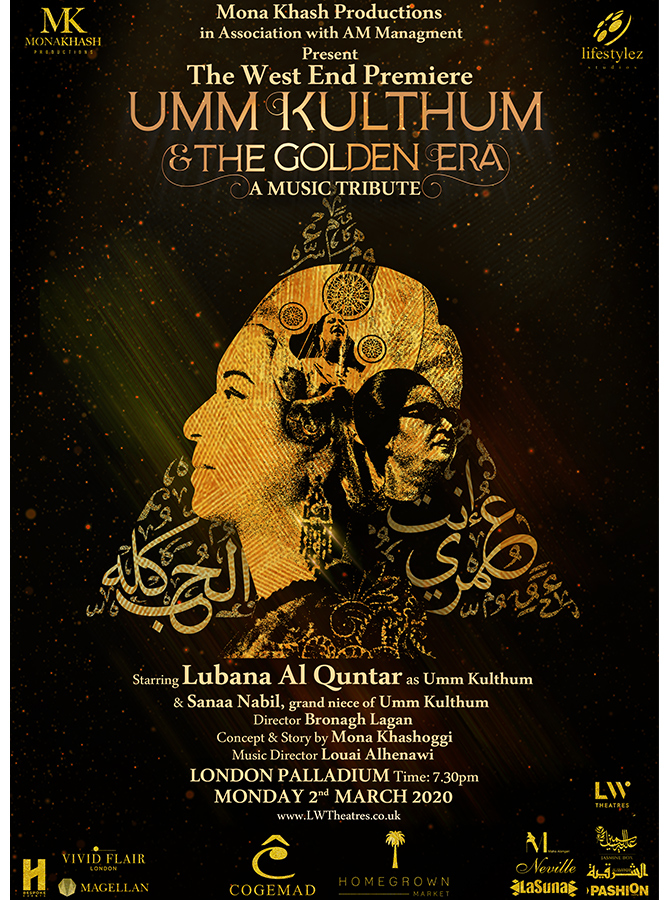 What is it about Umm Kulthum that makes her so iconic?
Umm Kulthum is a Arab legend. She is not just Egyptian, but belongs to the whole Arab world. She saw herself like that too. Tolerant of all religions, race and social status. She worked with all and sang to all. She was a soul singer, full of raw emotion. Singing with every meaning of the word. The star of the orient, the 4th pyramid as she was known for. Umm Kulthum was a strong talented woman who did in her own way in a man's world, constantly rising against currents of change, transforming her music, her image and her style to become a legend. She inspired me like other women who struggle in a man's world. She sang with respect and dignity. Her music lives on and played in every home. She is the voice of the Arab nation.
It's truly amazing to see that icons such as Umm Kulthum and wonders of Arabia are being celebrated in Europe. How does it feel to be part of that bridging culture?
I have always lived abroad and was educated in London. It is therapeutic to write this script and to go through our history, especially the history of music — the spiritual, patriotic, classical and the modern songs. I have a Western and Arab cast and crew. It is interesting how they are all passionate about the music.
Do you feel like there is still so much more about Arab culture that the West is not aware of?
There are many Arabic concerts and gigs. I attend some but I find that the West will go more to North African musicians and performers. It is our duty to educate the West on our rich and beautiful culture of the rts aand promote it. Sadly some Arabs will invest in European projects and charities but not our own.
There is nothing better than the arts, the perceptions of cultures and bridging them; Is this why you chose London to present this production?
I chose London because it was Umm Kulthum who wished to sing in London but sadly, she died. And I chose the West End theatres because it is the capital of the worlds' theatre. I want to do my first play in a prestigious theatre that will honour such a great lady. London is home too, and is the centre of the world. Many royals, ministers, ambassadors, celebrities, friends and family will attend the 'One Night' only premiere.
What does style mean to you?
Depends on my mood. Some days I miss home so I dress ethnic; some days I am classy chic or dressy. It depends on the occasion and the season but usually, it's very casual. My style is eclectic/ethnic chic.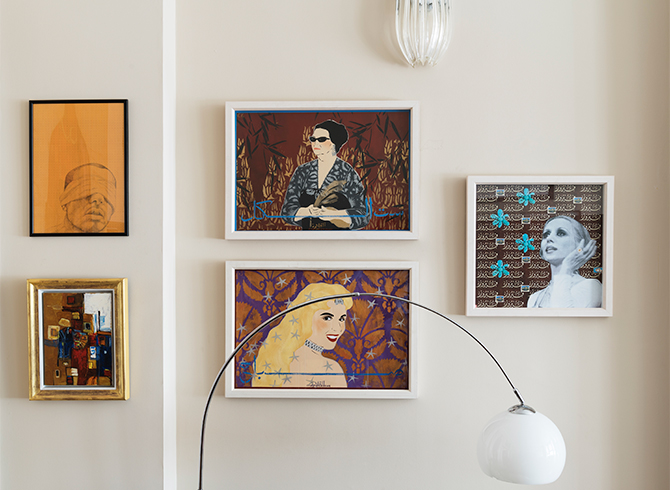 More is more or less is more?
Less is more. I like simplicity but love colour and fabrics. Not crazy about brands and trends. I wear what fits me and what suits me on the day. But I do dress more on some days.
Who is your ultimate Arab role model?
My mother. My sisters and the women in my family. Umm Kulthum. For men, it's my late dad who was Sorbonne-educated. The first Saudi to speak French. He was modern for his days, open-minded, sophisticated, charming, witty, funny, loved music, dance and he instilled the love of theatre in me. He is humble at the same time proud of his roots, his family and religion.
For tickets and more information on Umm Kulthum & The Golden Era, please visit lwtheatres.com.
Now, meet Nugamshi, the Saudi-born artist synonymous with exploring the evolution of traditional calligraphy and typography.