Every year, the L'Oréal-UNESCO For Women in Science programmes continue to support more than 250 talented young women researchers through a plethora of regional and national programmes. Together, the Fondation L'Oréal and UNESCO support these women at a crucial period in their careers, and for over 20 years, have helped empower more women scientists to achieve scientific excellence and participate equally in solving the great challenges facing humanity.
The driving ethos behind the L'Oréal-UNESCO For Women in Science Program is 'The world needs science and science needs women'. The program was created to break down barriers to progress for women in STEM and provide them with the tools to succeed.
For the 2022 edition of L'Oréal-UNESCO For Women in Science initiative, which honours and recognizes female scientists from the GCC region for their ground-breaking research in the fields of Life sciences, Physical sciences, Mathematics and Computer science, the program recognized the remarkable scientific discoveries of five women in the Arab World, underscoring their role in solving today's challenges as well as inspiring the future generation of females. These prominent names include Dr. Raefa Abou Khouzam, Hessa Ebrahim Ali Alfalahi and Ayesha Abdulla Alkhoori from the UAE, Dr. Maha Zakariya Yahya Al-Riyami from Oman and Dr. Fatiha M. Benslimane from Qatar.
For her research on investigating new treatment strategies for pancreatic cancer to lead to its elimination, Dr. Raefa Abou Khouzam shared her research and what challenges she hopes to achieve. "My research is focused on pancreatic cancer…we are trying to tackle two drivers of pancreatic cancer aggressiveness. The first is a mutant KRAS protein which gives cancer cells the ability to divide uncontrollably and is affected in more than 90% of pancreatic cancer patients. The second is a condition of low oxygen, or hypoxia which is a feature of the tumour microenvironment. Hypoxia contributes to tumour adaptation and evasion of cell death, as well as resistance to therapy. By simultaneously targeting mutant KRAS and hypoxia, the aim is to reverse their cancer-promoting effects and eliminate pancreatic tumour growth."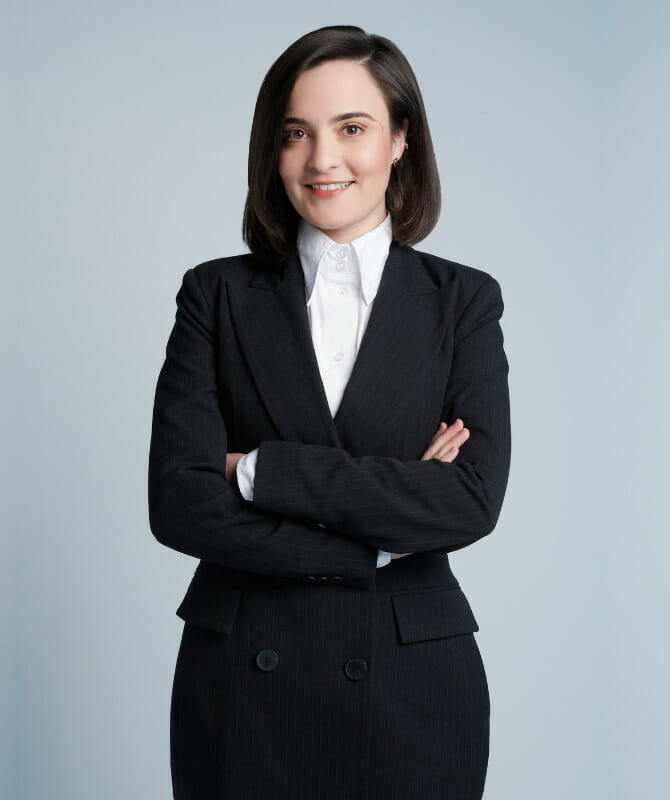 How has it been navigating such a male-dominated field? And what are the challenges you faced?
I think I need to underline that while the field might be male-dominated, there are a lot of women who managed to break the seal and reach a position from which they can support and help other women pursuing a similar path. At least that has been my experience. Even when it came to men in higher positions, I was lucky to have been constantly guided by professors who judged me based on my work and gave acknowledgement where it is due. To this day I cannot say I have suffered any such injustice on account of being a woman. If anything, I think there is a growing female presence and an empowering state of mind that is blooming in STEM, and I hope that more women realize the significance of this evolution and give the field a chance.
For her research on early detection and diagnosis of depression and Parkinson's disease using data collected through novel Artificial Intelligence (AI) algorithms, PhD student Hessa Ebrahim Ali Alfalahi aims to "represent Arab populations in AI algorithms for early diagnosis of neuropsychiatric diseases. My research is foreseen to spread awareness on the importance of early neuropsychiatric disorders detection, including among women."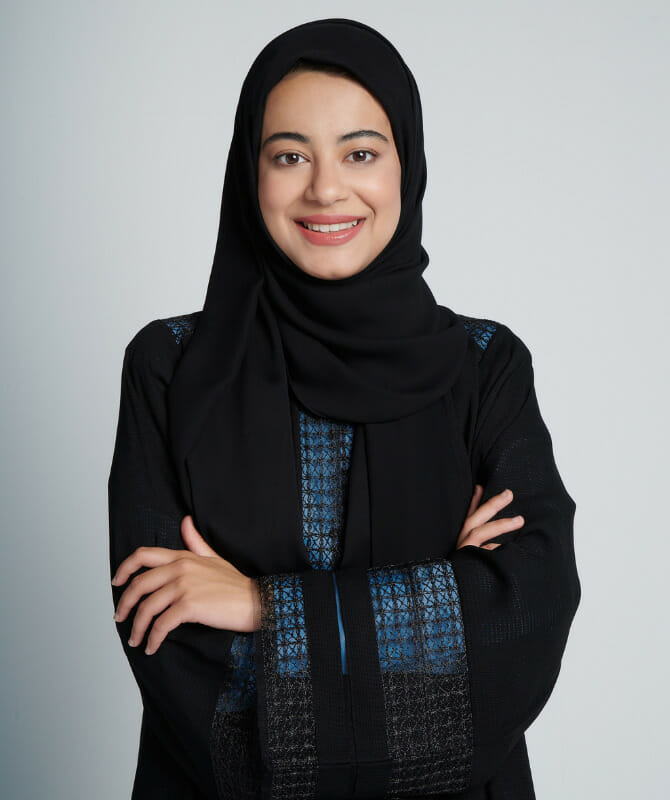 If you could give the next generation of female scientists one piece of advice, what would it be?
My message to the great female minds in the Middle East is that the time is ripe now to respond to evolving challenges in quality of life and the sustainable development of our society, which is unreachable without undertaking an active role in science. I would like deliver my vision to the next generation of young great-mind women about the importance of undertaking an active role in the scientific development in the Middle East and the UAE. This is key for the development of our nation. I am very faithful that we have the capability to reach world-level scientific discoveries, which is already reflected now by the Middle East affiliated publications and patents we come across in the literature.
For her research on converting Carbon Dioxide (CO2) into clean fuel to alleviate global warming and provide a solution for the energy depletion crisis, Ayesha Abdulla Alkhoori shared her vision for the future. "As an Emirati PhD student, engineer, and experimentalist, my vision is to come up with solutions for urging problems such as global warming, energy shortage, and environmental pollution worldwide. The CO2 emissions in the atmosphere peaked for 2022 at 421.42 parts per million in June which increased by 32% over the past six decades and 50% since the industrial revolution."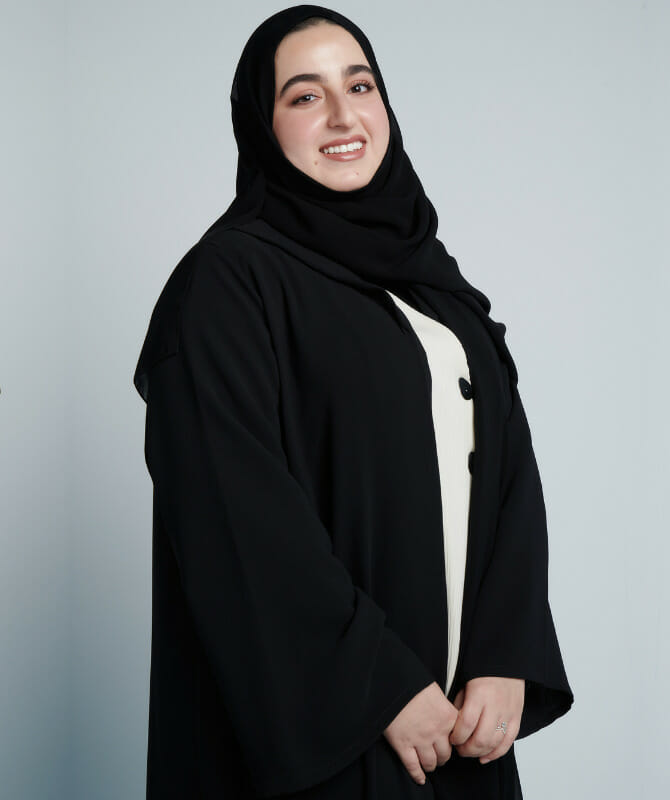 "I always had a strong inclination towards science. I was always more interested and intrigued by science than any other subject and constantly fascinated by how molecules interact on a nanoscale," she shared on what it is about science that interests her most. "For me, it is the excitement that I get every time I try a new reaction and the knowledge I continuously gain. Also, I find myself the happiest and most energetic whenever I am in the lab."
What are some of the challenges you hope to achieve?
As a woman in science and a global citizen, I vow to focus all my future research efforts on developing efficient materials which contribute to the mitigation of global warming and the sustainability of our planet. As a PhD student, I enjoy sharing snapshots of my lab work and experiments on social media. I have noticed that many young female students are interested in this research work and curious about the nature of the experiments. Even sometimes, show their interest in studying science and pursuing a PhD in STEM. I hope I was a source of inspiration to them to study STEM topics and pursue a career in science and showed them that science is beautiful and very rewarding.
Dr. Fatiha M. Benslimane from Qatar is a respected name in the industry, courtesy of her research on developing a fast, reliable and cost-effective protocol for microbial analysis to allow real-time diagnosis. "Science, more specifically scientific research, can provide answers to questions, a solid understanding of the world in which we live, and a structured, sound, and logical approach to reaching conclusions. Curiosity, which manifests as a fascination with the natural world in which we live, motivates my interest in science."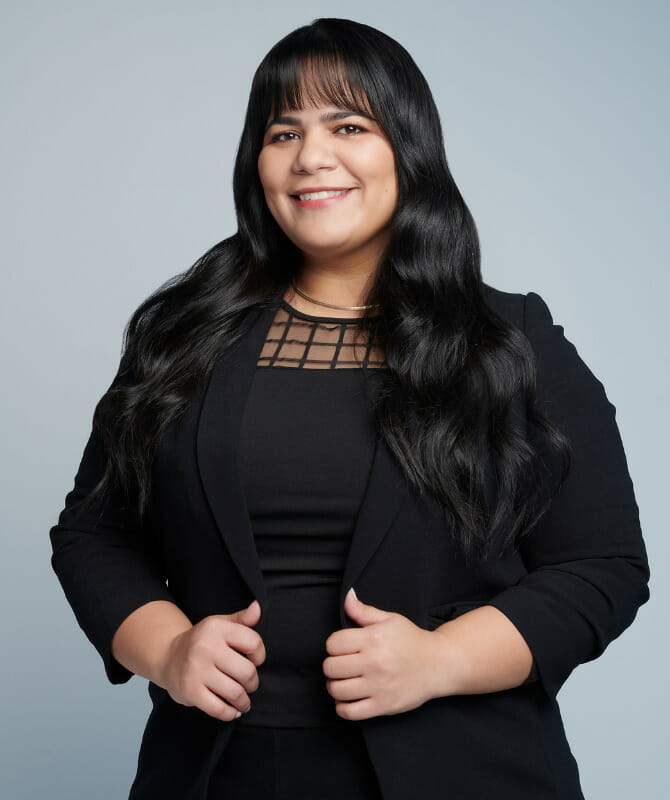 How has it been navigating such a male-dominated field? And what are some of the challenges you faced?
I firmly believe that any field has its own challenges; a person can decide to use those challenges to work harder, learn and grow in order to achieve goals. In my case, being in a male-dominated field did not stop me from working harder to pursue a career in science. In our region, biomedical research is not very well supported, so one major obstacle is securing funds, particularly as a young female scientist. While there are several opportunities in Qatar, as a young researcher who is still building a career and a name in the field, the challenge tends to be more difficult. Ideas need to be original, well designed and supported with data. Scientific research is still in its first steps in the region so a solid platform and institutional expertise are yet to be realized. This creates further pressure to work even harder to make up for the relative lack of support.
For her research on investigating underlying causes of type 1 diabetes and other autoimmune diseases that can lead to their prevention, Dr. Maha Zakariya Yahya Al-Riyami from Oman has always been empowered in a male-dominated field. "In the Sultanate of Oman, women have always been encouraged and supported to learn, work and contribute equally in every field, not only in science. And there are no limitations to women's contribution. And there is a great number of Omani women working in science and research who have outstanding achievements and contributions in the field and who have also received several international and regional awards, such as the Loreal-UNESCO for women in science before me. Moreover, Sultan Qaboos University and my colleagues at the Biochemistry department have always been supporting and encouraged me in my scientific career."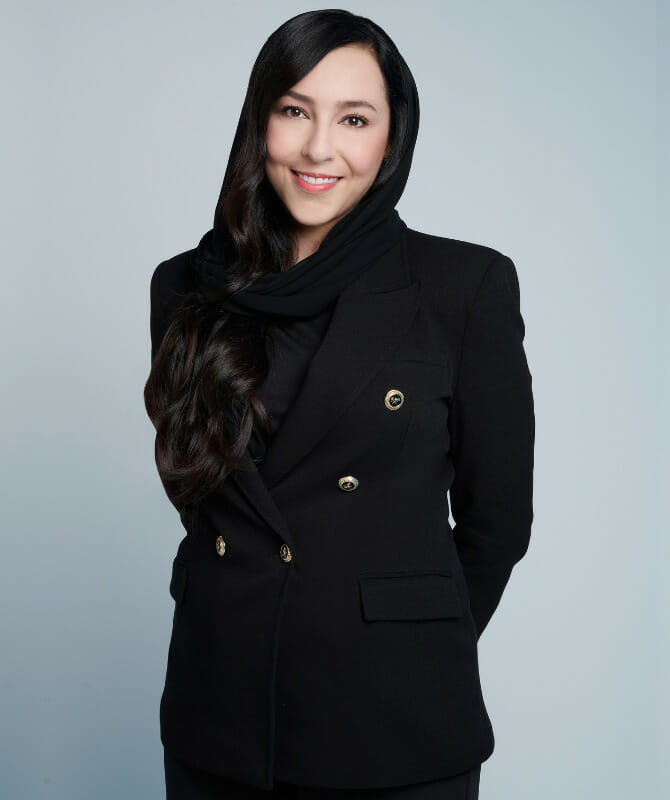 How do you feel the landscape will change for women in science over the next 5 years?
In the middle east, continuous efforts have been devoted to encourage women to have a career in science. Therefore, the number of women pursuing science as a career is continuously increasing. And I expect that even more women will have a career in science and STEM related fields. Moreover, the is society's perception on women in STEM is changing in a way that there are no reservations anymore in that. And with the continues increase in the number of girls in STEM related colleges the more women will be contributing in such fields.
The latest UNESCO Science Report recognizes the effort of many countries in the Arab world for achieving gender parity and we couldn't be prouder of that and that the L'Oréal-UNESCO For Women in Science Middle East Regional Young Talents programme honours these five trailblazing Arab female scientists from the GCC.
ALSO READ: NETFLIX'S 'THE EXCHANGE', INSPIRED BY TRUE EVENTS OF THE 1980'S KUWAIT STOCK MARKET.