It's quite rare to meet a 25-year-old who has it all figured out, is the CEO of her own business and earns about six figures in less than a year. Meet Sabrina Philipp, the Bali-living entrepreneur who has built her million-dollar business and personal brand by using one, extremely powerful tool: social media. The millionaire first started her online business when she was 22, and now runs it from wherever she wants to and get this, makes as much money as she's ever wanted doing what she loves most (serious #goals).
Contrary to popular belief, it looks like it is possible to travel the world and work remotely — all whilst making money at the same time. Here, we speak to Philipp to learn more about how she was able to build a multiple six-figure business in less than a year, the challenges she's faced while doing so, social media trends and how she's helping other women achieve bigger goals…
Can you tell us a little bit about what your background is? What did you study before deciding to start your own business?
Yeah, of course! For studies, it was political science. I also did some graduate work in political campaigning, which I think taught me a lot about what brings people together and what is something that is going to inspire people to buy into something — whether that's a product or an idea or a cause.
As for my business, I got my business started when I was 22. I was kind of at that point where a lot of other people are, where they have to figure it all out, you know "Do I want to go to graduate school?" or "What if I don't get a job?", and I wasn't ready to commit to any of those things.
Either way, I wasn't going to sit behind a desk and I just didn't know which was the right path. So I decided to go to Bali thinking that I would hop around and go to Thailand, Cambodia, and Vietnam to visit all of these places, but I actually never left. And I'm still here three years later. I had about $800 (approximately Dhs2,900) in my bank account, I had a one-way plane ticket, and I just had to absolutely figure it out no matter what. So I got started by selling virtual assistant services and social media management services online. And then throughout my social media management business, I started this business coaching and consulting, where I help other women start online businesses as well.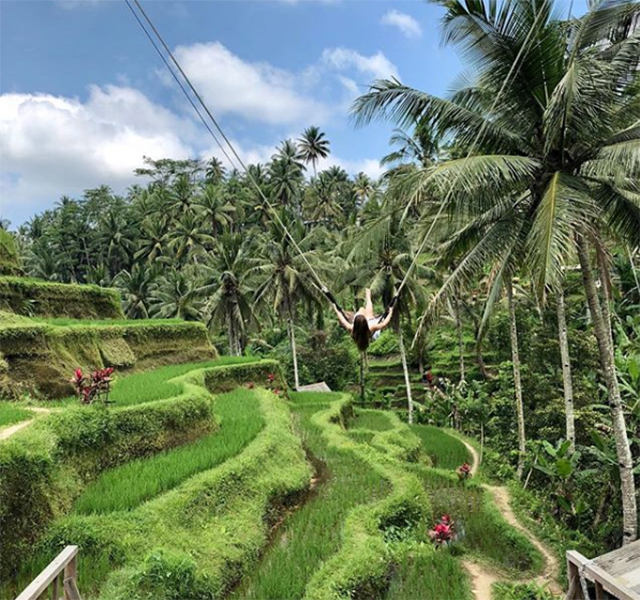 How long after the launch of your business did you start to see income?
I would say in my first month in Bali, because I was doing a little bit of this whilst I was still in college. During my first month in Bali and made about $5,000 (approximately Dhs18,300), and that was great, but I was working SO much — like 16 hours a day, 15 hours a day and proud of it — which looking back, I would not recommend that to anyone. But I saw the results and eventually, it got to a place where I was making five figures a month.
Did it surprise you to see that you could earn that much money through social media?
You know, I've seen people talk about making a lot of money but, I had never seen anyone make that much money quickly. I could remember so clearly what it was like going to the grocery store and trying to pick the cheapest things. So it happened so quickly that I could still remember just being extremely broke at times. Also, I think that a lot of times the people who seem to make it big on social media are men, and a lot of times it's older men.
What other challenges have you encountered when you first launched your business?
Personally, for me, it was the visibility and being comfortable with being so visible was really difficult — and that struggle has evolved. Now that I am so visible and I am so public, it's just kind of like everybody wants something from me, everybody knows how successful I am but, they don't actually know, Sabrina as a human. I think that the way any person can kind of combat that is just to make social media less personal, and to see it as a tool for growing your business. Don't worry about what people will think, go out and don't worry too much about what people will say. Go find friendships that really matter.
Professionally what I would say the biggest challenge was is definitely learning how to position yourself and stand out because it can be such a crowded market, right? There are a million influencers and social media managers. So, it's just about really understanding how to position yourself.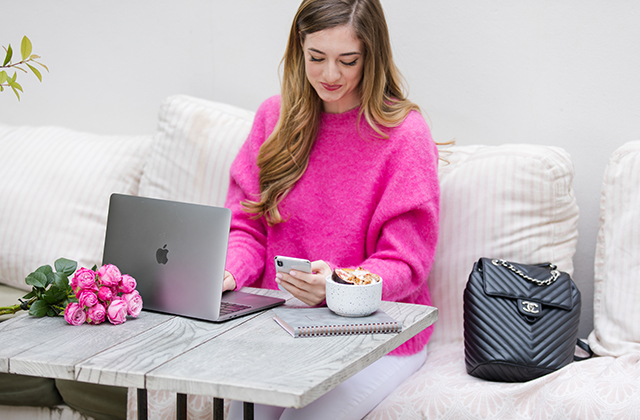 What advice would you give an 18-year-old, who would like to skip college and pursue an online business?
I have actually faced it before. Personally, I think it's great just because young people know what they want. I don't necessarily think college is bad. I don't regret going to college because it has taught me a lot about public speaking skills, courage, involvement and things like that. However, I think that if someone knows that college isn't for them yet, I would definitely be happy to help them.
I think the reason why people are so attracted to this especially, is because they have grown up on YouTubers, influencers and people like Kylie Jenner, who are making money through Instagram, and they know social media better than any other generation. I think that they can kind of see the potential in it, and I would definitely be open to mentoring most people.
Have you noticed any trends on social media for 2019, so far?
Definitely! I think that in terms of influencer marketing, companies are going to be shifting more from macro-influencers to micro-influencers. So instead of hiring one person with 10 million followers, businesses might hire 20 people with 100,000 followers. I think in general, video marketing is absolutely huge. YouTube, I believe, is the number two largest search engine after Google, and it is just an incredible tool. Within a few years, 80% of the content on the internet will be video. So if you haven't yet, I think businesses absolutely should be investing in video marketing.
What are some of the top strategies to follow in order to boost content online?
There needs to be a really tight integration between your social media content marketing plan and your sales process. When it comes to posting on social media, a lot of people post for the sake of posting. I think it's really important to share really powerful teaching content that positions you as an authority figure. From there, then make sure, especially for your personal brand or business, to be sharing content that makes people feel inspired by you and connected to you. If you can bring together your sales strategy and your social media strategy together, you're golden.
Now, find out who are the latest prominent personalities to jump into the podcast game.