Last year, we found out that fashion designer Victoria Beckham was joining Reebok's pool of celebrity friends to create a new collection with fitness at the fore. And now, we can finally reveal that the wait for the pieces is almost over.
You'll be able to get your hands on the apparel and footwear collection later this week — July 26 to be exact.
The capsule was first teased a few months back with Shaquille O'Neal, with the designer promising that the pieces would deliver the next generation of performance and style.
VB tapped a rising talent close to her heart to capture the Merch Collection campaign, choosing her eldest son, Brooklyn Beckham, to shoot the looks.
Speaking of the new capsule collection, Beckham said: "This capsule really began for me with a visit to the Reebok archives in Boston, back in November. For me, this capsule really represents a celebration of that era, Reebok and Shaq's shared history in basketball, and the great heritage pieces I discovered in those archives. The unisex approach and the nods to streetwear that are present in this capsule are important elements that I will take through to the full collection I am currently working on."
The designer has teased us with several images of the streetwear-inspired pieces leading up to the big drop this week, including a sneak peek of a limited edition tee, which will also be exclusively available with a "print in our signature sunset orange."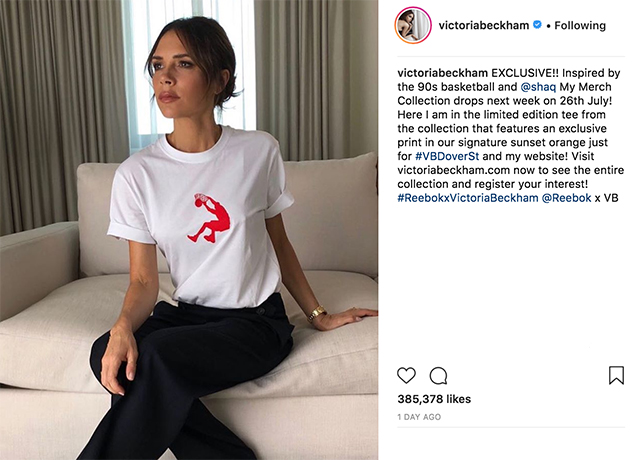 The collection will be available for purchase from July 26, 2018, at Reebok.com and VictoriaBeckham.com.
Now, find out more about how you can get your hands on the dress Victoria Beckham wore to the Royal Wedding.