They say that a design of a boutique plays a pivotal role in influencing the performance of visitors, and in the case of Aesop, it's true to every country it's present in. Throughout the years, the Australian luxury skin care brand have strengthened its relationships with local architects to conceptualise and bring a strong brand approach to the forefront of its retail designs — which has been executed with precision and care by Denise Neri.
The brand's Retail Architectural Manager has heavily contributed to Aesop's now very-distinctive architectural signature and her main aim? Continue to extend the business's global design relationships and establish the brand's presence in new markets.
Each Aesop store across the globe is different yet carries a similar design concept. What was your favourite part of the Aesop store in Dubai Mall's Perfumery & Co.?
I really like the private consultation area which can be screened off as it provides an intimate and comfortable space for our customers. It's a sophisticated store which is spacious and tranquil for personal service. The bespoke display cases at the entry and many refined details of the design add to its ambience.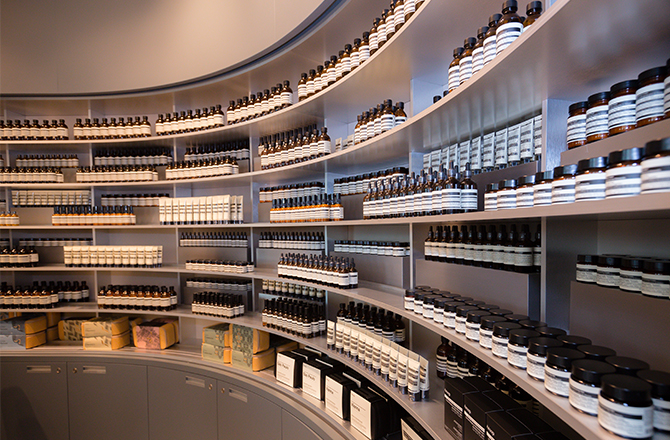 Why not have a homogenized approach to all boutiques around the world?
We have never been interested in a standardized approach. It is important for us to connect to the context of each locale and add something of merit and individuality to suit a local clientele, who have varying needs depending on the location.
How do you ensure that despite each store being different, the brand identity of Aesop still remains strong?
Our in-store experience focuses on hosting the customer, and we aim to provide calm, human environments that nurture the senses, and that feel and smell as good as they look.
Each space should provide a comfortable, well designed environment for interaction and unobtrusive personal service in which our consultants can introduce our formulations, and these are the constants throughout our stores globally.
Why is it important to you — and the brand — to engage with local culture and history?
We aim to support and engage with the areas we enter, and to become a part of the social fabric.
It is important for us to understand local culture and to build meaningful and long-lasting relationships with our customers and the communities they inhabit. It is also inspiring and rewarding for us as a company.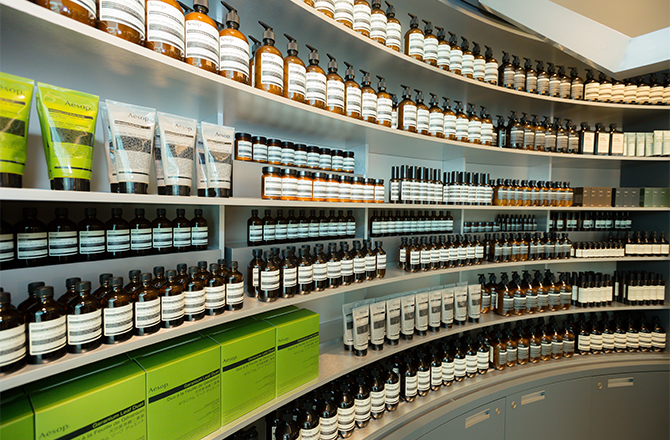 Can you tell us a little bit about Aesop's global architectural program?
Each store is individually designed with either one of our external architectural partners or by our talented inhouse team, depending on the nature of the project.
We also take on special projects like pop ups from time to time, and support design events and symposiums, as well as other design partnerships.
What influence does interior design have on sales and the performance of the shop?
Good design supports a comfortable and appealing customer experience, but there are many factors that contribute to a store performance. Our job is to design with integrity and interest to support the best possible outcome.
Can you tell us more about Aesop's packaging?
Our primary intention has always been to ensure the quality of the contents; the vessels must be functional, minimalist and humble. Our labels have a distinctive and refined aesthetic, but the amber bottles serve to protect our products as much as bringing pleasure to the eye.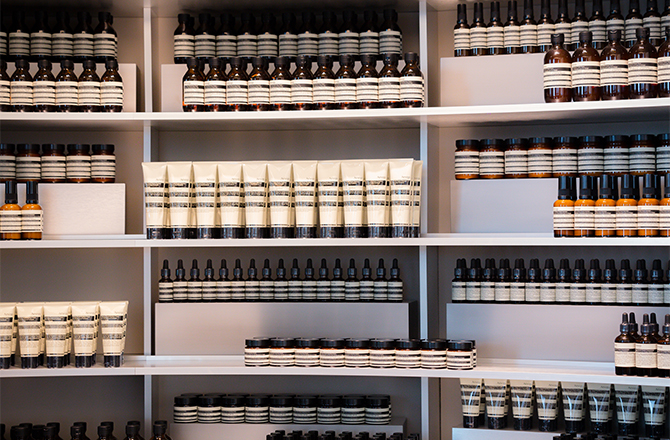 What are your overall thoughts of the design industry here in the region?
There is a growing depth of talent in the local scene and acknowledgement of richly diverse influences in the region. I have been particularly impressed with the graduate design show at the D3 precinct.
This year also saw the Sharjah Architecture Triennial curated by Adrian Lahoud which addressed important issues of global society in an original and thought-provoking way adding to this regional voice.
Any architects in the Middle East you're particularly interested in?
I'm excited to learn more about the next generation of architects who will shape the region.
Will we see an Aesop standalone store in Dubai?
We are focused on choosing the best locations for our customers' needs at any time. A standalone location would have to be assessed once we consider all the local factors at play.
Aesop is located at Fashion's Avenue Perfumery & Co in The Dubai Mall.
Now, take a look at what made Google's top ten 'Year in Search' results for 2019.