It's no surprise that evian has a fondness for high fashion collaborations and most recently, Virgil Abloh (the man responsible for Louis Vuitton's menswear collections and Off-White) is the latest collaborator to lend his artistic hand to the Danone-owned natural mineral water brand.
Together, the powerhouse duo has already revealed a refreshing new take on evian's offerings by launching a limited-edition sustainable glass bottle collection titled 'One Drop Can Make a Rainbow'.
Continuing their collaboration, evian and Virgil have taken one step further in their joint commitment to expanding the brand's sustainable offerings by launching a new stylish and collectable item that shares both of their visions.
A new 75cl glass iconic limited-edition bottle was created — continuing the "One Drop can make a Rainbow" concept — and comes adorned with perfectly formed water drops in a range of colours that make up the rainbow.
Speaking about this concept, Virgil said: "The notion that one drop of water can create a rainbow served as the inspiration and metaphor to drive my first project as evian®'s Creative Advisor for Sustainable Innovation Design. As light refracts through that droplet, it reveals its full polychromatic potential. We don't see just water, we see infinite possibilities and inspiration for anyone. Everyone."
The collaboration between evian and Virgil stems from evian's commitment to make all of its plastic bottles from 100% recycled plastic (rPET) by 2025 — a decision announced in January 2018.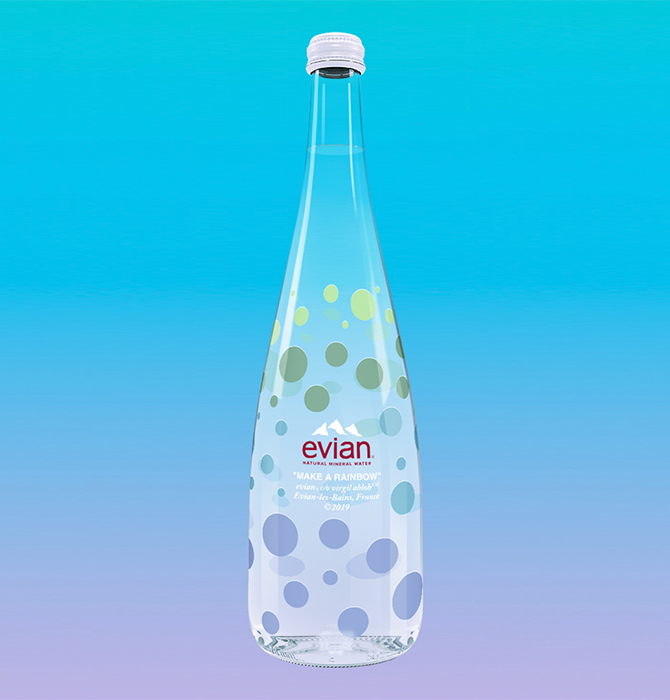 Why not stay hydrated whilst looking chic doing so? You can now get your hands on evian's limited edition bottle in the Middle East on amazon.ae and taw9eel.com.
Now, find out what else (other than our evian water bottles) are items Buro. editors never get on a plane without.