After dropping Halloween-inspired goodie bags for the spookiest day of the year, the Saint Laurent Rive Droite team is kicking off the holiday season with an impressive new lineup of Christmas gifts. Yes, the retail concept is back once again translating the house's specific vision through limited-edition products that cover everything from apparel to homeware, furniture, and more, with this year's utlra-luxe holiday pieces offering everything you need to Saint Laurent-ify your life to the max.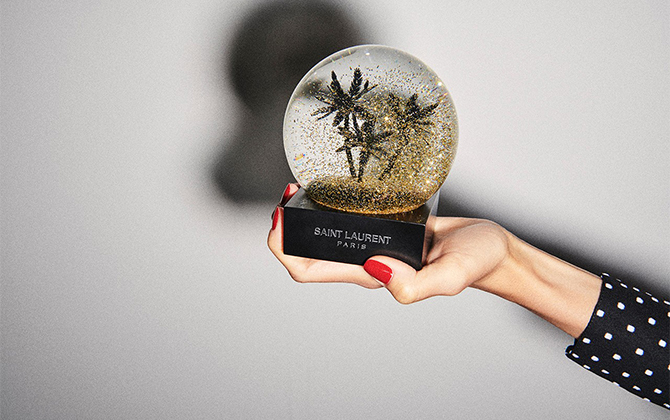 Other than a handful of fashionable everyday tees and hoodies (stamped with the face of Kate Moss), the lineup see the French maison collaborate with several renowned brands; there are four signature Baccarat homewares pieces including the Heart Amor (a paperweight), Louxor vase, Louxor Vide-Poche (tray) and Louxor tumblers; rich chocolate Bûches de Noel and boxes of gold-dusted pralines from macaron maestro Pierre Hermé; leather-covered Thibierge notebooks to scribble in all your 2020 plans; and J.L Coquet coffee cups for your early morning lattes.
On the sportier side of things, you can now dash down the snow in style with a pair of all-black wooden skis from Zai skis, expertly crafted in Switzerland – complete with the Saint Laurent logo and a hefty price tag of $11,600. There's also a skateboard decked out in genuine gold leaf for those looking for more adrenaline pumping gifts, on sale for $3,025 just for the deck; trucks and wheels sold separately.
Then there are Saint Laurent black-and-gold snow globes with the house's signature palm tree iconography, Christmas candles with Tsubota Pearl lighters in polished brass, and Nordmann pine trees sourced from the Pinewood Forest in Morvan decorated in neon lights in the shape of lightning bolts, hearts, stars, and music notes.
Most of the Holiday products are available to shop online, but for the larger items you'll have to head for the Rive Droite concept stores in Paris and Los Angeles.
Now, discover the best beauty advent calendars of 2019.