Earlier this week, Blake Lively posted a photo on her Instagram account of herself and her personal trainer. If you follow any of the Victoria's Secret models (or just about any fitspo influencer) on Instagram, such a post might not have caught your eye given the amount you see just like it in your newsfeed on the reg.
However, Lively's photo wasn't a humble brag, but rather a celebration of her hard work over the past 14 months. Lively gave birth to she and Ryan Reynolds' second daughter in 2016 and has worked out steadily for the past 14 months to shed the 28 kilograms she gained during her pregnancy.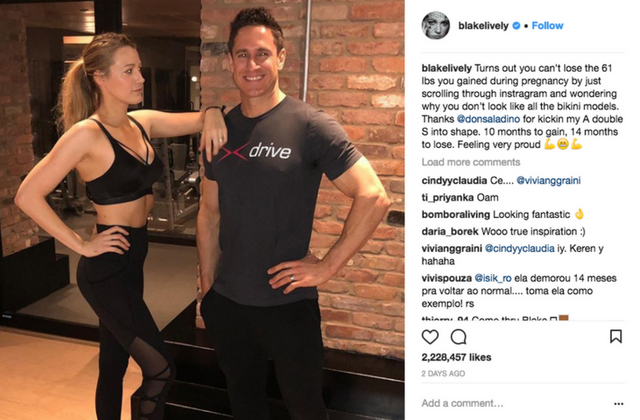 Far from a crash diet or militaristic boot camp approach, Blake lost the weight slowly and sensibly with the help of her PT, Don Saladino. The trainer recently sat down with E! News to share some insight into how the Gossip Girl star achieved her goal.
Food
"I believe that food is medicine. I believe that we can still get a substantial amount of calories, proteins, carbs and fats to feed the body and become a fat burning furnace. That's what we did with Blake. We did not put Blake on any crazy, strict diet. That's not who she is. That's not what she wants people to think. She enjoys eating delicious food just like anyone else."
Flexibility
"She doesn't eat the same good every day. She tries to focus on good quality food. There's a list of foods that one can eat on any budget that isn't garbage. This is a very attainable way to do things, and I think anyone can do it the way she does it. She focuses on things in moderation and doesn't deprive herself of a dessert if she's at a party."
Consistency
"We kept training very consistent. We made sure that she was in the gym four to five days a week. Certain days, we worked for an hour, and other days they only had 20-30 minutes because she's on a tough schedule with her kids."
Being realistic
"There was never really a goal weight. She just said, 'Listen, this is the process, this is what we need to be doing and I have to enjoy it. I don't want to put a lot of pressure on myself. I'm going to have good days and bad days and let's just let the process happen'."
Oh, and are Blake and Ryan as cute in real life as they are on social media? You bet. Saladino said, "I have to separate them in the gym a lot [when they train together]. They are very cute together. They are an amazing husband and wife combo."
Now, see who else joined Blake on the front row at Michael Kors Fall/Winter 2018 runway.