Happy UAE National Day! In honour of the country's National Day, Emirati-founded jewellery brand MKS Jewellery has launched a limited edition capsule collection to celebrate the occasion.
Paying tribute to the rich heritage of the UAE, MKS Jewellery launched delicate pieces that drew inspiration directly from the nation's ancestry.
A modern reflection of Emirati heritage, beautiful engraving have been designed into four unique stone cameos: one depicting the UAE emblem and three depicting portraits of the UAE's rulers: Sheikh Zayed bin Sultan Al Nahyan, Sheikh Khalifa bin Zayed Al Nahyan and Sheikh Mohammed bin Rashid Al Maktoum.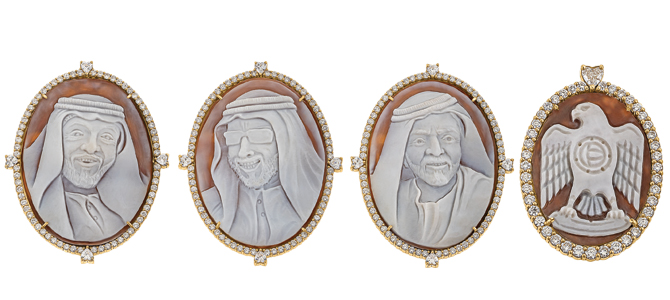 "National Day is a special time where we are reminded of what this country has given us — it is loving to all and is loved by all. At its core, this collection is about this love for the land and its people, it's stories and dreams yet to come true", says H.H. Sheikha Mariam bin Khalifa bin Saif Al Nayan.
"I love how these pieces are so sentimental, precious, delicate and beautiful, which in this moment of reflection reminds us of the meaning in life and relationships with yourself and others".
To further celebrate UAE National Day, H.H. Sheikha Mariam bin Khalifa bin Saif Al Nayan personally tapped three exceptional Emirati women who inspire her and the country, to be part of a special video diary for MKS Jewellery. Sharing their stories of sentiment, watch the National Day video below starring Diala Ali, Sara Falaknaz and Hala Kazim.
The capsule collection is now available by order only at mksjewellery.com.
Now, discover Chopard's new collection which recently launched in Dubai.