The driving force behind Breitling were in Dubai to discuss the Swiss brand's latest offerings, including the renowned Avenger. The timepiece falls under Breitling's 'air' pillar (the brand's product offerings have been streamlined and firmly categorised into 'air', 'land' and 'sea' pillars), and with the launch of the updated Avenger collection of aviation watches comes an 'aviation pioneers squad' which includes a young XBlades drone racing pilot, Luke Bannister, who spoke to us along with Tim Sayler, Breitling's Chief Marketing Officer.
Bannister is currently playing a significant part in the evolution of aviation's appeal for 'gen Z' and here, we speak to both of them to explore Breitling's new age of aviation…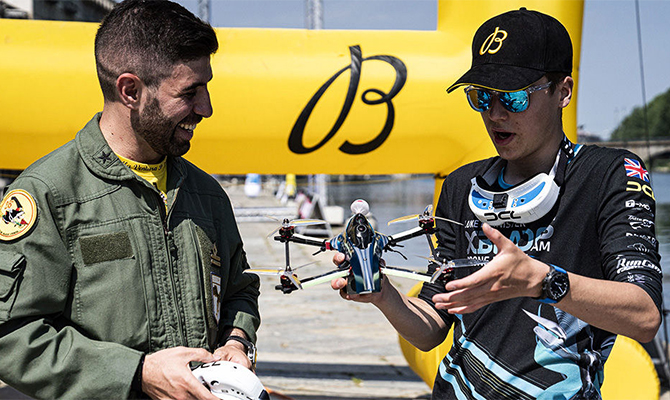 A collaboration that stemmed from purely wanting to address a new audience, Breitling wanted to fly into new frontiers of aviation with 'Gen Z'. "Breitling is one of the most well-known pilot's watch brands out there and we wanted to find a way to address a new audience," explains Sayler. "So we asked ourselves: what does the younger generation dream about when it comes to flying? Nowadays, taking a flight is like taking a bus. It's not a novel experience anymore. Then, we met with the Founder of the Drone Champions League (DCL), and the first thing he showed us was a video of himself flying — not a drone, a real plane — and doing a loop. And his story was that he had become an aerobatics pilot by flying drones first."
This was then a turning point in Breitling's communication. "We decided that this was how we could talk to a new generation about flying-via drones. That led to Breitling sponsoring the Drone Champions League, in 2018. Then this year, we had the launch of the new Avenger — our modern pilot's watches. We wanted to go a step further and include a face for the next generation into our campaign. We asked the Drone Champions League who the best drone pilot was out there and here he is (laughs). Now Luke is with us, presenting our new collection to the world."
The drone racer may only be a teenager but Bannister is well-educated in his field and not only understood, but truly related to Breitling's values. "Although it's got a long history in aviation, it's great to see Breitling dive into another aspect of aviation," explains Bannister. "Everything I do is time-based. The races are short, they're like 60 seconds to a minute and half. And even in that short time, you can switch places with your opponent a number of times. Everything is down to split seconds. I love the fact that they're [Breitling] are so heavily involved in aviation, because ever since I was younger, I've wanted to be a pilot, I've dreamt of flying. Drones are just sort of a way I could access a piece of the sky a lot earlier."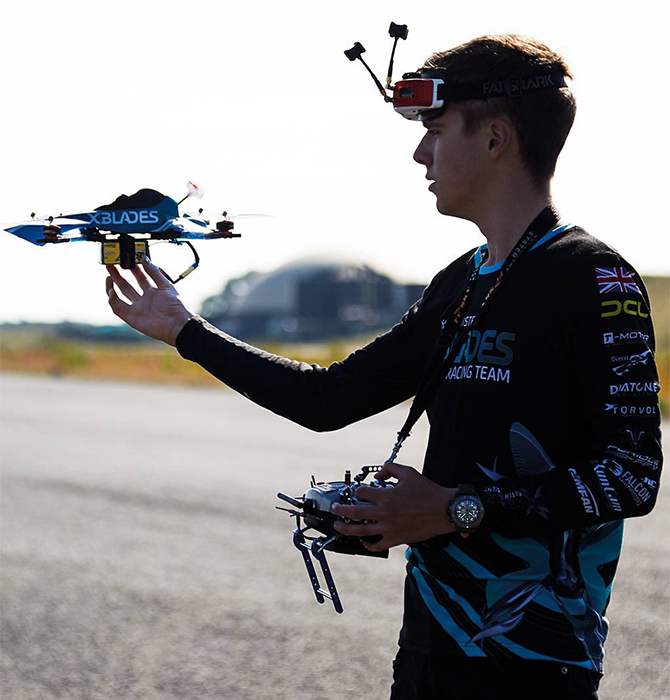 When asked what makes drone flying so thrilling, Bannister was quick to respond and said: "With the drones I fly, with the stick you control the degrees per second, and how fast it rotates. If I push it all the way forward, it'll just keep spinning. The drone has a camera on board, so it sends a video feed back to the goggles. It's as if I'm inside the drone and flying it manually. I's fun, except when you crash. It means you have to fix something," to which Sayler asked: "When you crash, do you get startled when you fly into a wall like you're actually hitting the wall?" (laughs) and Bannister explains, "In the beginning, yeah. But it just happens so fast that you don't even realise it. In a practice race once, I hit a lamppost. It was so fast that it was just, boom, black screen. There's no real time to react."
Whilst catering to the younger generation, Sayler explains the external challenge was to balance modernity with Breitling's history and heritage. "The new collections we are launching are not vintage collections, they are modern and we design them as modern watches. What we are going to do in parallel, because a lot of people don't know about the heritage of the brand, we will also launch re-additions. Those are replicas of signature pieces of the brand throughout the history that today fall right into certain trends of vintage. We can balance both sides."
Whilst Bannister is officially a part of the Breitling squad, he has a few ideas of potential collaborations. "I think I have got some ideas, some sort of potential things, some projects that we could do. It would be pretty cool-some collaborations between aviation and drones. I'm keeping them close for now. Well, when I started drone flying, it was a hobby. And then it spiralled into being a profession, so professionally now, I race and also film action sports with drones. You have to dream big and if you keep at it and practise, you can achieve what you want to achieve."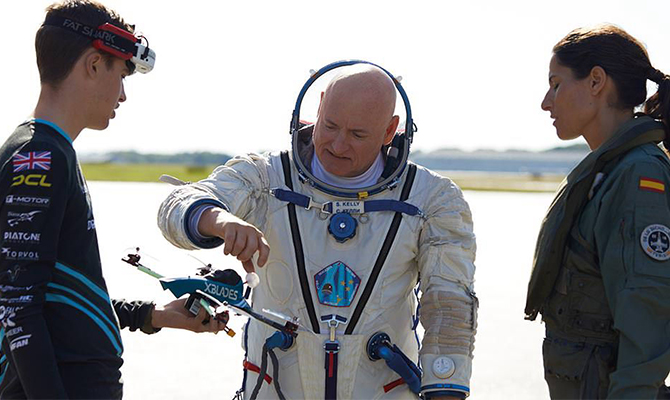 Sayler then explains, "It's just the beginning. One year we're the partner of the Drone Champions League, and now it's really getting off the ground, with Luke as part of the aviation pioneers squad. And the League will become even bigger with the launch of the e-game, so let's see. Anything is possible, and we're already seeing the response we're getting and I think it resonates with the new generation. It is innovative, and it's exactly where we want to be, where we need to be as a brand. Let's see how it evolves."
Now, take a look at the limited edition timepiece Breitling launched exclusively for the Middle East.