There's nothing we love more than championing women, especially if they're from the region. Over a decade ago, Nadine Kanso launched perhaps one of the most exciting brands to emerge from the Middle East: Bil Arabi.
Synonymous with heritage, Bil Arabi's jewellery pieces portray a work of art as they express Kanso's appreciation of heritage, culture and tradition through Arabic calligraphy.
Every collection she puts forward, think Mina, Khatt and Ahwak, is handmade in the UAE and is an ode to the region with different shapes and poetry inherent to Arabic alphabets captured through rings, earrings, bracelets and pendants.
For Bil Arabi's latest collection, Nadine looked at the Arabic language to craft a range called 'Hobak Nar'. Translating to 'Your love is fire', the selection of pieces signifies the different degrees of love complete with Bil Arabi's imprint.
Available in rings, earrings, cuffs and pendants, the 10-piece collection is formed from depiction and adorned with precious stones such as black and white diamonds with red, yellow and pink enamel. The flame design is also a key highlight of the collection.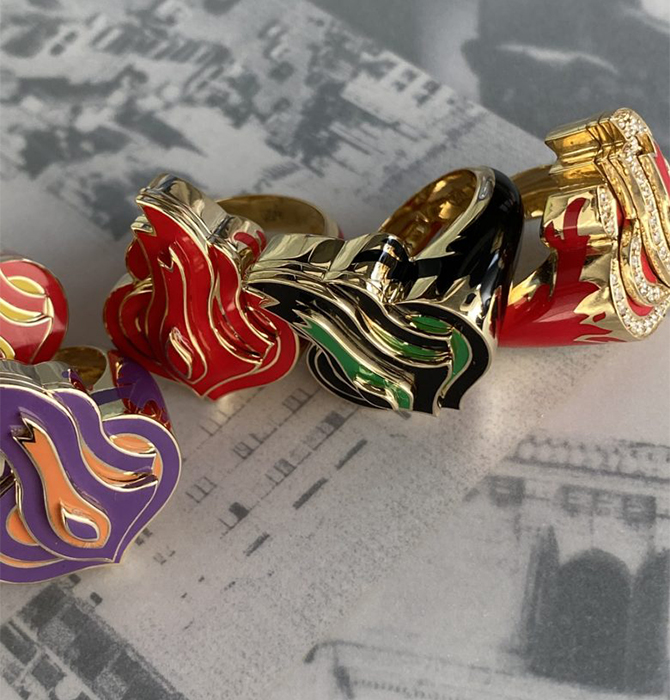 Now, take a look at when Nadine Kanso teamed up with Dima Ayad earlier this year.