Behold, a celestial radiance for an everlasting chronometer. In an odyssey that spanned three and a half years and traversed the planet, Jacob & Co. has scoured the world for exquisite yellow diamonds of colossal proportions to realize the Billionaire Timeless Treasure. The very first of its kind, this resplendent jewel demanded flawless color consistency, impeccable quality and an unrivaled brilliance that would captivate for an eternity.
880 carats of raw yellow diamonds were painstakingly chiseled for countless hours to yield 216.89 carats of the highly-coveted Asscher cut. These 425 gems were then assembled one by one to form a mosaic of diminutive proportions yet an unparalleled magnitude. Their Fancy Yellow and Fancy Intense Yellow hues were accentuated by the iridescent verdancy of tsavorites. To further embellish the opulent Billionaire skeleton tourbillon movement, 57 yellow baguette-cut diamonds were meticulously arranged.
"We've browsed the entire world for three and a half years in search of an unprecedented number of perfect gems, says CEO Benjamin Arabov. We've gathered them here, in our Geneva headquarters, where each one was scrutinized at rough stage, at cut stage, before and after setting. The incredible work done by our gemsetters happened entirely here, in Geneva. We've combined our expertise in high jewelry with our skills in high watchmaking and used our drive to achieve what has never been done before. So we've created a unique piece that outshines every other high jewelry timepiece in opulence, exclusivity and diamond quality."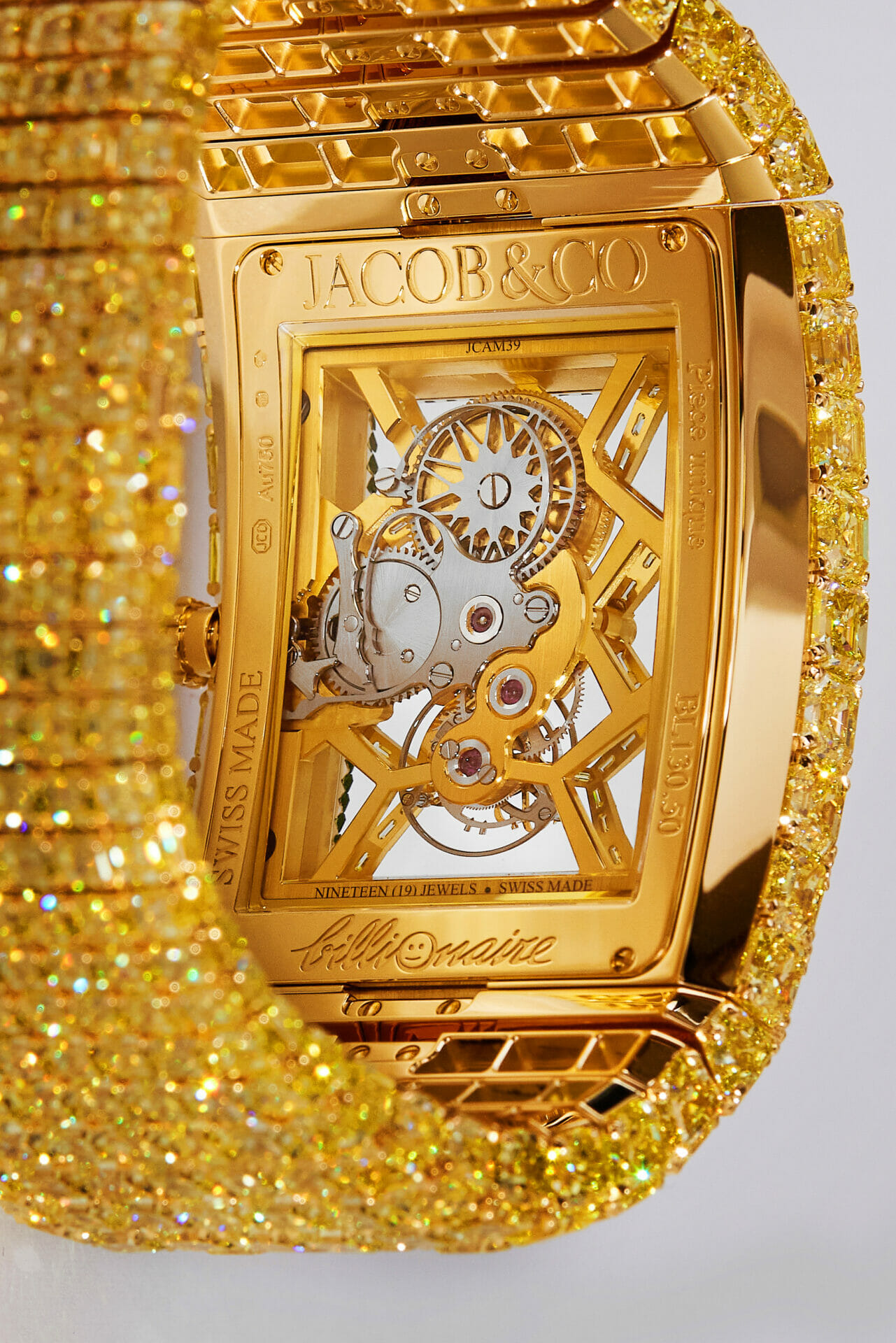 A pinch of history:
In the year 2015, the world witnessed the inception of the incomparable Billionaire – a timepiece that had never been seen before. It was a bespoke project that demanded several years of meticulous craftsmanship, involving an immense undertaking of finding, sorting, cutting, and prepping 239 emerald-cut diamonds. This masterpiece, bedazzled with diamonds on its case, crown, and bracelet, was a sheer spectacle of light that catapulted Jacob & Co. to a class of its own. The iconic skeleton tourbillon movement, characterized by its exquisitely fine proportions, positioned Billionaire at the pinnacle of the watchmaking hierarchy, drawing international acclaim and prompting Jacob & Co. to create a second one-of-a-kind piece.
Billionaire II, adorned with 424 diamonds totaling 161 ct, elevated the initial concept, showcasing Jacob & Co.'s unparalleled expertise in selecting and weaving a tale with gem-setting language. The timepiece's movement was a particular highlight, featuring a filigree structure set with 57 baguette-cut diamonds – an unprecedented feat. This success paved the way for Billionaire III, a limited edition of only 18 pieces, featuring 714 white baguette-cut diamonds. The Diamonds and Rubies version of Billionaire III added a splash of color to the series, with a total of 134 rubies set on the flange, movement, and crown, further expanding the collection's repertoire.
ALSO READ: FANCY SOME COSMIC-INSPIRED MAKE UP HUES THIS RAMADAN?