Once again, the world-renowned jewel creator Cartier surprises the luxury industry with the release of its new high jewelry collection that breathes new life into the hallowed halls of Cartier's iconic archive, reinventing classic masterpieces with a new light. An array of precious materials is artfully displayed, meticulously crafted into multidimensional forms that exude radiant allure. At its very core, the gemstone halo effect takes center stage casting forth a glow that enchants the senses. Embracing the essence of Cartier's aesthetic, this avant-garde collection emerges with bold geometric expressions and dazzling juxtapositions. Within its realm, designers have mixed together patterns and shapes, skillfully orchestrating symmetrical and asymmetrical marvels. With vivid contrasts as their muse, resplendent gemstones, from the fiery ruby to the tranquil turquoise and the impassioned garnet, compose a symphony of sensations, harmoniously entwining to make a balance between geometric tension and graceful serenity.
COMPUTER AIDED DESIGN (CAD) WAS USED TO CONCEIVE THE SAMA NECKLACE.
Ignited by the effect of a 19.27-carat Ceylon sapphire, the Sama Necklace draws inspiration from the ethereal garments of whirling dervishes, this necklace weaves a tale of motion and senses with its swirling contours and graceful counter-curves. Its voluminous silhouette, adorned with intricately carved arabesques, becomes a stage where light pirouettes, casting a spellbinding spectacle that enchants all who behold it. Harnessing the limitless potential of technological artistry, the artful symphony of Computer-Aided Design (CAD) unfurled its meticulous precision as it conjured forth a breathtaking three-dimensional embodiment of the necklace.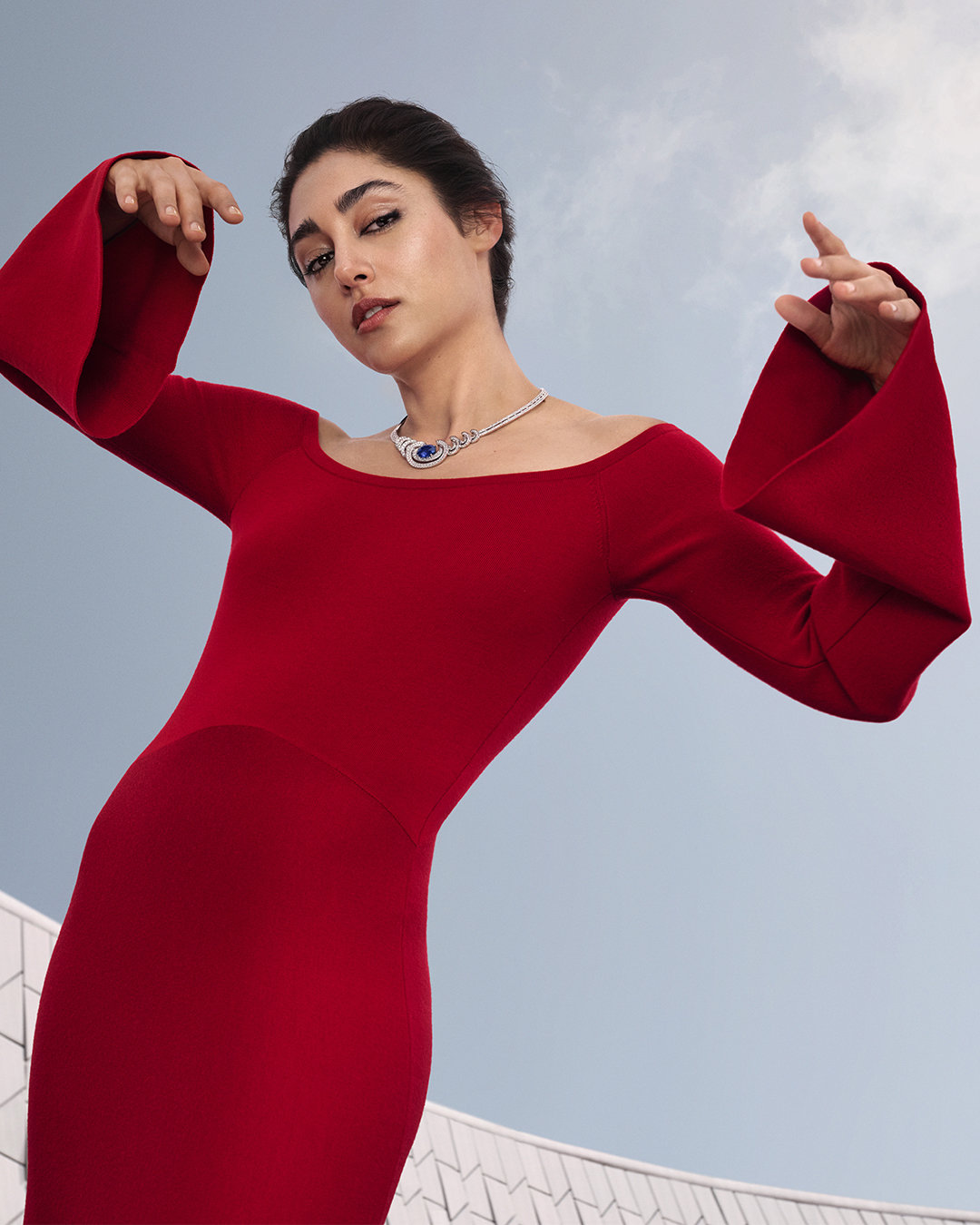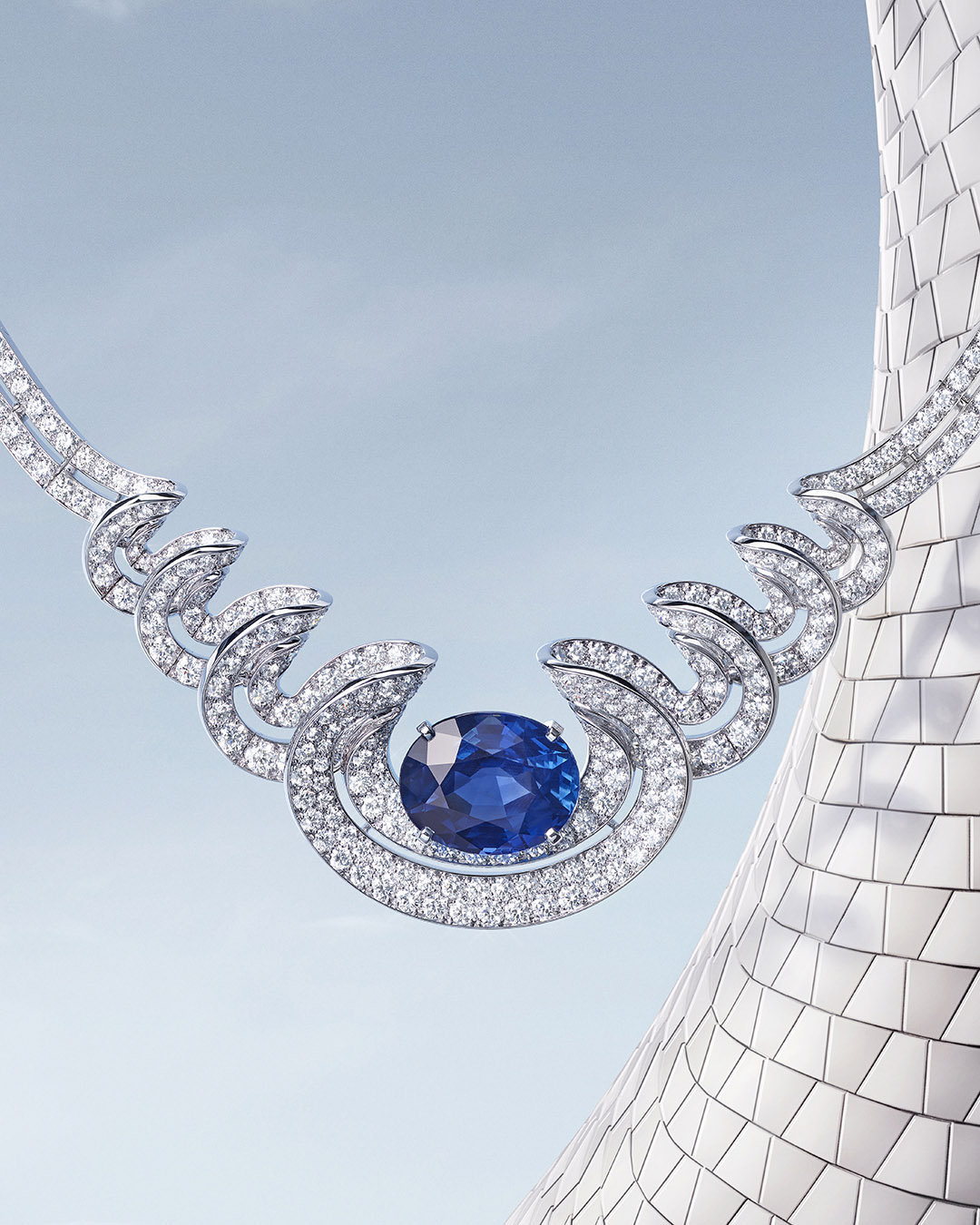 A 0.92-CARAT GREY-VIOLET DIAMOND FORMS THE CENTREPIECE OF THE ONDULE RING.
As if suspended in a vortex of ethereal light, the diamond finds sanctuary within a miniature structure, where relief and volume intertwine, evoking a symphony of captivating radiance. Transcending its form, the central stone is embraced by half-moon diamonds, releasing their resplendent brilliance, conjuring a mysterious halo that transforms its shape and magnificence, leaving beholders spellbound in awe.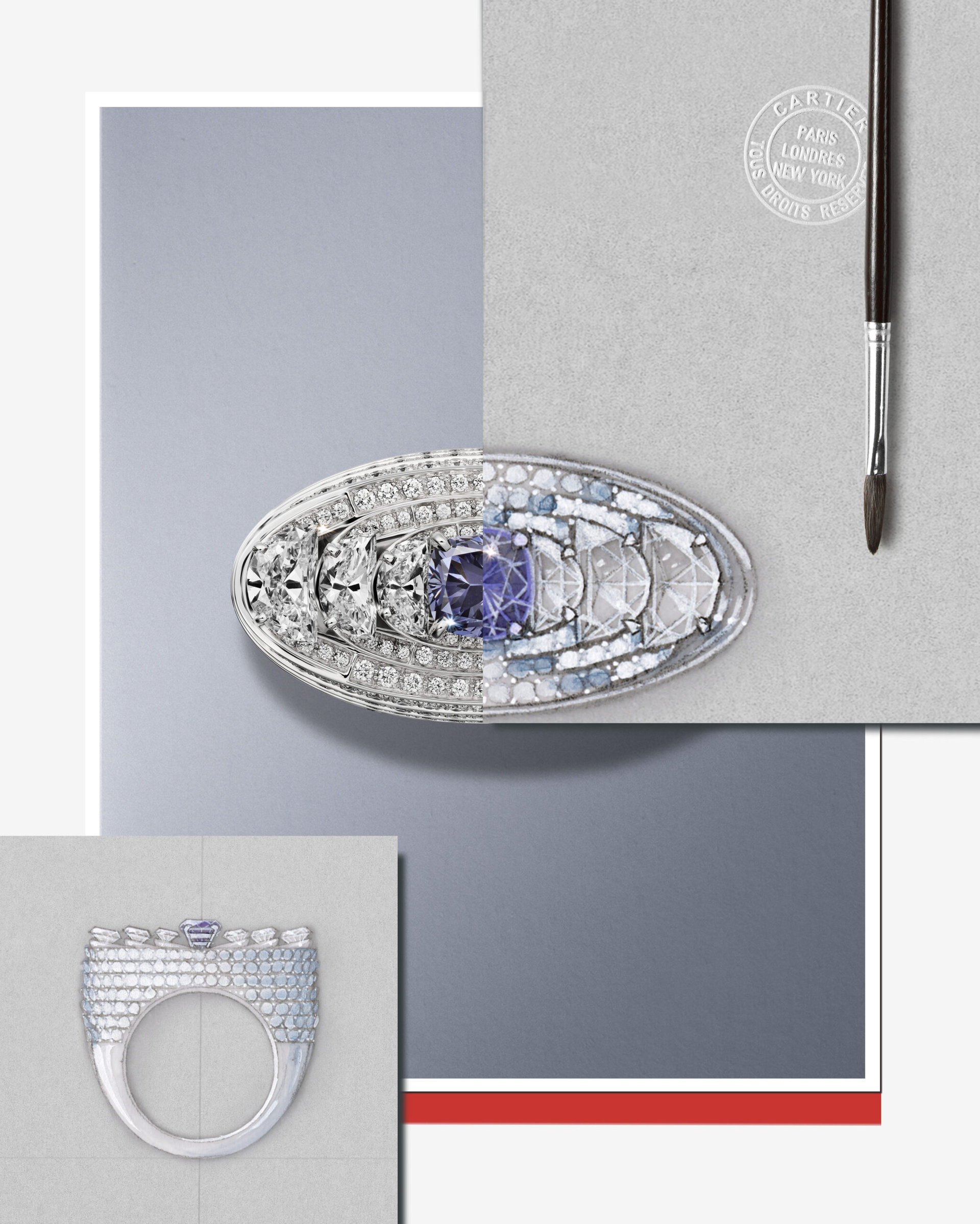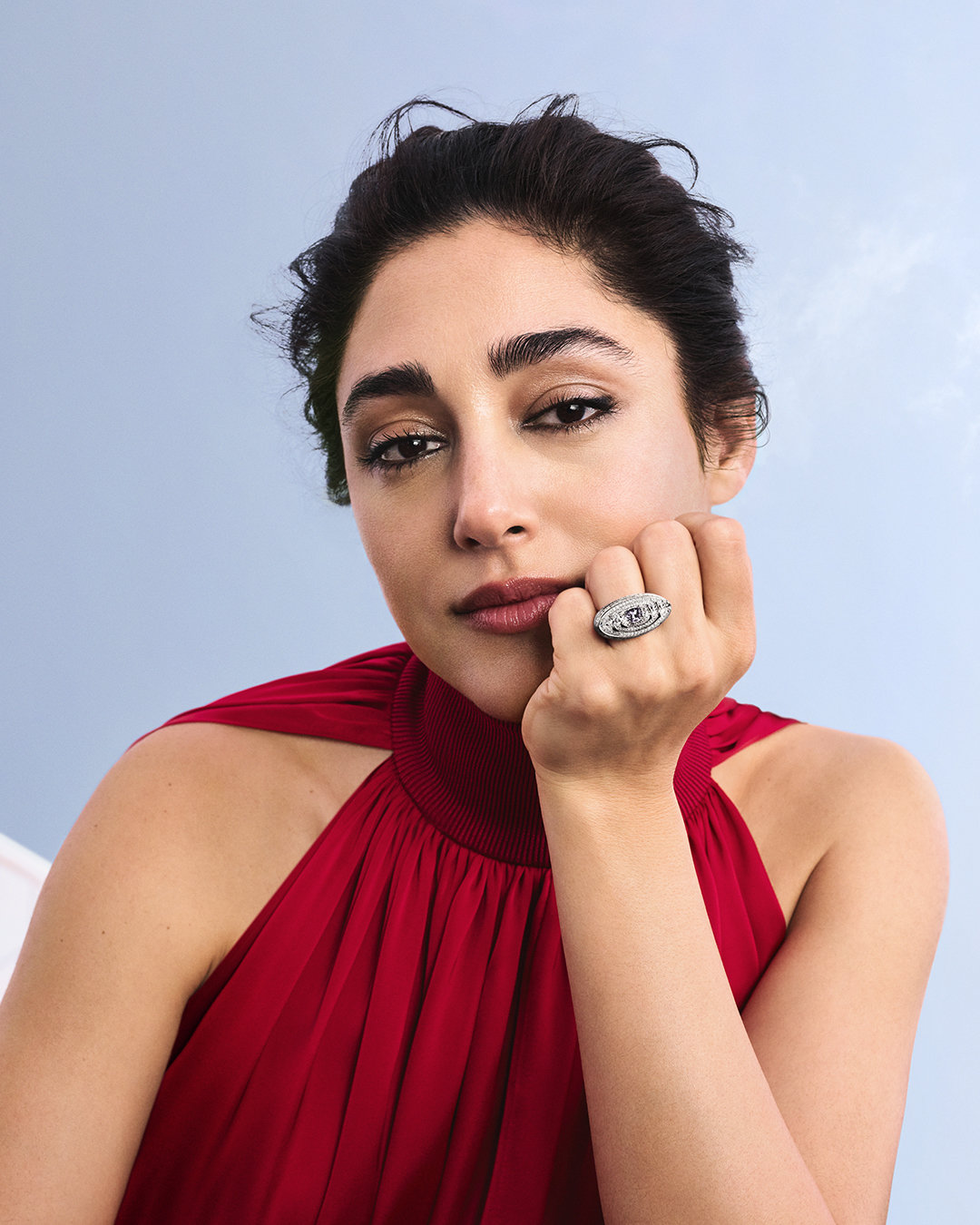 THE CLAUSTRA NECKLACE CAN BE SEPERATED IN TWO.
This necklace breathes life into the realm of metamorphosis. Within its design lies a secret whispered to the keen eye: the ability to part ways, embracing duality without compromising unity. This ambitious piece challenged the very essence of craftsmanship as embarked on a quest, crafting an illusion of seamless cohesion while engineering the intricate mechanics that allow the set to gracefully divide. Each stroke of their skillful hands ensured that the lines intertwine, embracing harmony as they converge, while their separate entities unite with effortless precision upon adorning the wearer.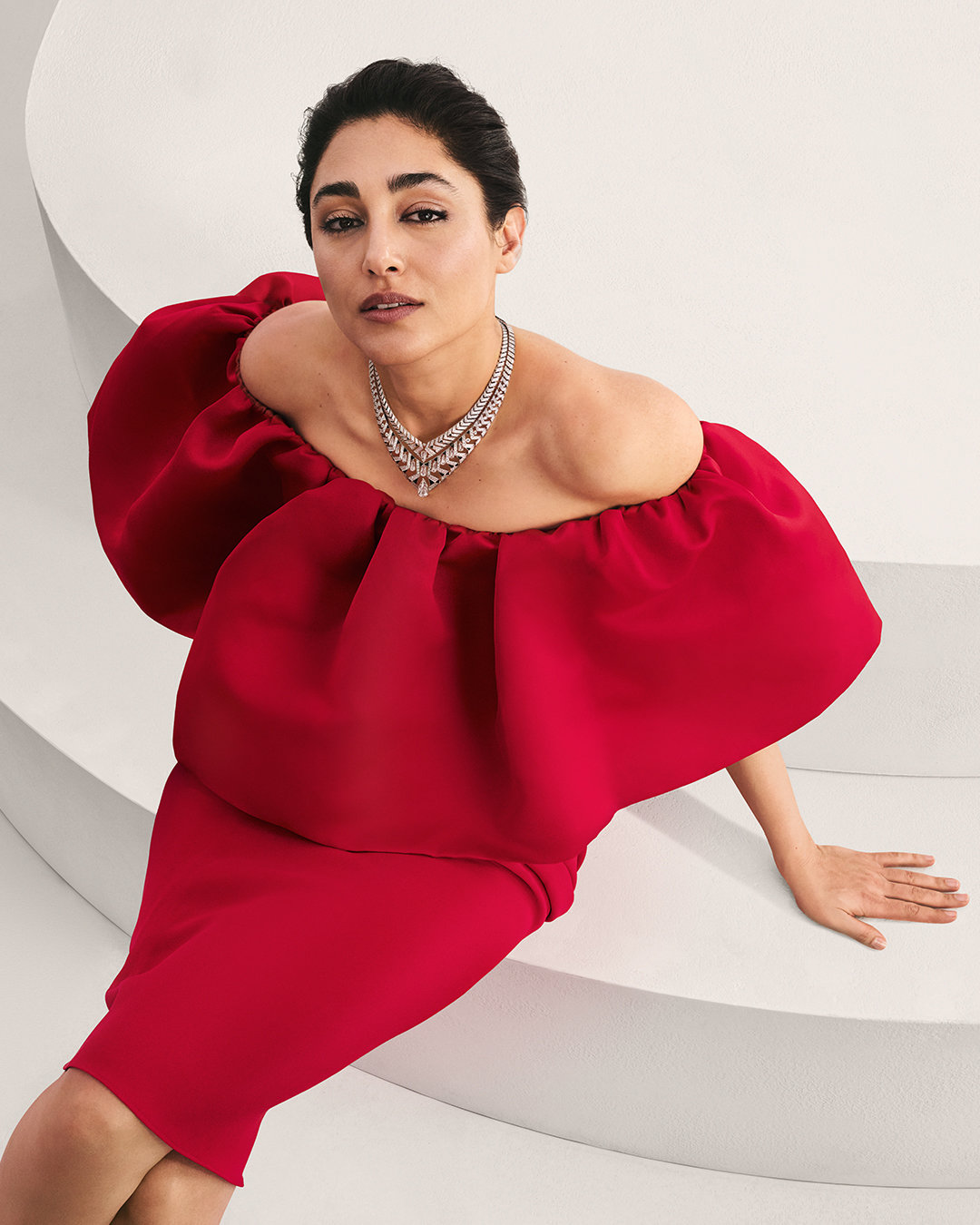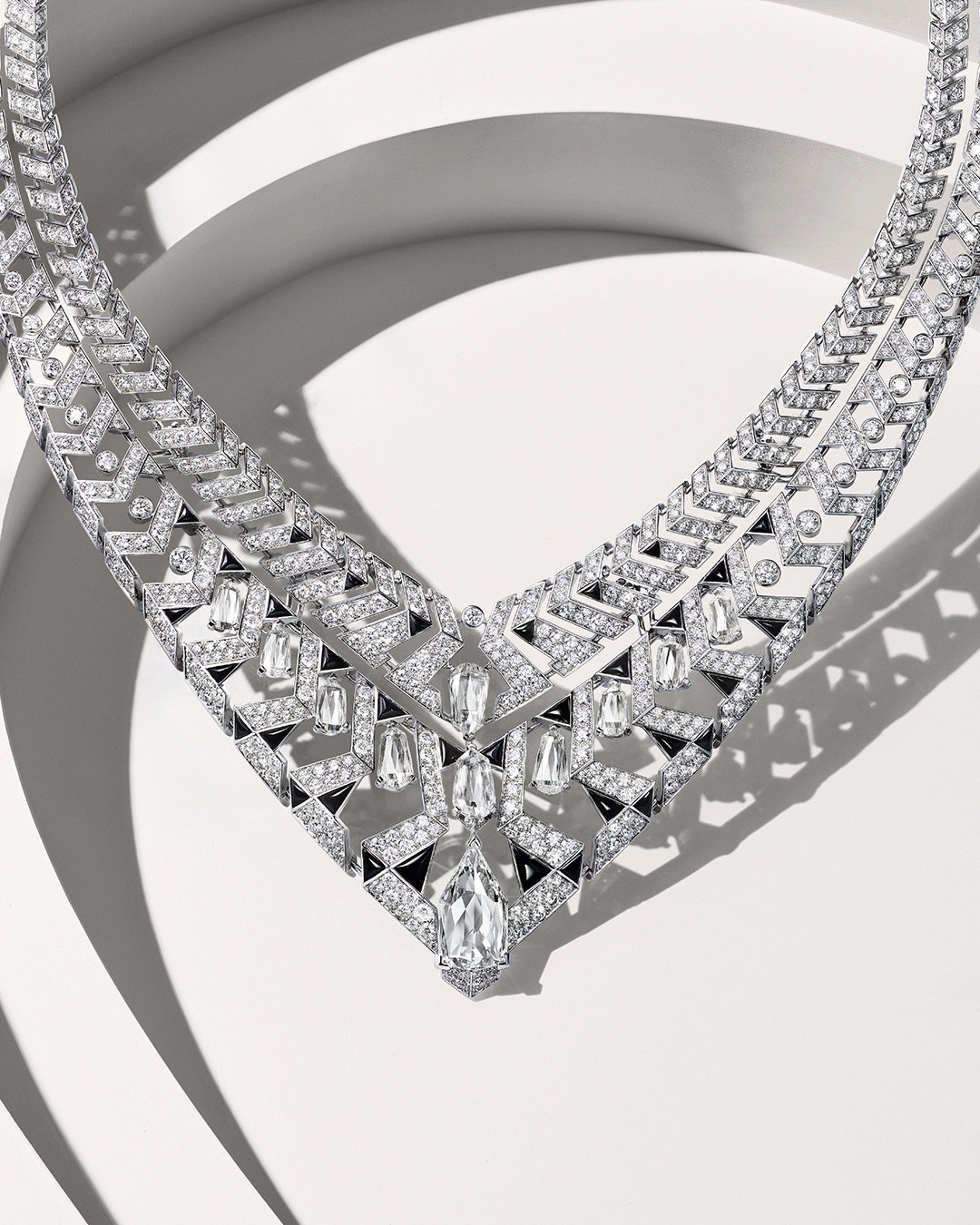 IN THE PANTHÈRE GIVRÉE NECKLACE, THE PANTHER WATCHES OVER A SET OF THREE AQUAMARINES TOTALLING 20.33 CARATS.
The panther emerges as a lifelike marvel and transcends the bounds of reality, for its coat becomes a mesmerizing mix of pixelated enigma, a cloud of geometric wonders, adorned with onyx spots that bespeak its wild grace. This noble creature stands guard, its luminous gaze caressing three aquamarines, a trove of ethereal beauty that dances with a chromatic intensity of cosmic magnitude, totaling 20.33 carats. In a symphony of contrasts, delicate brushstrokes of lapis lazuli punctuate this opulent composition, igniting a harmonious interplay of hues and capturing the very essence of wonder.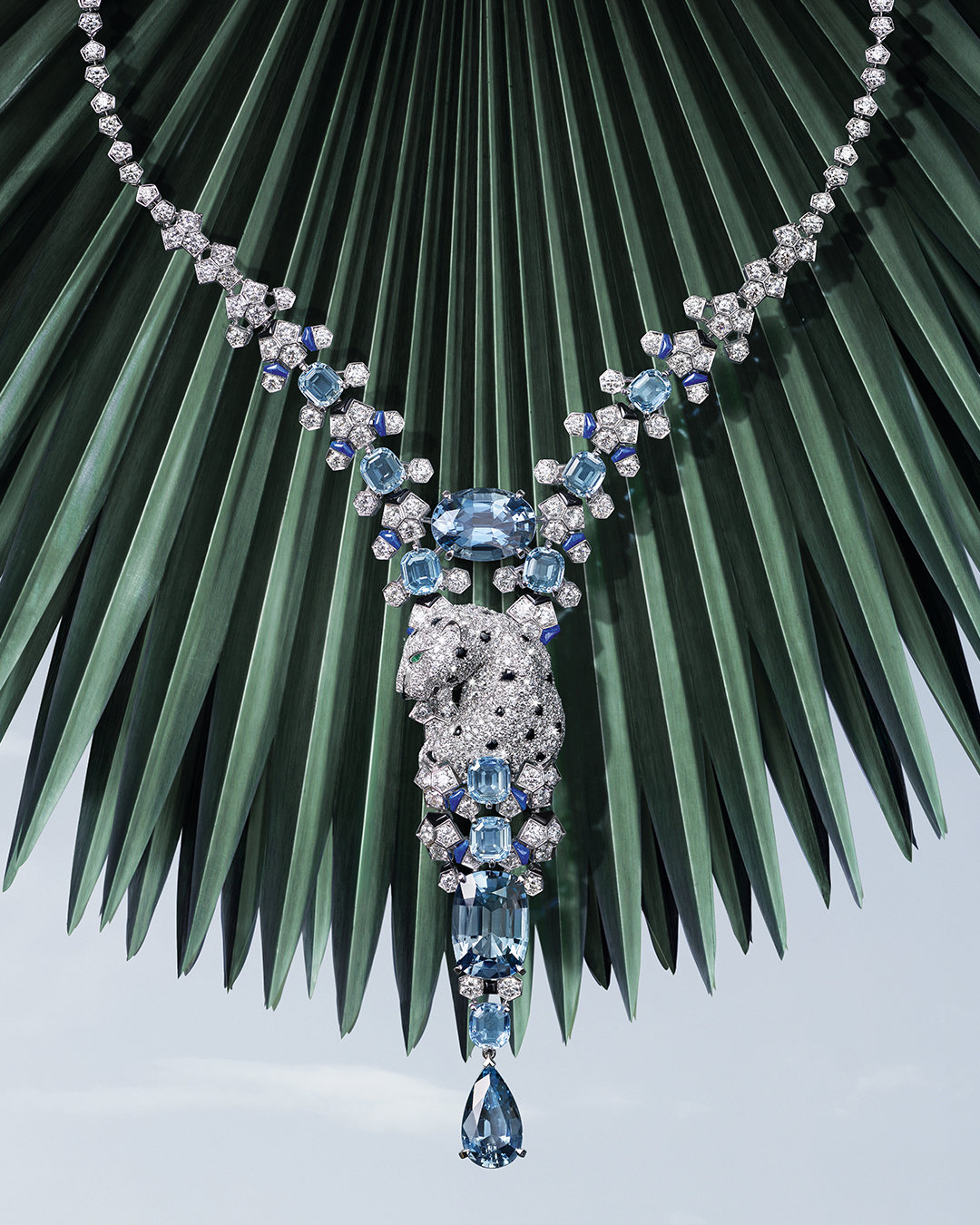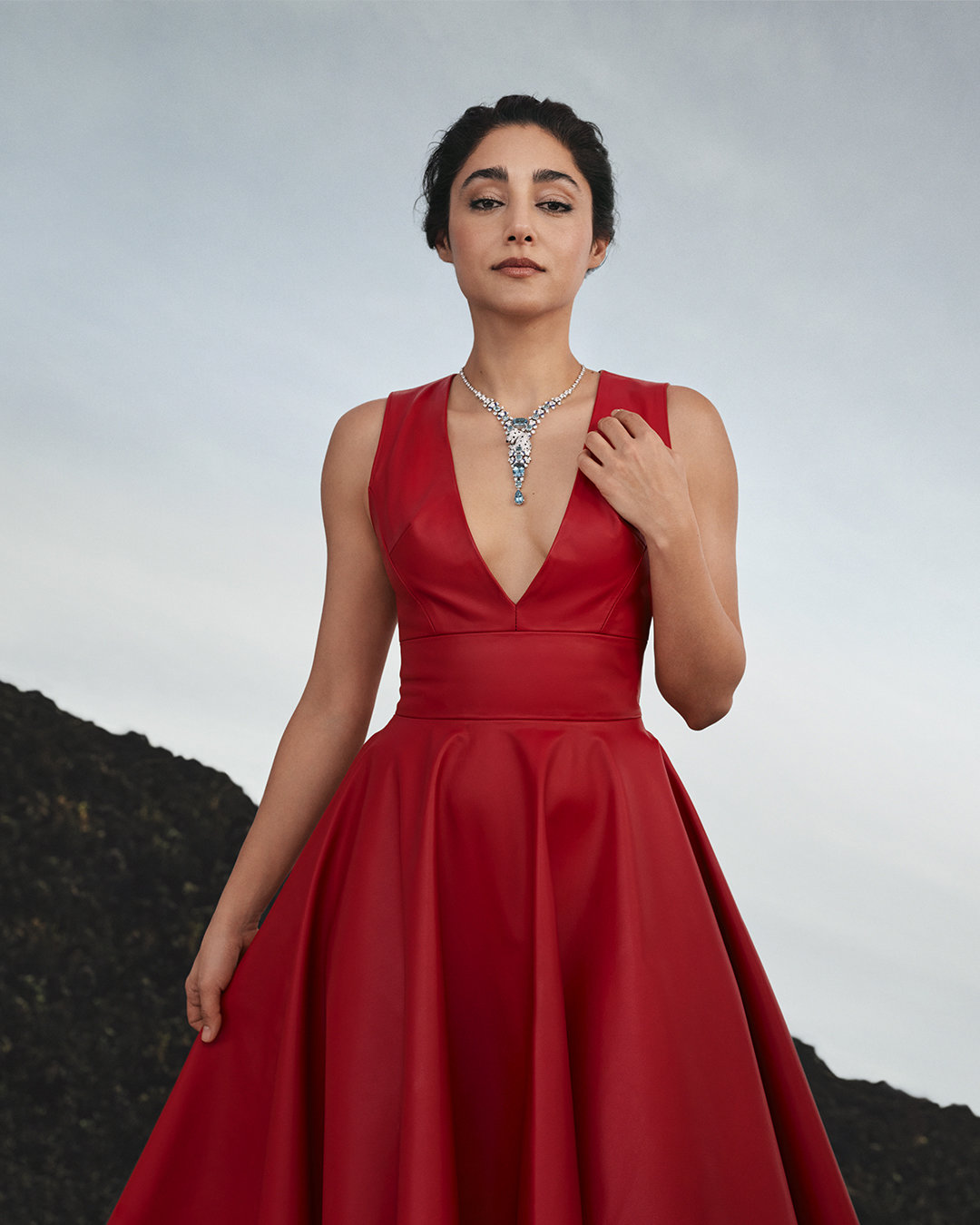 THE GIRIH NECKLACE IS INSPIRED BY ISLAMIC ART AND THE PLENDOUR OF ITS ARCHITECTURE.
Emeralds from the vibrant lands of Zambia intertwine with precisely cut turquoises, hewn with masterful artistry by skilled lapidaries. Their alliance, an ode to the power of color, resonates with an undeniable allure. Staying true to the legacy of Cartier's transformative creations, the centerpiece of this exquisite marvel embraces versatility. A touch of whimsy allows the central pendant to detach, becoming a radiant brooch that gracefully adorns its wearer, epitomizing the fusion of elegance and innovation.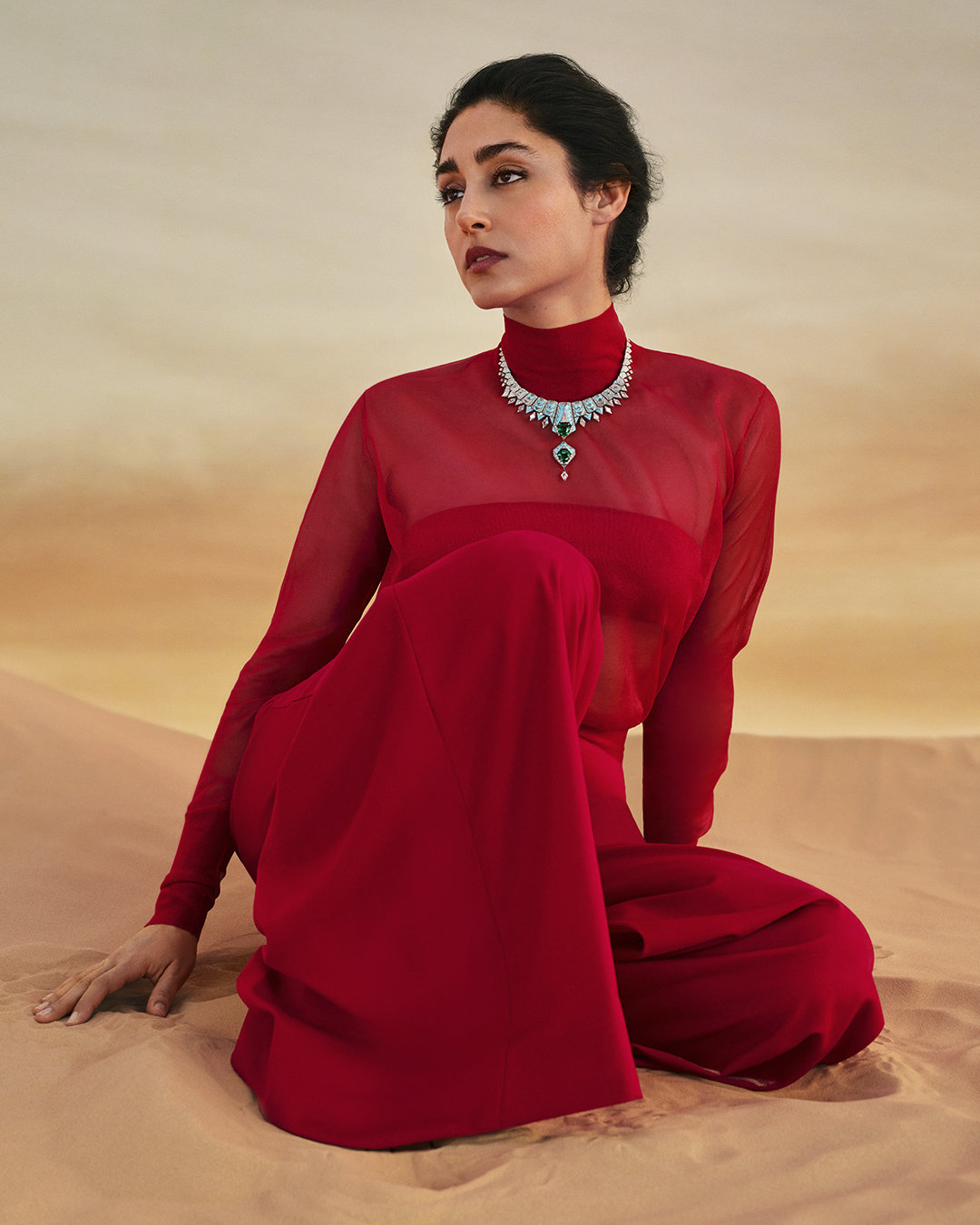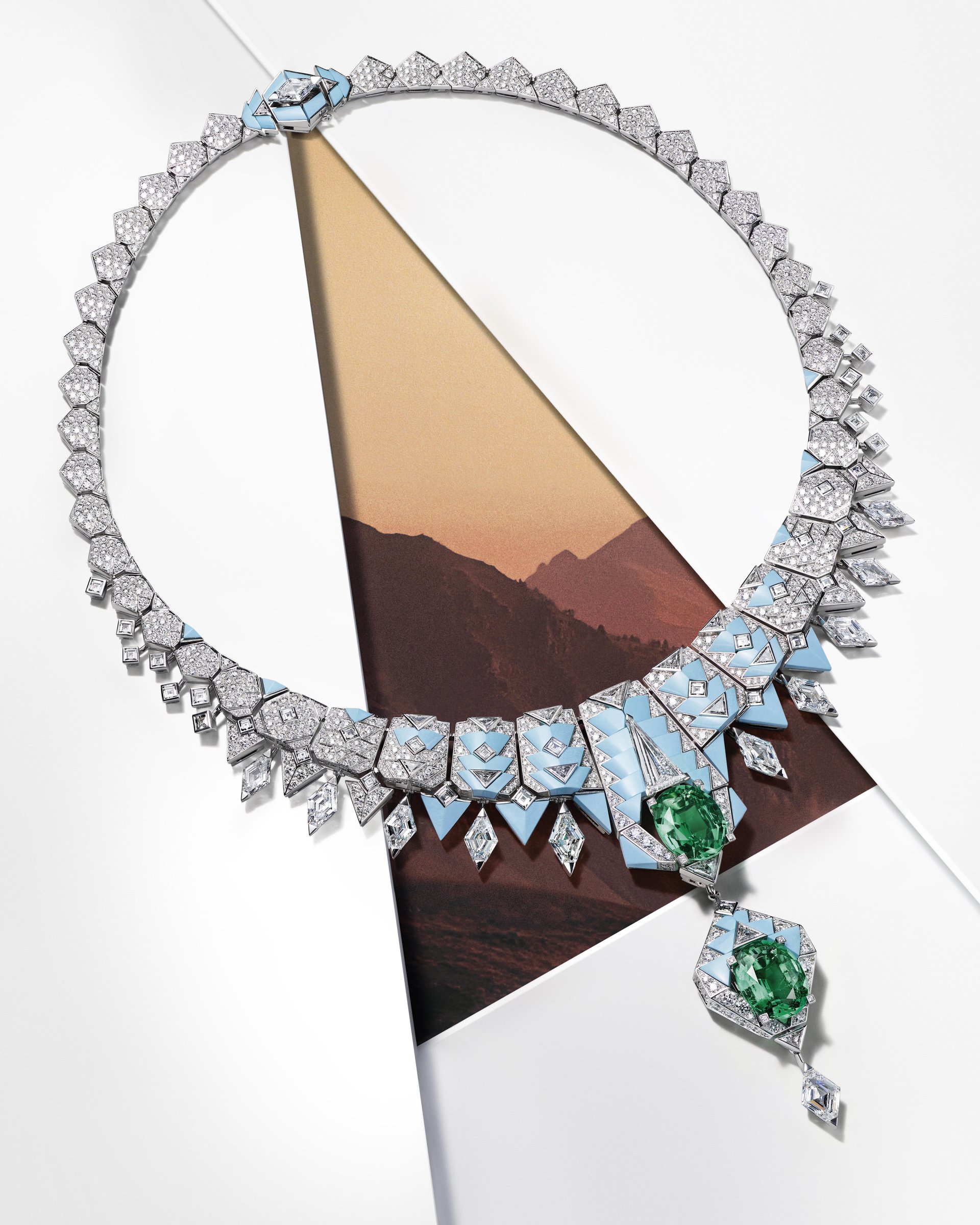 In parallel to the resplendent high jewelry collection, a symphony of captivating harmony emerges as two sets of exquisite jewelry, carefully crafted, stand as companions on this transcendent voyage. A testament to the boundless creativity and vision, these collections stand as shimmering reflections of the timeless elegance woven throughout this extraordinary journey: the Unda Set and the Volta Set.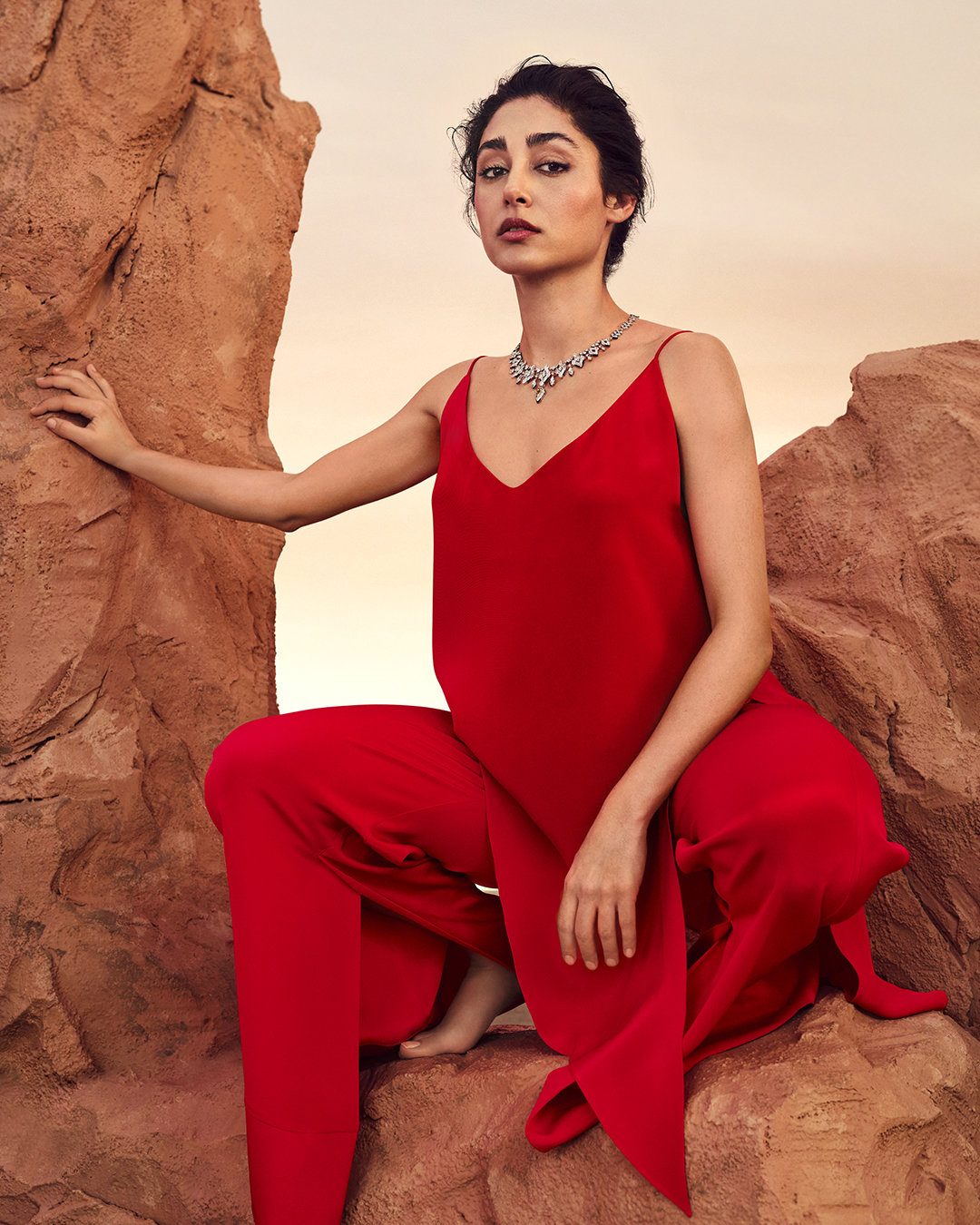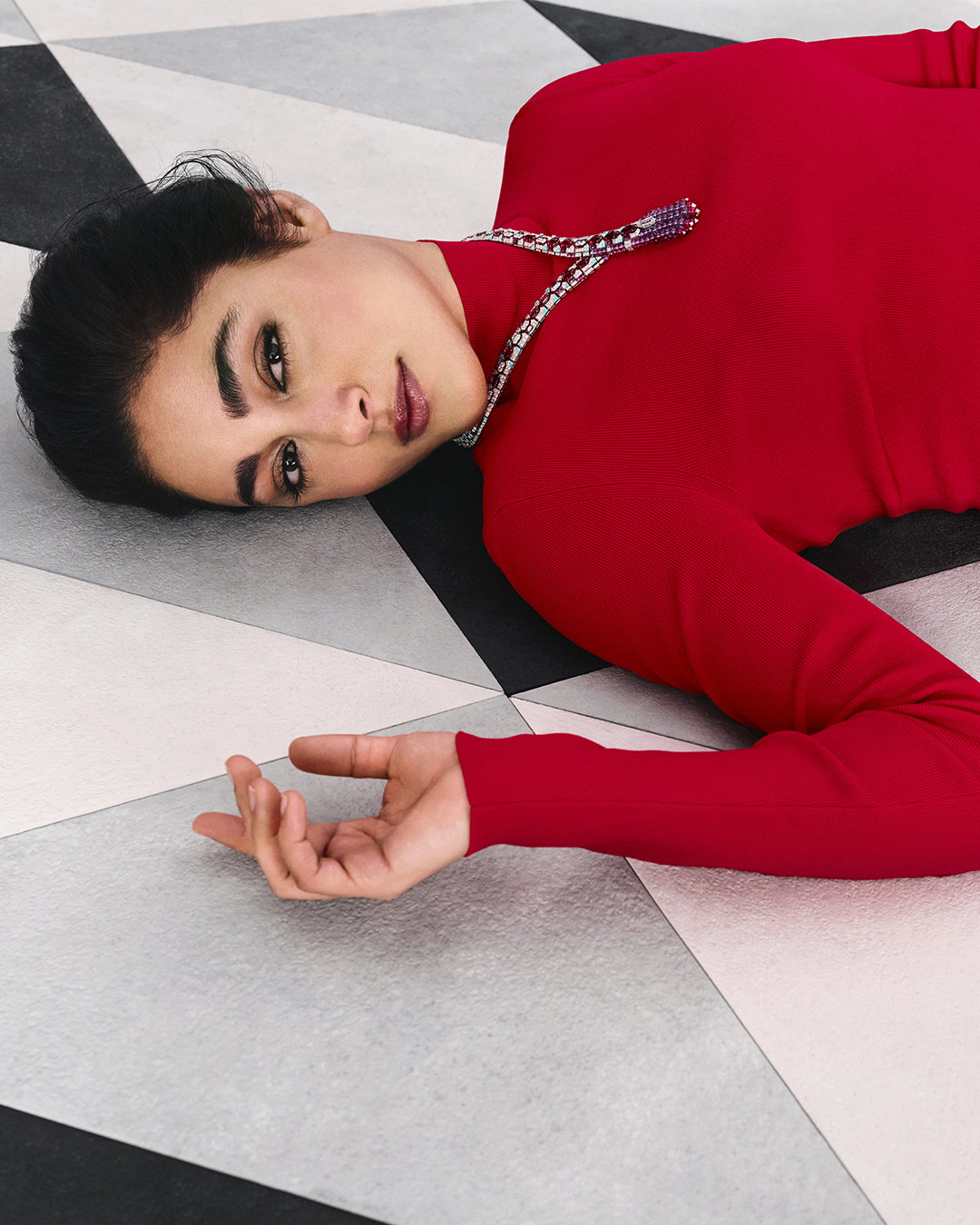 ALSO READ: ADDING THESE CARTIER TIMEPIECES FROM WATCHES & WONDERS TO OUR WISHLIST.