The race to high jewelry's top was marked by challenging the conceptual and technical boundaries of design, the romanticism associated with storytelling, occupying the golden pages in print, securing the highest impressions in the digital realm, dropping a record number of onlookers' jaws, all while becoming the winning choice of affluent buyers. In a, paradoxically, crowded niche, that is high jewelry, the champion of such marathon exhibits jewelry's equivalent of the "Triple Threat," phenomena. Although differing in its defining criteria, beholders of the title, too, embody an unrivalled competitive advantage.
Ironically, some of the world's most spellbinding diamond debuts boasting stellar presentations at Lake Como (170 pieces by Dior), Venice (over 400 pieces by Bulgari), Florence (around 90 pieces by Cartier), Pulgia (70 pieces by Dolce and Gabanna), Rome (70 pieces by Van Cleef and Arpels) and Paris (around 30 pieces by Fendi) – were met by a wonderous eclipse. Louis Vuitton's gemological masterpiece of a collection, Deep Time, marked its territory as high jewellery's most impactful presentation of 2023. The question remains – how did Louis Vuitton accomplish said victory? We define the constituents of a "Triple Threat" brand such as Louis Vuitton and explain how the brand, and its ingenious Francesca Amfitheatrof Artistic Director of Watches & Jewellery, dominated 2023's high jewelry race.
Pillar I – Storytelling through originality.
Approaching collections in the form of chapters, interconnected by the interplay of themes, has become a Francesca Amfitheatrof signature. It is a means by which the storytelling of a complex narrative, such as that of Deep Time, can be made more intellectually accessible to an audience, through its conceptually linear delivery. Moreover, such method allows for an iterative build-up of a momentum of excitement, up to the collection's last dangling diamond. Note, that this is not always the case with high jewelry brands. Occasionally, Maisons may inadvertently exhaust an overarching theme by crafting an array of pieces sans coherent narrative. Alternatively, in an attempt to showcase a brand's craftsmanship, an astounding selection of pieces are showcased free from a cohesive conceptual or visual narrative. Amfitheatrof's fifth high jewelry collection for Vuitton however, encompasses the Earth's geological journey of years through to its primary traces of living organisms comprehensibly through two chapters, "Geology" and "Life," and their sixteen underlying themes.
The voyage of the Earth's formation commences with its first theme "Gondwana," one of two of the Earth's supercontinents portrayed in selection of rare oil-free emeralds, set on a diamond studded collar orbiting the wearer's neck. As we approach "Drift," we discover that it is an epilogue, paving the way for the second chapter. Alluding to a "new geological," the piece representing the theme is laced with blue aquamarines and an astounding 194 carats of yellow sapphires, with its colour palette referencing the colours of the Earth's elements. Conversely, the "Life" chapter evoked by the "Seeds" theme portrays a burst of vibrant rubellites and 256 carats of spessartite garnet, foreshadowing the flora and fauna that is encapsulated by subsequent chapters.
The very choice of dedicating a collection to the exploration of the Earth's formation and its living species, highlights Vuitton's, departure from the emphasis on jewelry's signature motifs such as flowers (other than the use of LV's emblem), hearts, serpents and celestial symbols, to name but a few of designers' go-to themes. Accordingly, the brand's venturing on to the road less travelled, injects jewelry with a fresh perspective by providing artisans fertile ground for innovation as oppose to reinterpretation. Similarly, bringing gemstones beyond the "Big Three" (rubies, emeralds and sapphires) to the forefront of the collection such as opals, garnets, tourmalines and aquamarines, is demonstrative of the Maison's range in its ability to create using an array of the Earth's splendours.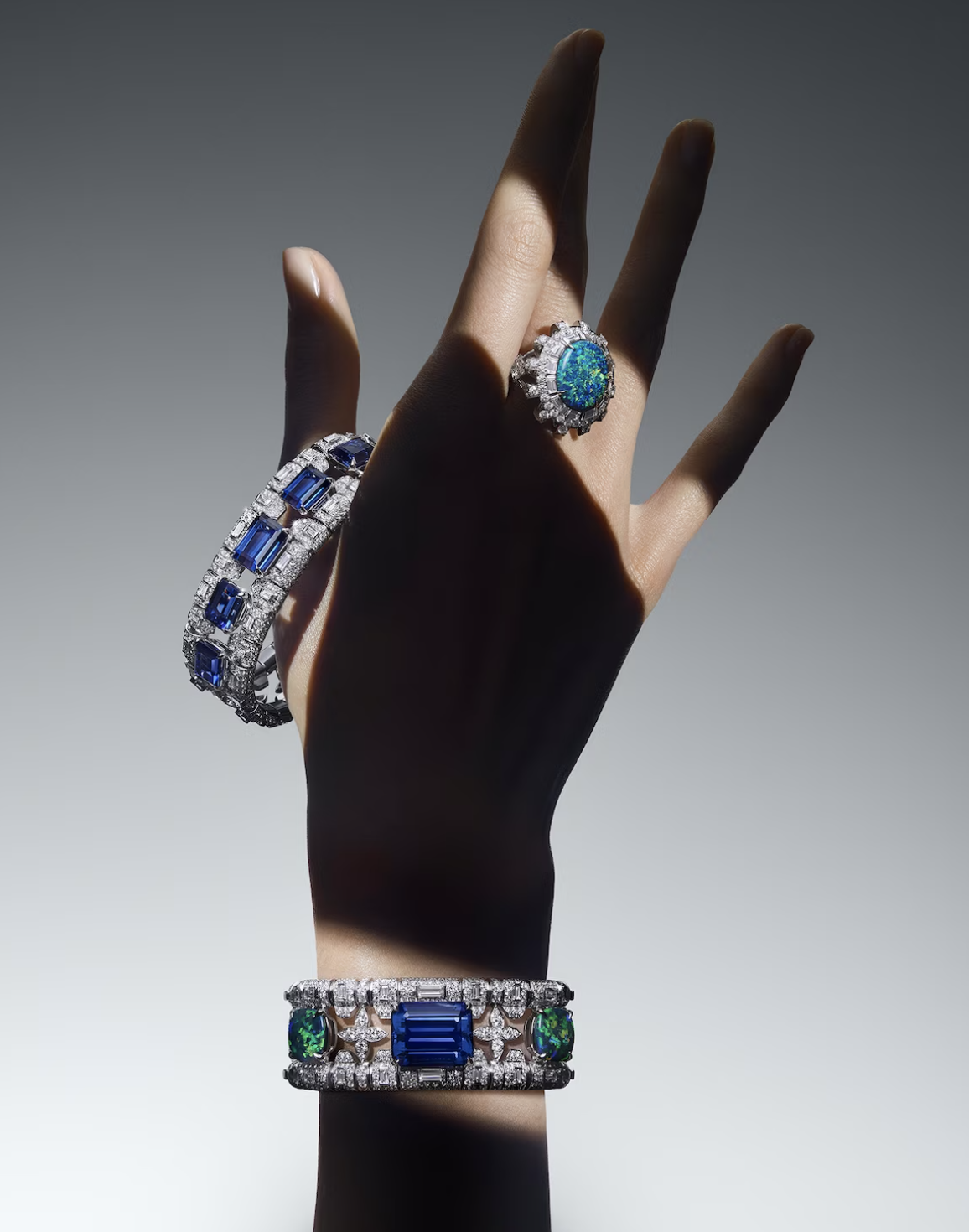 Pillar II – Gemstone sourcing & design execution.
Arguably, the Maison's secret ingredient, allowing it to catapult the ranks of truly "haute" jewelry, lies in the magic hands of its atelier and Francesca's creative vision. Although, high jewelry pieces naturally showcase rare gemstones and über intricate craftsmanship – Louis Vuitton's design philosophy and atelier's potential have conjured creations that are in a league of their own. Nothing short of, two years of research and museum-grade (borderline miraculous) gemstone sourcing will do. The "Plant" theme of the collection portrays the Maison's sourcing rigour, as the artistic director elaborates, "we created this necklace with two incredible rows of round emeralds and round rubies in yellow gold and white gold. What's so amazing here is that you will never see again a suite of emeralds in a brilliant round cut – this is the rarest thing ever. This is like a museum piece from a gemology point of view." Another example, of exceptional gemstones featured include a casual 10.21 carat, D colour, flawless diamond as the "Origin" necklace's focal point, in addition to a 7.67 carat "pigeon's blood" ruby from Mozambique set in the "Flight" necklace – one of Deep Time's rarest gemstones.
Furthermore, the metallic bodies upon which said stones perch on, undergo a form of design sorcery of their own. Their architecture strays away from standard collier silhouettes, typical proportions of chandelier earrings and run-of-the-mill forms of cocktail rings. For instance, the "Myriad" necklace's incorporation of "en tremblant" a mechanism that provides the creation with a fluidity in its movement, allows the piece to mirror the double-helix curves of DNA – a critical symbol inspiring the necklace. Moreover, the tubular rows of the "Fossils" collier, the enveloping silhouette of the "Wave," collar and the shockingly intricate honeycomb pattern of the "Seeds," piece are only a handful of Louis Vuitton's design triumphs throughout the collection. (That is discounting the in-built transformability within majority of its pieces).
Pillar III – Design codes.
In the quest to source the finest materials, challenge the limits of design and execution, adhere to a theme and allow a collection's creations to do the narrating – high jewelry Maisons may find themselves struggling, even compromising, to consistently express their design codes. Not Vuitton, however. Overt brand references are made through the incorporation of custom LV Monogram Flower or Star Cut diamonds as is the case with the "Wave," "Volcano," "Drift," "Myriad," and "Flowers" themes of the collection. Even subtle allusions of the brand's emblematic V-shape and V-silhouette, are decipherable in the "Origin," "Flight" and "Wave," creations, making each piece scream Louis V. Most impressive, however is the atelier's translation of its famed Damier motif into a 3D perspective as portrayed in the "Fossils" collier.
In short, how did Louis Vuitton win 2023's high jewelry race? Under the creative leadership of Francesca Amfitheatrof, Deep Time is a collection that a) mastered the art of storytelling through the originality of its concept and design, amplified by b) unrivalled gemstone sourcing and atelier execution while c) staying true to the Maison's visual identity. Although a handful of high jewelry brands have created collections that, too, deserve standing ovations in their own right, compromising on one or two of the aforementioned pillars furthers the possibility of a strategic victory. With Louis Vuitton's Triple Threat mastery – its potential marvels have jewellery enthusiasts on the edge of their seats, waiting for a glimpse of what is to come.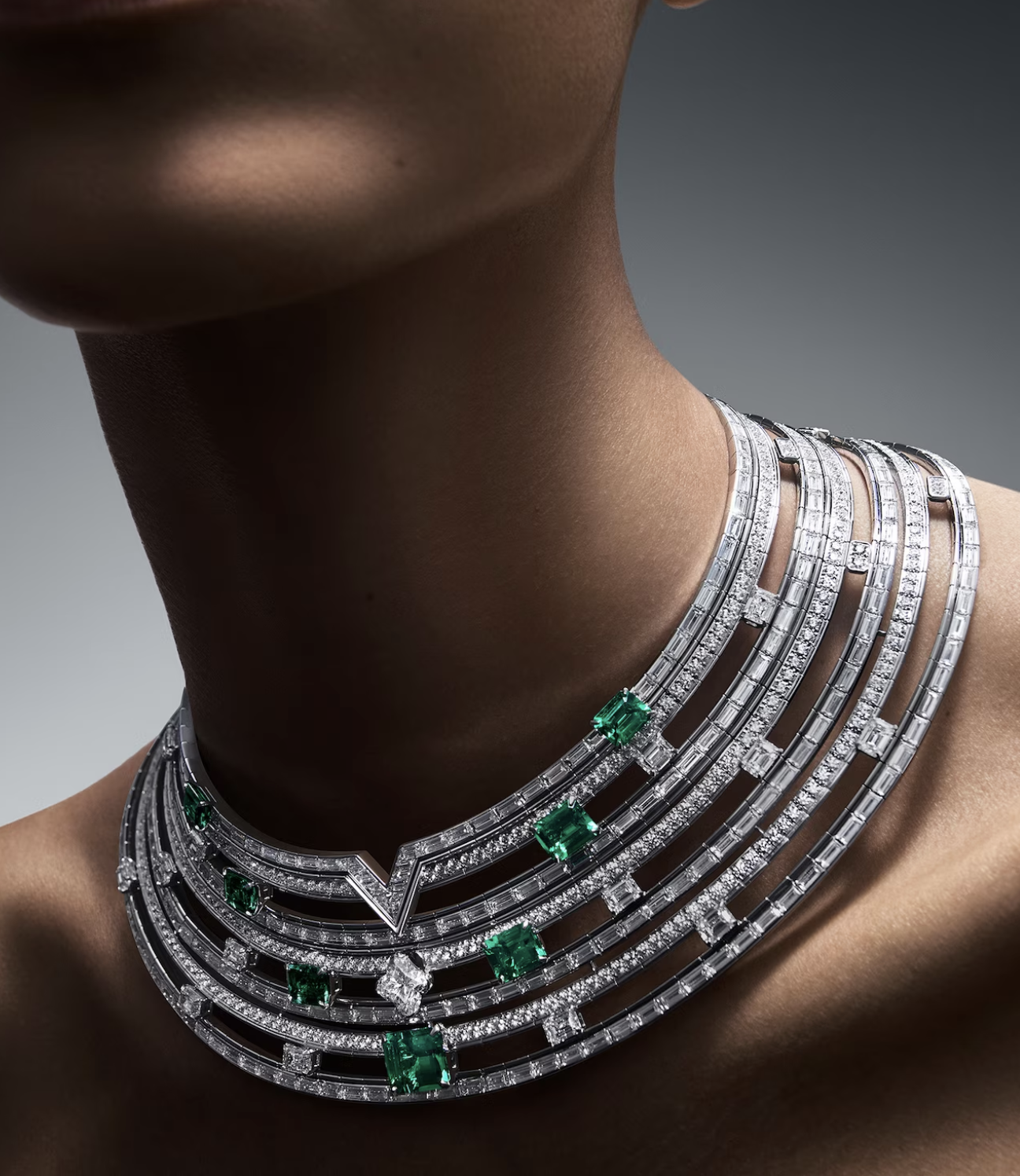 ALSO READ: YOUR DIET CAN WAIT, THESE 5 FOOD-INSPIRED FASHION ACCESSORIES WILL MAKE YOU DROOL THIS SUMMER.