Welcome to a feast for the eyes, where food isn't just a meal, it's a statement. In a society starved for originality, a new trend has emerged from the kitchen to the runway, where edibles become wearables, and fashion becomes an expression that's as bold as a jalapeño-infused cocktail and as delectable as a five-course tasting menu. So grab your forks and knives, because this is more than just fashion – it's a buffet of boundary-pushing style that'll leave you hungry for more. This is Food-Inspired Fashion: where cutting-edge designs meet cutting boards, and where clothing isn't just a necessity, it's a gourmet adventure.
The cuttlery-inspired jewelry from Nadine Ghosn.
Nadine Ghosn unfurls a creativity of culinary caprice in her latest collection, the "Youtensils". Here, a spoon becomes a wand, swirled through diamond-studded Nutella as if casting an enchanting spell. Gold straws, sinuous as serpents, entwine the wrist like precious bangles. And then, an audacious proclamation – her name, sculpted from letters floating in an alphabet-soup sea, a jubilant nod to the everyday reimagined through Ghosn's irreverently delightful prism. This is a symphony of the ordinary conducted in Ghosn's unmistakable tongue-in-cheek symphony, where dining and adornment meld in a dance of playful opulence.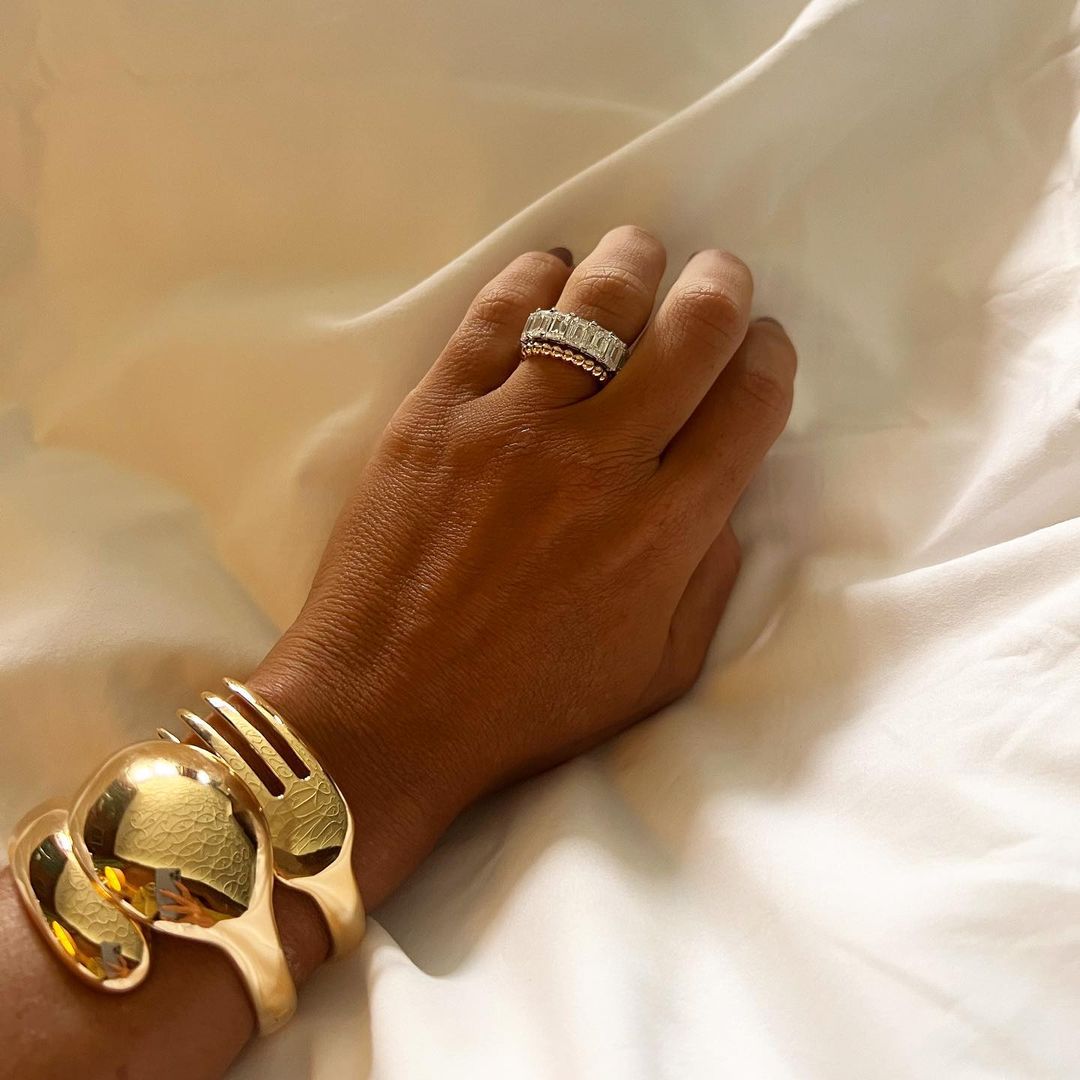 Judith Leiber's ice cream pint.
Bound to satiate even the most insatiable cravings for sugared indulgence, Judith Leiber's evening bag takes on the form of a pint, resplendent in a symphony of crimson and gilded crystal. With a touch of retro flair, this design metamorphoses the concept of opulence into a playful carousel of glamour, infusing each stride with an exuberant whirl.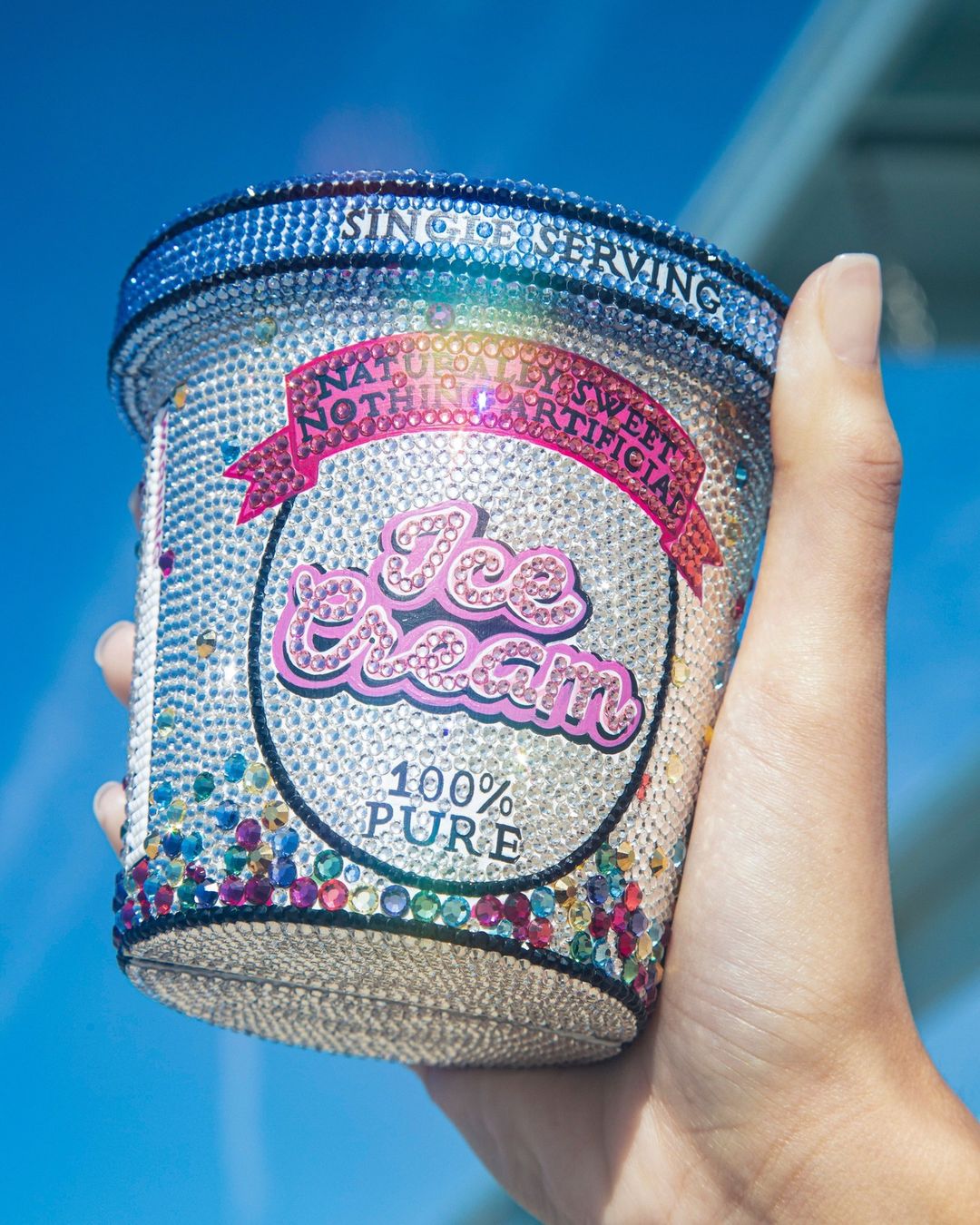 Avgvst Jewelry's cuttlery-inspired earring.
Forged through a collaborative pas de deux with the polymathic Harry Nuriev – an artist, architect, and virtuoso of furniture design who orchestrates the symphony of Crosby Studios – this cutlery transcends its utilitarian essence. Each piece is a poetic love letter to the heart of the Berlin flagship store, a vessel embodying the enigmatic "dark kitchen" ethos.
In this alchemical fusion, the elemental spoon, fork, and knife undergo a shape-shifting metamorphosis, their familiar silhouettes transmuted by context, and in turn, transfiguring the very essence of the wearer. No longer are we mere mortals; we become embodiments of culinary creation, donning these implements of flavor with the reverence of alchemical robes.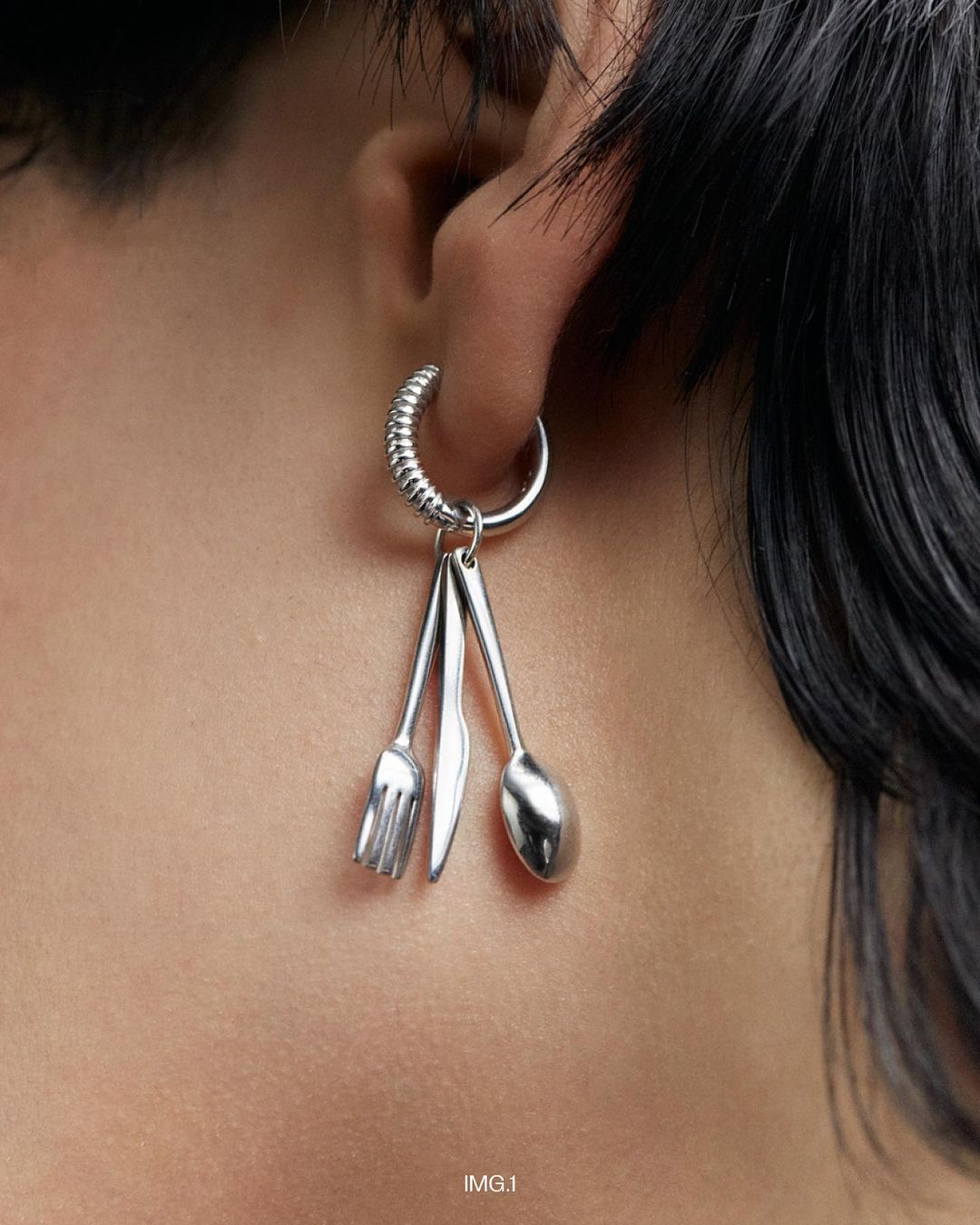 The banana bag from Fiorucci.
Eclectic, outlandish and like nothing anyone has ever seen before, Fiorucci stocks their store with bold fashions sourced from all over the world, one of them is the banana Shoulder Bag in yellow, featuring the Fiorucci logo printed across the front. The playful bag is a classic banana shape with a zip closure, a chain strap, and is crafted from smooth faux leather. One of your five-a-day.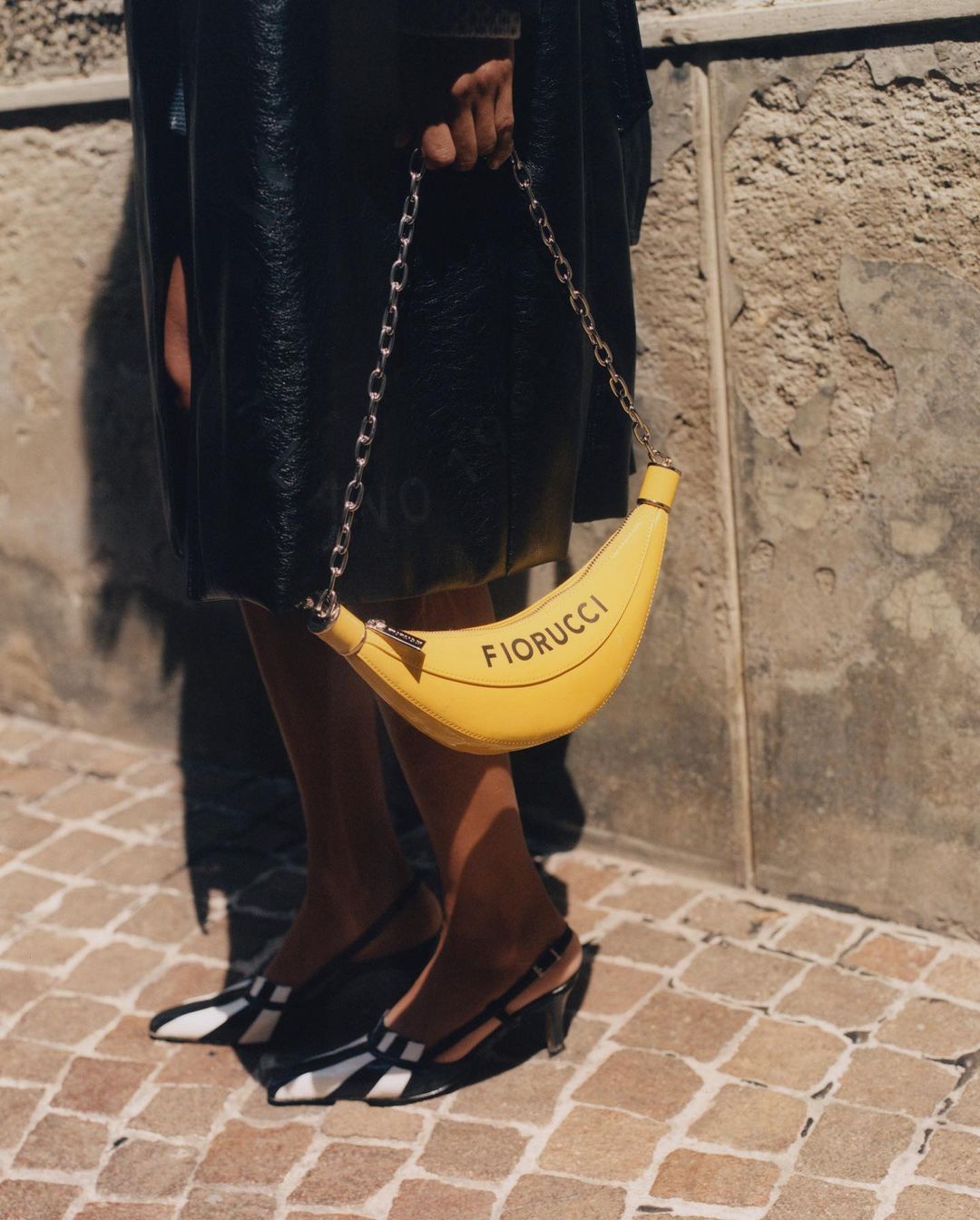 The broccoli bag from Carolina Strada.
At the forefront of a fresh movement towards eco-consciousness and Y2K nostalgia, Hillary Taymour's Collina Strada stands as a trailblazer. Her designs have captivated a generation of Depop enthusiasts, wielding an undeniable influence over their tastes and preferences. Acclaimed by celebrities of the highest echelon, Collina Strada effortlessly navigates the realms of artisanal craftsmanship and whimsical culinary aesthetics. This fusion is artfully executed, all the while maintaining her unmistakable activist spirit. Thus, it's hardly astonishing to witness iconic figures like Hari Nef and Ella Emhoff gracing the runway, adorned with verdant foliage as an ode to nature's elegance.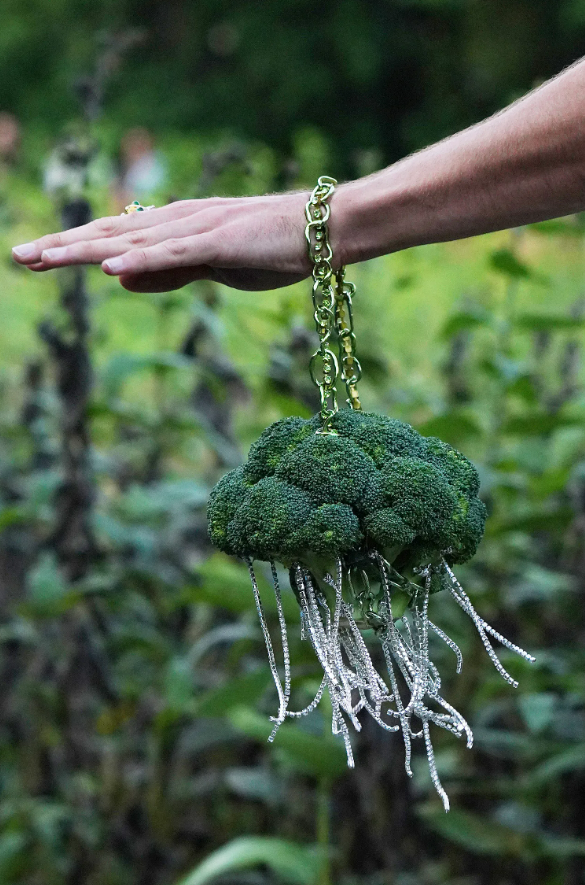 ALSO READ: ALL YOU NEED TO KNOW ON CINDERELLA'S CRYSTAL SLIPPER REPLICA MADE BY SWAROVSKI FOR DISNEY 100.