Van Cleef & Arpels' latest exhibition currently holds its post in Milan's Palazzo Reale and the immersive exhibition, entitled 'Van Cleef & Arpels: Time, Nature and Love', takes us on a journey through the jeweller's 113-year history. With over 4,000 stunning creations on display, Johanna Grawunder holds a pivotal role in making the pieces shine by bringing her digital-age colour theory to the exhibition.
Running until February 23, 2020, the exhibition features 14 rooms (amid silk walls and beautiful frescoed ceilings), and in each, Grawunder has set minimalist cases (glowing, yet with coloured mirrors) that shine bright on the maison's impressive archives.
Here, we spoke to Grawunder about her role, the challenges faced whilst making the exhibition come to reality and the future of art galleries and exhibitions…
Can you tell us more about the role you played in creating Van Cleef & Arpels' new exhibition: Time, Love and Nature?
There are three main protagonists. There's the curatorial narrative of Alba Cappellieri with Calvino's memorandum that runs through the Time, Love and Nature theme. There is also Palazzo Reale that provides a very strong ambience for an exhibition. Therefore, my role as a contemporary designer was to link everything together. The idea consisted of creating an atmosphere and a certain experience, for if you walk into each room, you'd notice that each one is different. My work is very contemporary, to an extent that it could be described as very minimal; hence the challenges resided in how I had to link up all the elements and layers together in a cohesive immersive experience.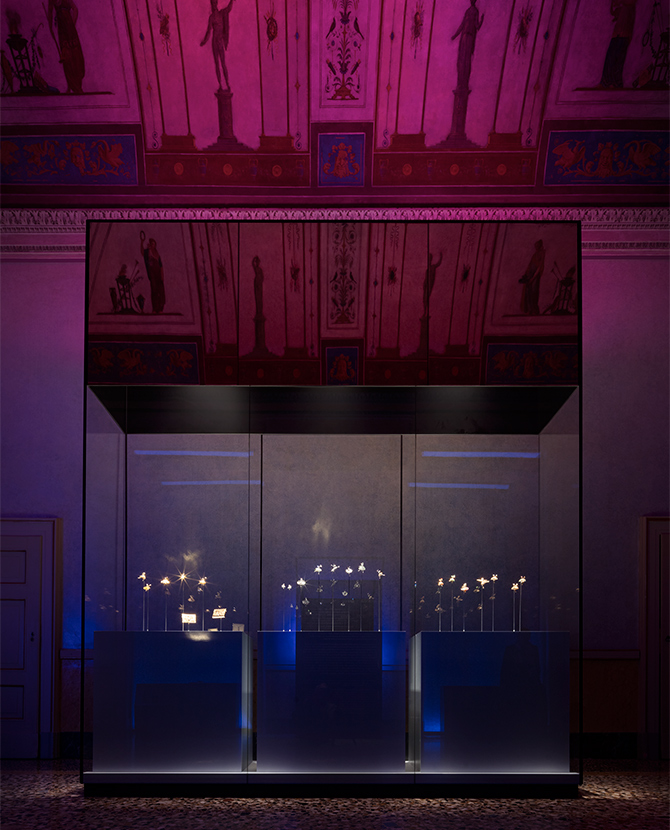 You mentioned a challenge, which was to put these layers together. Were there any other challenges you have faced whilst making this exhibition come to reality?
Of course, in fact the idea of getting me into the mix came from Nicolas Bos, Alba Cappellieri and Lise Macdonald. They knew my work; they were very much aware of what they were getting into. The technical requirements were very difficult, because there was a high security level. Palazzo Reale is very beautiful and well kept, but it is very old, so the floors are uneven and they don't hold that much weight. As far as designing the experience, the process was actually quite smooth. I did some sketches; I showed them; I got feedback, and these are highly important steps. Besides, having this narrative of Alba was very important, because Van Cleef & Arpels' team already broke the pieces up, so I was able to foresee the ones that would go respectively in each room.
At a certain point for me, these pieces actually kind of felt more than mere Van Cleef pieces, whereas I kind of saw them as my clients at a certain stage. I felt like I was building small houses with each little piece, and so they became very personal. It was nice to be able to design for them. As you can see, in each room we use a lot of colours, a diversity of coloured lights and many reflective finishes. All of this was about making sure that you can sense a certain atmosphere all around you. However, the most illuminated thing in every room is the jewels. Hence, you delve into the atmosphere; you feel the experience, and then you go to the focal point. With this, it felt like I was creating the stage.
In each room, there are different expressions and in each one, you see different shades and shadows whilst highlighting the pieces. How did you create this light?
With light and form, the pieces showcase themselves. They are meant to be the foundation of the show. Sometimes, they sort of allow you to see the room more instead of always centring your vision on them. Therefore, the pieces on showcase represent the cornerstone of the show and then around that, we create this light. I used lots of different lights on the jewels, and it was all technical lighting, which was actually designed by a technical lighting company. This collaboration with the three of us was highly important. Also, in each room there's light painting on the walls and all over the ceilings.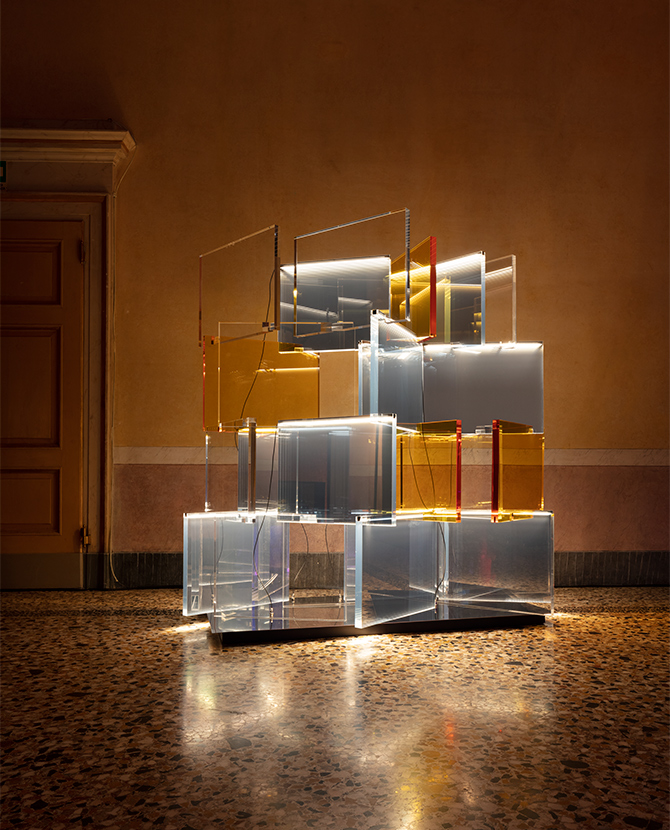 How do you manage to stay connected with the younger generation?
I don't really think about the next generation, but mostly I'm very much into contemporary culture, so I find myself in that a lot and not too much on the new technology. I employ it when it can be used for something that's important. If you stick with technology a little bit and you follow the contemporary culture, you're naturally going to resonate with the younger generation. This is an experience that is not only timeless, but also ageless. My goal would be that anyone who would walk into the exhibition in just a brief moment would lose their perspective on what they are expecting, and I think that should be a universal experience. I aimed at designing the whole thing as an experience, not as an exhibition. You're going to go in; you're going to feel something that varies from one person to another, because everyone has different preconceptions and has seen different things in their lives.
What are your thoughts on the future of art galleries and exhibitions?
I think more and more people are going towards an experience. Even with musicians, for they used to create albums; make money; then go on tours, but now it is the other way around. They put their music out, and you can download it and do your own concert. It is thus an experience. The most important thing is that people are having these experiences that are unique, memorable, which causes them to reflect, to think and to learn without even being fully aware of it.
What was your most memorable experience in the process of designing the exhibition?
To me, the most memorable experience was actually when they started to put the jewellery. When the Van Cleef team came in and started to put in the pieces, I had to switch up everything. I had to go through and re-adjust all the lights, because the presence of the pieces was so strong and so powerful that in some cases, we made it a little bit intense and darker, because coloured light tends to focus it back down. Consequently, there was a lot of adjustment to be made on the light and the reflection. That was a very moving experience I've had in a wonderful couple weeks.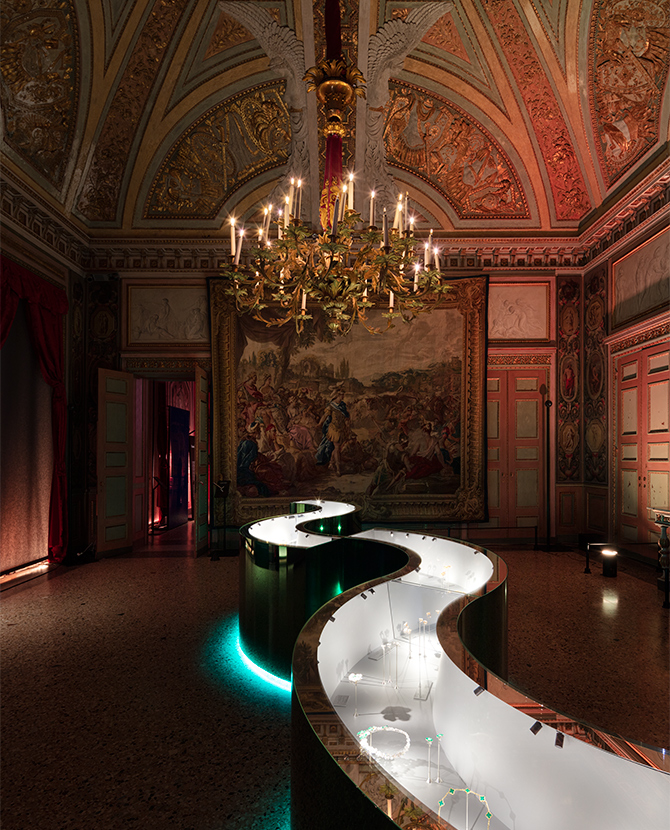 Lights are the main source of the exhibition, but there were also a lot of other materials that were used to transform the exhibition. What were some of the other things you used to highlight the jewellery?
Sometimes it's about mirrors reflecting something, but it's not usually regular ones. You're getting a slightly modified reflection. Then, in order to get a certain light on the background, we had to use some other flat materials. There was a lot of research that had to go into finding a specific kind of silver flatness, and also, if you notice some of the cases had dark finishing. We tried black, we tried velvet and we tried different materials to see what would work best with the light and in the end, having something that actually has some materiality to it like steel. You can see the texture a little bit, but it's not a bothersome texture. This turned out to be the right solution, and what I liked about it is that it ended up being contrasted with the jewels, which are patrimony pieces, heritage pieces — some are new, but most of them are older ones.
What actually happens to all of the pieces that are showcased?
Take them apart, store them, and hopefully they'll pop up again somewhere. We'll see. It is a very good point, because they are very precious. They are not mere toys. They are very heavy and strong. I know that they want to utilize the sculpture, so I believe it is going to go into one of their spaces.
What was your favourite room in the exhibition?
That's a hard one! I love the exoticism, where you get this kind of exotic red light. I also love the love room, which is probably the most architectural. Additionally, one of the rooms that resonate with me is actually the exactitude, because there are pieces and inventions from 1930's.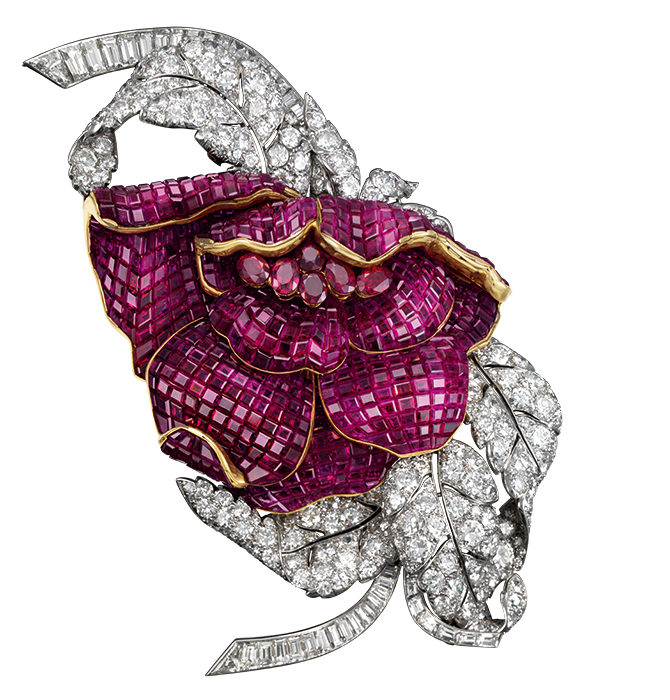 When I learned how these pieces are made, I was amazed. It is a piece of innovative engineering. Being an architect, it was kind of mind blowing for me how they did that, and I love the fact that the construction was made in sort of a minimalist block, for that resonates with me, being a minimalist myself. I like that room a lot, because the space itself depicts a very strong green colour. Thus, this one would be my favourite. It is the one that resonates with me the most.
The 'Van Cleef & Arpels: Time, Nature and Love' exhibition will run until February 23, 2020.
Now, read more about Van Cleef & Arpels' Perlée diamonds collection.