tucked away in the heart of the small Swiss city of La Chaux-de-Fonds, Ebel's La Villa Turque, also known as the Ebel maison, sits pretty on Rue du Doubs 167. Often referred to as Le Corbusier's best-known work in the city, La Villa Turque epitomises the brand's history, heritage and its core philosophy that 'Beauty Marries Function'. Buro 24/7 Middle East recently spent time at the maison to discover the brand's reimagination of its legendary Ebel Sport Classic.
The groundbreaking timepiece is one of Ebel's key novelties and this year, will be highlighted in a new light thanks to a new dedicated campaign.
During our time at the maison, we spoke exclusively to Ebel's President Flavio Pellegrini, about the new creative direction, social media, their presence in the Middle East and why the brand decided to pull out of Baselworld '18…
Can you walk us through the history of Ebel?
Ebel is a fantastic story! First of all, Ebel is an acronym. It means Eugene Blum Et Alice Levy. So Eugene Blum and Alice Levy were a couple based in this city, La Chaux-de-Fonds, and they decided to launch this brand, Ebel. What is really magical about it is that you can imagine that more than 110 years ago, having a woman design watches in the Swiss mountains, was unique. So that femininity, still today, is a part of our DNA, which is why our tagline today is 'Beauty Marries Function'. Alice marries Eugene. That's really one super important element you have to remember about Ebel.
During this 100 years of existence, Ebel has brought a lot of different innovations and so that has been our second milestone; heritage and the founding philosophy. The third element is this beautiful logo, that we call 'Beauty Kisses Function', and the fourth element is the Ebel Sport Classic. It was really the watch that created a new segment in the industry in 1977, which we call the Sports Chic segment. At that time, the sports watches were all made with a leather strap and this watch, due to this amazing and fantastic metallic bracelet, allowed this watch to be worn during sports activities. Even Boris Becker wore this watch! It was really a monster watch in the '70s, and still today, it's an icon and a timeless watch.
Finally, the fifth milestone that we consider very important to Ebel, which really put us in a different place from the rest of the watch industry, is this fantastic building.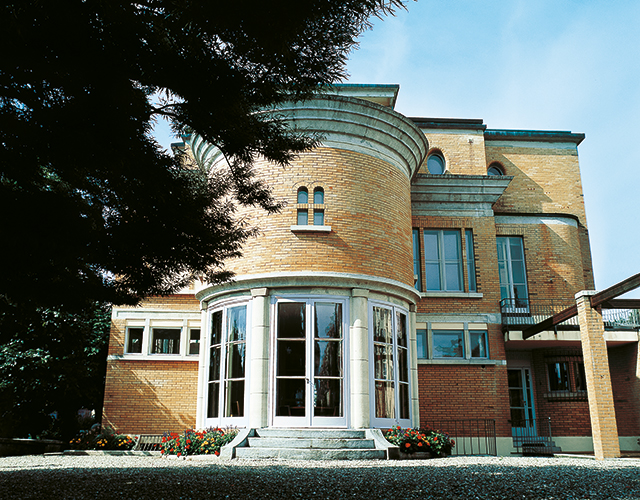 It's really beautiful!
Yes. It really is a magical building and it was built more than 100 years ago but yet it doesn't even look like it. Again here, the link between Ebel and Le Corbusier, the famous architect who was born in La Chaux-de-Fonds, was from the same time as Eugene and Alice, so there's a link here that really is magic. He used the same philosophy that 'Beauty Marries Function', and so not only is the building beautiful, but it is very functional too, even after more than 100 years. So these five milestones that I have described are the best way to describe Ebel to somebody and that really is the story we even tell to the point of sales, and in our products, too.
Speaking of the architectural aspect of this building, can you tell us how the design of the windows is linked to the designs of your watches?
We purchased it in 1986 and to commemorate the celebration, we decided to use one of the most iconic elements of this building and to integrate it in a special limited edition watch in rose gold, white gold and yellow gold. Le Corbusier built this house after visiting the Middle East, Turkey [in particular]. He got inspired by this Middle Eastern window, it was very unique and you can find them in many different places throughout the villa.
Speaking of the Middle East, why do you think Ebel resonates with the region?
First of all, because the design attribute and the aesthetic of our product, especially the ones that are very strong in diamonds and gold, the very rich watches, is something that has always been very appreciated by our Middle Eastern customer. Secondly, I have to say that our partners in the Middle East have taken this brand as their own child and have developed it in such a way that the positioning of Ebel in the Middle East is very, very high. We could do better in terms of distribution. We are working on it and we are developing our distribution. But, from an image standpoint, Ebel is still one of the best brands in the Middle East.
People from the Middle East tend to be very fashion forward and are always on trend. How do you think fashion and luxury watches go hand in hand?
Fashion is not to follow the last trend. Fashion is a state of mind and I think some of our products here are timeless so we are always in fashion. Nevertheless, we understand that we need to do some special elements to touch a special clientele and for example, we've created a more fashionable line called Discovery. It still carries the screws of Ebel and the screws case, but we are coming up with this fantastic colourway that combines a snake strap with the metallic bracelet that you can interchange yourself. So this is our interpretation of fashion.
fashion is not to follow the last trend. fashion is a state of mind and I think some of our products are timeless so we are always in fashion.

Adding that element to cater to watch connoisseurs is great because you see a lot of the younger generation wearing Ebel now, particularly on social media. How do you think social media and going digital is helping you grow in the industry?
It's a very important element and I think it's the biggest change that's been happening in the industry for a long time. As Ebel, we really are putting a lot of energy in mastering that element. As a matter of fact, we just hired a Chief Digital Officer based in New York, and he will create a complete team to really tackle and to provide this toolbox for all of the brands, to become more advanced. Because you are absolutely right, social media today is so important and I think for the end consumers, the new generation, they don't appreciate to have just a nice billboard somewhere. They want to have a one-to-one relationship with somebody and social media is something that really provides you with this. So, we are investing. We have a different campaign and we want to do it in a very organic and genuine way.
You're heading in a new creative direction, too, and will be launching a new campaign in the Fall. Can you tell us a little bit more about this?
Absolutely! Our current campaign for the Sport Classic, which we launched last December, features a woman and we felt that we had to move out of that because the Sports Classic speaks to everyone. [This was particularly important because] as of this December, we saw a lot of young customers [interested in the watch]. So, we had to come up with something that puts this watch on the map without any advanced thinking, whether it's about the age or the brand's consumers. So we came up with something that is very vibrant in terms of colours, and it's linked to the five brand milestones and to Le Corbusier.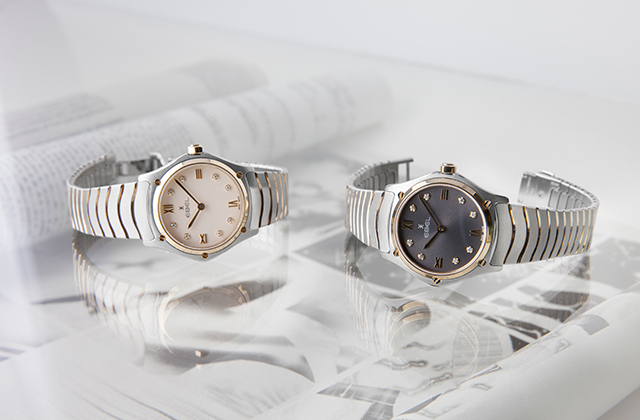 What was the reason for not participating in Baselworld this year?
So we decided to get out of Baselworld for two reasons. First of all, the format of having just a business-to-business (B2B) relationship because you meet your distributor and your retailer there in this format was very expensive. The missing part, going back to social media, was the end consumer. The end consumer is never in the equation of Baselworld. So, we decided to replicate this B2B in Davos, where we have a much more qualitative time with our partners, a more sophisticated venue for them and we had external speakers coming in speaking about digital. We even had Tony Blair come in to speak about the micro-economic evolution and with the money we saved, we created this centre of digital excellence in New York. That's the reason behind it. It's just the result of social media being so important, [we thought] let's put some of the money towards that segment instead of spending money in Baselworld where we have a much more qualitative time like in Davos.
What's next for Ebel in the Middle East?
It's to continue to bring products that are really speaking to their taste, improve distribution, re-invest marketing, come with ambassadors. The Middle East is a very important market for us. We have very strong partners there and we want to collaborate to bring back the success of this brand at a level that it deserves.
Ebel's new campaign will be launched worldwide in September 2018. Now, go inside Ebel's La Villa Turque with Michel Richard.