Nadine Kanso currently sits as the powerhouse at the helm of her brand, Bil Arabi. Known for capturing the essence of the modern Arab identity in the 21st century, her collections – alongside her commitment to celebrating cultural identity – make a positive impact in the world of jewellery and her latest collection is an example of how the designer takes an Arabic-influenced style and adds her own innovative spin.
Titled 'Hobbi', the collection is an ode to romance – making it the perfect pieces to gift this Valentine's Day. Featuring an array of gold and diamond pieces inspired by the beauty of love, 'Hobbi' is set to turn heads wherever you go.
Below, we sat with the designer to discuss how 'Hobbi' reflects her passion, her earliest memory of love and how her Arabic heritage inspires her work.
Your designs reflect your continuous commitment to embodying the 'Modern Arab' in the Middle East. How is Hobbi a reflection of this?
My creations are initially inspired by the Middle East but have evolved to suit everyone whether in the region or internationally, as they represent essential expressions that are recognized worldwide notions such as love and connection like the Hobbi collection.
In my view, jewelry needs to transcend a location or and not be attributed to one person, that is why I see my jewelry suiting everyone globally whether an Arab or an American, whether woman or man. As the Hobbi collection is for both genders and offers a versatility that is rarely seen coming from the region.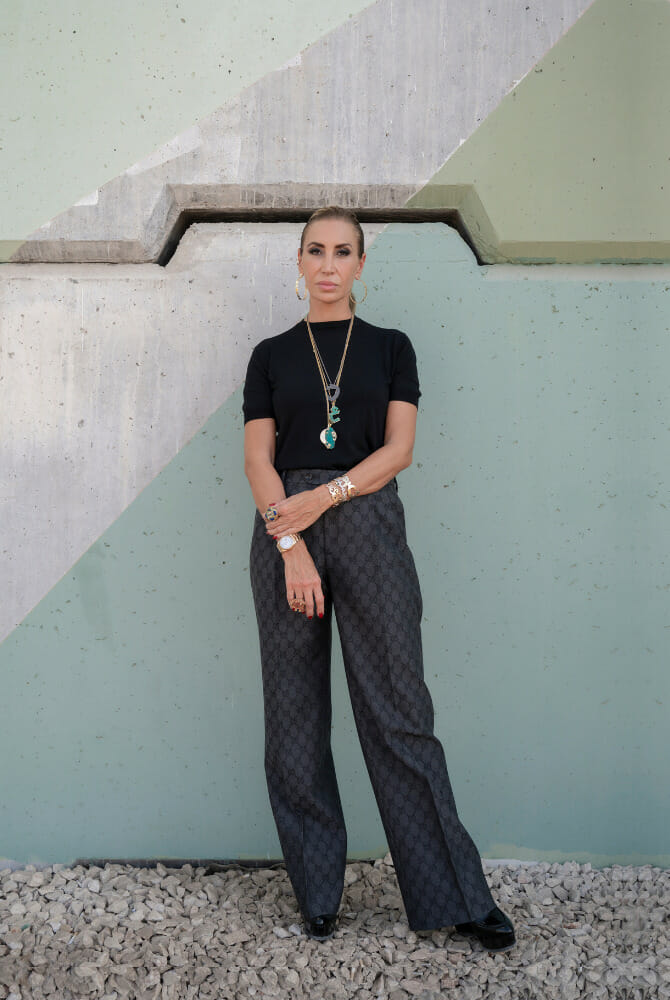 How is this collection inspired by love?
The Hobbi Collection is an extension of a cherished collection by Bil Arabi, its inspiration is drawn from Hobb meaning "love". Hobbi is meant to embody the sentimental joy of giving and honoring lovers, friends, and family members. The creations are playful yet elevated with their harmonious delicate feel, I hope the collection creates experiences to those who dare to show their love and affection.
Can you tell us about the craftsmanship of Hobbi?
In my opinion, you can see the intricate craftsmanship with the use of 18K gold and bold colors in enamel, the delicate yet recognizable letters represent a modern sophistication in jewelry making.
The craftsmanship around the Hobbi collection involves a variety of techniques, including hand-engraving, enameling, and setting of diamonds. These techniques often require a great deal of manual dexterity and attention to detail and the results are creations of jewelry that are not only beautiful but also built to last.
What is your fondest/earliest memory of love?
Love is what we all seek, it is a feeling that grants us peace, happiness, and well-being in so many ways. It is a powerful energy that keeps us well.
With that said I would want to say that my earliest memory of love is the one of family. Knowing I am loved and being surrounded by it I consider myself lucky. I can as well add to that is the unconditional love of a mother to her children, it is something that is the strongest thing I will ever have.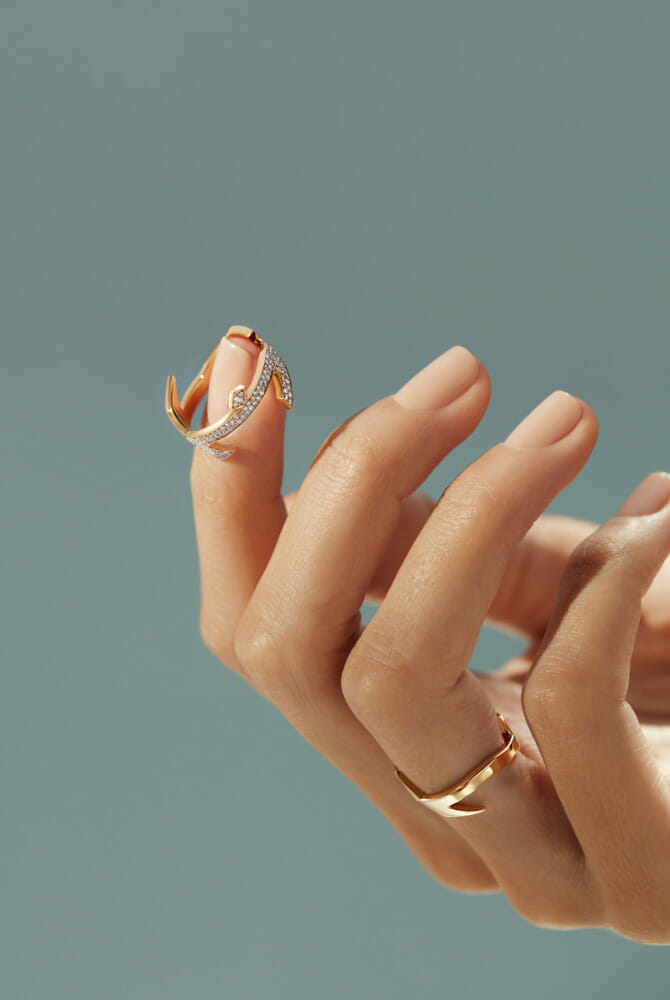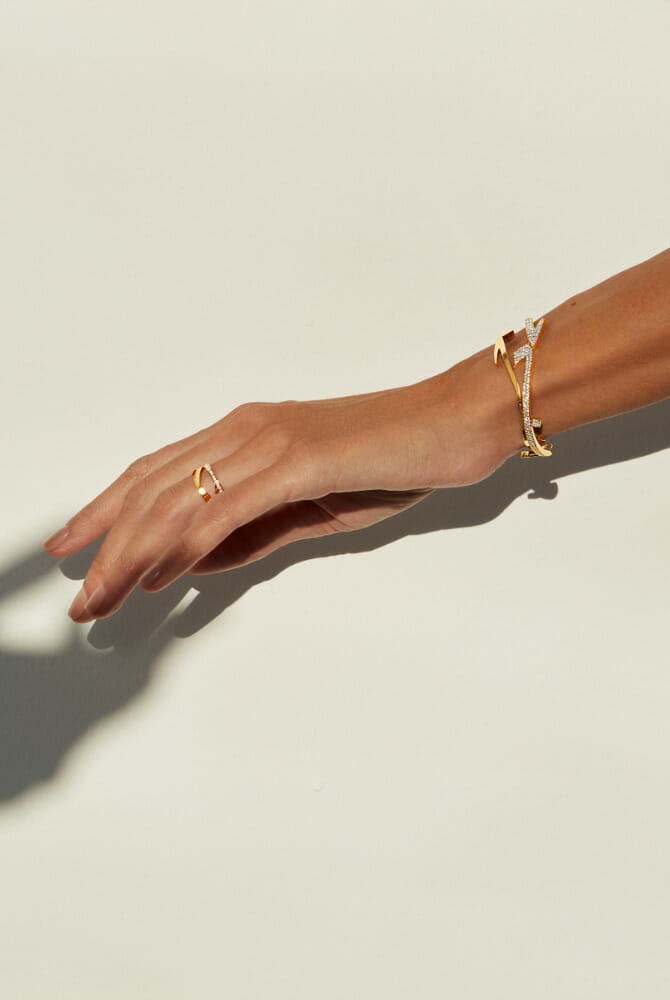 How does your Arabic heritage inspire your work?
I believe that my creations represent the unity of Arabic heritage by using the Arabic language as a medium of expression, that is translated globally. The daring pieces I create embody calligraphy which that has a rich history that spans over thousands of years, which laid the foundation for a new way of communicating. For me, calligraphy translates into art, so what better way to tie my heritage to jewellery by complimenting the power of both art forms.
Leveraging the letters of the Arabic alphabet when written in a stylized form is both aesthetically pleasing and interesting. To me, the flow, curved lines give the alphabet a sense of movement and fluidity, that is apparent in my designs. So, to sum it up, my heritage played an integral role, in allowing me to dream and to merge both worlds of art into fascinating jewelry.
An expression of craftsmanship, what can you say about the local artisan industry?
In my opinion, the local artisan industry in the United Arab Emirates has a rich tradition of craftsmanship that dates back centuries. The UAE has a diverse cultural heritage, and this is reflected in the wide range of artisanal crafts that are produced here, including jewelry making, textiles, pottery, woodworking, and metalworking.
In recent years, I have noticed that the local artisan industry in the UAE has experienced significant growth, and it has become an increasingly important sector of the economy. The government has provided support to the artisan community by establishing artisanal centers and encouraging the development of local craftsmanship. This has helped to promote the local artisan industry and has created new opportunities for artisans to showcase their work and to sell their products.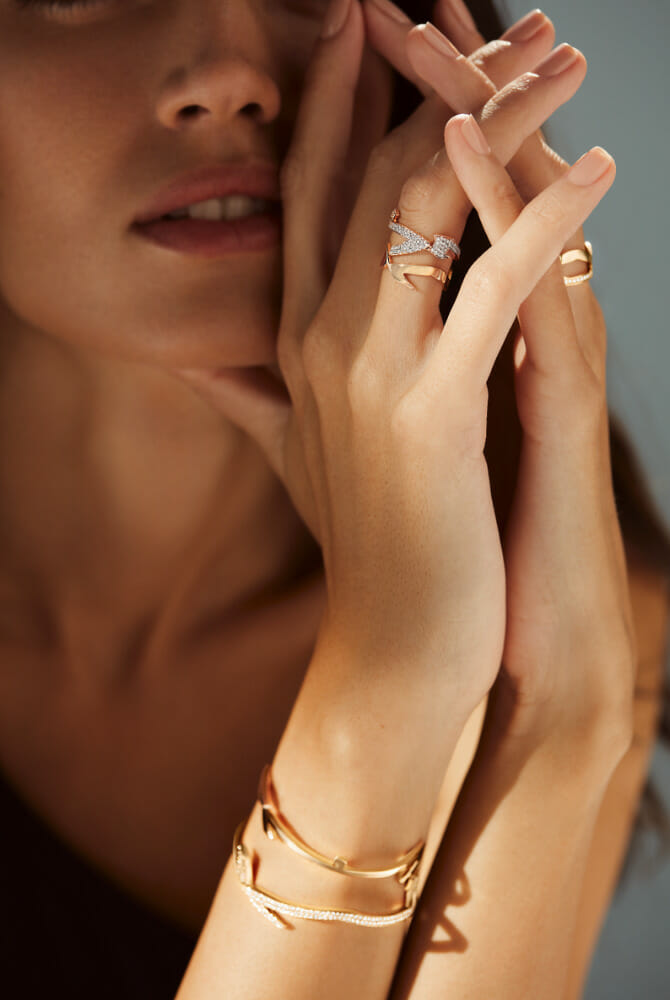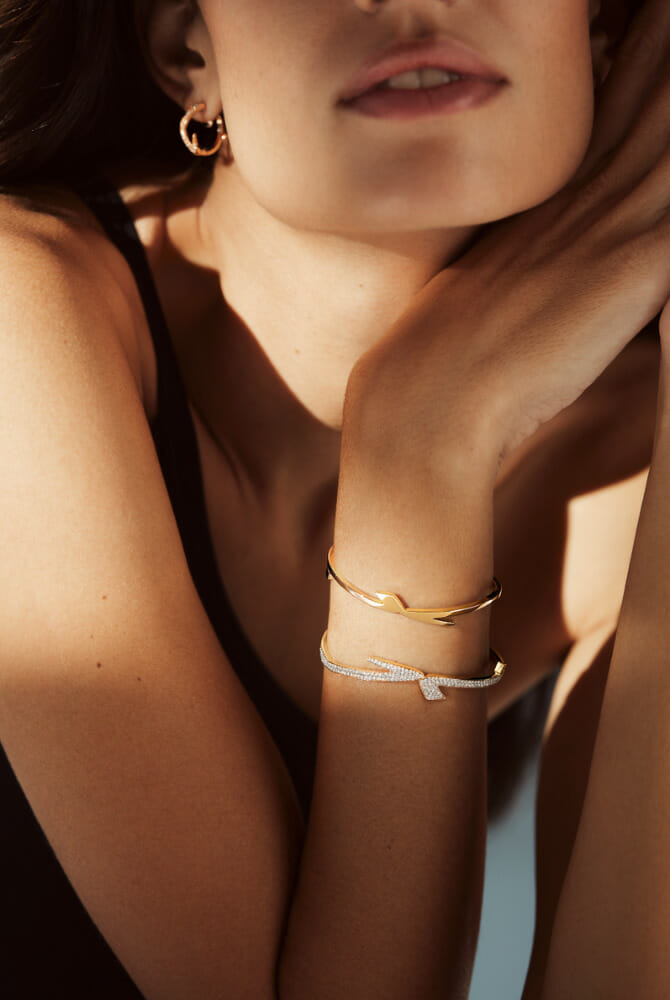 What do you see in the future of artisanal craftsmanship in the region?
I see that the future of artisanal craftsmanship in the Gulf region is likely to be shaped by several factors, including technological advancements, changes in consumer preferences, and the growing interest in sustainable and environmentally conscious products.
Artisans are already adopting new technologies, such as 3D printing and computer-aided design softwares, to streamline the production process and to create new and innovative products. This could lead to new forms of expression and creativity within the artisanal sector, as well as increased efficiency and productivity.
The pieces are available online on www.bilarabi.ae , e-tailer Ounass, THAT Concept Store, and Bloomingdale's Middle East.
ALSO READ: A SUSTAINABLE APPROACH TO JEWELLERY GIFTING THIS VALENTINE'S DAY.