It's been 27 years since the launch of Chopard's now-iconic Happy Sport watch and ever since its debut, watch connoisseurs (or a lover of all things luxury) have seen the timeless piece transform and adapt through time.

For the launch of the new Happy Diamonds film starring Julia Roberts and directed by Xavier Dolan, Chopard's Co-President and Artistic Director, Caroline Scheufele (the creator of the icon) gives an intimate perspective on the dancing diamonds, the technical challenges of the watch, sustainability and what it means to be a free-spirited woman today.
Chopard is one of the rare family Maisons in the watchmaking world and you are regularly seen with your family at major events. How does your family contribute to making you the woman you are?

One of the things I love most about Asia is that families are very close, with traditions such as having Sunday lunches together or the kids tending to spend time at home. Our family is very similar. In addition to living near each other we work very closely together and I have shared an office with my brother since forever. Chopard is a family-owned and independent Maison. This is one of our main strengths and a great blessing in many ways. We don't always agree on things, but we like to make decisions together and work as a team with regard to business development, global strategy, production, distribution, new designs, and new products. We hope we will always be able to continue working this way.
The idea of dancing diamonds came from the vision of a waterfall and droplets gleaming under the sun's rays. Can you tell us more about them?
Actually, the Happy Diamonds concept has existed for much longer than I have been involved in the Maison, but I've always been fascinated by seeing these little diamonds spin around and actually talk about dancing from their place within the pieces of jewellery or the watches.

My mum invented the name Happy Diamonds. When she saw the first prototype in our workshops, she said: "Diamonds are happier when they are free". Just as a person who is free is happy. Everybody agreed that her comment was very accurate, and it became the name of the entire collection.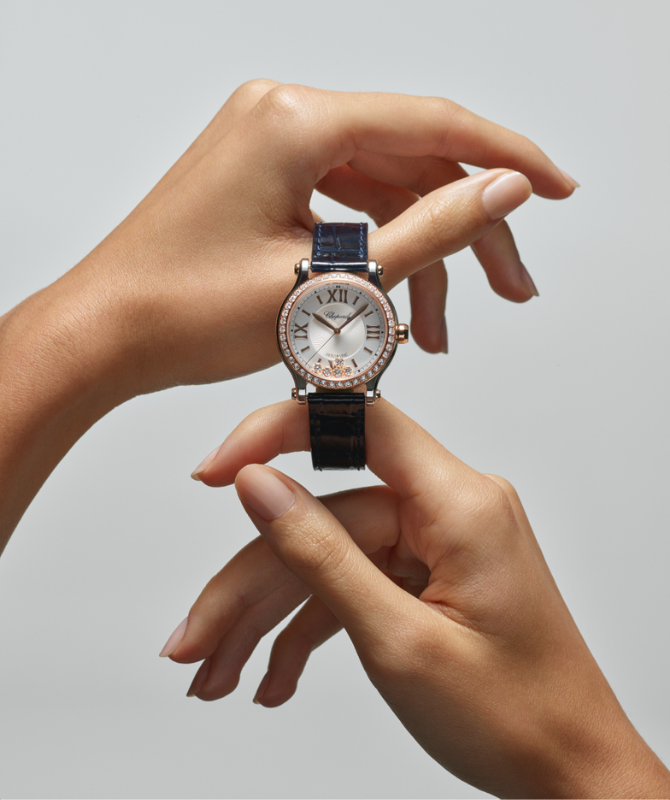 In the 1990s, you decided to create a new watch with dancing diamonds: the Happy Sport. When you presented the project, is it true that a workshop manager originally didn't believe in it very much?
Actually, not just the workshop manager, but the whole watch development team, along with my parents… They thought it was a crazy idea to put diamonds in a steel case when diamonds are normally hosted in white gold or in platinum. But there was nothing to prevent it. Steel isn't a precious metal but it's cool, young, and fun and you can wear it around the clock. It was a big battle, however. And when it came to producing it, it was another challenge because everybody thought I had definitely gone mad. But I'm a very persistent person who doesn't take no for an answer. The more I hear no, the more determined I am. Anyway, it did happen, and the results are clearly visible. I remember the workshop manager saying that for every watch sold, he would give me a rose. I ought to have a rose plantation by now!
What were the Happy Sport's technical challenges?
Originally, in the classical Happy Diamonds watches, the dancing diamonds were just allowed to spin around the dial. In the Happy Sport, they're totally free, because they're floating over the watch. This was a technical challenge because we had to find the aesthetic balance between the case, the dial, the first sapphire crystal, the position of the dancing diamonds and the next sapphire crystal, which made it quite complicated. Then, of course, the watch had to be waterproof. That was another technical challenge.

For me, when you say Happy, it says it all. The diamonds inside are actually truly free. They're not stuck in a setting where they can't move. And when you see them dancing, you realize it was worth the challenges!
You invented the watch of the free-spirited 1990s woman. What does being a free-spirited woman mean today?
When I invented the Happy Sport, it was most of all because I was doing a lot of sport myself. That's why the word "sport" is in there. At Chopard, we had a few summer watches, which were cool sporty pieces. But I really wanted something with a bit of sparkle that you could wear around the clock, suitable for going swimming, water-skiing, playing tennis, shopping, taking the kids to school, going to the office or going to a cocktail party. So if there was no time to change, you would already be somewhat dressed up with little diamonds dancing on your wrist. For me, that was what being a free spirit was all about, because today's women are all active, whether it's taking care of several kids or doing charitable work or travelling or working… And this watch is just perfect for all of it.
How do you explain that the Happy Sport is still as contemporary today as it was when it was created in 1993? When young women come to your boutiques asking for the same Happy Sport that their mothers and grandmothers wore, what do you feel?
It's a watch that somehow really crosses generations. I think this is how icons are born, when something is passed on from grandmother to mother to daughter. I had no idea when I first designed it that this would be the case.
How do you wear your own Happy Sport or think it should be styled?

I would mix and mismatch it. You could wear it alone, or with beautiful Happy Hearts bangles, or with some beautiful diamond bracelets that would also go well with it to dress it up. I also wear the iconic clown pendant with it, so it definitely lends itself to being dressed up or down. That is the beauty of the Happy Sport. You can easily pair the steel version with a diamond ring. There is no "no go".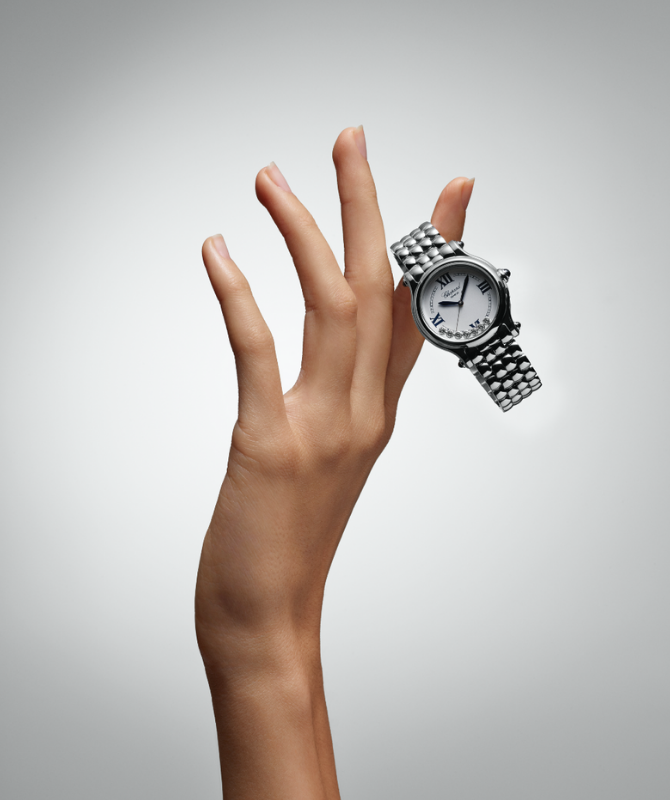 You chose Julia Roberts to embody the Happy collections. Was she an obvious choice? Why this particular actress?
When we first talked about launching a Happy Diamonds film, the team said it would be nice to have an ambassador with an incredible smile. So I immediately suggested Julia Roberts! I said that to my mind she has the most radiant smile on the planet! Who doesn't like Pretty Woman? Who wouldn't want to be Pretty Woman? She is one of my all-time favourite actresses. She has made great movies including Erin Brockovich. She's the kind of actress that shines from the inside out. She's a happy person. She has this sunny energy fostering hope that everything will be reborn even more beautiful than before, as well as amazing magnetism and inextinguishable Joie de Vivre. Julia Roberts was the only person I felt could convey the free-spirited charisma of Happy Diamonds and that is exactly how I wanted the Happy Sport watch portrayed.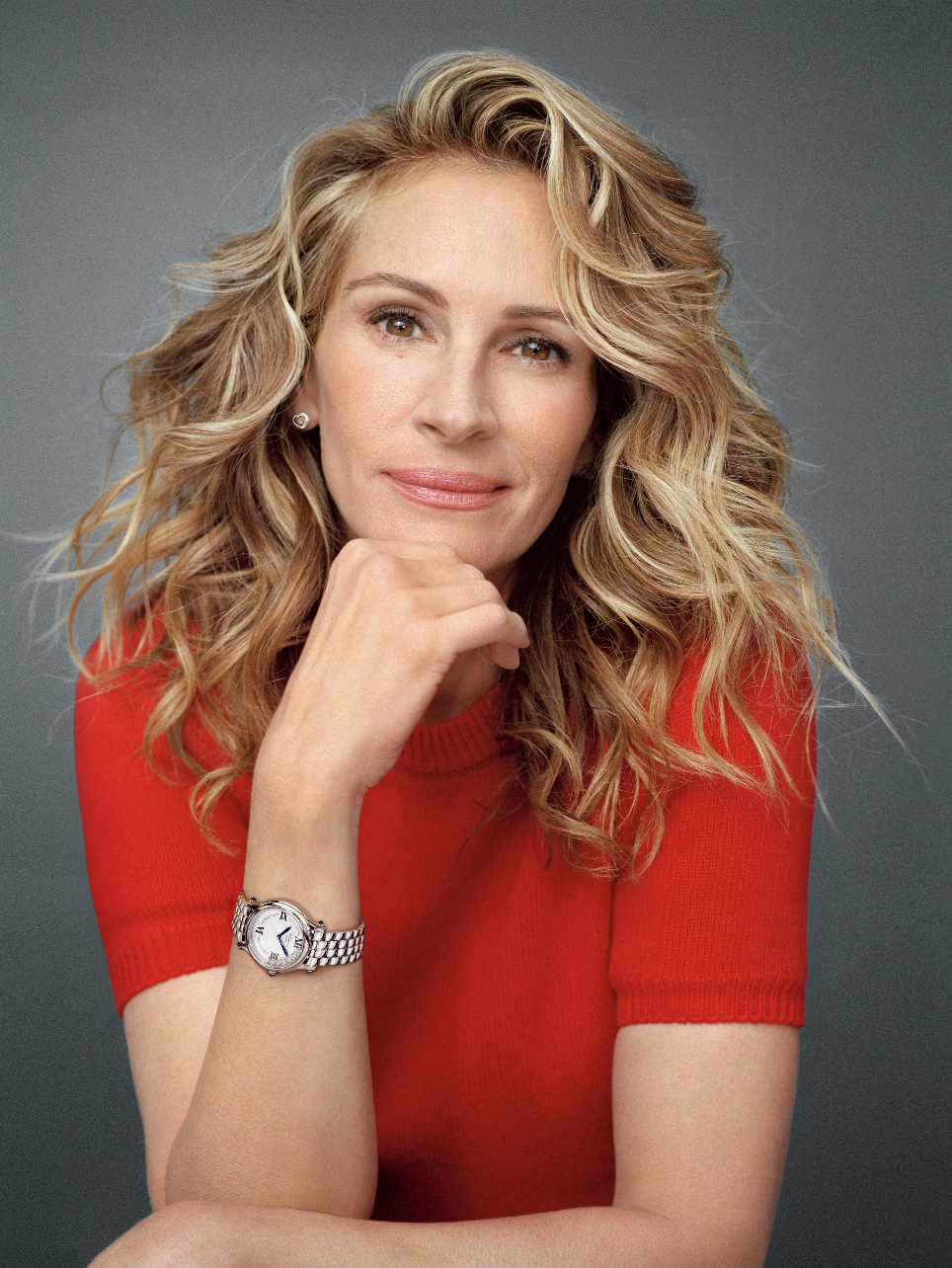 Today, sustainability is at the heart of the concerns of all the major maisons. Tell us how you came up with this visionary idea?
In 2012 at the Oscars, Livia Firth asked where our gold comes from. My immediate reply was "from the bank" but that wasn't really the expected answer. There are millions of men and women digging up gold, often working in unsafe conditions and unfairly compensated for their work, or not at all. From that moment onwards, I was determined to embark on a mission to change not only Chopard as a company but also the entire industry. Sustainability is a Journey which never ends. And today, more than ever, our priority has to be to protect the people on the ground who make our business possible. Once we became aware of the situation, there was no going back. All of us at Chopard are convinced of the importance of putting ethical issues at the heart of our concerns. The sourcing of responsibly mined gold for our watch and jewellery production was one of the biggest milestones on our Journey to Sustainable Luxury.
What is your favourite motto?
Be happy! And dance with your Happy Diamonds, of course.