In 1968, Van Cleef & Arpels debuted the 'Alhambra' long necklace inspired by the four-leaf clover. This symbol of luck quickly became the defining emblem of the Maison, reshaping its destiny in the world of jewelry. Five decades later, the 'Alhambra' continues to shine as a quintessential symbol of of the Maison. Over the decades, the 'Alhambra' motif has gracefully evolved, embracing diverse sizes and materials while maintaining its essence. The Van Cleef & Arpels 'Alhambra' triumphantly adapted to the spirit of each era, withholding itself as one of the most covetable symbols in the realm of jewelry.
Now, yet again, the iconic 'Alhambra' lends its form to a fresh set of jewels that perfectly marry shimmering, guilloché rose gold with the warm carnelian. The four new creations–a 'Sweet Alhambra' watch, a 'Vintage Alhambra' bracelet, a 'Sweet Alhambra' long necklace, and a 'Vintage Alhambra' reversible ring–elegantly alternate the iconic motif in rose gold and carnelian. While the carnelian motifs maintain a smooth finish, the rose gold 'Alhambras' are treated with the guilloché effect, adding an extra layer of sophistication to the bijoux. A minuscule golden bead graces the center of each rose gold motif, and both carnelian and rose gold elements feature a delicate beaded contour, paying homage to the 'Alhambra' collection's original aesthetic.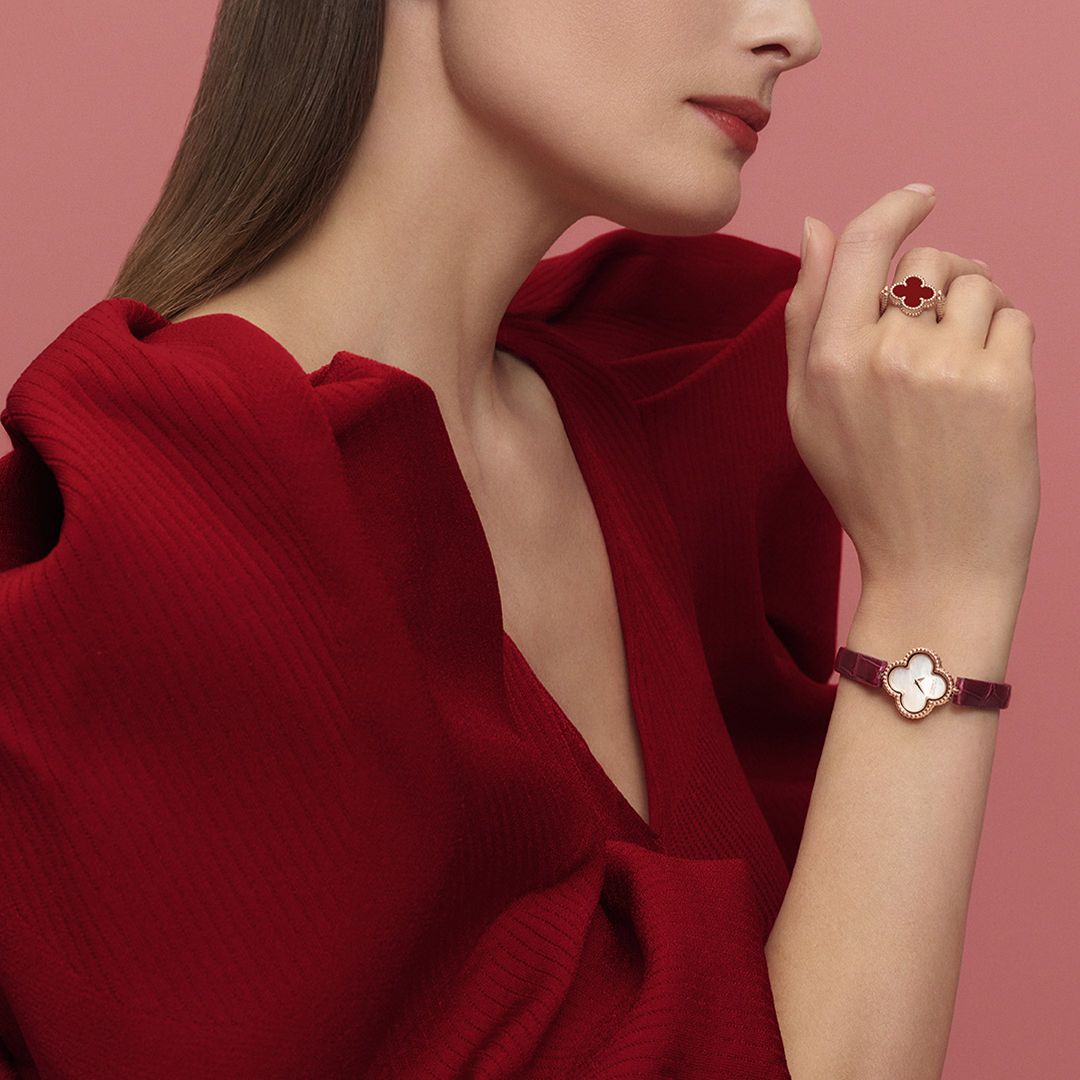 The highlight of the latest Van Cleef & Arpels 'Alhambra' collection, however, comes in the form of an intelligently designed reversible ring. This remarkable ring flaunts two beautiful faces – one drenched in the Maison's signature carnelian and the other in guilloché rose gold set with a diamond. Equipped with a pivotable mechanism, wearers can effortlessly interchange the ring's faces by rotating the motif, granting them the freedom to express their style with versatility. The rotatable 'Alhambra' motif is delicately attached to a meticulously designed body of cascading golden beads—a testament to the Maison's masterful savoir-faire. Each 'Alhambra' reversible ring is assembled and adjusted by hand, exemplifying Van Cleef & Arpels' unwavering dedication to excellence.
At the heart of Van Cleef & Arpels lies an unwavering commitment to excellence. The creation of each Alhambra piece is a symphony of craftsmanship, requiring a harmonious collaboration of lapidaries, jewelers, stone-setters, and polishers—each a master of their own domain.
Abiding by the Maison's uncompromising standards, ornamental stone motifs are meticulously cut and polished to perfection before they undergo careful matching by hand. In every Alhambra creation, one witnesses not just jewelry but a masterpiece of skilled craftsmanship, where every element is an ode to the enduring commitment to quality that Van Cleef & Arpels so proudly upholds.
ALSO READ: RUNWAY RECAP: 9 UNFORGETTABLE MOMENTS FROM MILAN FASHION WEEK SS24.