Since its inception, Hublot has cemented itself not just as a symbol of luxury but also as an audacious watchmaker who is unafraid to experiment and innovate. Hublot's innovative spirit transcends the realm of watchmaking, extending its eternally ticking hands to the world of sports, cinema, fashion, and even art. 
Hublot has triumphantly carved a niche as a dedicated patron of the arts. Under the banner of "Hublot Loves Art," the Swiss powerhouse has redefined the boundaries of horology, transforming its precious timepieces into minuscule canvases for artistic expression.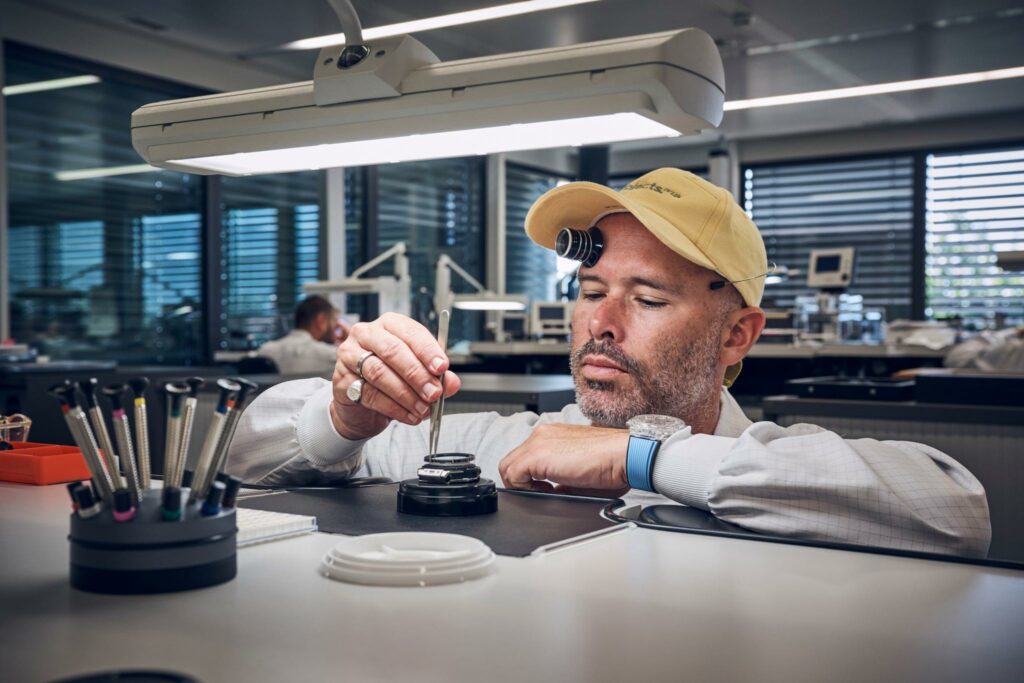 Through partnerships with creatives like Depeche Mode, Lang Lang, Romero Britto, Mr. Brainwash, Hush, Tristan Eaton, Flore, Yue Min Jun, Shepard Fairey, Chen Man, Richard Orlinski, and Maxime Büchi Hublot has successfully introduced art-infused timepieces that resonate with collectors and art enthusiasts alike.
Further, In 2015, Hublot celebrated the decade-long legacy of its iconic 'Big Bang' watch by introducing the Hublot Design Prize, a platform dedicated to nurturing emerging designers.
This year alone, Hublot has unveiled several partnerships with artists across diverse fields.
A connoisseur of art and avant-garde technology, Hublot announced its fourth collaborative venture with Japanese artist Takashi Murakami earlier this year. The collection of 13 timepieces and 13 NFTs will feature the iconic smiling flower that is central to the artist's work. The collection was inspired by the nostalgic charm of Japanese video games and TV shows from the 1970s and the 'Classic Fusion Takashi Murakami All Black' watch – their first collaborative masterpiece introduced in January 2021.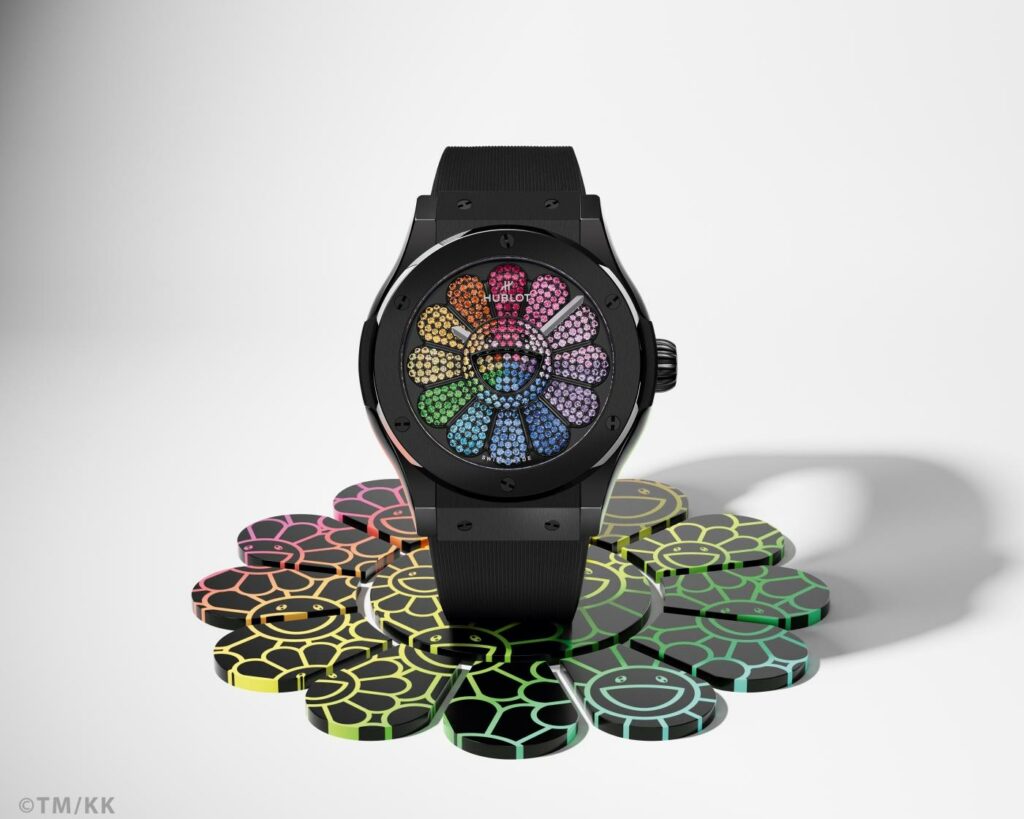 Richard Orlinski is known for his pop-art style sculptures and his enduring partnership with Hublot. Orlinski's and Hublot's seemingly disconnected worlds collided in 2017, birthing the Hublot 'Classic Fusion Chronograph Orlinski.' Earlier this year, Hublot returned to this sub-line with its seventh collaboration with the artist.
The latest 'The Classic Fusion Chronograph Orlinski' is a true fusion of art and precision. The watch boasts a striking 41mm case with signature facets and a dodecagonal bezel. It combines Orlinski's signature geometric aesthetic with Hublot's 'HUB1153' automatic chronograph movement. The watch is available in two versions: one with a black rubber strap and another with a three-dimensional design along the watch's entirety, seamlessly blending comfort and aesthetics.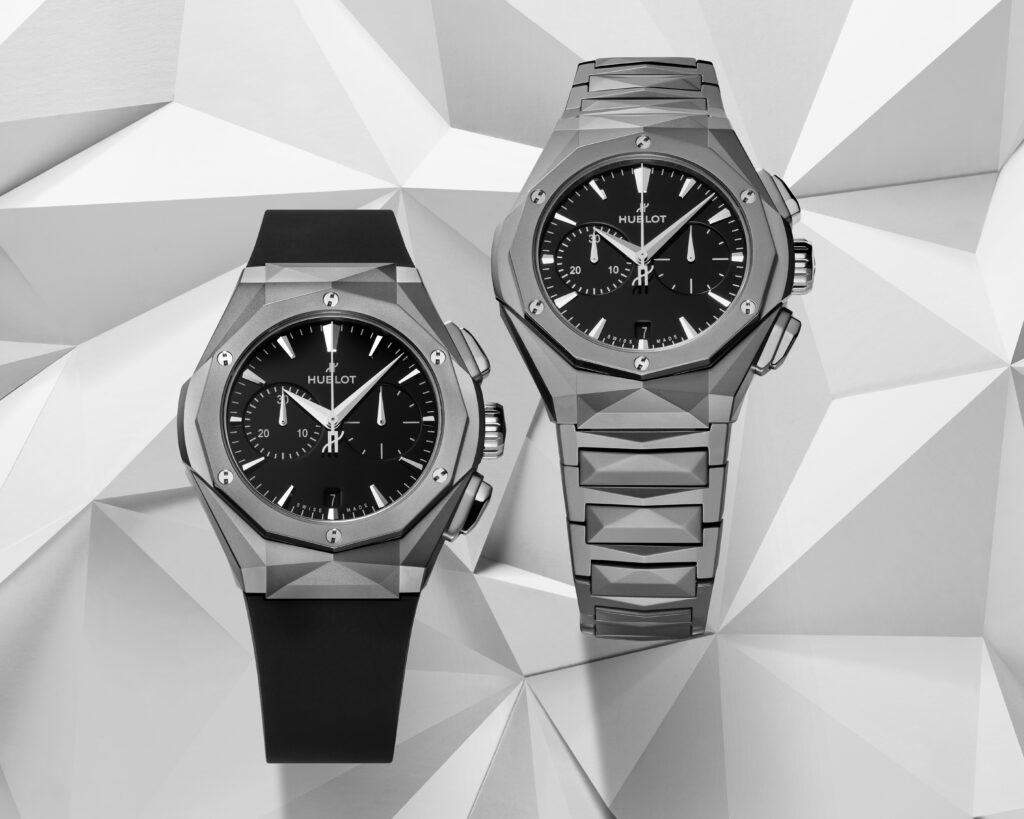 Hublot also reunited with tattoo artist Maxime Plescia-Büchi, founder of Sang Bleu studio, for a third collaborative venture, unveiling the 'Spirit of Big Bang Sang Bleu' watch. A fusion of design concepts from the 'Big Bang Sang Bleu I & II,' this watch retains the barrel shape but takes on a more architectural and spatial redesign, emphasizing Sang Bleu's geometry and symmetry. The 42 mm watch is available in limited editions of 200 units in titanium, 200 in All Black ceramic, and 100 in King Gold, with some models featuring exquisite diamond settings in titanium and King Gold.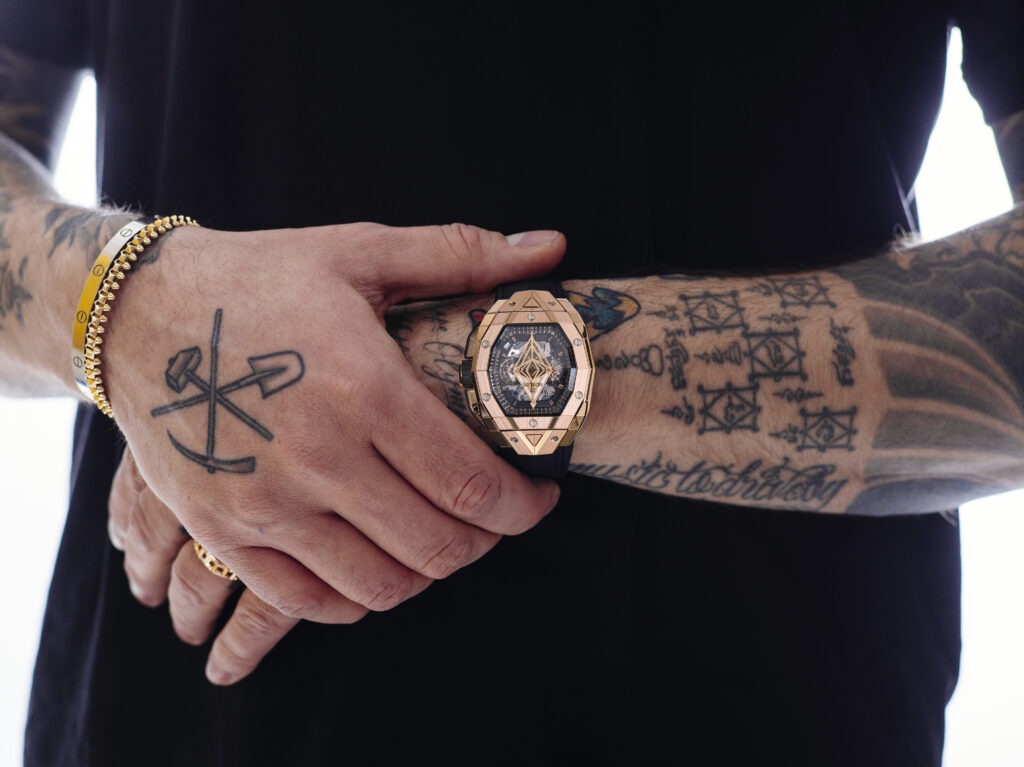 The luxury watchmaker also introduced American contemporary artist Daniel Arsham as its new Ambassador. Known for his powerful works spanning painting, sculpture, installation, and film, Arsham's art often explores the concept of time. To mark their collaboration, Arsham unveiled a 20-meter sundial installation titled 'Light & Time,' set amidst the Swiss mountain resort of Zermatt, near the Matterhorn peak. The installation cast shadows on raked snow to indicate the time as the sun moved throughout the day. The sundial integrated Hublot's design elements and could only be seen from the mountain's summit, adding an intriguing twist that art lovers could discover using Zermatt's ski lifts.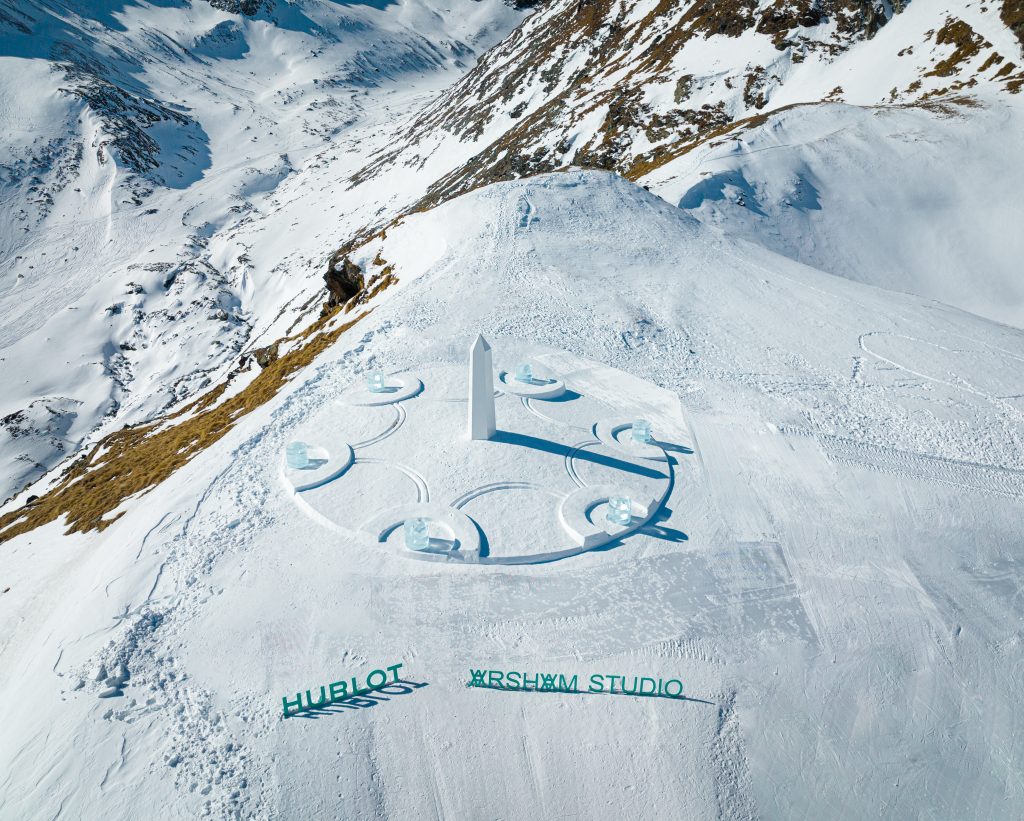 ALSO READ: DUBAI WATCH WEEK: WHAT TO EXPECT FROM THE 2023 EDITION.