New York Fashion Week is currently in full swing as a new slew of designers are here for day four to unpack and deliver. From Carolina Herrera and Zimmermann to 3.1 Phillip Lim, Anna Sui and Tom Ford, discover some of our favourite looks for Spring/Summer 2020…
CAROLINA HERRERA
What you need to know: At the Carolina Herrera show, Creative Director Wes Gordon delivered a new seasonal collection that perfectly balanced the heritage of the brand, with his new creative vision. Made for the Herrera woman, the collection packed plenty of crisp white shirts (a signature of the brand's Founder), ball gowns, off-shoulder dresses and structural shoulders, too. There was also a play on oversized belts, proportion and prints (think polka dots, florals and sequins, to name a few).
What's on our wish-list: If we could take the whole collection home, we would. However, Wes Gordon's off-shouldered, A-line short dress complete with soft folding, draping techniques, subtle florals and wide sleeves (pictured top left) makes the perfect outfit for date night.
ZIMMERMANN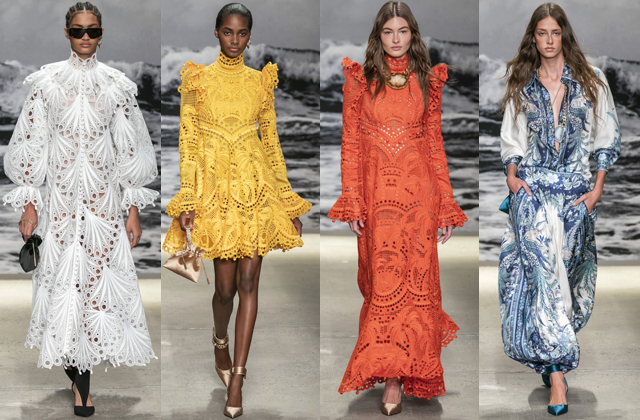 What you need to know: We're still in total denial that summer has officially come to an end and it seems like that's the case for Zimmermann, too. The beloved Australian brand showcased its latest Spring/Summer 2020 collection that just screamed summer. In true brand fashion, the bohemian-chic silhouettes unfolded on the runway with soft hues for the season (think whites, yellows and oranges), plenty of linen and silk, as well as beautifully crafted mini frocks in macramé lace.
The inspiration behind the collection: Whilst the joyful mood of a never-ending summer resonated in the collection, it's perhaps due to the freedom and positive energy the brand extracted from a documentary she [Nicky Zimmermann] used to watch when she was at school, called The Endless Summer. In the film, filmmaker Bruce Brown follows two surfers, Michael Hynson and Robert August, on a surfing trip around the world.
3.1 PHILLIP LIM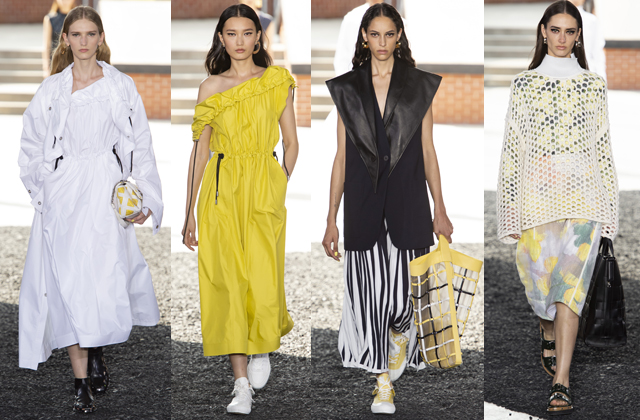 What you need to know: Phillip Lim took a relaxed approach for Spring/Summer 2020 as he delivered a collection that oozed tranquility, functionality and originality. Whilst we couldn't spot two-piece suits on the runway, Lim created his own pairings with sleeveless blazers, elongated vests with a detachable piece draped around the shoulders, printed skirts and monochrome dresses.
Full force: It's been a few years since Phillip Lim staged a co-ed show but for the season, men and women came in full force to front the collection. To mark the occasion, the designer chose a brand new venue for the show: an open-air warehouse in Greenpoint, Brooklyn.
ANNA SUI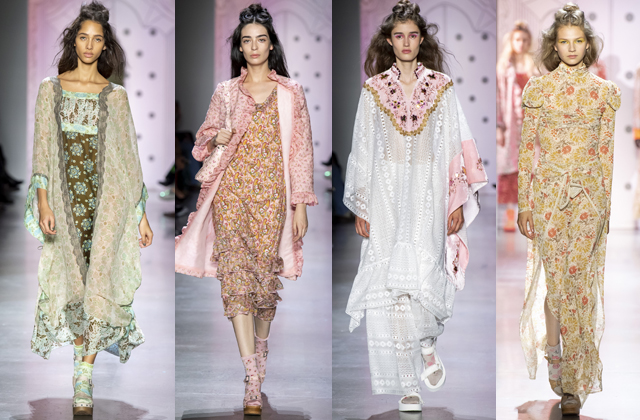 What you need to know: Anna Sui's latest collection paid homage to mid-20th century artist Lila de Nobili (a costume designer, set designer and illustrator) as she used the lightness of Nobili's work on her Spring/Summer 2020 collection. The designer's signature bohemian aesthetic was visible in chiffon dresses this season, layered over trousers and under kaftans, an each piece highlighted dreamy colours and soft pastels with pops of flourescent details. Her product offering remained as diverse as ever, too.
It's all in the details: Whilst the collection was plenty to take in, we couldn't help but notice the makeup details on the models created by Pat McGrath. Subtle orange-meets-pink eyeshadow shades and white liner in the shape of wings complimented the collection, titled Victorianna.
TOM FORD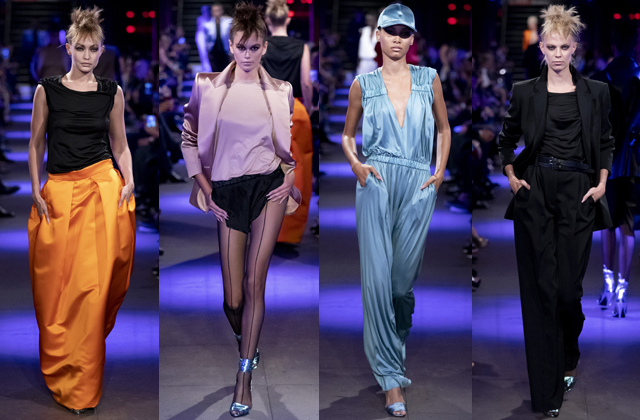 What you need to know: Tom Ford ended day four of New York Fashion Week with a co-ed show that took glamour to a whole new level (quite literally). Whilst his latest collection called for simplicity, it also exuded characteristics of elevated sportswear with leather biker jackets, wide elastic-waist trousers, voluminous long skirts and silk blazers. Models including Gigi Hadid and Kaia Gerber were spotted fronting Blade Runner-esque hairstyles, too.
It's all about location: Tom Ford decided to host his latest Spring/Summer 2020 show on an abandoned train platform at New York's Bowery stop.
Now, take a look at all of the shows you might've missed from day three of New York Fashion Week.