Milan Fashion Week has officially come to an end and what a successful week it has been. The fash pack headed to Milan following New York and London to attend shows including Gucci, Moschino, Versace, Fendi, Prada, Salvatore Ferragamo, Giorgio Armani and Missoni.
The last day of the schedule saw some pretty cool collections by fashion's leading names including Tommy Hilfiger, Dolce & Gabbana and Marni. Take a look here…
Marni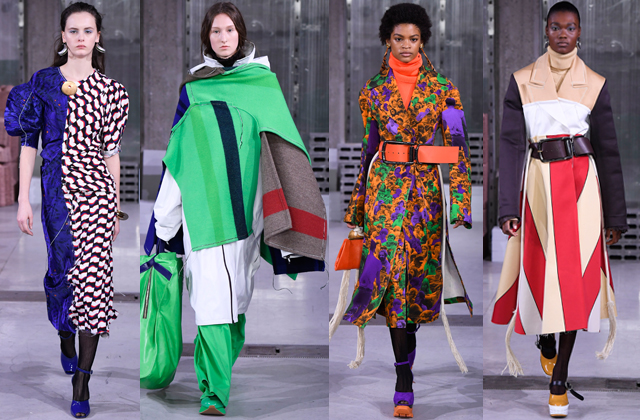 What you need to know: Marni's Fall/Winter '18 collection came in a full form of colours, printed ensembles and innovative cuts. On the runway, some of the pieces featured laser-finished hems, whilst silk was replaced by PVC and polyester was used instead of leather. We also spotted printed florals, stripes and graphics injected onto coats, dresses, track pants and sporty silhouettes.
Tech talk: Marni's show merged components from nature and technology, which resulted in the brand's new autumnal collection. Backstage before his show, Francesco Risso told WWD that he considered "the contrast between our irresistible love for innovation and technology and, on the other side, those movements of the soul" and by fusing the two, he could define "a new primitivism — techno primitivism."
Stella Jean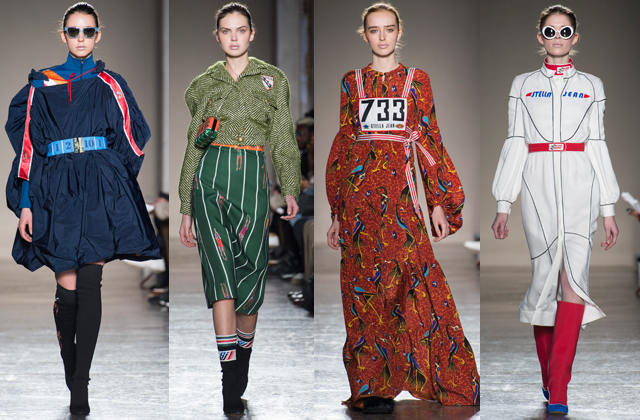 What you need to know: Stella Jean delivered an energetic show during Milan Fashion Week and unsurprisingly, there was a slew of sporty references. Specifically, the designer wanted to celebrate the friendship born during the 11th Olympic Games in Berlin in 1936 between Luz Long and Jesse Owens, and the inspirations resulted in the form of poplin dresses, leather pants, laminated skirts and sleek trousers — adorned with the designer's African printed fabrics.
What you might have missed: Images of swimmers, runners, rowers and jumpers were expertly embroidered on most of the ensembles sent down the runway.
Dolce & Gabbana
What you need to know: Dolce & Gabbana's runways are considered to be one of the most talked about shows on the schedule and after last night's 'Fashion Devotion' show, it's evident why. Combining its rich Sicilian DNA with the brand's signature maximalist aesthetic, the autumnal collection included iconography (another one of the brand's iconic themes), heavy sequins, bold florals and strong jacquard prints. Walking the show, the brand's millennial cast did the iconic march at the finale and included Hailey Baldwin, Lia Pavlova, Irina Duranovic and Camille Hurel.
Key moment: Dolce & Gabbana opened their autumnal show with eight drones replacing models. Whilst the fash pack sat front row and clapped their hands, the drones flew the runway with the latest Dolce & Gabbana "Devotion" quilted handbags.
MSGM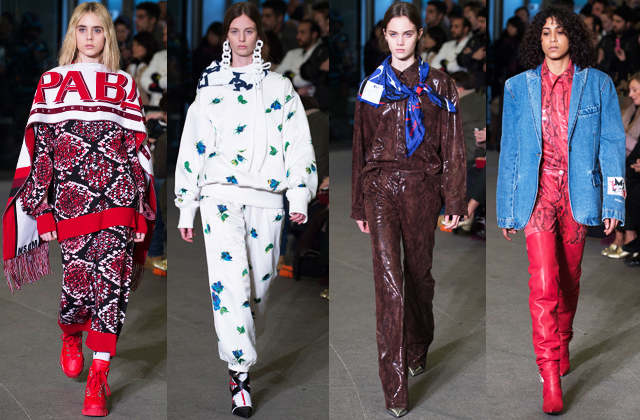 What you need to know: There was a blend of minimalist and maximalist elements during MSGM's runway show. The autumnal collection featured soccer-inspired prints on blanket scarves, whilst sweaters paid tribute to famous Milanese bars and bakeries. There were also some '80s inspired tracksuits that were oversized yet fun with colour blocked hues, floral prints and energetic elements.
In case you missed it: This season, Massimo Giorgetti wanted to portray a love letter to the Milanese style and the Italian city. After living in Milan for 10 years, the designer told WWD backstage of the show that he "really, really loves [Milan]".
Tommy Hilfiger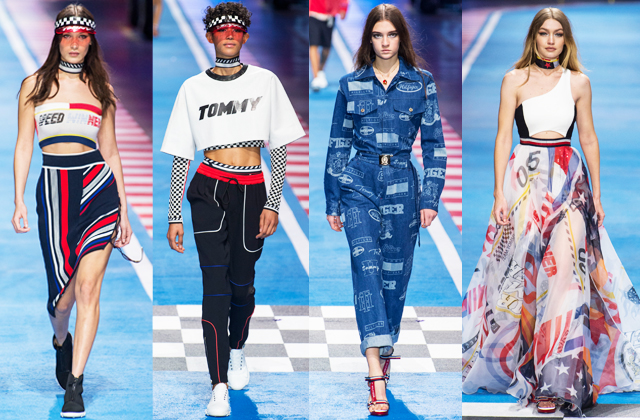 What you need to know: There was a strong fast and furious vibe taking over Tommy Hilfiger's Tommy Now show during Milan Fashion Week overnight. Marking the final show of the schedule, the designer certainly ended the week with a bang as he delivered a cool line-up of models who were on track and race ready. Showcasing the very popular collaborative collection with Gigi Hadid (marking the fourth time the duo have come together for a collection), the runway was filled with cropped tops, bomber jackets, sweatpants, denim and jumpsuits — all complete with striped prints, auto-racing patches and a blue, red, white and black colour palette.
Worth noting: Tommy Hilfiger's new Spring 2018 runway included the see-now-buy-now movement and now, you can scroll through the collection (or pick a look from our top four looks above) and add them to your shopping carts. We suggest you move before it's too late!
Now, find out where Giorgio Armani will be taking his 'One Night Only' extravaganza to next.