DIOR'S TAROT CARDS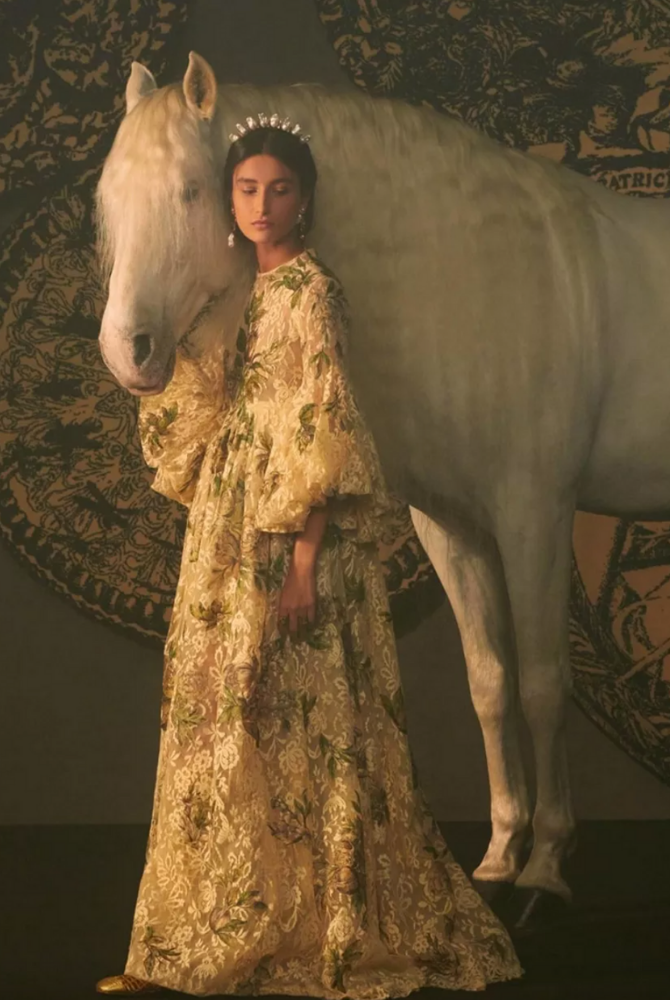 Christian Dior was known for being superstitious (whenever something important was coming, he would turn to his deck of Tarot cards). Maria Grazia Chiuri, who is at the helm of the fashion house now, is a fan of the mystical. During the pandemic Tarot has become a hobby of hers, because "when you are in a difficult moment something that is magical can help us think better". For Spring '21 Couture, she asked her friend, Italian director Matteo Garrone to shoot a magical film about a girl who encounters the Tarot characters, such as The Death, The Hanged Man, The Fool, The Destiny, The Will of Fortune, The Lovers and The Justice.

GENDERLESS COUTURE AT VALENTINO


Valentino's creative director Pierpaolo Piccioli staged his latest couture show in Rome (his hometown) at Palazzo Colonna. He elevated classic pieces, such as a trench coat, crisp white shirt and a turtleneck. Piccioli (who has an exquisite music taste and likes to surprise fashion crowd with live gigs) asked Robert Del Naja, from Massive Attack, to record an original soundtrack for the show (they shot a film about the collection, as well, an audio-visual piece "teaching" AI technology the unique processes of Haute Couture). And, for the first time ever, Piccioli introduced men to the catwalk.
THE CHANEL WEDDING OF THE CENTURY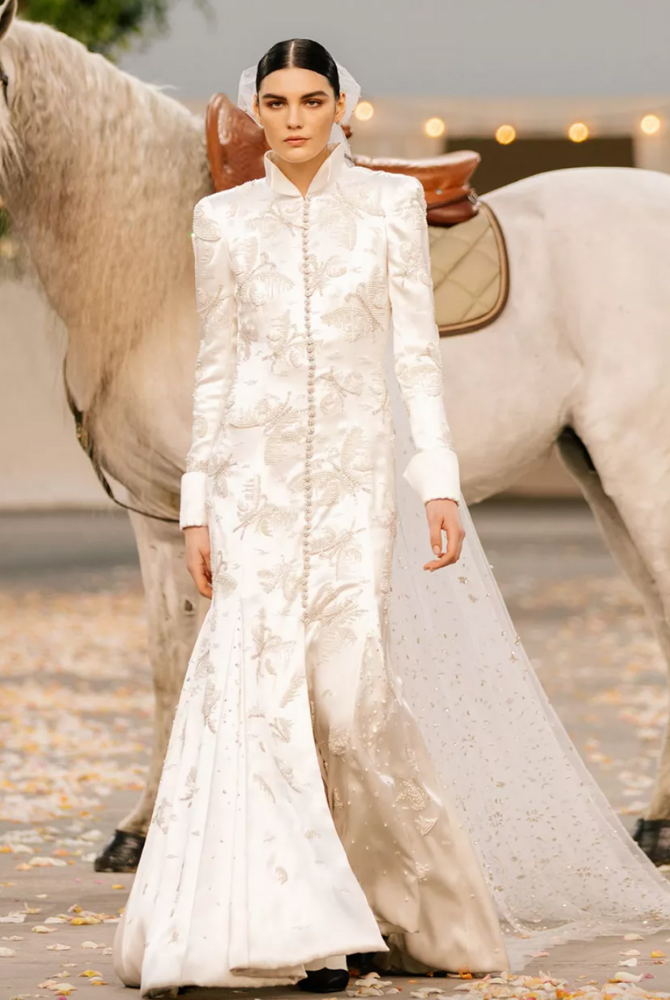 Sequinned tweed jackets, prom dresses, ballet skirts, a bride on a white horse: Chanel's wedding-themed show did not disappoint. Set to Linda Ronstadt's romantic, lullaby-like cover of The Ronettes' "Be My Baby". Socially-distanced VIP attendees included Vanessa Paradis, Charlotte Casiraghi, Marion Cotillard, Penélope Cruz, Caroline de Maigret and Lily-Rose Depp.
KIM JONES' DEBUT AT FENDI

Undoubtably, one of the most-anticipated shows of the season. Kim Jones's first haute couture collection for Fendi was an ode to strong and determined women from the most famous literary pack, the Bloomsbury set. The British designer based his show on one of his favourite books, Virginia Woolf's gender-bending Orlando (he owns nine rare copies of it). Highlights included Demi Moore opening the show in a black trouser suit, plus Kate Moss modelling an empire line dress, and her daughter, Lila, a pearl-beaded ensemble. Jewellery designer Delfina Delettrez Fendi also created costume earrings and necklaces, which she modelled herself on the runway.
SIX PACKS AT SCHIAPARELLI
Elsa Schiaparelli was famous for an unconventional take on fashion; her joyful creations were more akin to surrealist works of art. This season, the creative director of the brand Daniel Roseberry, in line with the founder's tradition, showcased dresses with superheroine bodices, mimicking the actual abs of men who spent hours in the gym perfecting their shapes. All of them were modelled on lifelike leather mannequins that Schiaparelli had in her salons that now sit at the centre of Roseberry's office.
First published on Buro247.com.
Now, discover Alber Elbaz's AZ Factory.