Alexandre Vauthier
Alexandre Vauthier's latest couture show oozed all things Parisian and presented a collection that showcased a heady day-to-night uniform with tuxedo silhouettes, ruffled bib shirts, sultry dresses and printed jumpsuits. There was a major '80s vibe injected into the collection too, as jackets were spotted in oversized proportions (think boxy cuts and big shoulders), and midi skirts were tailored to fall just below the knees. Beyond just the richness of the craft (the collection was mostly hand-crafted), the haute couture range featured exquisite textiles, intricate detailing and subtle embroideries.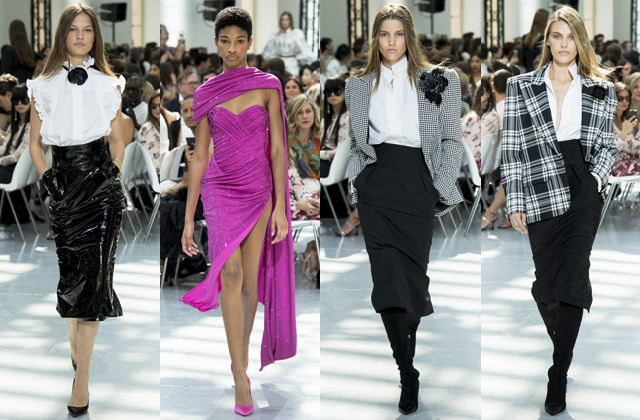 Chanel
Virginie Viard just made her solo couture debut in Paris and her focus? Smart, sophisticated and simple is the new sexy with ultra conservative silhouettes and elongated volumes — to be honest, Viard is making us rethink geek chic. Held at Grand Palais, the iconic Parisian venue was transformed into a library that resembled Gabrielle 'Coco' Chanel's own apartment on rue Cambon, and the setting couldn't be any more fitting.
Within every Chanel collection comes a slew of tweeded suits and it's not different with the Fall/Winter '19 haute couture collection. Spotted in every colour, shape and form, Karl Lagerfeld's successor proved that codes of the maison were safe in her hands as she then injected a more relaxed aesthetic into a collection that is usually grand.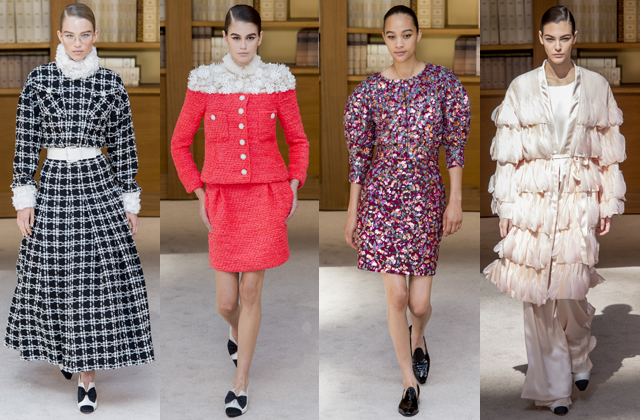 Dior
The words "too extra" tend to not exist when it's Paris Haute Couture Fashion Week and whilst Maria Grazia Chiuri brought the house down (quite literally, as she sent a model down the runway wearing a dollhouse), she also stuck to what she's best known for: modernity, femininity and launching a collection that would soon spark conversation.
The first look featured a t-shirt that read, "Are clothes modern?" and following suit, was an army of models that rocked an all-black colour palette of tailored separates, signature gowns that came complete with hinged bodices and chiffon skirts (a Dior classic), t-shirt dresses and elegant coats — the designs were as grand and opulent as it gets.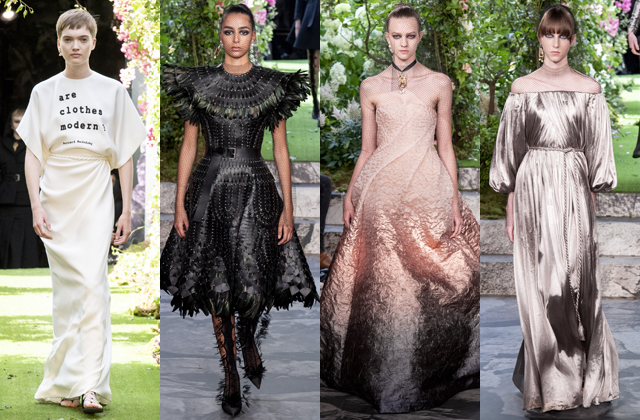 Giorgio Armani Privé
Seasonally one of the most anticipated shows on the calendar, Giorgio Armani Privé delivered 82 looks of folk-inspired silhouettes from the '80s and '90s, are we're adding to our Pinterest fashion boards now. Here's why.
The designer first opened the runway show with razor-sharp jackets and paired them with silver velvet pants overlaid with tulle — that is already a win for us. Then, he sent out a slew of maxi skirts in myriad variations, satiny pajama pants, power dressing embodying the '80s and signature pagoda-shouldered jackets. Our winnning look? The strapless powder pink silk satin dress that came with an oversized blazer, embroidered with pearls, subtle polka dots and pastel-coloured patterns. 
Givenchy
Givenchy's Clare Waight Keller (Meghan Markle's go-to designer) delivered yet another statement-worthy collection earlier this week. The Fall/Winter '19 couture collection, titled Noblesse Radicale (which translates to "radical nobility"), consisted of masterpieces as each look was more risqué and theatre-appropriate than in previous collections.
Waight Keller pushed herself with more graphics, colour and strengthened the element of fantasy in her latest collection. Whilst elegant tailoring was something the designer has been honing, this season's focus was on houndstooth tweed dresses, sharp-shouldered suits and flawless gowns that featured mad layers of pleated silk, lace, fringe and feathers (we're looking at you, Kaia Gerber). There was also a lavender cape coat that was an absolute stunner.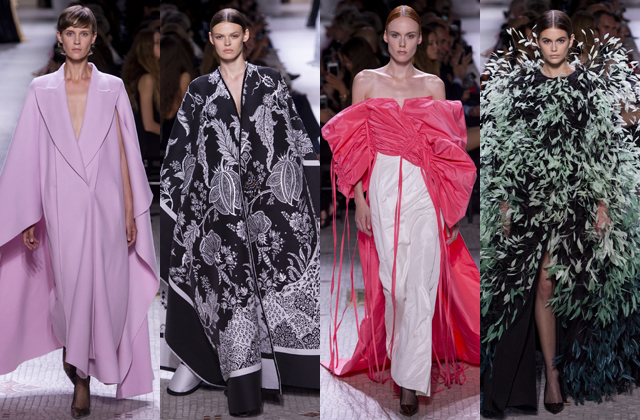 Iris Van Herpen
There are just a handful of shows that can leave us completely speechless but when it comes to Iris Van Herpen, she manages to do that with every collection she puts forward. The designer presented her latest couture collection for Fall/Winter '19, titled Hypnosis, and hypnotising it was. The collection was a visual masterpiece in itself as the designer explains that the collection is "a hypnotic visualisation of nature's tapestry, the symbiotic cycles of our biosphere that interweave the air, land, and oceans."
In collaboration with American artist Anthony Howe, each look sent down the runway came alive as highly-detailed and precise dresses appeared to be in constant motion as the materials alone offered some of the most beautiful of optical illusions.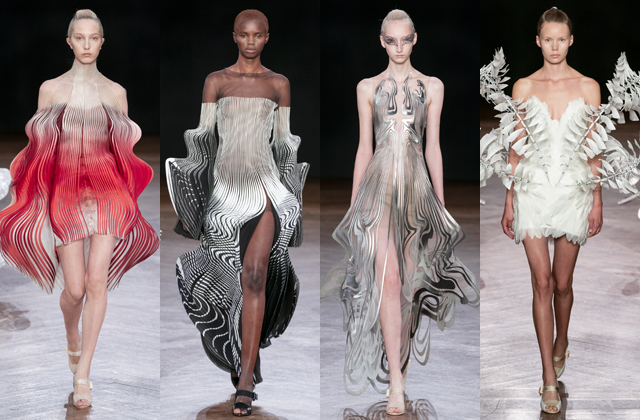 Ralph & Russo
Held at the British embassy in Paris, Ralph & Russo had a 90-meter runway constructed through the embassy's gardens to present their Art Deco–inspired line-up and it was as dreamy as you'd expect. The collection itself looked like it came straight out of the 1920s with a slew of flapper-inspired dresses, fringe detailing, embellished tulle and a plethora of pearls that swayed on a colour palette of dreamy dresses and suits.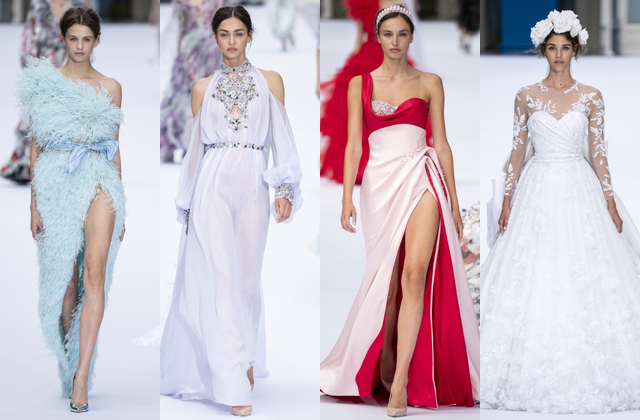 Valentino
Pierpaolo Piccioli is a fashion genius and so, it only made sense that he would close Paris Haute Couture Fashion Week with a new Valentino collection that spoke volume.
It was a parade of saturated silhouettes that came in the form of exaggerated proportions and out-of-this-world craftsmanship by the designer (as expected). Piccioli highlighted that extravagance is individuality in its purest form as the masterful collection was dominated by dreamy dresses that were a feast for the eyes.
Filled with diversity, creativity and emotion, the runway saw Gigi Hadid, Kaia Gerber and Lauren Hutton (a few of the big names that walked the runway) front a collection that was as colourful as it was coveted with poppy prints, tiers of chunky knit fringe, shimmering separates, bright belted coats and hand-painted flowers.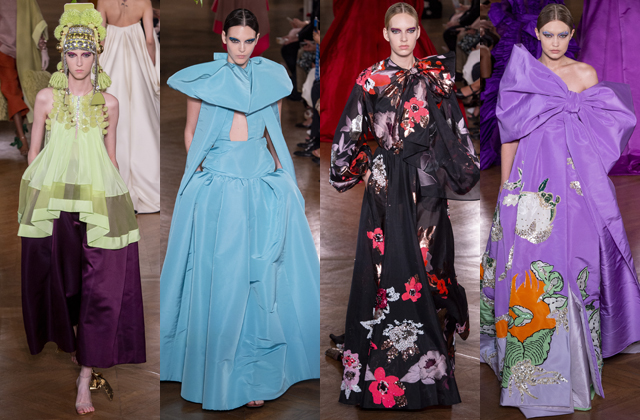 Now, take a look at the three Middle Eastern designers that stole the spotlight during Paris Haute Couture Fashion Week.