On the day preceding her Spring/Summer 2024 show, Simone Rocha shared photos of white, tiered, seemingly wedding cakes on her Instagram page – a fitting teaser for her soon-to-be unveiled collection titled 'The Dress Rehearsal.' It was an intriguing glimpse into what awaited us at the English National Ballet the following day.
In the past, the grandeur of Central Hall Westminster and the neo-Baroque Old Bailey have served as her backdrops. However, for this season, Rocha departed from opulence, unveiling her Spring/Summer 2024 collection in an altogether less ornate venue: a rehearsal space at the English National Ballet in Canning Town. "It's much more intimate," the designer said ahead of the show. "I wanted people to feel closer to the collection and the workmanship that's gone into it."
Yet, it was more than just the venue that resonated with Rocha's vision. The central theme of the show was the concept of a dress rehearsal—a subversion of traditional wedding tropes. Rocha explained, "We're not calling it a wedding; I feel it's the dress rehearsal. It's an exploration of ceremony."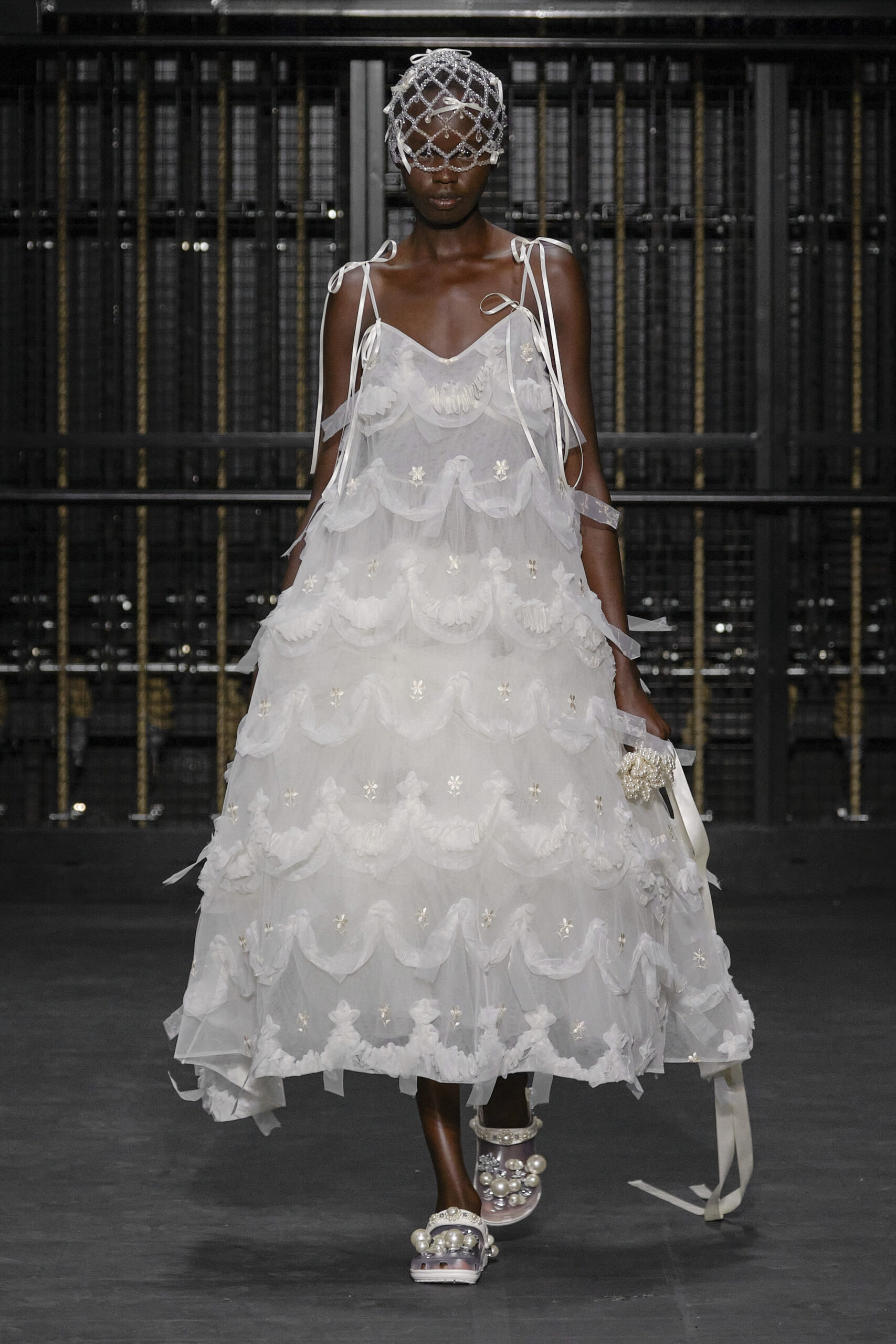 The collection came to life against this blank canvas, revealing a dreamy spectacle. The dresses, with their cake-inspired tiers of appliqué on white tulle, were a visual feast, rivaling the most intricate confections. The soft color palette featured the palest pink technical parkas adorned with trailing roses, distressed silver leather biker jackets, and puffball lace dresses that seemed plucked from a fairy tale. The dainty ribbon bows–that were the highlight of her Fall/Winter 2024 collection–found themselves meticulously places across the Simone Rocha Spring/Summer 2024 collection.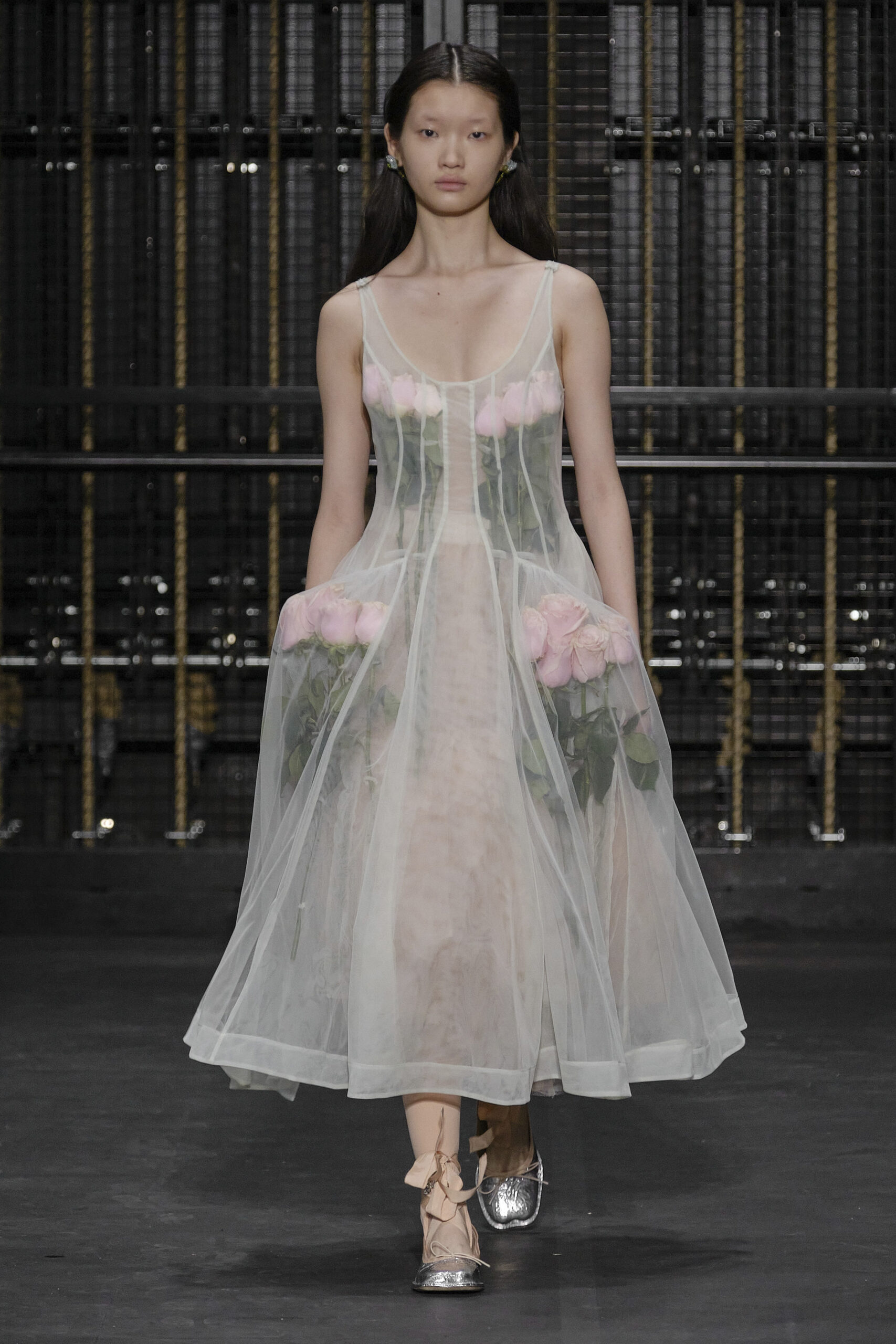 The faintly ominous soundtrack added a sense of apprehension, mirroring the emotions of a rehearsal. But despite the tension Rocha sought to evoke, there was no room for cold feet. Fresh roses replaced traditional bridal bouquets, nestled between layers of sheer tulle, and fabric renditions of roses embellished dresses and jackets. Models gracefully clutched single stems crafted from cotton or pearls, while red rose tattoos adorned bare skin. The enchanting rose motif saturated the collection.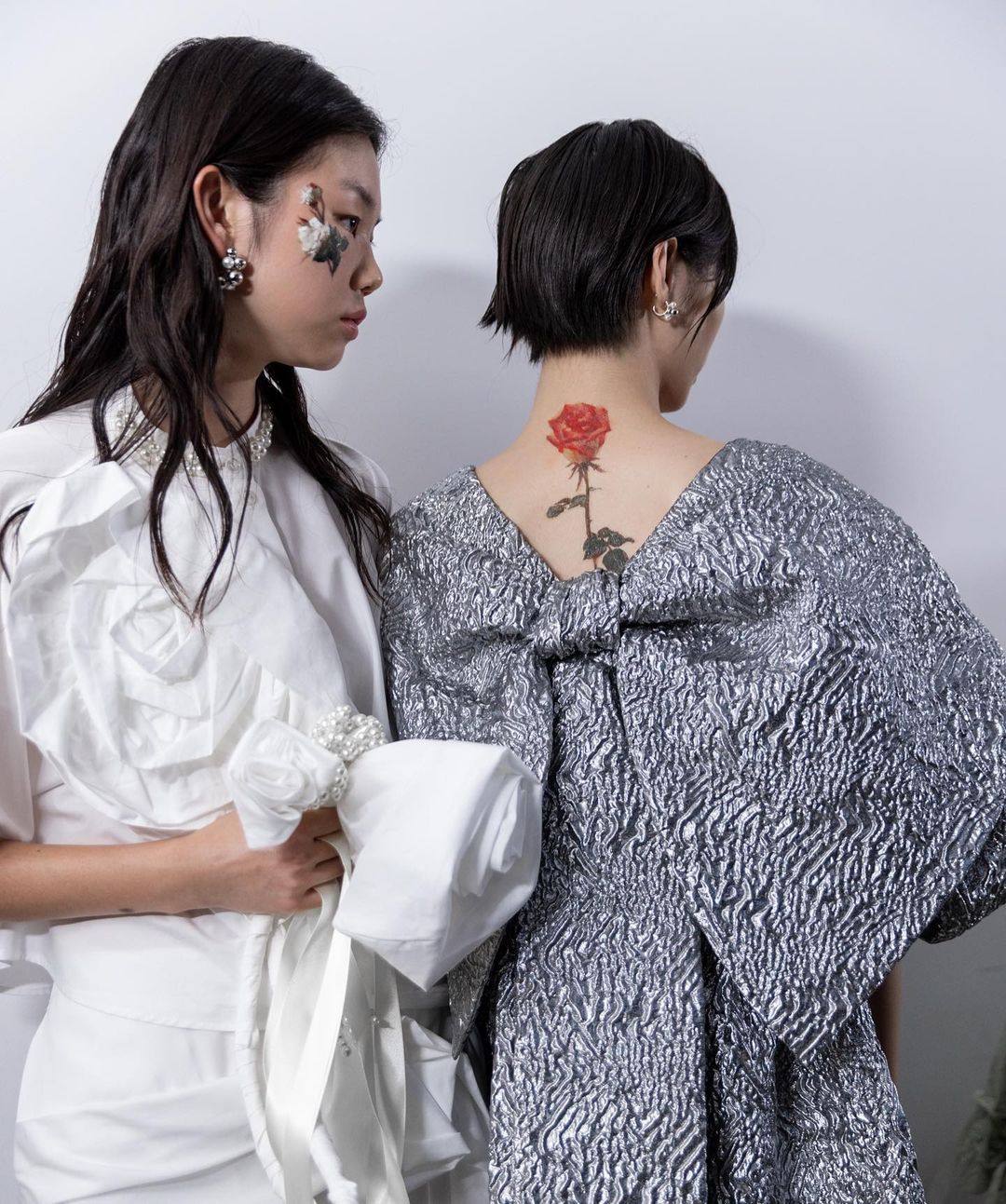 Additionally, the Simone Rocha Spring/Summer 2024 collection introduced a new line of luxury leather bags. These cake box-inspired handbags –available in black, cream, nude, and oxblood–reflect a departure from her more playful signatures, such as the 'Micro Egg' clutch. However, they retain a touch of whimsy–that Rocha is known for– with the pearl daisy emblem sitting on the hardware clasp. The long leather strap can be swapped for one adorned with pearls and silver bells, adding a romantic touch to your wardrobe.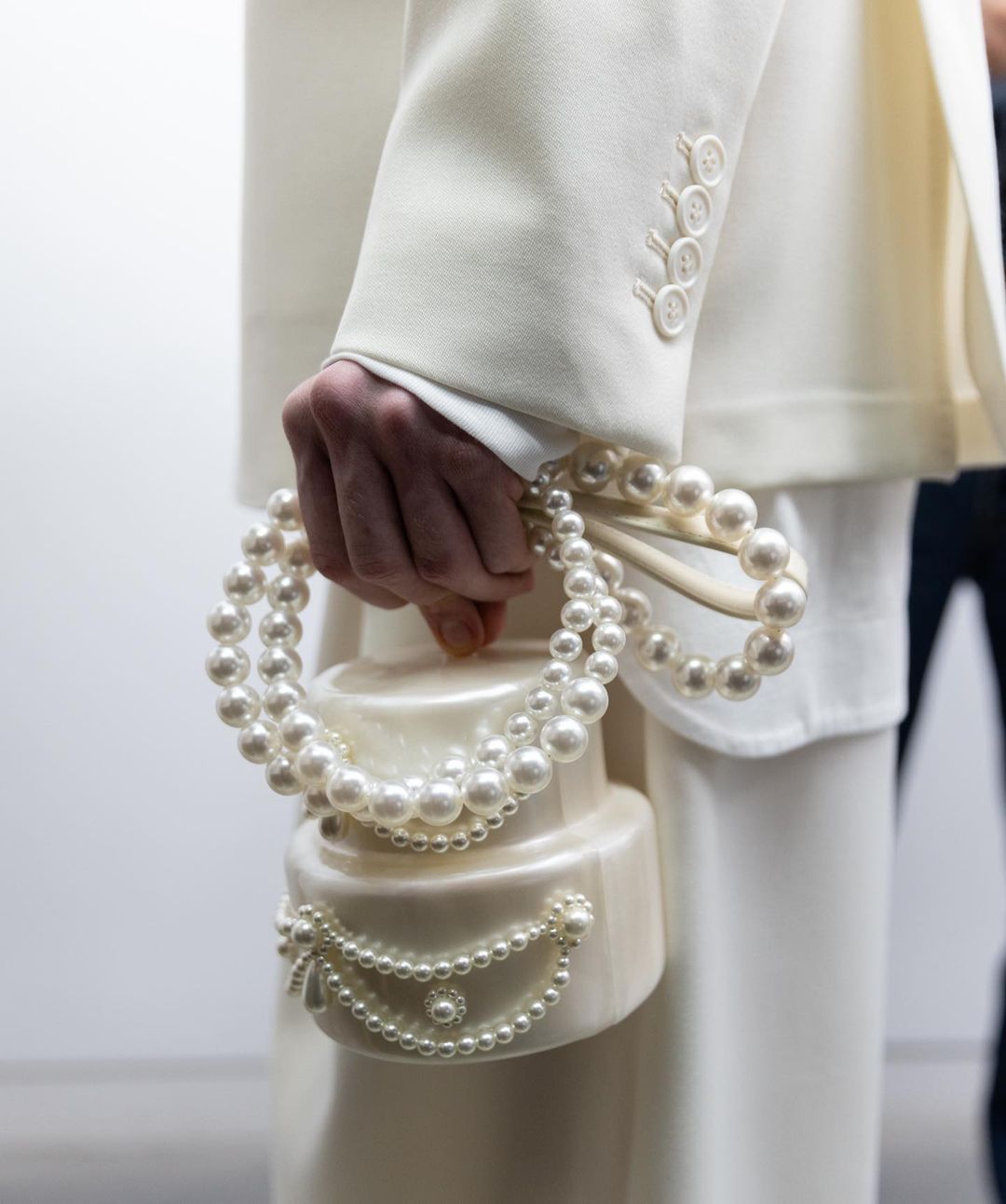 The icing on the decadent Simone Rocha cake came in a surprising form – a collaboration with footwear giant Crocs. Inspired by artist Cy Twombly's plaster cakes, Rocha's Crocs featured pumped-up platform soles adorned with chunky diamanté crystals and gobstopper pearls reminiscent of cake topping. Rocha confessed to being a Croc enthusiast herself, stating, "I wear them, and my kids wear them."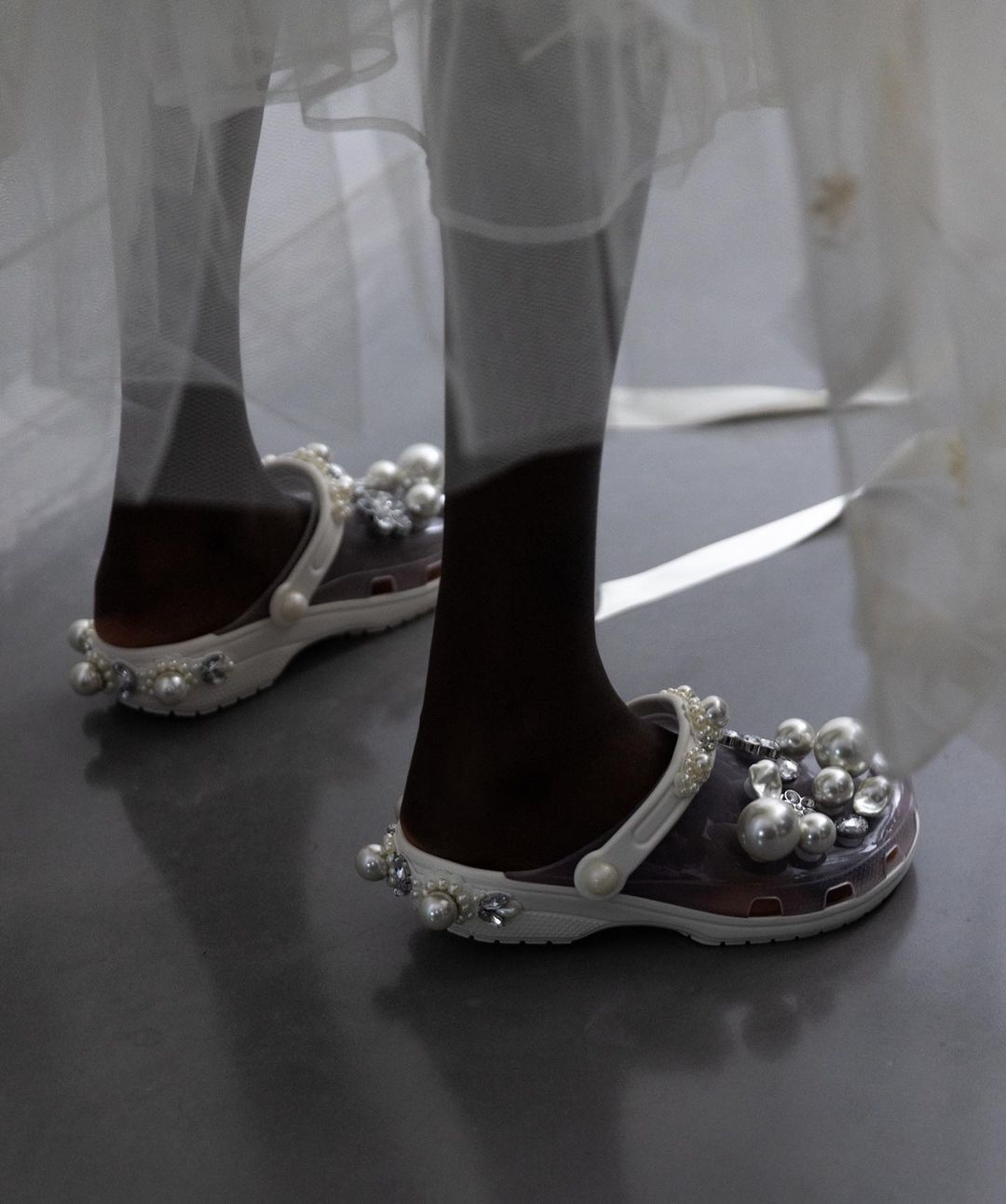 The Simone Rocha Spring/Summer 2024 collection, featuring stunning motifs, fascinating dresses, and unpredictable twists, invites us to step into her dark yet romantic world of wonder. It's a dress rehearsal unlike any other, a testament to her ability to blend tradition with innovation and a reminder that fashion can be both exquisite and approachable.
ALSO READ: BURBERRY'S EQUESTRIAN KNIGHT IS GALLOPING THROUGH LONDON, PAINTING IT BLUE.