What do you get when a heritage American jeweler and a German luxury luggage manufacturer– both famed for their highest caliber of craftsmanship–join forces? The most desirable set of travel accessories, of course. In a collaborative effort, Rimowa and Tiffany & Co. have merged their brand identities for a stunning three-piece capsule collection. The RIMOWA x Tiffany & Co. capsule collection features a jewelry case, a 'Rock Cut' cabin suitcase, and a jewelry personal.
"We are proud to join forces with Tiffany & Co., another legendary brand with the finest craftsmanship. The creation of such purposeful and one-of-kind pieces represents the centuries of expertise behind both brands and the mastery of engineering that we bring to the table," says Hugues Bonnet-Masimbert, Chief Executive Officer at RIMOWA.
"We are thrilled to debut the RIMOWA x Tiffany collection, bringing together two Maisons with unmatched craftsmanship and innovative designs," Alexandre Arnault, Executive Vice President of Product and Communication, Tiffany & Co. added. "This one-of-a-kind collaboration unifies two icons in one, both of which are incredibly personal to me and represent the highest caliber of craftsmanship."
The Rimowa x Tiffany & Co. jewelry case features a silver exterior adorned with Rimowa's iconic 'Rock Cut' artwork that echoes the appearance of diamonds. In a nod to the jewelry brand, a 'T' motif is skillfully woven into the pattern. The jewelry case made using an aluminum brushed technique is garnished with Tiffany Blue accents and is every bit as magnificent as the jewelry it is designed to house. Once unlocked, the Rimowa x Tiffany & Co. jewelry case reveals a mirror and three stacked layers, the top two of which are removable.
The second item within the limited edition Rimowa x Tiffany & Co. collection is the 'Rock Cut' cabin suitcase. The capacious suitcase–designed to fit overhead airplane compartments–features a similar exterior as the jewelry case, Tiffany Blue® interiors, handles, luggage tags, wheels, and straps. The leather detailing on the Rimowa x Tiffany & Co. 'Rock Cut' suitcase is washed in the jeweler's symbolic shade and embossed with logos of both brands.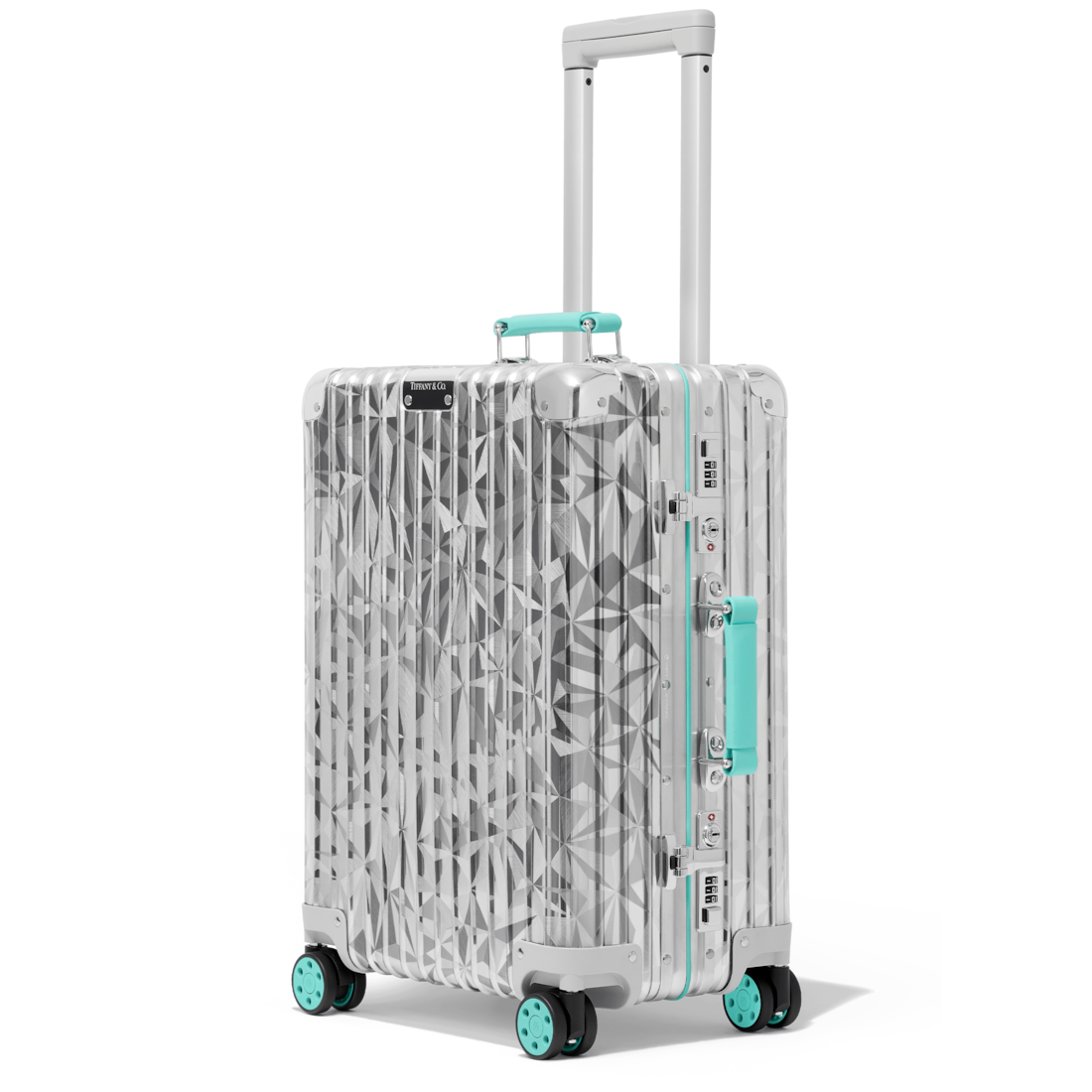 The third and final piece within the Rimowa x Tiffany & Co. universe is a jewelry personal crafted out of Rimowa's signature polycarbonate, which proudly carries the signature shade of Tiffany & Co. The emblematic blue extends into the interiors, where six non-removable jewelry compartments are carefully designed to safeguard your most precious belongings.The exterior bears logos of both brands artfully placed between two Tiffany Blue® leather straps.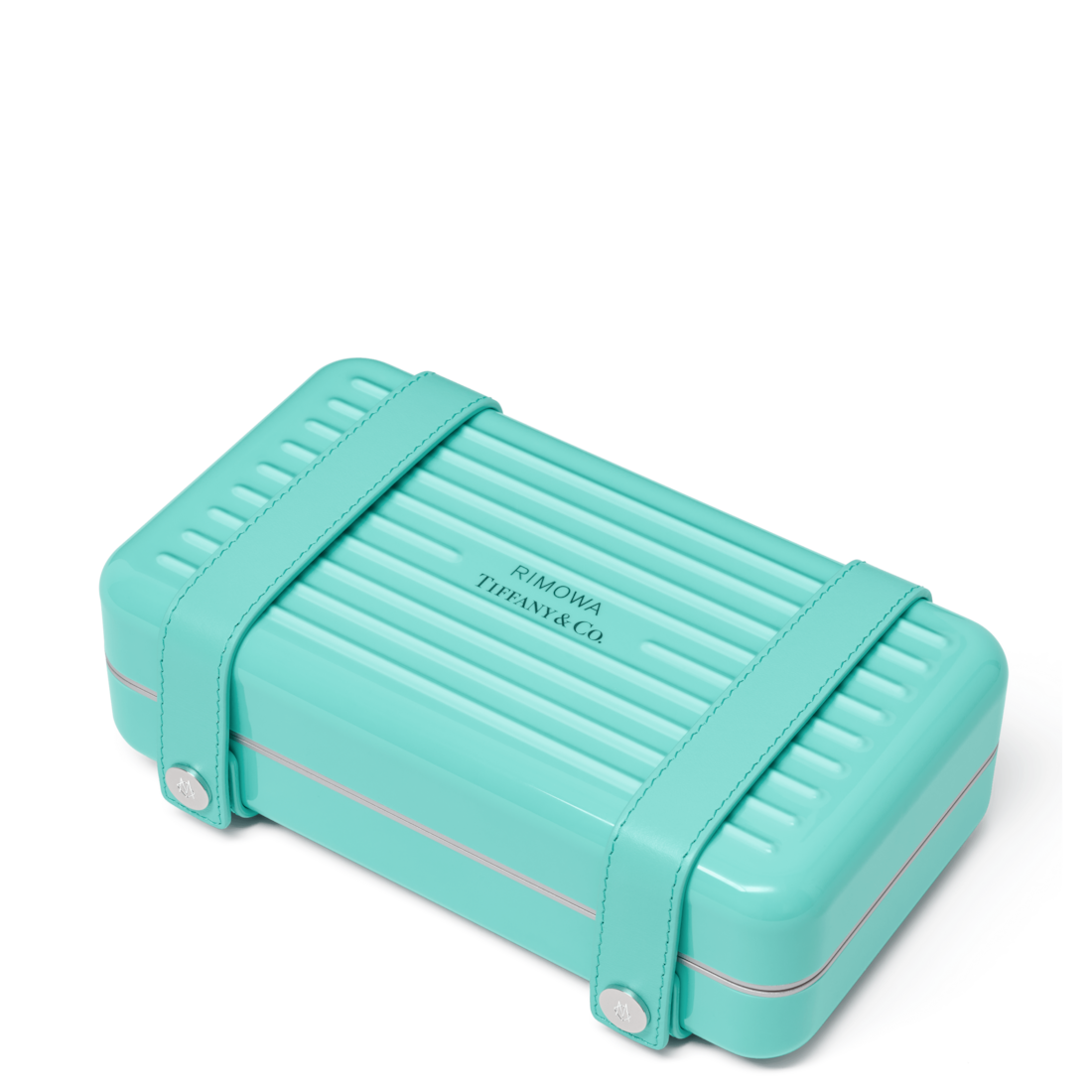 The RIMOWA x Tiffany & Co. capsule will be made available at select RIMOWA stores worldwide and online at RIMOWA.com from September 26.
ALSO READ: LOOSEN YOUR PURSE STRINGS; THE NEW APPLE WATCH HERMÈS SERIES 9 HAS ARRIVED.