Each year, e-commerce directory Lyst releases a list of the top brands searched on the platform over the past 12 months and the list for 2017 has just been revealed.
Unsurprisingly, the battle for the top spot was between Gucci and Balenciaga — with Gucci ultimately coming out on top. The Alessandro Michele-led brand was also the most searched fashion brand on Google for 2017, proving that the Michele effect is very much alive and well.
According to Business of Fashion, Gucci was a more popular search term than "shoes" or "dresses." Additionally, the brand added a whopping eight million followers to its Instagram account in the same year.
Unsurprisingly, four out of the five most purchased items in 2017 were by the Italian brand.
Demna Gvsalia's Balenciaga came in at a close second on the list, having increased in search traffic by "50 per cent year over year" in the third and fourth quarters of last year. Additionally, 65 per cent of the label's consumers are millennials who are responsible for 50 per cent of its total sales, BoF reports. The brand also scored the second most purchased item of the year (following Gucci's flower-print sliders) with its Speed trainer.
See the top 10 most searched fashion brands for 2017 below:
1. Gucci
2. Balenciaga
3. Vetements
4. Valentino
5. Off-White
6. Givenchy
7. Moncler
8. Stone Island
9. Balmain
10. Yeezy
As for the top purchased products?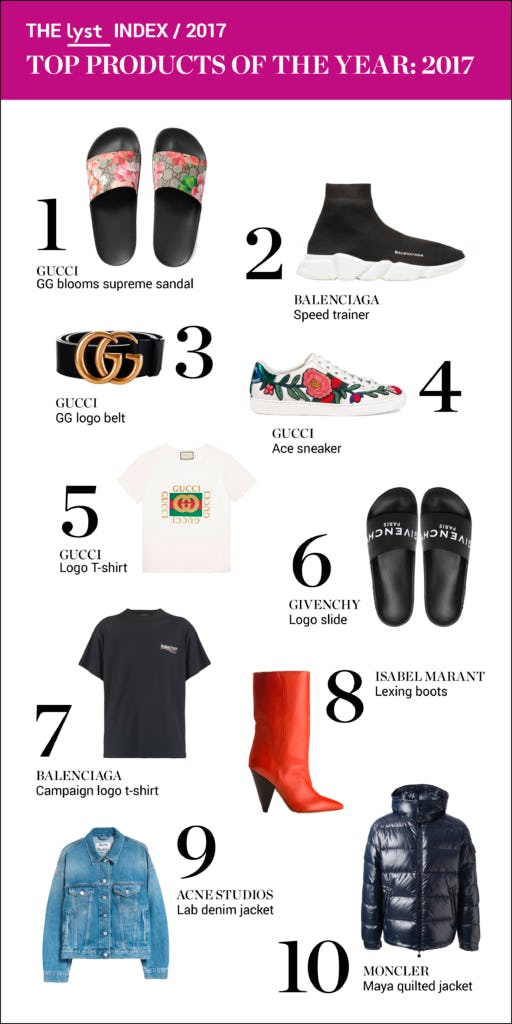 Now, see Gucci's exclusive capsule collection to celebrate Chinese New Year in 2018.