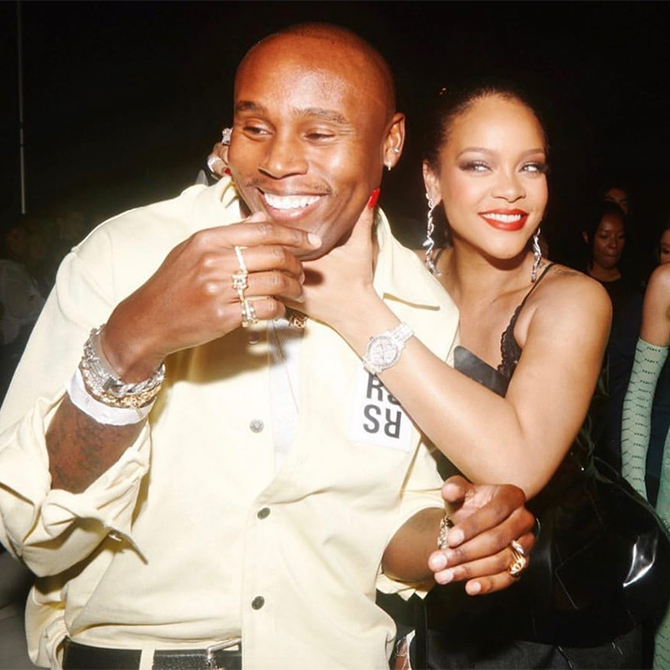 If you've never heard of Jahleel Weaver, here's a quick rundown to get you up to speed with one of the most important characters in Rihanna's inner circle of old friends and business partners. Having met in 2011 when Jahleel was assisting Rihanna's former full-time stylist Mel Ottenberg during the Loud tour, the 33 year-old was approached by the musician-turned-mogul in 2014 to take charge as the junior creative director of Fenty Corp.
Fast forward to today, and he's busy juggling multiple personas as Rihanna's stylist, Fenty collaborator and best friend, his latest feat, a limited edition curation for her boundary breaking lingerie label Savage X Fenty.
Yes, if you're looking to add a bit of zing to your holiday season, Jaleel has you covered with three Xtra VIP boxes that feature hand-picked pieces from the Savage X Fenty's lingerie and loungewear line. "Jahleel doesn't play by the rules and neither do I," said Rihanna on the drop. "You don't have to be just one thing or wear one style — you can have a totally different vibe every day. That's why there are 3 boxes. Jahleel knows how to take risks in the right way and I wanted to share that with everyone."
A mix of strength and sensuality, the trio all represent a different attitude; the 'Truth or Dare' box is easy to wear but still very feminine with light knit styles and a faux fur eye mask, the 'Still Watching?' box is all about being cosy – its star a fleece jumpsuit and hoodie that Jaleel describes as the "softest piece that no one will be mad at," and the 'XXX' box is big, bold and sexy.
The new limited-edition Xtra VIP boxes are available for purchase at savagex.com
Now, discover Burberry's new festive campaign featuring a hijabi model.
Text by Dina Kabbani