We're three quarters done with fashion month. Boo. Even though Milan Fashion Week has officially ciao-ed us out, we still have the last of the best collections to unpick. From a glittery Missoni to a midnight blue Giorgio Armani, the F/W'19 collections are set to put us in a dark-cum-party mood. Get excited.
Take a closer look here…
Missoni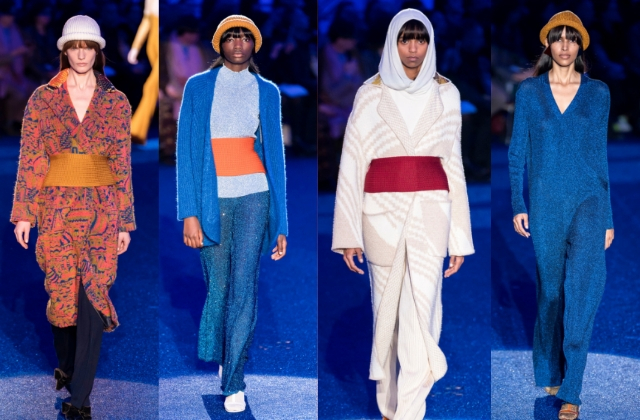 What you need to know: From the outset, you'd be forgiven if you thought this collection was part of Modest Fashion Week. But actually, Angela Missoni went large on the knitwear for F/W'19. And there was plenty of shimmer and sparkle in a kind of 1970s way with coats decorated with jacquard patterns and flared maxi dresses. But if there's one thing we loved the most, it was the chunky cardigans. So cosy, so wintery.
Side note: Every piece in the collection was knitted as no woven fabrics were allowed. Bravo.
Philosophy di Lorenzo Serafini
What you need to know: Normally, Philosophy di Lorenzo Serafini references the 70s and 80s but there was a distinct shift in era for the F/W'19 collection. Nothing says 1990s quite like an ivory slip dress or shorts that are short, short – right? The looks for next season are both hard and soft with edginess courtesy of leather jackets and softness coming from one-shoulder ruffles. Also, some animal flare made an appearance too for extra measure.
Side note: Serafini had a mood board of 90s supermodels put up backstage for inspo. Oh and vegan leather was used for the minis and motorcycle jackets.
Giorgio Armani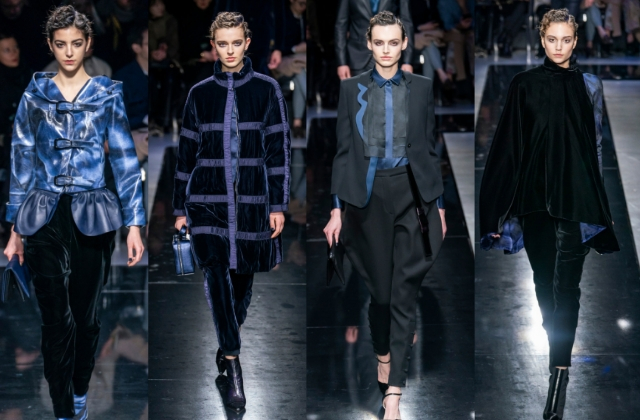 What you need to know: Well, this was rhapsody in blue – unanimously. Despite the entire 103-piece collection rendered in pretty much a midnight blue, there were variations in the use of fabrics to give it some versatility. Velvet was a key material and was lusciously spread across coats, jackets and trousers. Along with classic tailoring and some sheer numbers, we can also look forward to sporty silhouettes with zip-ups and puffers for the upcoming season.
Side note: Armani said backstage: "It's time for elegance again." The man has definitely spoken…
Salvatore Ferragamo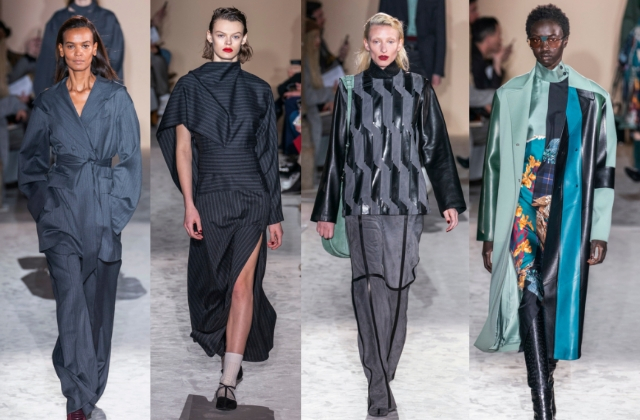 What you need to know: If you're into the finer details, you'll appreciate Creative Director Paul Andrew's "dressing toe-to-head" take on F/W'19. Shoes came in the form of spindly heels, laced with metallic beading and multi-coloured patchwork suede wedges. Then came some show-stopping ensembles. We're so for the karate style suit as well as the cashmere fleece disguised as shearling coat. Yes, this was innovation at its best. Oh and we have all the time in the world for some grey pinstripe. New take on office wear, anyone?
Side note: Creative Director Paul Andrew was only promoted to his new post last week. Previously he held a position from 2016 within the footwear division.
Ciao, ciao, Milano. You've been so good to us.
Now, change gears from fashion to music. Watch Lady Gaga and Bradley Cooper perform at the 2019 Oscars.