The penultimate day on the haute couture schedule saw a slew of big names such as Fendi, Valentino and Jean Paul Gaultier. But, Middle Eastern designers also reigned supreme with beautiful Fall/Winter '18 couture collections.
We've highlighted some of the best looks from each of the collections. Take a look here…
Elie Saab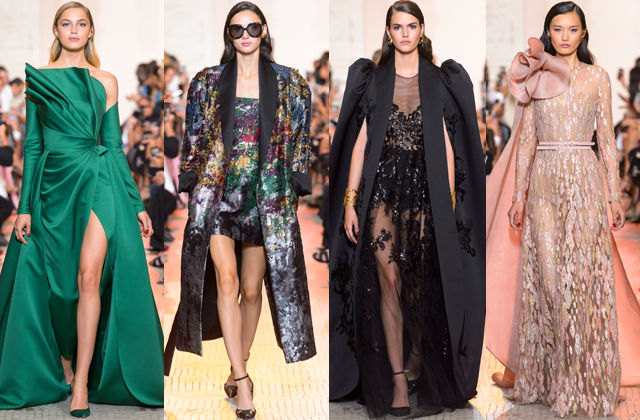 What you need to know: Renowned Lebanese fashion designer, Elie Saab, took over day four of Paris Haute Couture Fashion Week by sending a slew of models dressed in his oh-so-breathtaking creations down the catwalk. As usual, we saw Saab's intricate beading, embellishments, organic textures and patterns on red carpet-worthy gowns, tailored suits, long coats and short cocktail dresses.
Inspiration: Elie Saab turned to his most recent trip to Barcelona for inspiration and Antoni Gaudí's architectural masterpieces played a part too. The designer's Spanish flair was injected through cage-like structures on some ensembles, a palette of jewel tones embroidered onto Spanish dresses and a stronger shoulder structure.
Jean Paul Gaultier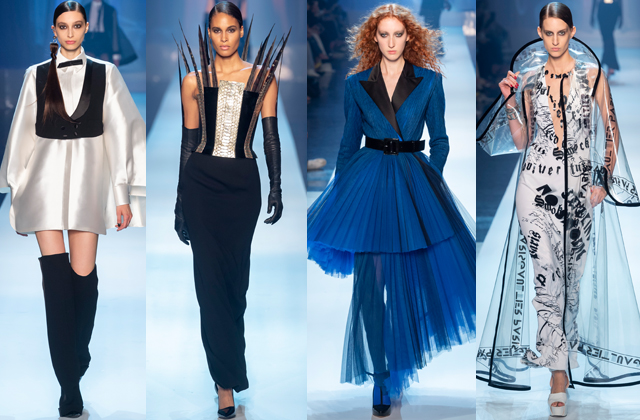 What you need to know: It was a smoking affair at Jean Paul Gaultier's latest couture show. Presenting a co-ed collection for the season, the designer focused on a two-toned collection that was inspired by smoking a cigarette with lean and striking cuts of tuxedos (for both men and women), dresses, pants, jackets (which included super small pockets for storing cigarettes) and asymmetric capes.
The finale: Before the designer took his bow, South Korean model Soo Joo Park walked down the runway in an ash-coloured organza bridal gown (still following the cigarette motif).
Viktor & Rolf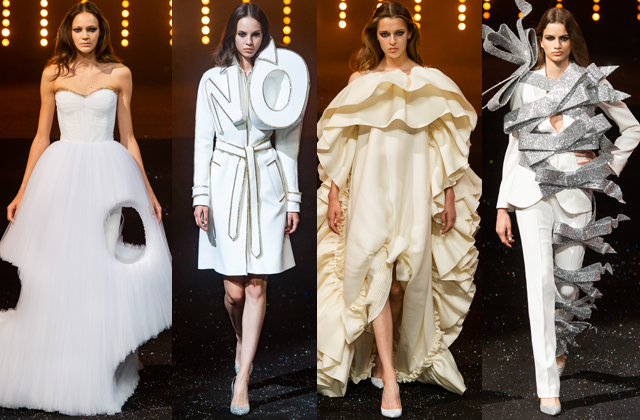 What you need to know: The Dutch designer duo presented a couture collection that was dominated by white hues which according to WWD, it was "to make it lighthearted". Most of the pieces were embellished with Swarovski crystals and paid tribute to some of the brand's most recognised archival pieces.
Celebratory show: This season, Viktor & Rolf's haute couture show celebrated the brand's 25 years of existence.
Zuhair Murad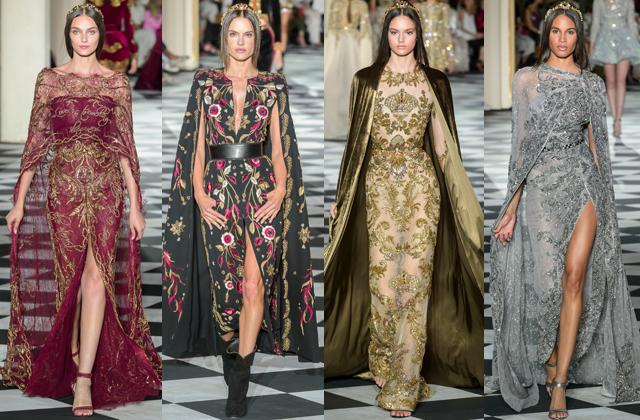 What you need to know: Yet another Lebanese designer took over the haute couture schedule and it was none other than Zuhair Murad. For this Fall/Winter '18 season, the Middle Eastern designer looked at Imperial Russia for inspiration. The result was a handful of embellished military suits, Fabergé-inspired prints on dresses and lots of looks beaded in gold, all complete in a beautiful colour palette.
Model line-up: Alessandra Ambrosio was spotted in two numbers by the Lebanese designer. The Victoria Secret model opened the show and was later joined by French model Cindy Bruna who strutted the runway in an embellished silver gown.
Fendi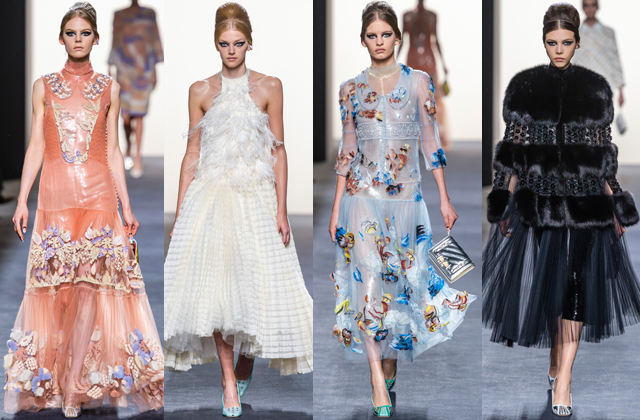 What you need to know: Fendi's new couture collection marks Karl Lagerfeld's second show this couture calendar (following Chanel's showcase on day three). Together with Silvia Venturini Fendi, the duo presented a beautiful collection that was nothing short of breathtaking. The pieces were injected with colourful prints, light chiffon, sequins and plissé organza.
Beauty highlight: At the Fendi couture show, the makeup was just as striking as the collection itself. Focusing on a strong cat eye, Peter Philips' work was complemented by a super retro updo hairstyle by Sam McKnight.
Valentino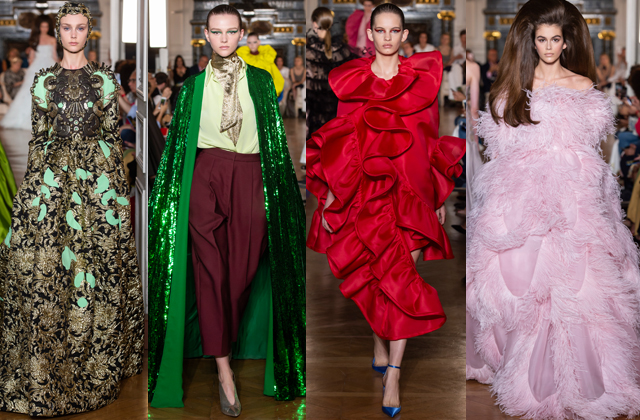 What you need to know: Valentino closed out Paris Haute Couture Fashion Week day four and when Pierpaolo Piccioli took his bow at the end of the show, he received a standing ovation (which is pretty rare on the haute couture schedule). It's evident why after the collection he sent down the runway. Taking over the Hotel Salomon de Rothschild, the collection was made up of 63 looks and was dominated by exaggerated proportions, multicoloured floral headpieces, bubblegum pink dresses (as seen on Kaia Gerber) and embellished capes.
Big hair moment: As if the clothes weren't already eye-catching enough, Valentino models had giant brushed-back wigs to add more dramatic flair to the looks.
Now, take a look at the haute couture collections you need to see from day three.