Within the Black biker culture, there resides an outsider ethos, a blend of pride, reverence, and an unwavering allegiance to freedom. It's a defiance against the constraints of societal niceties, a rebellion that runs deep. The attire of a biker transcends normal garments; each piece evolves into a sacred relic, carrying with it a lifetime's worth of mystery and character, etched by time and weathered by experience. In the crucible of this subculture, secret codes, symbols, and colors bear the beautiful scars of heat, scratches, tears, and the residue of countless miles fueled by determination. They form a second skin, a living armor, that tells the story of a life lived on the edge.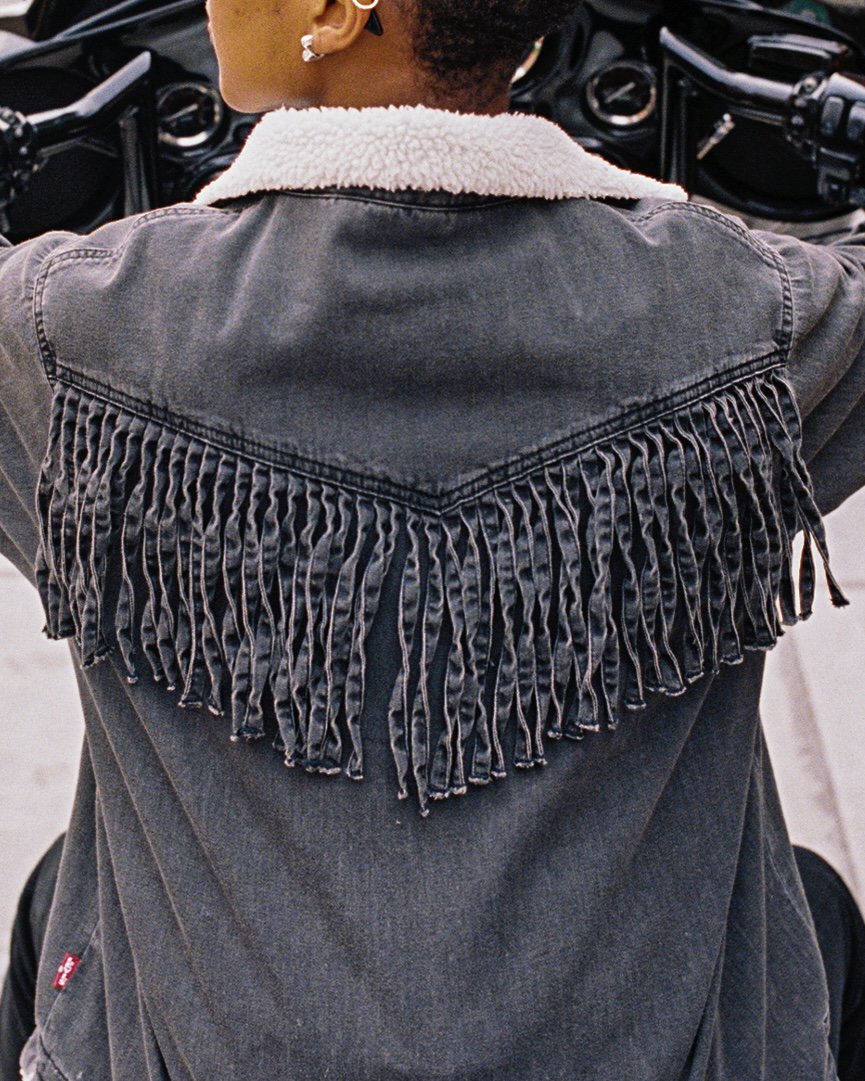 For the third chapter of their ongoing creative alliance, Levi's® and Denim Tears have meticulously crafted a ten-piece collection, a tribute that speaks with reverence to the indomitable spirit of the Black biker community. It celebrates not just a fashion, but a state of mind—an ethos rooted in honor, dedication, self-expression, existentialism, identity, and the profound strength of the individual within the embrace of a united brotherhood.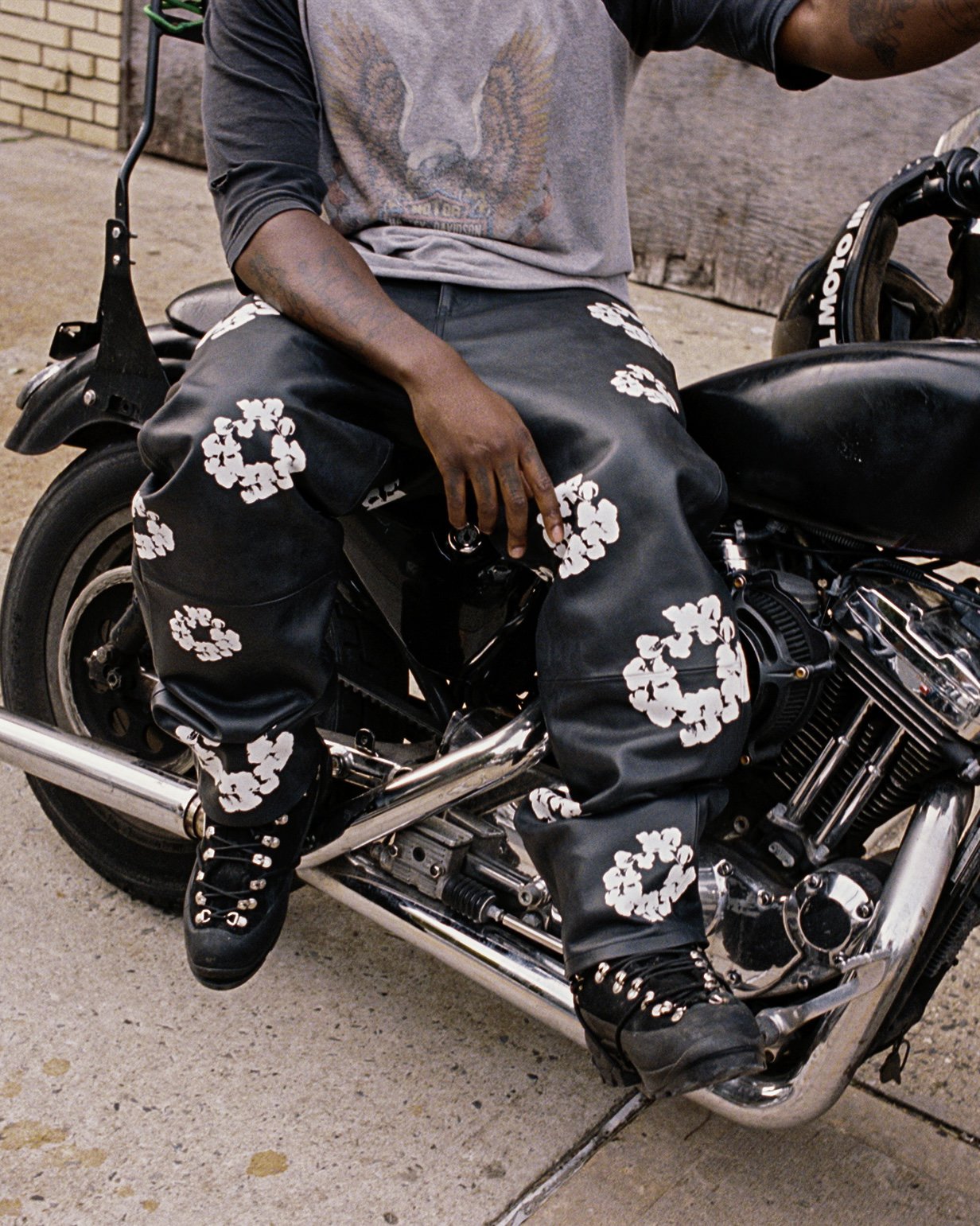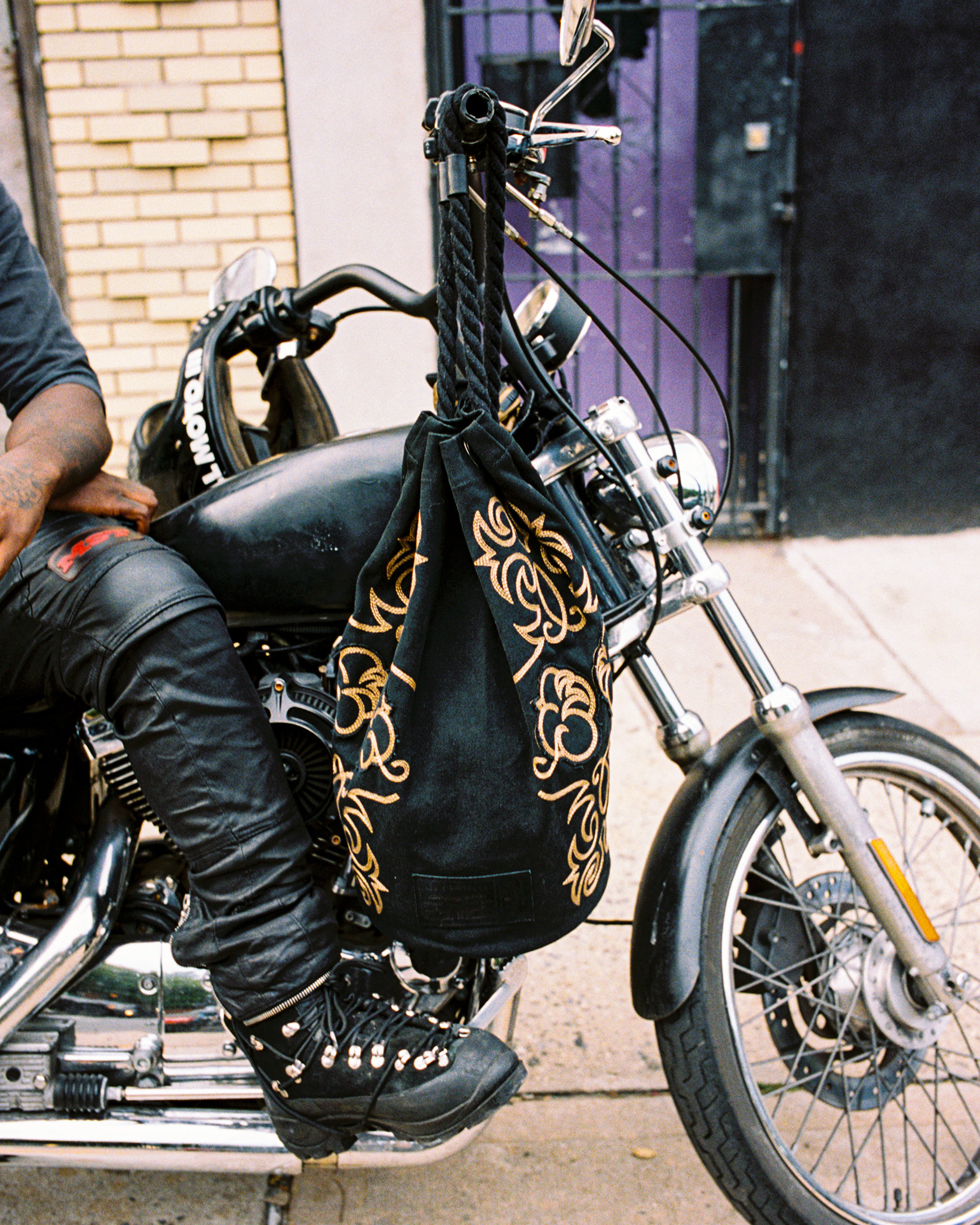 At the heart of this collection stands a masterpiece that encapsulates its essence—a Leather Vest adorned with a resplendent chenille pharaoh patch. It conjures visions of mythic heroes and fantastical realms, embodying the very essence of the biker's enigmatic identity. Yet, in its intricate design, it reaches beyond the tangible, drawing inspiration from Afro-Futurism's cosmic aspirations and the age-old tapestry of legend. The rock n' roll with the Longest Ride Tee, which proudly boasts the same majestic pharaoh graphic, encircled by a symphony of pan-African flags. These designs breathe life into the collection, weaving together threads of history and imagination. Completing this captivating ensemble are a collection of accessories, each a Tool for personal expression. The embroidered black and gold Rucksack bag, adorned with delicate flower appliqués, reimagines the collection's western motifs in a harmonious dance of elegance. Meanwhile, the ADG Denim Hat, bathed in a mid-indigo wash and adorned with an embossed leather patch, adds a touch of rugged sophistication. And last but not least, the Leather Belt, cloaked in rich brown hues, stands as an emblem of strength, its brass pharaoh belt buckle and stud detailing symbolizing unity—a perfect accessory to cinch together this mesmerizing tapestry of style.
ALSO READ: RUNWAY RECAP: 6 UNFORGETTABLE MOMENTS FROM NEW YORK FASHION WEEK SS24.