The star of some of the early 2000s biggest movies, Kate Bosworth forever has a place in our hearts. And now even more so thanks to the news that the actress has taken a turn in the producer seat, alongside husband Michael Polish, to direct a film called Nona. The story centres around a young girl who is trafficked in America and was inspired by real events when a sex house was busted in their neighbourhood.
"We sort of generally understood sex trafficking in a vaguer context, but we didn't know how severe of an epidemic it is. Michael and I both felt it was important as artists to create [greater awareness]," she explained to Instyle.
In addition to the film, Kate has also teamed up with American denim giant J Brand to create a white T-shirt that has the word love stitched onto the collar. The shirt features in a new campaign shot entirely at Bosworth's Californian home and features Nona's lead actress Sulem Calderon as the model. All net profits from the sale of the shirt will go to CAST LA — which stands for the Coalition to Abolish Slavery and Trafficking — which helps to rehabilitate survivors of trafficking and integrate them back into the world in a safe way.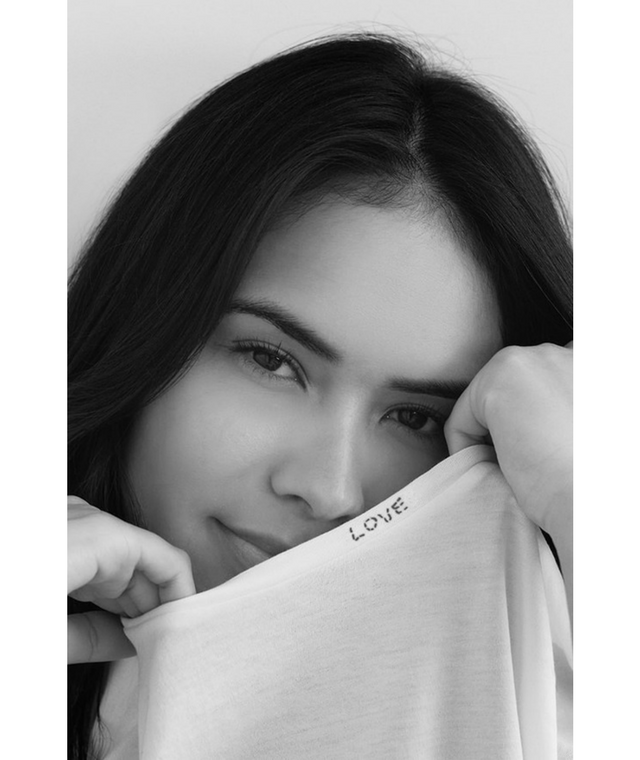 "I thought it could be a powerful message to write the word 'LOVE' on the collar of the shirt, as love is the greatest element to overcome all things dark in this world. When you meet survivors of human trafficking, they are all so full of love, despite their past circumstances. Without love, we have nothing; the idea was to keep this notion close to you mind and heart," Bosworth writes on J Brand's website.
The T-shirt is now available for purchase on the J Brand website.
Now, find out how Reformation pledged to help the environment this Earth Day.