An exciting fashion partnership has emerged as Jimmy Choo and Jean Paul Gaultier unveil their breathtaking collaborative collection of footwear. This creative dialogue between two iconic fashion houses with rich and diverse cultural backgrounds, a shared love for craftsmanship, and a unique sense of glamorous rebellion is a celebration of style and innovation. The Jimmy Choo x Jean Paul Gaultier collaboration bridges the identities of the two legendary brands – one synonymous with London and the other quintessentially Parisian – to explore the captivating dichotomy between their geographic and philosophical origins.
The collection effortlessly blends Jean Paul Gaultier's timeless codes with the modern icons of Jimmy Choo. Themes of trompe l'oeil, sensuality, rebel elegance, and couture craftsmanship are interwoven, allowing the distinctive languages of Gaultier and Jimmy Choo to find common ground. United by shared values such as empowerment, individuality, and the celebration of the powerful female form, this collection intertwines two heritages. Together, they weave a captivating tale of two cities.
At the forefront of the Jimmy Choo x Jean Paul Gaultier collection is a 'Wedge' shoe, setting the unique tone for this collaboration. With a plexiglass 110mm heel, one foot boasts a laser-etched Tour Eiffel, while the other displays the iconic Big Ben. This clever design perfectly symbolizes the fusion of cultures and aesthetics. The elongated toe and refined vamp are emblematic of Jimmy Choo's signature silhouette, with a touch of Gaultier's wit evident in the carved-away wedge, creating a sense of walking on air.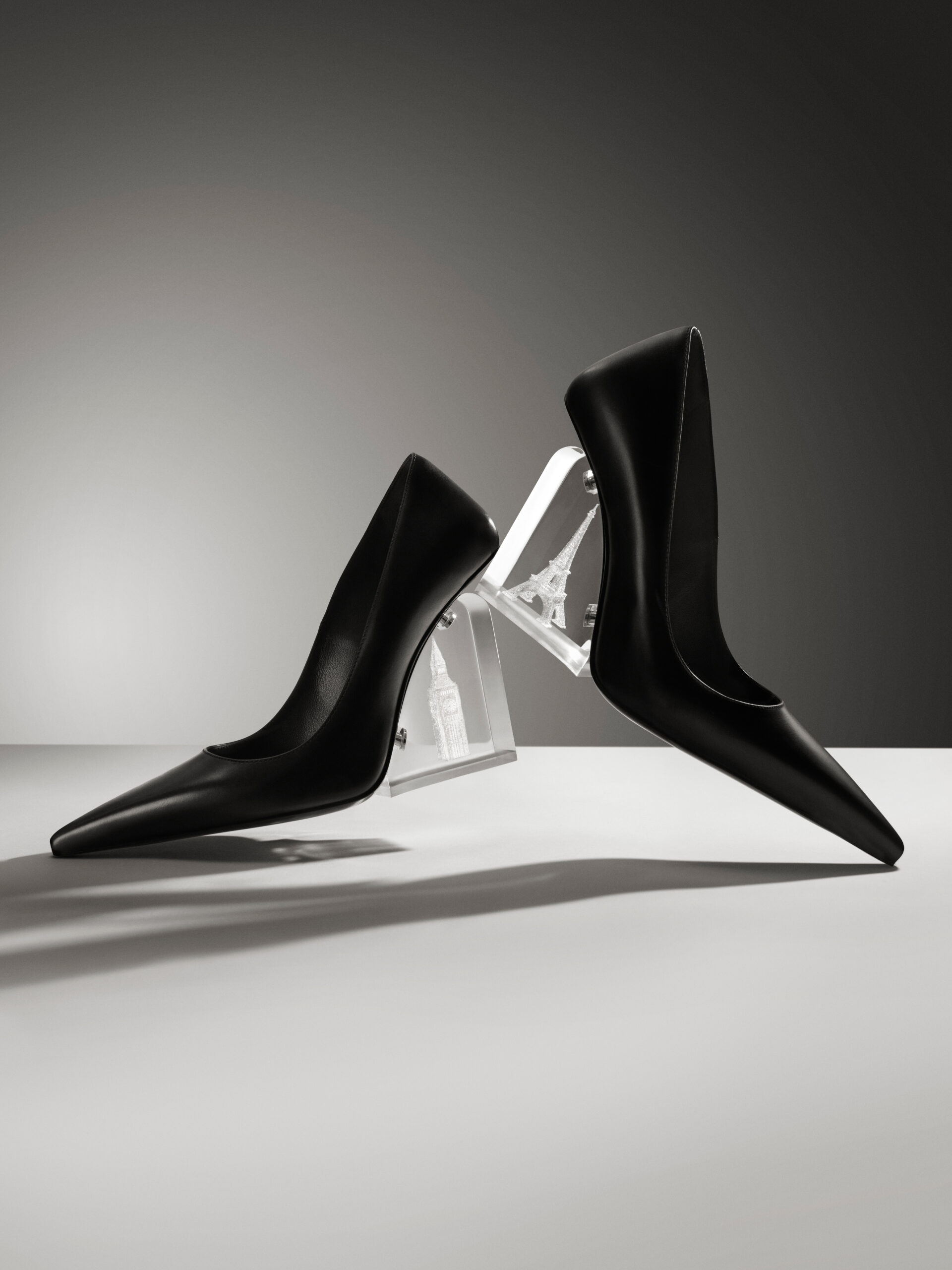 Transformative tattoos make their mark on the collection with buttery nappa leather in the over-the-knee boots. Inspired by Gaultier's groundbreaking 'Les Tatouages' collection from Spring/Summer 1994, this sleek silhouette becomes the canvas for a reimagined motif. The 'Pump' shoe in the collection, with its elongated vamp on a modern 60mm heel, features a mesh design reminiscent of Gaultier's body-conscious originals, adorned with pavé micro-crystals for a signature touch of Jimmy Choo glamour. Jean Paul Gaultier's bold proposition of underwear as outerwear finds expression in the 'Corset' sling-back shoe. The signature lacing of this iconic garment is crisscrossed across an open vamp in optical white, silver, black, or denim.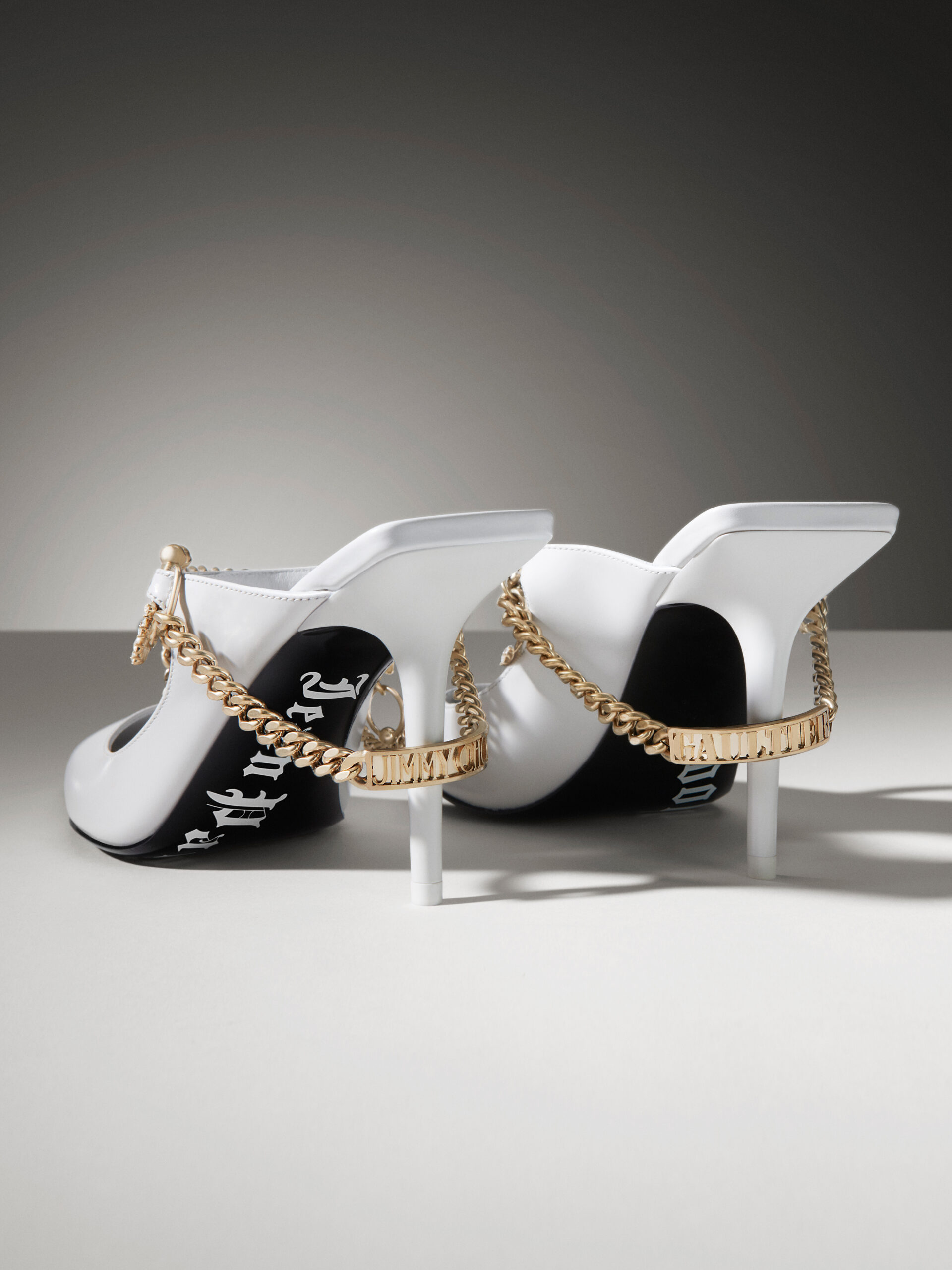 The 'Cuff' boot builds on the art of illusion with a playful denim trompe l'oeil print, offering dual styling options for the fashion-forward wearer. Whether pulled up to the thigh, revealing slick black calf leather, or folded down to reveal denim-printed canvas, this design showcases the playful and multifaceted nature of the collection.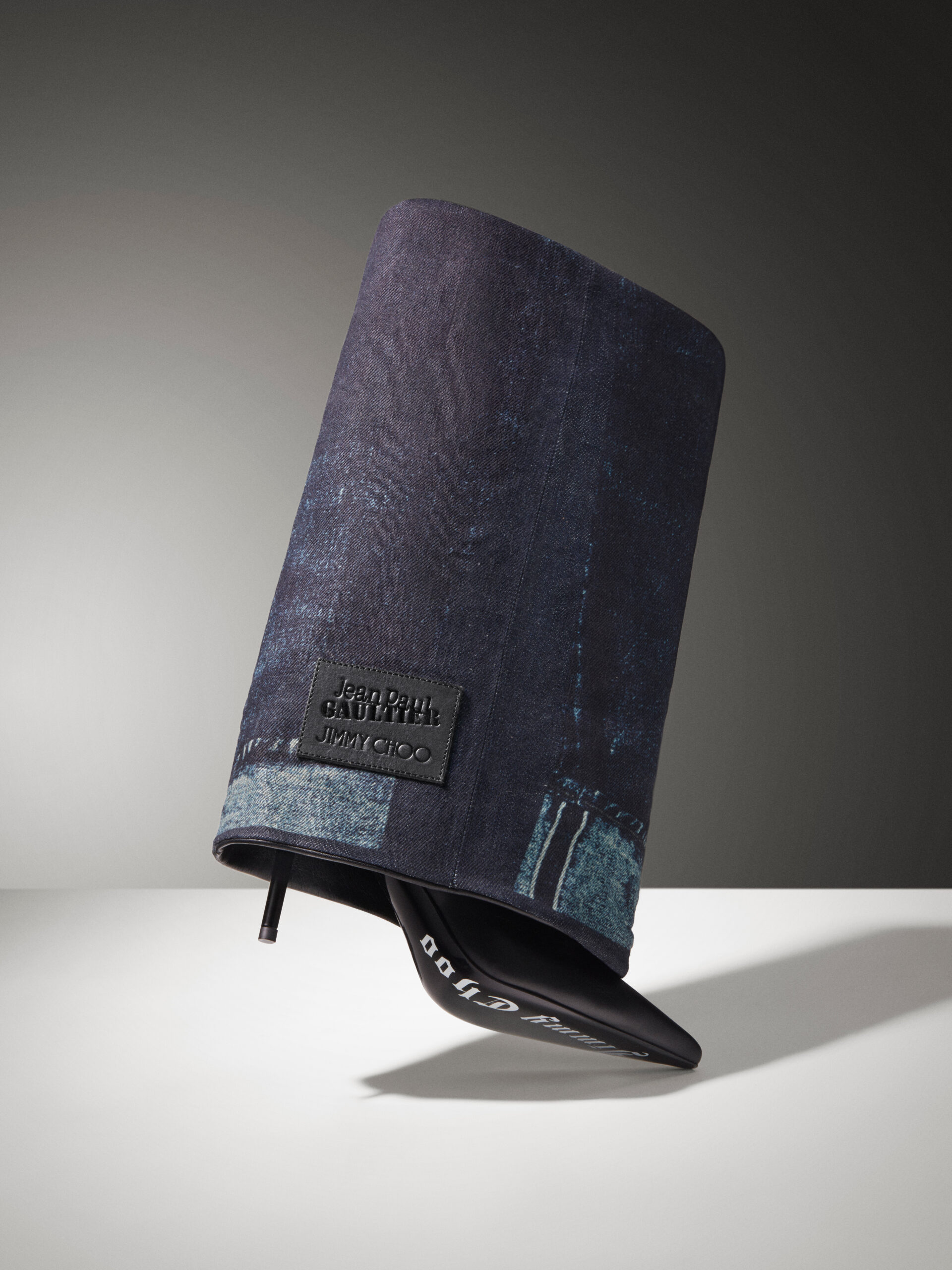 The Jimmy Choo x Jean Paul Gaultier collection culminates with a true fusion of two icons – Gaultier's signature heavy metal jewelry, inspired by the London punk subculture, marries Jimmy Choo's sophisticated aesthetic. The result is a perfect blend of salon and street, a shared perspective that honors the modern history of Paris' leading haute couture house and Jimmy Choo's love for studs and leather. This fusion encapsulates the essence of the romantic rebel.
Sandra Choi, Creative Director of Jimmy Choo, shares her excitement, saying, "Jean Paul Gaultier is an icon – as a man, and as a brand. I am honored and incredibly excited to be able to reinterpret his legacy, the meaning of his work and his world, alongside Florence Tétier through the lens of Jimmy Choo."
Florence Tétier, Creative Director of Jean Paul Gaultier, echoes the sentiment, stating, "Jimmy Choo is like the Gaultier of shoes – craft meets rebellion. Both Gaultier and Jimmy Choo are about empowering people – this is what Monsieur Gaultier has always done in his work, and Jimmy Choo too – it's a great synergy."
The Jimmy Choo x Jean Paul Gaultier collection will be available in selected stores globally and online from October 18, 2023. It's a celebration of fashion, culture, and the enduring spirit of individuality, bringing together two legendary brands in a vibrant, captivating, and bold collaboration
ALSO READ: UNLOCKING THE SECRETS TO RADIANT SKIN: A SIMPLE 5-STEP SKINCARE ROUTINE FOR MEN.