In the world of luxury, where most brands rely on logos to do the talking, Bottega Veneta stands as an icon of exquisite craftsmanship and textile innovation. The Italian brand's emblematic intrecciato weave continues to stun discerning shoppers worldwide. And who can forget when Kate Moss appeared on the brand's Spring/Summer 2023 runways in what seemed to be a flannel shirt, only for it to be revealed as a leather masterpiece?
Now, the brand is on the hunt for its next generation of artisans, and what better way to recruit talent than to train them yourself? Earlier this week, Bottega Veneta announced the launch of its school, Accademia Labor et Ingenium, aimed at training artisans.
"Accademia Labor et Ingenium is a key strategic pillar to preserve Bottega Veneta's unique savoir-faire," said Bottega Veneta's CEO, Leo Rongone, in a press statement. "Exceptional craft and creativity are essential to our brand and to the heritage of our home region in Veneto. With the Accademia, we take the collective ethos at the heart of Bottega Veneta to a new level, building on our rich history of skill-sharing and innovation to nurture the artisans of the future."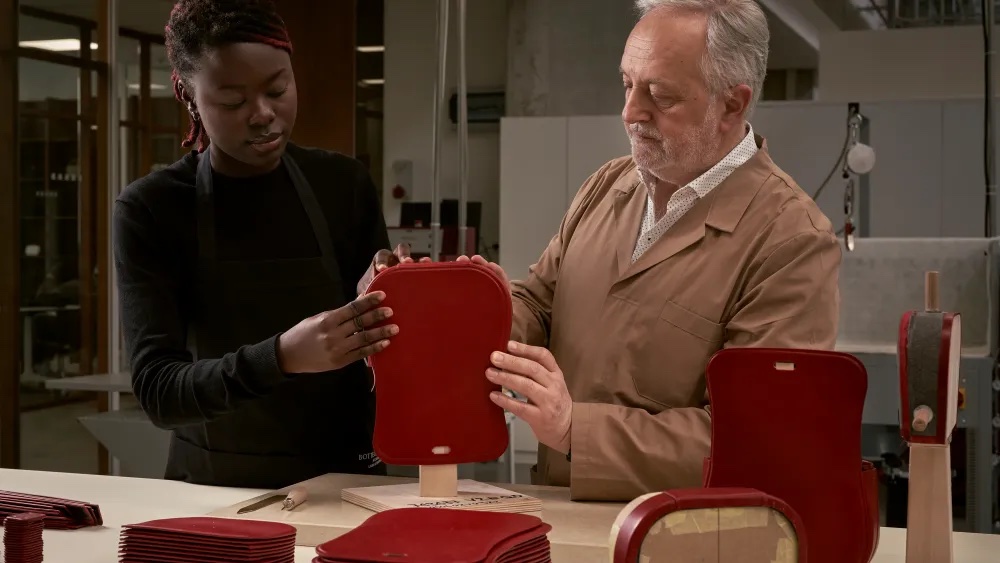 The academy's primary mission is to foster "craft and creativity," the two fundamental principles of the luxury brand. Located between Bottega Veneta's atelier in Montebello Vicentino and its newly established production site in Povolaro Dueville, this fashion academy offers an immersive training program for future artisans. Each year, 50 students will be privileged to learn under the guidance of five renowned artisans who will lead hands-on courses, immersive activities, and independent workshops. Upon successfully completing the course, these students are guaranteed employment at Bottega Veneta, a golden opportunity in the highly competitive world of fashion.
The inaugural training program commences on October 16 and spans seven weeks, featuring a collaboration with the Università Iuav di Venezia. It emphasizes a blend of digital and studio-based learning techniques, ensuring that the next generation of artisans is well-equipped to carry forward the legacy of Bottega Veneta, a brand synonymous with the art of crafting luxury.
ALSO READ: TWO LEGENDS, ONE COLLECTION: JIMMY CHOO AND JEAN PAUL GAULTIER COLLABORATE ON A FOOTWEAR COLLECTION.