In the world of sports, where golf is known for its precision and tradition, Fendi is about to inject a touch of high-fashion elegance. As a part of its 'Active' universe, the Italian Maison is proud to present the Fendi 'Golf' capsule collection. This collection embodies a blend of golfing essentials, ranging from clothes to sporting goods. The Fendi 'Gold' capsule collection features a refined color palette, innovative accessories, and a promise of both style and performance. Whether you're a golf aficionado or simply a fan of elevated sportswear, this collection is designed for those who want to make a statement on the golf course.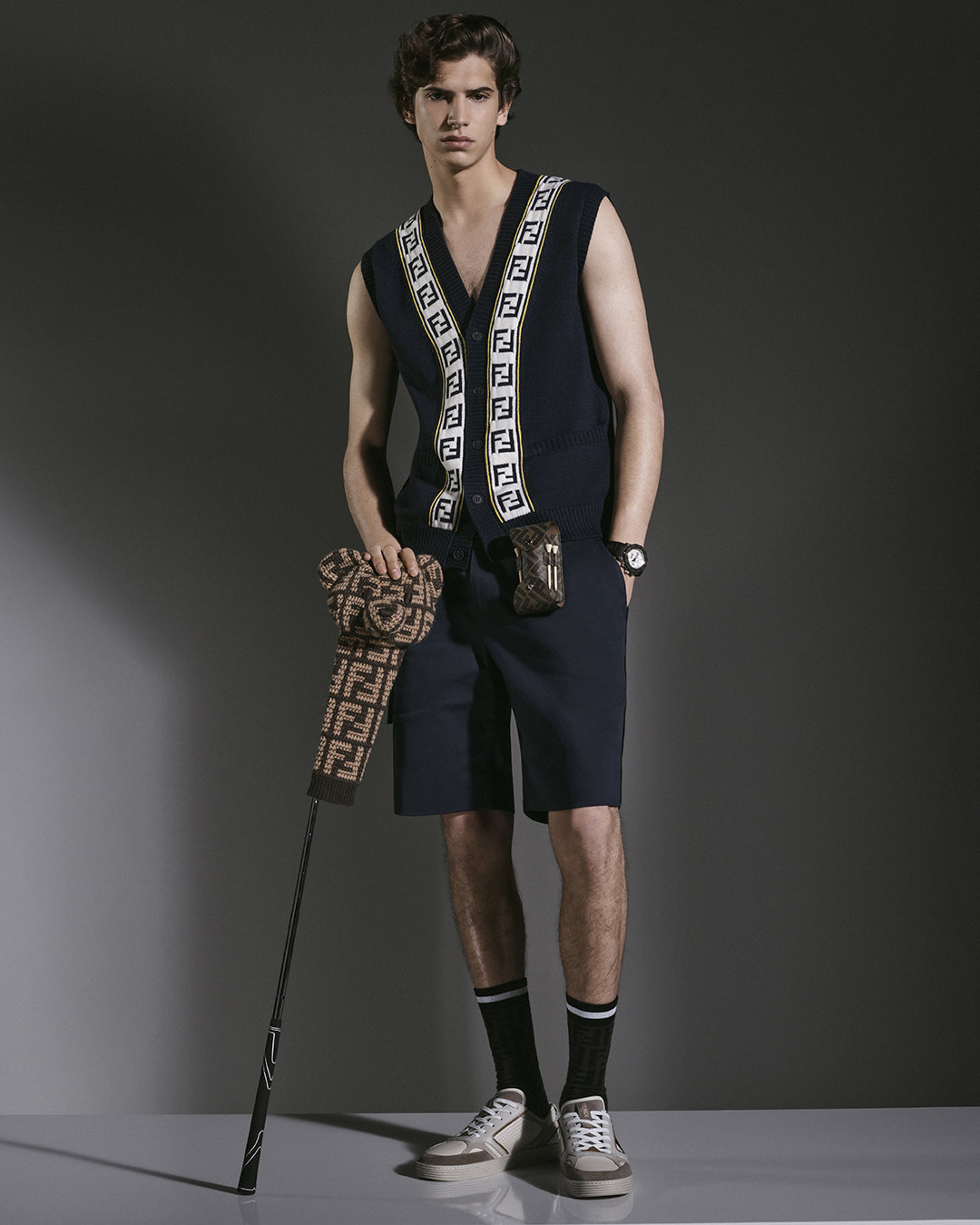 The Fendi 'Golf' capsule presents a refined palette of beige and navy-blue, bringing a touch of classic elegance to the fairway. The collection features a short-sleeved polo shirt stamped with a subtle 'FF' logo on the collar, designed to be paired with either blue or beige cotton shorts. The Fendi 'Golf' capsule also includes a matching knitted gilet, adorned with two vertical jacquard 'FF' bands on the front. For those who believe in dressing chic even when the rain clouds roll in, the collection offers a hooded rain jacket drenched in the same palette, boasting a reversible azure side. A new variation of the iconic Fendi Roma logo, in vibrant yellow and white, finds its place on a long-sleeved cotton polo shirt and a nylon jacket.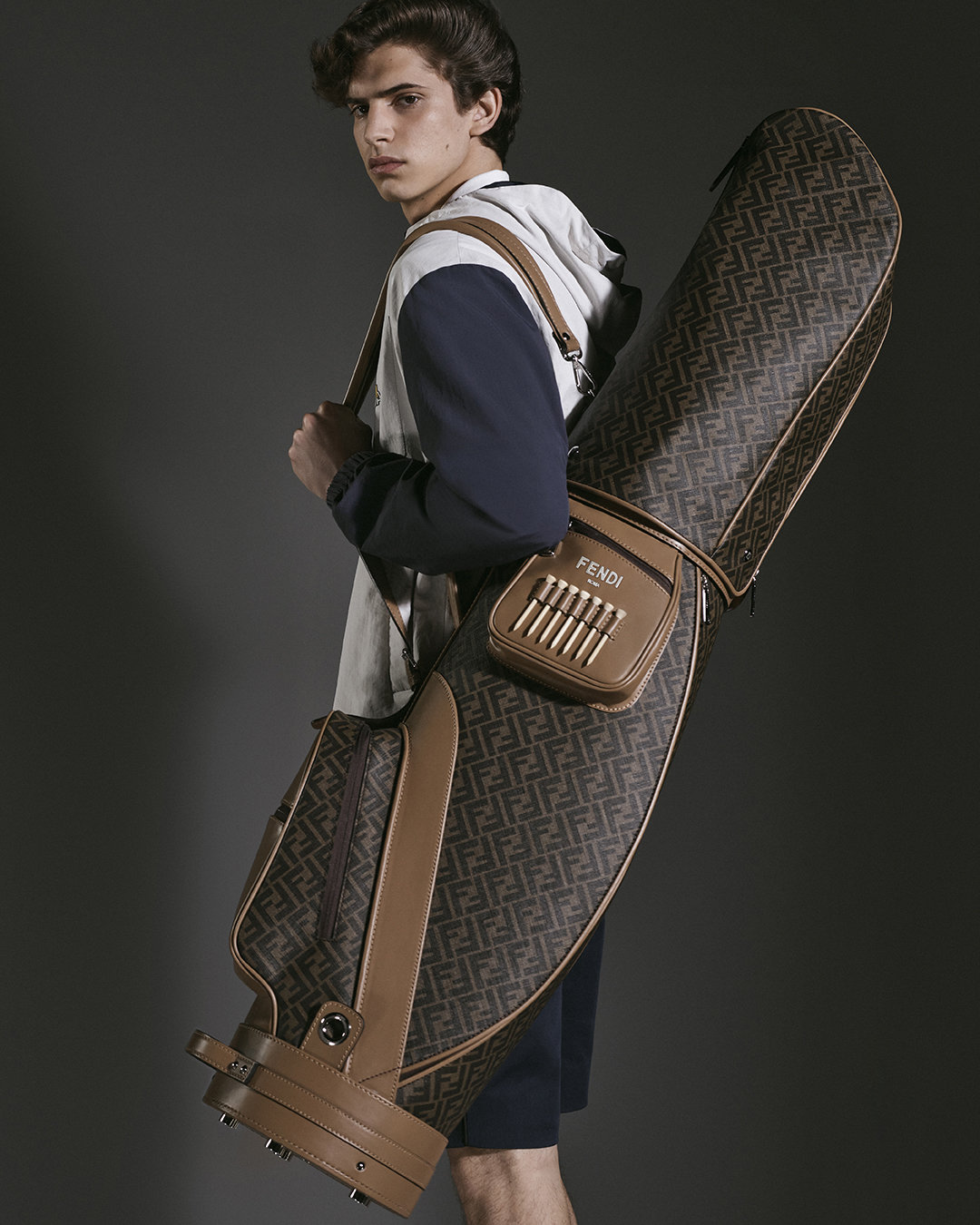 An outfit is almost never complete without accessories, and nobody understands this better than Fendi who's 'Golf' collection flaunts an array of covetable accessories. Exclusive to this line is a golf bag crafted from black Cuoio Roma leather and classic tobacco-colored 'FF' logo fabric. To go with the bag, golf ball and tee holders in the same color combinations are also available. These holders come with three Callaway golf balls proudly branded with the Fendi logo and four wooden tees to ensure you're always ready to take your shot.
To complete the set, Fendi has introduced a metal divot featuring 'FF' engraving, designed to help you repair those ball marks on the grass of the golf course, ensuring you leave it as pristine as you found it. As for your clubs, the Fendi 'Gold' capsule has you covered with a set of golf club covers crafted from white shearling, showcasing the yellow 'FF' logo intarsia. These covers come in three sizes for Hybrid, Driver, and Wood clubs, ensuring your golf gear is as stylish as your swing. For those who like a touch of whimsy with their swing, there's even a golf club cover shaped like a charming teddy bear, knitted in the softest brown 'FF' cashmere.
Wondering when you can get your hands on these golfing treasures? Well, Fendi has an exciting plan in store. In honor of the upcoming Ryder Cup international competition set to take place in Rome from September 29th to October 1st, 2023, the Fendi 'Golf' capsule will be pre-launched at the Fendi Roma Palazzo boutique on September 28th, 2023. It will be available in selected boutiques worldwide and on Fendi's website, starting October 5th, 2023.
ALSO READ: DIMA AYAD DISCUSSES COLLABORATING WITH MARINA RINALDI AND BEYOND IN AN INTERVIEW WITH BURO.