News
Giambattista Valli x H&M
We first heard about Giambattista Valli's collaboration with H&M in May, and whilst Kendall Jenner gave us a sneak peek at what to expect, we can now say that we have the first full look at the entire selection of limited-edition gowns and accessories for women and men.
The collection will include red carpet-worthy dresses (think long gowns complete in the brand's signature lace, ruffles, micro floral prints and an overload of tulle), as well as a range of tailored streetwear, new accessories and a selection of tailored pieces for men. Mark your calendars for November 7, 2019.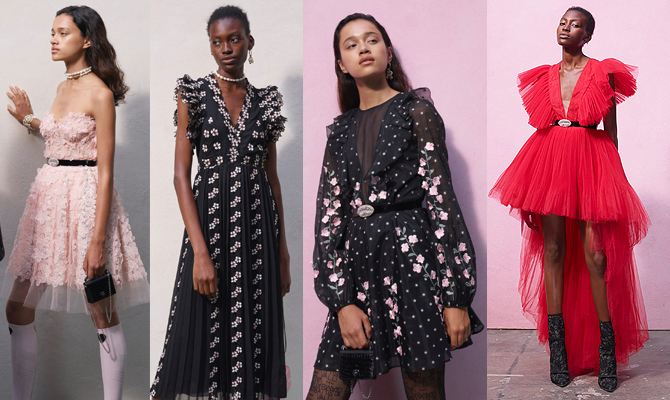 Runway
Mary Katrantzou
Held at the Temple of Poseidon, Mary Katrantzou took her Spring/Summer 2020 show to her hometown in Greece — in lieu of appearing at London Fashion Week in September — and her latest showcase was a charitable affair. The beautiful show was an ode to the Greek non-profit charity Elpida, and as tickets were sold to the public, all of the donations will help the children's cancer-focused charity, which raises funds through cultural events, exhibitions and art auctions.
In terms of clothing, the seasonal range features a celebration of Greece. Whilst the opening line-up of silhouettes were monochromatic, the collection then unfolded into a selection of ensembles that referenced Greek philosophy, mythology and symbols.
From floor-length capes and rounded shoulders to rich embroidery and plenty of feathers, colours and encrusted separates, it was perhaps Mary Katrantzou's best collections yet.
Louis Vuitton
Paris Fashion Week ended on a high note as Nicolas Ghesquiére presented his latest Spring/Summer 2020 collection for Louis Vuitton last week. Synonymous with looking ahead with continuous futuristic designs, the Creative Director's collections have always been rooted to the past and his most recent showcase proved that.
For the season, Ghesquiére transported us to a once, Belle Époque-era in Paris. The references were visible through pouf sleeves, boutonnieres, jacquard coats, simple dresses and leather jackets, as well as through the beauty department with Gibson Girl hairdos.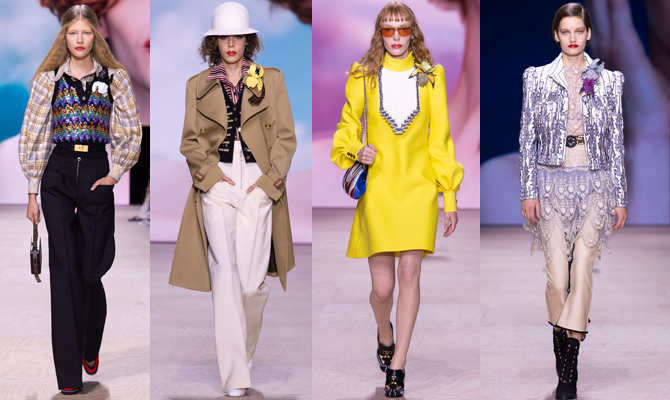 Chanel
For her first ever ready-to-wear show since the passing of Karl Lagerfeld, Viriginie Viard continued to rework the Chanel wardrobe for the young woman.
The set itself resemble the rooftops of the Rue Cambon, and the collection that unfolded on the runway featured a utilitarian twist on the heritage of Coco Chanel.
The Spring/Summer 2020 show first opened up with Chanel's signature piece — the little tweed dress — which came complete with a flared skirt. Then, the play of the tweeded fabric transformed from the brand's iconic jacket silhouette to playsuits and jumpsuits, signifying Viard's take on the piece.
Shortly after, Chanel typography have been transformed into a multi-coloured motif this season, as the graphic letters are repeated and mixed together in blue, pink and black. The runway then ended with a selection of graceful, free-flowing silhouettes that were expressed in a contrasting black and white palette — so emblematic of Chanel.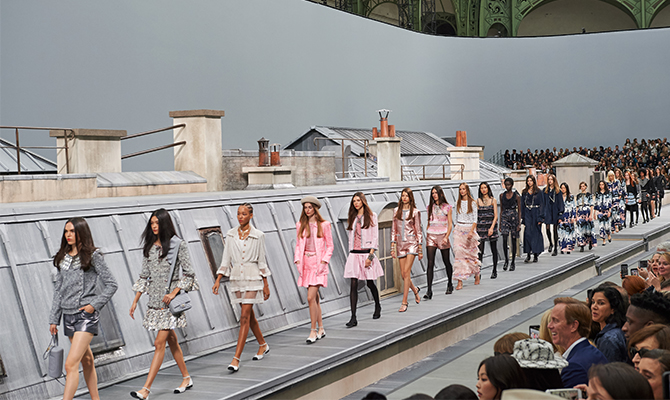 Regional presence
Beyoncé wears Yousef Al Jasmi
It's no surprise that Beyoncé's wardrobe includes a number of Arab designers. The mega superstar has been seen fronting regional designs countless amount of times and over the weekend, the multi-Grammy award-winning artist did it again.
Off to the grand opening of Tyler Perry's Studios, the singer-turned-actress turned heads in a statement floor-length gown by Kuwaiti designer, Yousef Al Jasmi. Whilst this isn't the first time supporting the designer, Beyoncé opted for a gold sequined gown featuring a high neck and a figure-hugging bodice.
Azzi & Osta at Paris Fashion Week
Azzi & Osta, the brainchild of George Azzi and Assaad Osta, showcased their Spring/Summer 2020 collection through an intimate presentation at 29 Rue Du Faubourg Saint-Honoré during Paris Fashion Week, and the stunning pieces screamed opulence.
In true brand fashion, signature structured silhouettes and tailored fabrics were adorned in a rich jewel-toned palette, and exaggerated details including billowy dresses, bell sleeves, fabric sashays and ripple-like ruffles completed the pieces.
Whilst describing the collection, aptly titled Villa Valentina, the co-designers said: "Villa Valentina is about intrigue, a time, an emotion. That feeling that stirs, when you close your eyes and remember long summer days when the sun meets the sea. We were inspired by the great villas of the riviera, their architecture and enchanting gardens — their stories enveloped in mystique."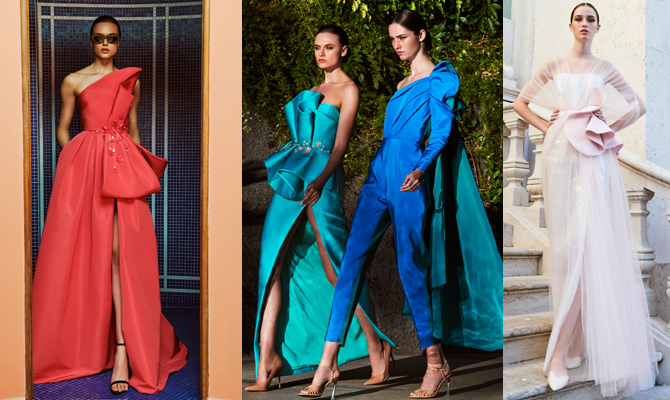 Cardi B is a show-stopper in Nicolas Jebran
Okurrr! Cardi B was spotted in Paris in a slew of stunning looks, literally bringing her A-game to the streets. Our favourite look yet? Perhaps the double dose of regional designers, as she was spotted wearing a purple ensemble by Nicolas Jebran, and matching boots by Andrea Wazen.
Now, in case you missed it, discover Hermès' Spring/Summer 2020 collection.