If there's one thing Alessandro Michele is known for, it's for consistently transporting his audience into his creative world with a spectacular collection and a beautiful runway setup.
For Cruise '19, Michele took the fash pack to the Promenade Des Alyscamps in Arles to showcase his newest collection for Gucci. Here's everything you need to know about the show…
The venue
We first got insight into the show's location in December and it's evident why it was the perfect space to host the Cruise '19 runway. Located at the Promenade Des Alyscamps in Arles, the setup came complete with flames, fire and a series of candles around the runway.
Speaking of the space on Instagram, Michele said: "Alyscamps is a Roman cemetery, but it's also not a cemetery, it was a promenade, it became a walk in the 1700s; it is hybridised, it does not look like a cemetery because it is and it isn't. I like things that seem like something but are not."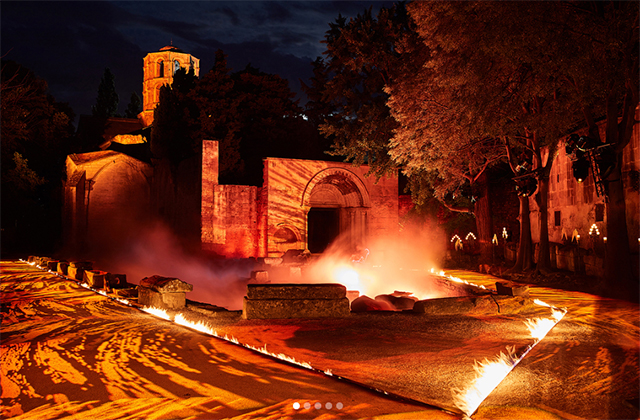 The collection
Even though Gucci's runway shows always include its signature botanical patterns, intricate embroideries and plenty of logos, this Cruise '19 collection showcased a little less of each but remained equally as daring. With 114 looks designed for women and men, the ensembles perfectly mixed some of the brand signature elements including plaid skirts, floral silk prints and tiger prints.
Inspired by death and the afterlife, as well as fantasy characters, Michele sent a lineup of models down the runway dressed in clashing patterns, colours, prints and hand-painted details, too. The collection also referenced old Hollywood's The Chateau Marmont and traditional Japanese dresses via a series of velvet capes, black veils, faux fur coats, embroidered gowns and pants that nodded to an '80s-era Billy Idol.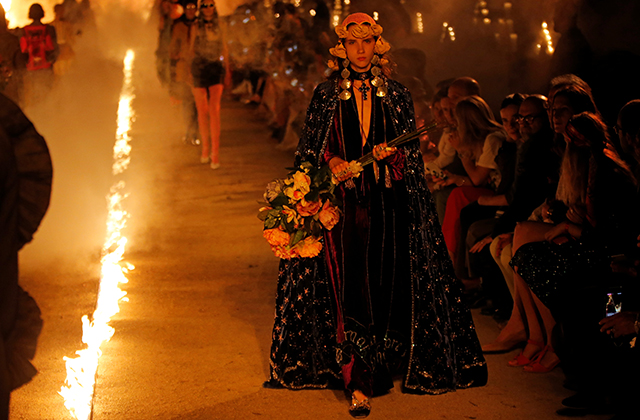 The accessories
Whilst there were no freakishly real-looking dragons, chameleons and replicas of model's heads on the runway, Gucci's accessories still continued to make a statement.
Some of the models were sent down with oversized square sunglasses that included the double G logo on the side, as well as chunky necklaces, embroidered headpieces and gloves.
The handbags, however, were on a whole other level. The maison introduced a new tote bag that features roaring tiger hardware (which was inspired by a vintage Hattie Carnegie jewellery design), and it comes complete with pockets to store the now-iconic Gucci Princetown slippers. The fashion house also debuted their newest it-bag, the Marmont style, in a new finishing and an ultra-streamlined silhouette. The runway also saw the introduction of the transparent Gucci Ophidia bag.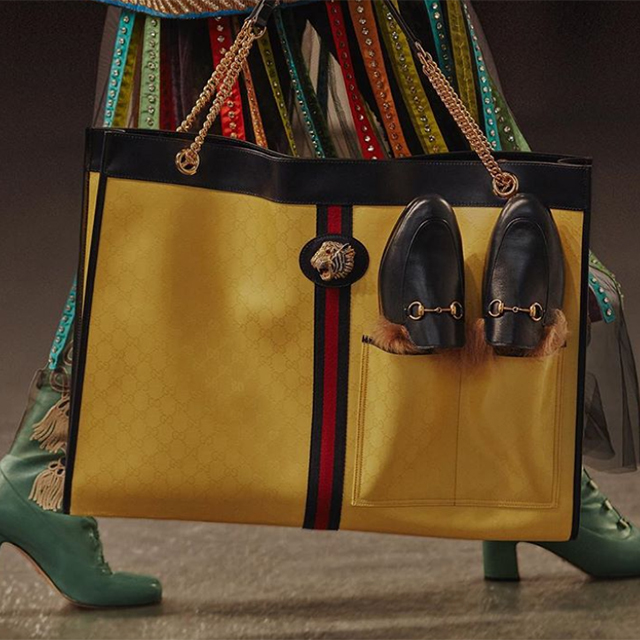 Now, take a look at Louis Vuitton's Cruise '19 collection.