The fashion industry is coming together to combat the current pandemic and the latest brand to join the global community to fight the COVID-19 virus is Gucci.
The Italian fashion house is calling on the Gucci community as the brand are making two separate donations to crowdfunding campaigns worth €2 million — €1 million locally in Italy where the company is based and another €1 million globally.
The campaign, titled "We Are All In This Together", will see the fashion house donate €1 million to the valiant efforts of the National Civil Protection Department. The community will also be able to make donations through Intesa Sanpaolo's ForFunding crowd-funding platform with a dedicated webpage gucci.forfunding.it. The funds will help reinforce Italy's health services and organizations managing the emergency, with the creation of new ICU beds as a priority.
The second €1 million will be donated to the United Nations Foundation's COVID-19 Solidarity Response Fund in support of the World Health Organization (WHO) and their lifesaving work across countries, "including to help track and understand the spread of the virus, to strengthen patient care and ICUs, to improve supplies for health personnel, including of protection devices, and to accelerate the development of vaccines and therapies."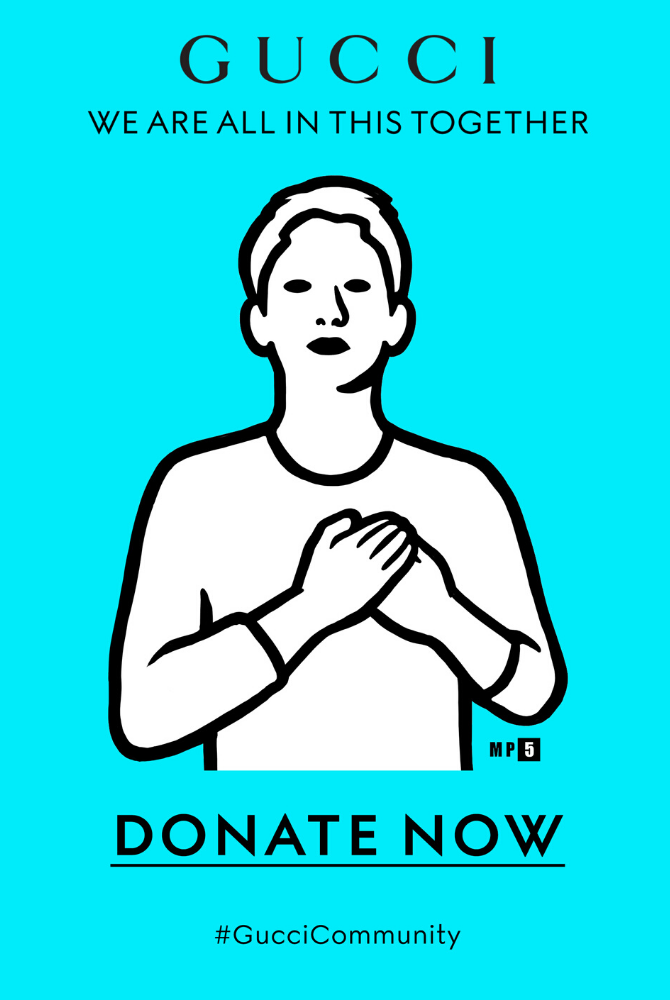 "This pandemic calls us to an unexpected task, but it is a call to which we respond decisively, advocating the selfless work carried out by health workers, doctors and nurses on the front lines every day in the fight against the COVID-19 pandemic, in Italy and in the rest of the world," wrote Alessandro Michele, Creative Director of Gucci, and Marco Bizzarri, President and CEO of Gucci in a letter announcing the initiative to the company's employees around the world. "Their generosity and courage light our way forward in these difficult days. By supporting each other and helping those who are most vulnerable among us, we will be able to overcome this crisis: united, even more than before."
Now, find out which major fashion events have been cancelled due to the coronavirus outbreak.