It's no surprise that Queen Bey decided to don yet another regional name as she stepped out to the Wearable Art Gala hosted by her mother Tina Lawson. She's been a fan of Middle Eastern designers for as long as we can remember with a plethora of studded pieces dominating her wardrobe.
For her latest outing, the superstar fronted a custom-piece by Lebanese designer Georges Hobeika and of course, it was as captivating as it was channelling her character for the upcoming film, The Lion King. How so? The sequined bodysuit came with a lion's face on it and included feathers for the lion's mane and a flowing golden cape.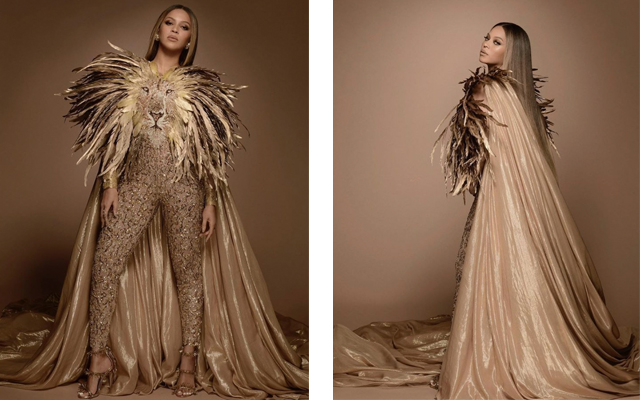 Embodying the ultimate lioness, Beyoncé came in full force with her daughter Blue Ivy and husband Jay Z. Also, the gala was basically a mini Destiny's Child reunion with Kelly Rowland and Michelle Williams present at the event, which also hosted attendees Tiffany Haddish and Star Jones.
We're certain this isn't the last time we're going to be seeing Georges Hobeika's creations circulating the celebrity sphere. His designs literally ruled the red carpet during the Cannes Film Festival, along with plenty of other regional names and we're bound to see a slew of popular names front his pieces throughout the year. Stay tuned.