All eyes are currently on Qatar for the FIFA World Cup and whilst there's plenty of action on the pitch, the country is set to glisten even more with a history-making event celebrating fashion. Scheduled to take place between the semi-finals and final matches, Qatar Creates and CR Runway are gearing up to host the world's biggest fashion show on December 16.
Featuring more than 150 designers from 6 continents and 50 countries presented, the Ras Abu Aboud 974 Stadium will be the hub for the intersection of fashion, culture, music, and sports. Promising to be an unforgettable experience, the epic fashion show and cultural gathering will put a global spotlight on fashion, including 21 Qatar-based brands and more from the MENA region — who will share the stage with the most acclaimed and internationally recognized icons in fashion.
"It is a singular historic event for Qatar to host this FIFA World Cup, the first to be held in any Arab nation," says Her Excellency Sheikha Mayassa bint Hamad bin Khalifa Al Thani, Chairperson of Qatar Museums, "and only the most spectacular celebration of fashion and culture can match this great occasion. Just as the World Cup brings together people from across the entire globe for the excitement of high athletic achievement, so will Qatar Fashion United by CR Runway be electrifying audiences here in Doha and everywhere with the splendour of this unprecedented creative gathering."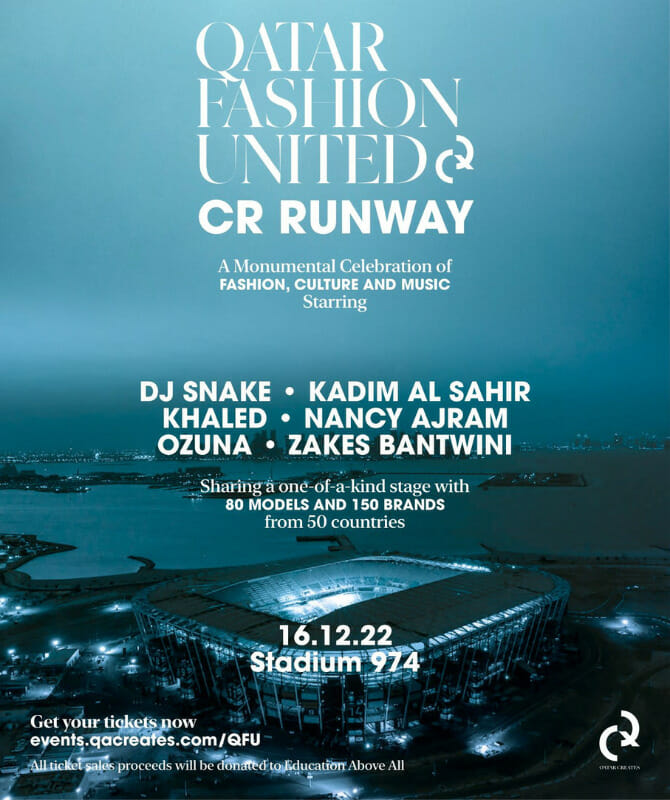 From start to finish, the fashion show is set to be a uniquely designed experience featuring four highly choreographed runway presentations. The opening act will start with national ambassadors representing the 32 countries in the World Cup, all sporting customized jerseys. Immediately following, two local Qatari brands, Aliya Al Obaidly and Harlienz, have collaborated to put on a special performance entitled "Where the Sand Touches the Sea" that is inspired by Qatar's traditional practices of pearl diving which will feature a contemporary rendition of the Gulf folk song "Tob Tob ya Bahar" by Qatari composer Hala Al Emadi that will be performed by Dana.
Act 2, "The Fashion World Tour," will be a grand celebration showcasing exceptional works from designers from 6 continents, whilst act 3 and the finale, "One Night in Qatar," will be an extravaganza of haute couture and eveningwear created exclusively by international designers and brands for Qatar Fashion United by CR Runway.

The event will also feature show-stopping performances by international superstars including DJ Snake, Kadim Al Sahir, Khaled, Nancy Ajram, Ozuna, Zakes Bantwini, and more.
For more information and tickets, head to qacreates.com.
ALSO READ: LOUIS VUITTON LAUNCHES A FIFA-INSPIRED CAPSULE COLLECTION.